'Living your best life' is the phrase that springs to mind as you hand over your passport to check in at the Dream Phuket Hotel & Spa.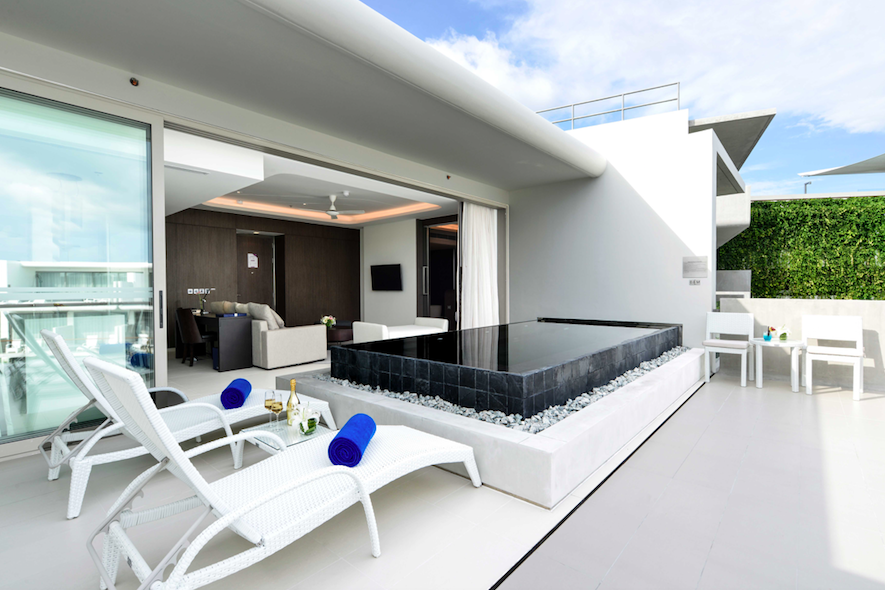 A quick 10 second glance around the outrageously luxurious, cool complex which lay before me was enough to give me butterflies.  The words 'Sky Pool Suite' flooded me with endorphins.  And the actual suite itself, well, I needed a lie down in my private pool on the balcony just as soon as I got in there!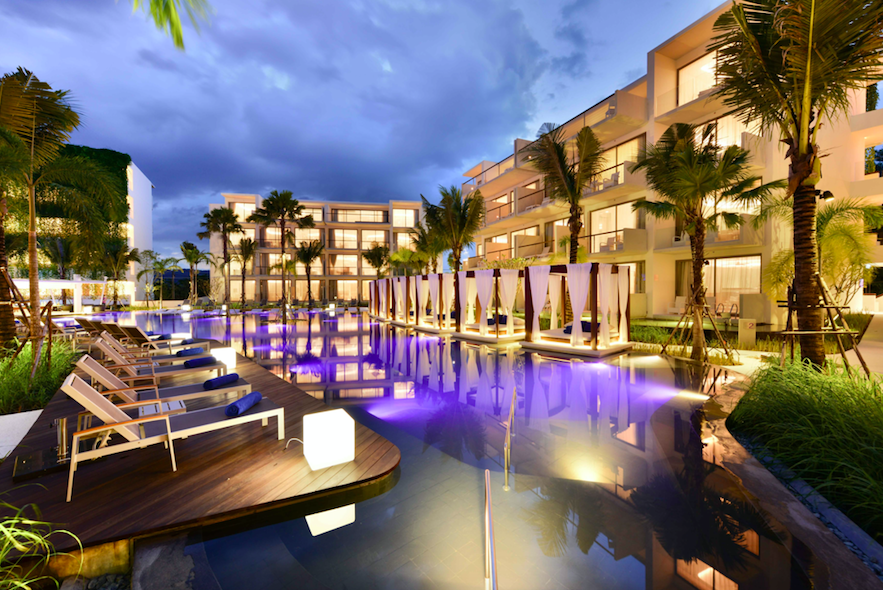 A world away from Phuket, the journey from the airport is a short one, taking you through the picturesque laguna with pretty villas and plenty of greenery.  The Dream Phuket Hotel & Spa has 172 rooms, suites and villas which all overlook the beautiful central pool, lined with pretty white private cabanas for that uber-luxury feel.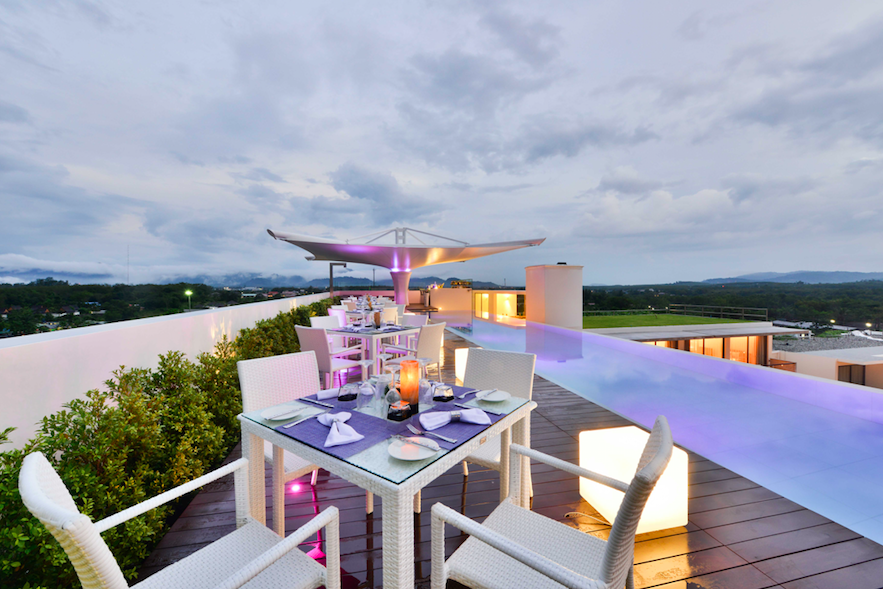 There's a further infinity pool high up on the roof at the Vu Bar – here's where you'll want to take your best insta shots because the views out across the hotel and the valleys beyond are outrageously good.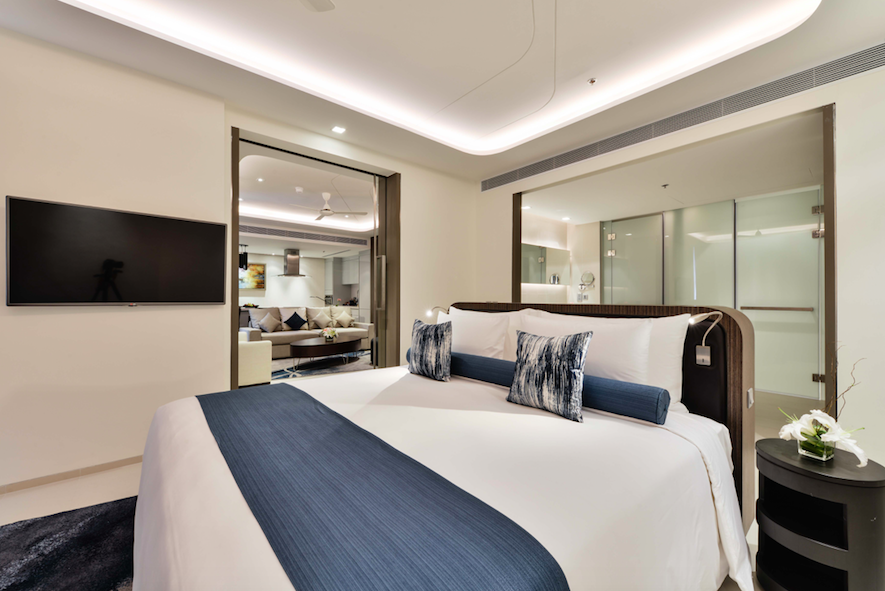 Our Sky Pool Suite (enviously located to overlook the whole complex), was where our inner rock stars most definitely came out to play in the scorching South East Asian sunshine.  The open plan living room area was divided by a sliding door to the bedroom, with an enormous bathroom to the back of the bedroom including free standing bath, rainfall shower and mirror running the length of the double sink space.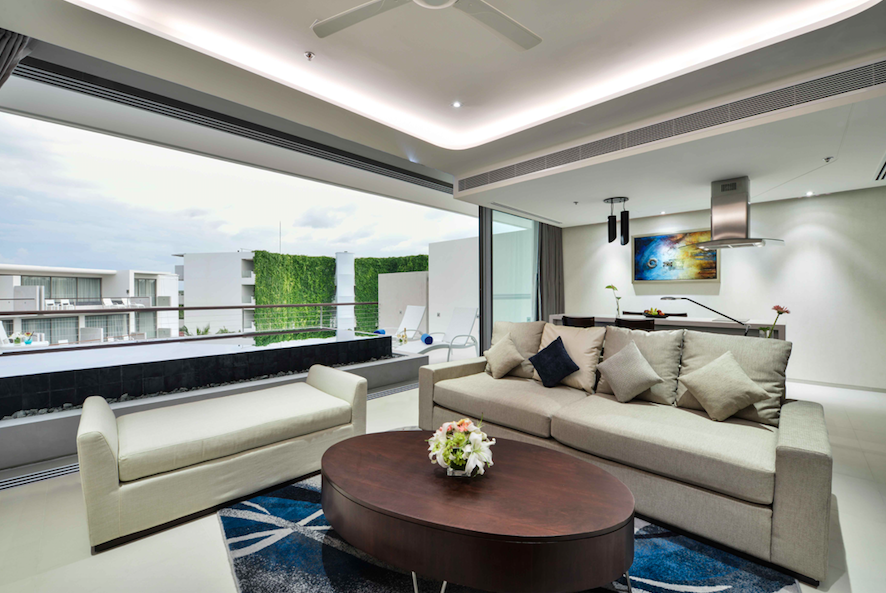 Throwing open the floor-to-ceiling glass sliding doors immediately doubled our already amazing living room area in size – with two cosy loungers and a gorgeous private pool to cool off in on the sun deck against the back drop of the most stunning of hotel settings.
These rooms need to be seen to be believed – and if you like your luxuries, then you won't want to stay in any other room grade at Dream Phuket, although all rooms benefits from black out curtains for a fabulous night's sleep, flat screen TV, fully stocked fridge, high speed wifi, luscious 300 thread count linen and  memory foam mattress.
Lazy days were spent down by the pool on a cabana, breaking up the sheer exhaustion of sunbathing with trips to the swim-up pool bar, or 'lounger-dancing' to the awesome holiday beats from a throbbing sound system.  We mixed this up with a change of scenery on our private terrace, hydrating on bloody mary's and margaritas via room service, or relaxing before dinner at the main infinity pool and VU Bar.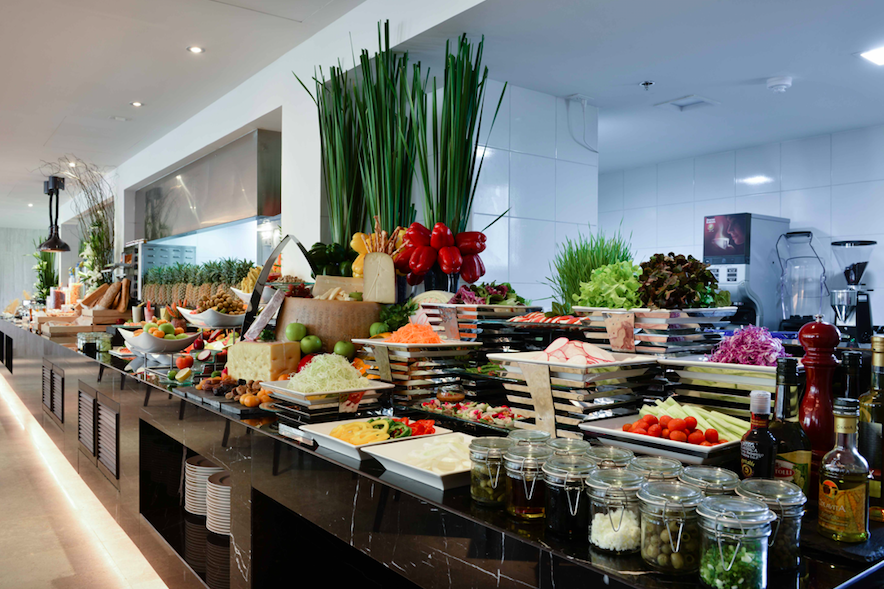 At Trilogy, we enjoyed sumptuous breakfast feasts on the terrace basking in the morning heat with buttery croissants, fresh juices and plates piled high with bacon, sausages and made-to-order eggs every-which-way, and in the evenings with a total change in vibe, we delighted in balloon glasses of juicy red wines, sharp whites and delicious dishes from the varied menu.  From traditional spicy Thai cuisine, to Italian pizza and pasta and New York favourites, there's definitely something here to suit every taste in the most relaxed and beautiful surroundings, accompanied by your very own gecko soundtrack to make you feel truly at one with nature.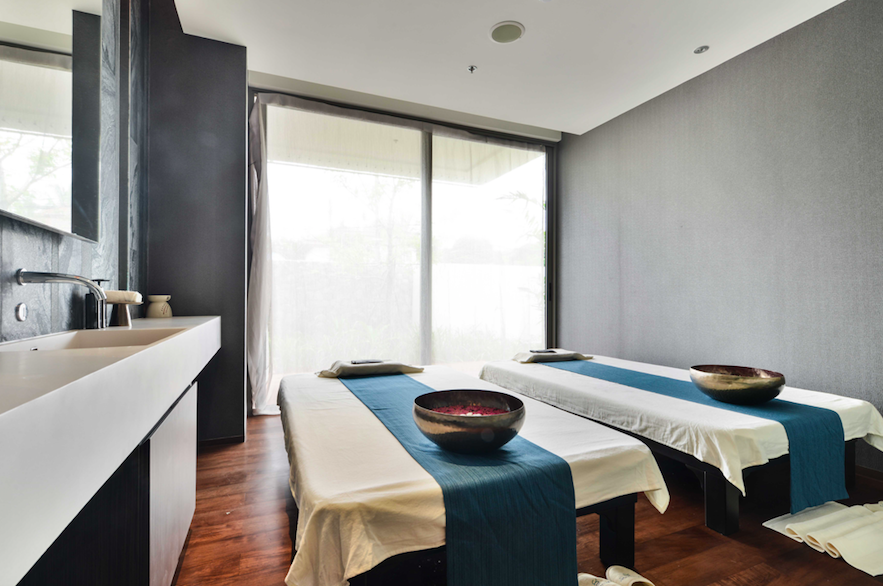 The one day we had bad weather, was the perfect opportunity to discover the incredible range of idyllic treatments at the Sanctuary Spa. With an immediate sense of calm as soon as we entered, we discovered the treatments are all holistic therapies, based on the five elements of earth, wind, water, wood and metal – much like the rest of the hotel.  We indulged in relaxing bliss, choosing aroma massages to while away all the stresses from our hectic London lifestyles, emerging serene and ethereal like as if we'd escaped to some sort of dream state for the whole afternoon.
Our stay whizzed by in a luxurious flash.  Dream Phuket Hotel & Spa has the effortless ability to make you feel truly spoiled in every way.  Coocooned in a safe, tranquil haven, you just won't want to leave – well why would you?!   Maybe take a whole year off work and spend it here?  In your dreams…
For further info on the Dream Phuket Hotel & Spa, click here.  To check out our review of the epic Movenpick Myth Hotel in Patong, click here.