Perfectly tucked into the heart of Soho, The Boulevard Theatre – Soho's Newest Playhouse, transports you into a world of immense creativity and upscale Hollywood style glamour.  Boulevard is an architectural masterpiece.  It features a clear glass floating pedway over Soho's famous market alley that ushers you into a stunning, sexy 'old meets new' Art Deco style dinning room – an atmosphere perfect for the likes of Marilyn Monroe and James Dean.  Lush velvets, sparkling accents and a rich warm colour pallet, set the perfect tone for a night of culinary delights and intimate 360 degree entertainment.  When having a night out at the Boulevard Theatre you are certainly in for a treat.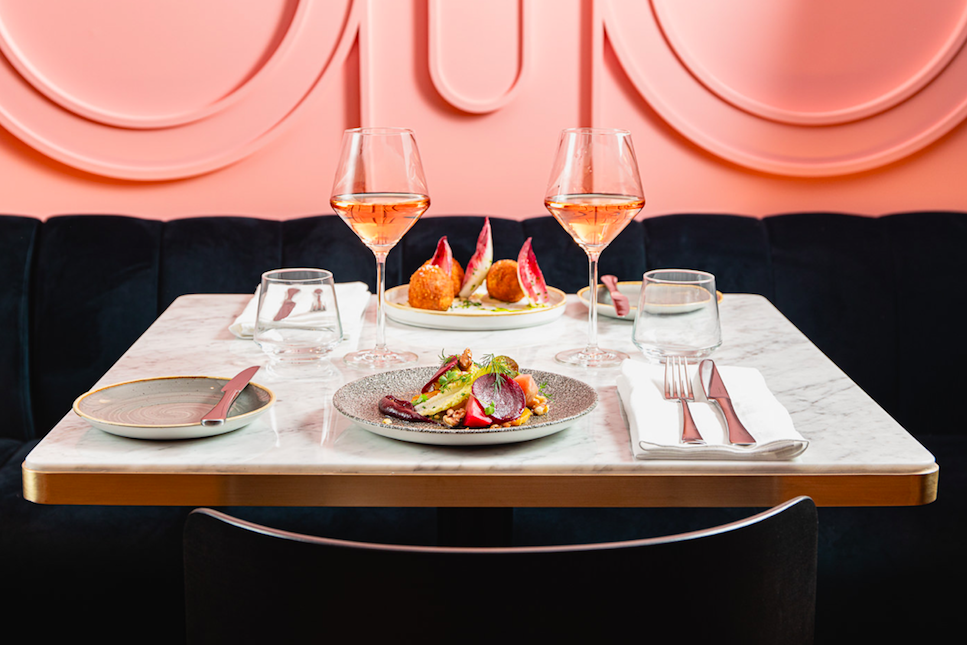 From early to late, sit amidst the stellar ambience and oh-so-lush finishings, as The Boulevard Theatre Restaurant and Bar serves up a wide selection of mouth watering food and drink fare.  Stop off for breakfast and kickstart your day with one of their designer smoothies, or pop in for lunch or dinner while taking in the view of bustling Soho below.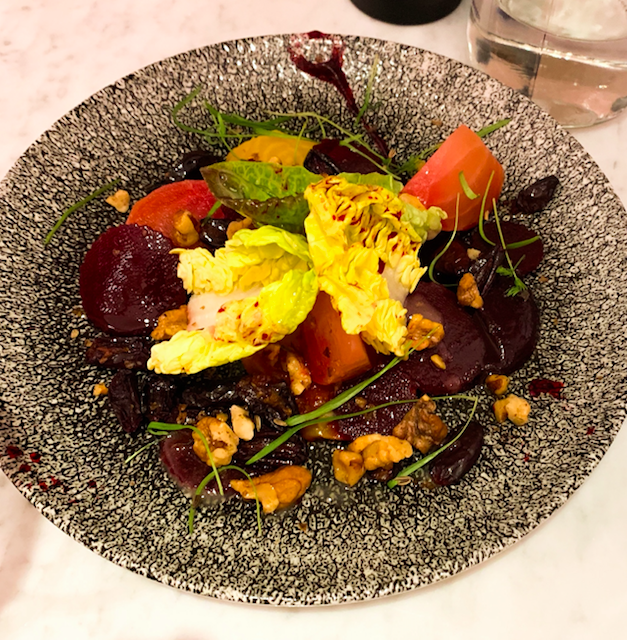 This 'gram worthy' hot spot executes a strong focus on plant based cooking and featuring pallet pleasing combinations like the 'Super Soho Smoothie' with kale, spinach, pear, ginger, apple juice and wheatgrass powder, to small plates uniting heritage beetroot, grape, dill, walnut and maple mustard to sweeter treats like warm chocolate olive oil and almond cake paired with whisky sauce and vanilla ice cream.  Just to name a few goodies!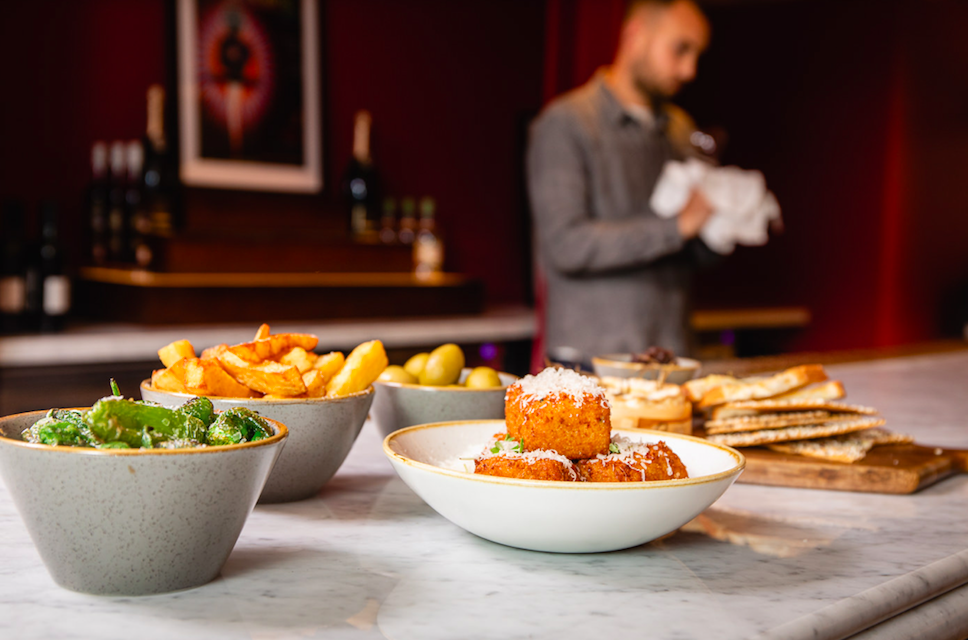 Whether you're there for dinner and a show or just dinner, The Boulevard Theatre's 'ever changing' menu focuses on quality ingredients, accented by stellar mixology masterpieces and is populated with affordable menu options to the more indulgent.  When purchasing your show tickets, make the most out of your evening and add either a two or three course dinner service to sample Head Chef Greg Hillier's selected feature dishes.  Keep an eye out for new show debuts as new additions to the menu are sure to appear and keep your taste buds wanting more.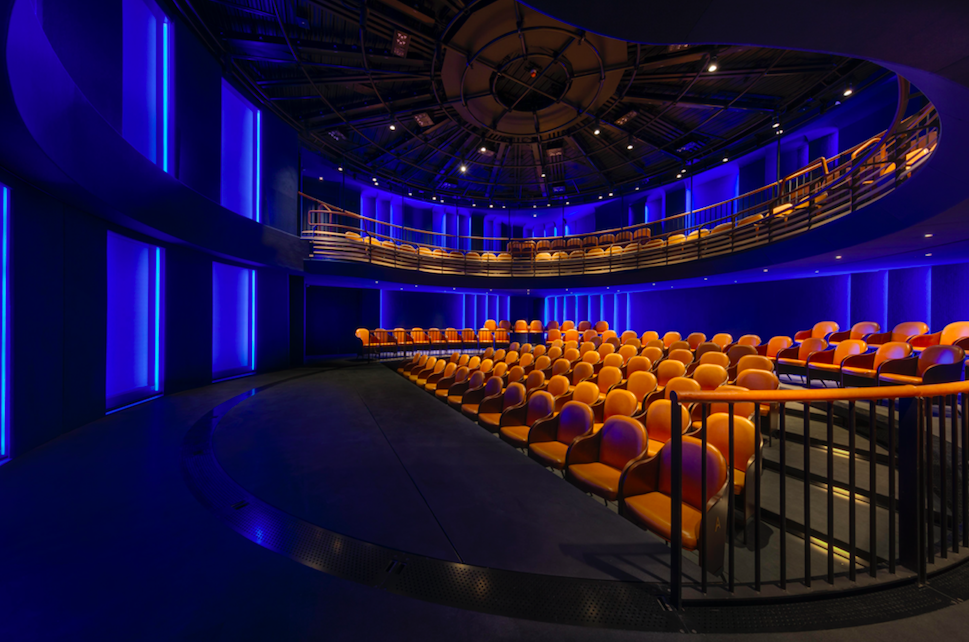 With an intimate ambiance amidst a circular interactive playhouse, The Boulevard Theatre certainly keeps the attention of anyone attending a show.  The brainchild of Fawn James in collaboration with Soda Architecture Studio, The Boulevard Theatre is nothing short of a show stopper!  At the touch of a button this architectural dream theatre can reconfigure itself to showcase any performance.  A stage that rises and a balcony that revolves are just a couple of the features of this modern, elevated contortion-like theatre, which makes returning for future shows exciting because you just never know what you're walking into!
'Ghost Quartet' by Dave Malloy, directed by Bill Buckhurst, is the perfect score to debut Soho's newest gem.  'Ghost Quartet' is an intoxicating, interactive musical about love, loss and spirits 'both crossed over and well alive served by the ounce'.  A dazzling cast featuring Carly Bawden, Nicole Curradi, Maimuna Memon and Zubin Varla showcases not only their vocal abilities, but also create hypnotic melodies with an array of instrumentals bound to enchant all audiences. There is no question you'll laugh, cry and feel as though you're a part of the story.  Hurry though, this debut show will finish January 4th!
 And…  Just when it couldn't get any better – indulge in Boulevard Lates after the theatre show every Wednesday through Saturday featuring Vocal Jazz on Wednesdays, Local Vocal Talents on Thursdays, Comedy Fridays and The After Dark Cabaret on Saturdays.
Boasting a variety of great drink, food and entertainment. It's crystal clear that The Boulevard Theatre has something for everyone every day and  most nights of the week!
Tickets for the Boulevard Theatre and Boulevard Lates start at a generous £12.  For you theatre buffs, annual memberships start at 40 Pounds which include invitations to exclusive events, 24 hour priority booking and special ticket offers.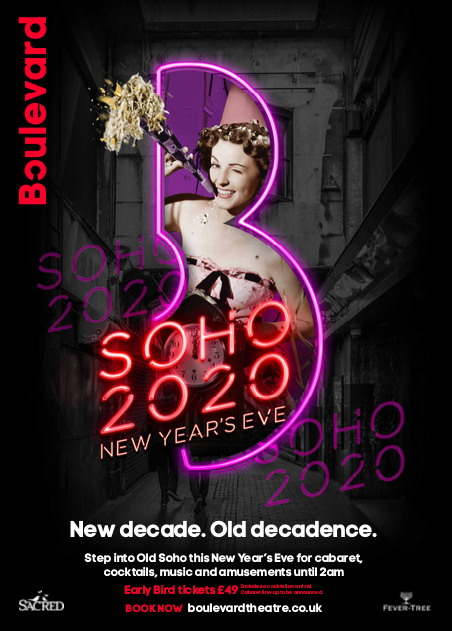 What's more, if you're still toying with the idea of how to spend New Year's Eve,  Boulevard is transporting you to the golden era of 1950s Soho with cabaret, live music, drag, burlesque and DJ retro sets.  Party across three floors in the company of drag host Marlene Dietrich with secret treats and playful surprises around every corner.  With a 'brassy chic' dress code, tickets are £99pp including welcome cocktails, canapes, French style banquet table, cabaret acts and entertainment.  Click here to book.