For a super cool culinary experience in the most lavish of dining rooms, Peter Street Kitchen in the heart of Manchester should be high on your list.
Winner of 'Best Luxury Restaurant in the UK' at the 'British Restaurant Awards 2019', Peter Street Kitchen's unique dining concept offers up Japanese and Mexican sharer dishes to be enjoyed together – the flavours from each dish beautifully complimenting or contrasting the other.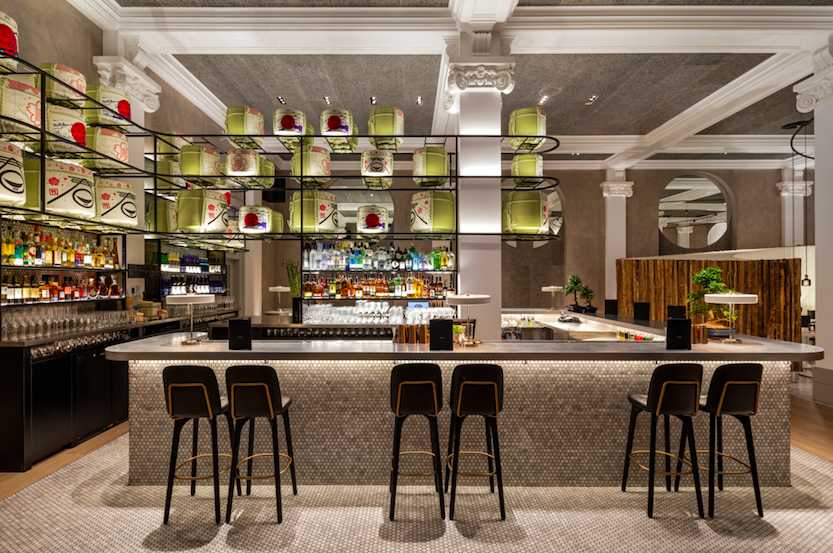 Set on the ground floor of the stunning five star Radisson Blu Edwardian Hotel in Manchester, the bar area is stylish and contemporary with high stools and an impressive collection of sake and spirits on show – the cocktails are equally as impressive. Pre-dinner, we tried the sublime Cucumber and Mint Margarita (£9.50) – a smooth mix of Gran Centenario Blanco Tequila, Cointreau, apple juice, cucumber, mint, lime and agave syrup.  Sipping the drink though its matcha green tea rim gave the ultimate Japanese/Mexican taste sensation.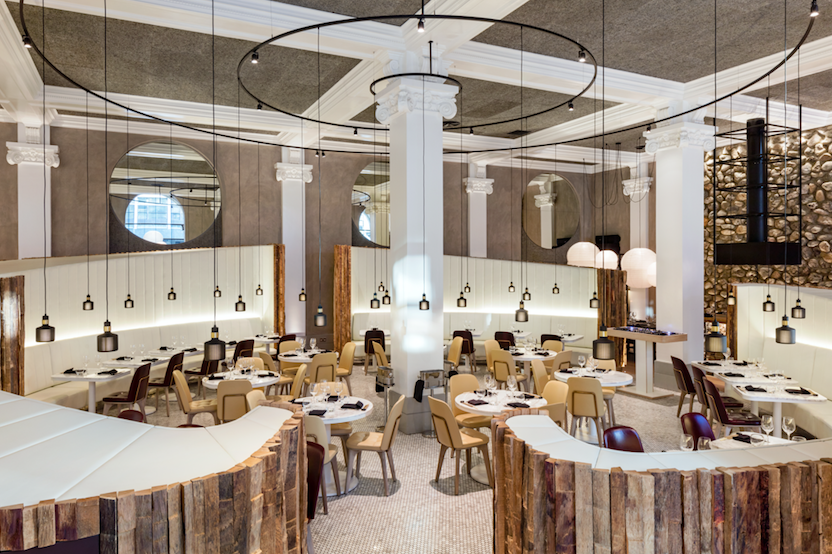 The circular space which the Peter Street Kitchen restaurant occupies is known as 'the eye' – a sort of 'Stone Henge' arrangement resting under stunning high arches.  The uniform arrangement consists of semi banquettes around the perimeter and smaller tables in the centre space.  It's a luxurious setting  which will delay paying any attention to the menu as you'll be so taken with admiring the space.  Modern elements are the main theme here – stone walls set off by wood and metals, mirrors and pretty drop lighting, set against cream leather seating and black marble tables.
As you'd expect, the vibe is equally as cool.  Waiters and waitresses glide weightlessly around the restaurant, to a clubby soundtrack pumping out of the speakers as they serve beautiful diners with plenty of money to spend…
The dishes themselves are equally as beautiful as the crowd, as well as being innovative, expressive and well balanced. Advised to pick 4-5 plates each, we were told that each dish would arrive 'when it's ready' so there's no real order – I really like this concept as it allows the experimental element to come into play, testing the tastebuds to the limit!
Arriving first, were what seemed to be a never-ending bowl of edamame beans, dowsed in addictive lemon butter with chili sea salt (£6) – a great accompaniment to our cocktails which went down all too easily!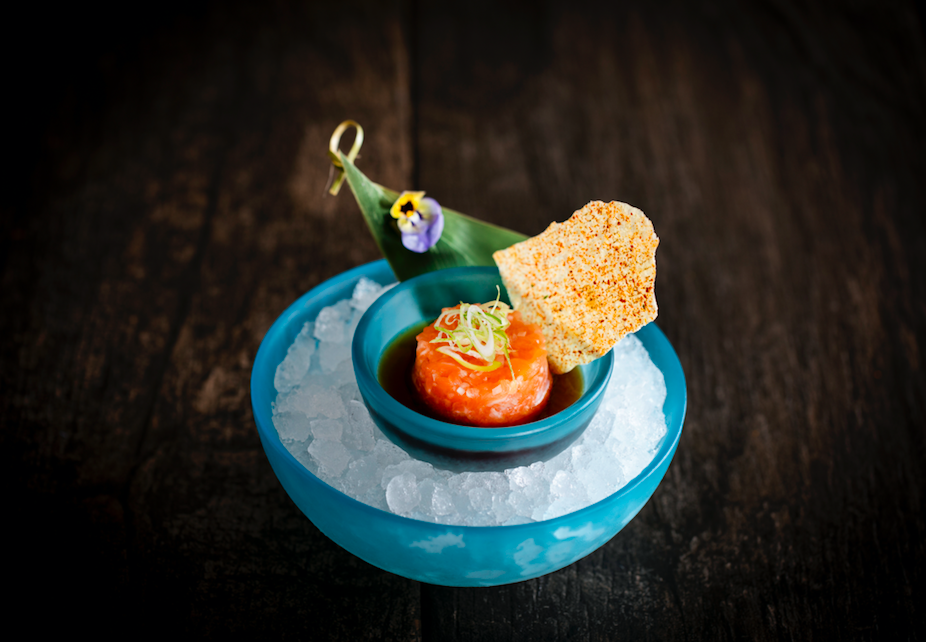 Next, from the Japanese sashimi and salads menu, the Salmon tartare (£7.50) – bathing in shiso soy and brought to us in a bowl reminiscent of a castle moat filled with ice. I loved the contrast of the sharp shiso with the delicate salmon, which we enjoyed along with Japanese flat Tacos topped with fresh tuna sashimi, earthy oaky truffle and a tangy citrus hit of ponzu mayo (£7).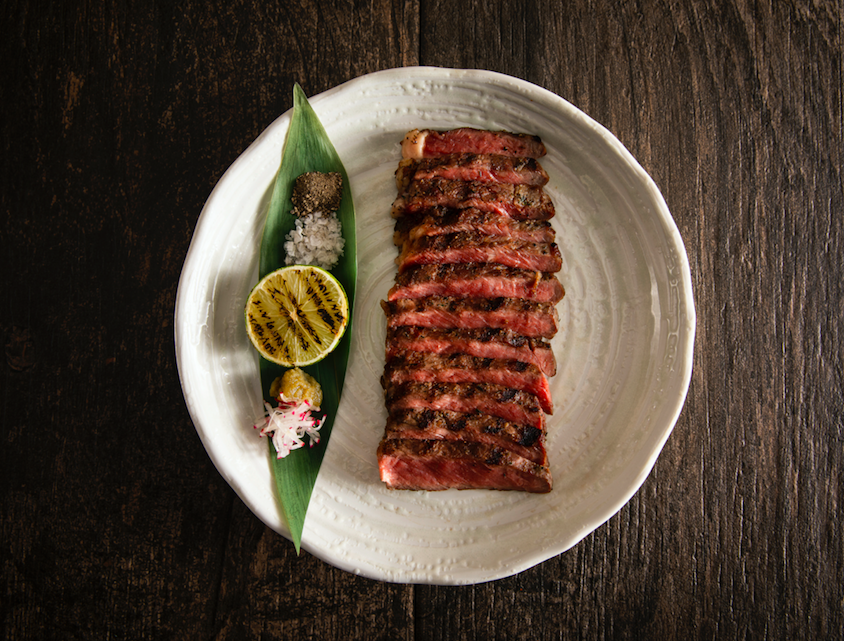 Next to arrive, was one of our main dishes from the signatures and robata menu – 28 day aged rib eye beef with yuzu kosho (£20) which we demolished in seconds.  The high quality meat melted in the mouth and went well with the hot, citrussy seasoning, but we both agreed that star of the show was definitely the Chilean sea bass yasai zuke  (£25)– which fell apart with the touch of a fork.  Wonderfully delicate, yet full of flavour, we devoured this with mmm's of satisfaction at each bite.
Bringing us back down to earth with a jolt, Mexican piled-high-tacos boasting a plucky combo of Mayan spiced marinated chicken, black lime, garlic salsa and cayenne pepper mayo were destroyed in one mouthful – brilliantly balanced flavours which sent the tastebuds into overdrive long after the last morsel had gone…  A crispy duck salad with chill dressing, pomegranate and papaya (£8) was the last dish to arrive and a great palate cleanser after the spiciness of the tacos.
Slick service, seriously impressive interiors and contemporary playful dishes are the ingredients that give Peter Street Kitchen its edge.  They also offer a gorgeous bottomless brunch on the weekends, along with a six course signature omakase tasting menu available in the evenings.  It seems for now, Japanese / Mexican fusion is here to stay on the streets of Manchester.
Click here to book and here to read our review of the epic Midland Hotel, located just a stones' throw away from Peter Street Kitchen.