The charming city of Denver lies at the base of the Rocky Mountains in Colorado.  With spectacular views, activities and entertainment for all ages as well as arts, culture and a flourishing beer trade, you'll fall in love with its relaxed pace and wonderful people as soon as you arrive.
Things you should know about Denver: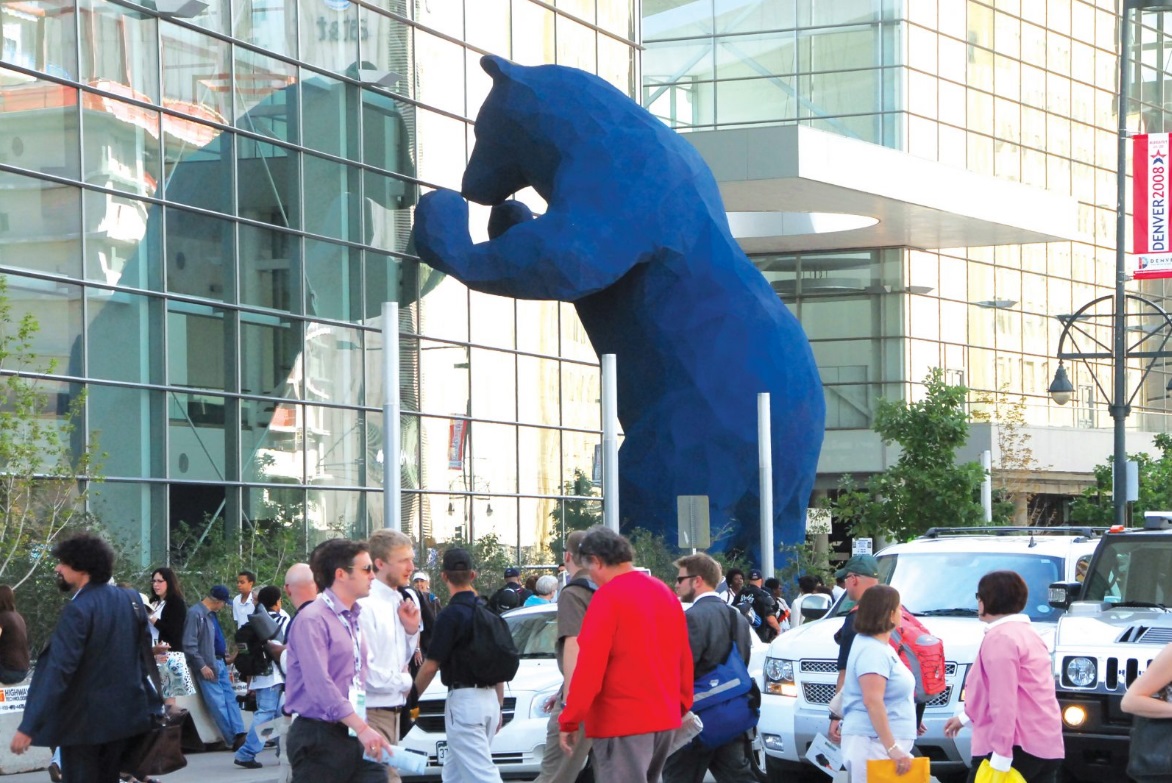 Denver is known as the 'Mile High City' due to its official elevation – 1 mile above sea level.  Visit the lavish Colorado State Capitol (the centre of Colorado's stage government) and get your photo taken on the 13th step at the 'mile high marker'.  While you're in this incredible city, be sure to visit the massive 'Big Blue Bear' sculpture which was created by a local artist called Lawrence Argent. Standing 40 ft tall, you can catch the 'Big Blue Bear' peering in through the windows of the Colorado Convention Centre on 14th and California Street.  Be sure to buy your own blue bear reminder to take home with you – don't worry they're a lot smaller than the original and will fit in your suitcase!
Where to stay in Denver:
The Brown Palace Hotel and Spa
If you want to stay somewhere a little bit flash, steeped in amazing history, stay at the Brown Palace Hotel and Spa.  If you need any more convincing, the 'greats' have all stayed here including pretty much every single President of the United States and even the Beatles!  The lobby area features onyx stone and a stunning stained glass skylight, while you can also visit the Onyx room with its stunning mural on the ceiling and the Gold Room which flaunts 14 carat gold wallpaper.  Indulge in a cigar or two at the Churchill Bar, fine dine in Ellyngton's or sup ale and eat steak in the Ship Tavern.  Part of the Autograph Collection of Marriott Hotels, you can expect luxurious rooms and first class service.
The Curtis Denver – A DoubleTree by Hilton Hotel
Quirky/Cool is the only way to describe The Curtis!  With soft cookies on arrival, cartoons playing in reception and hyper-themed bedrooms which all take on a completely different personality, the Curtis will definitely suit the 'young at heart'.  Room designs range from the Super Mario room, to Ghostbusters, to the Jimmy Buffet suite and if you're lucky, you'll also get a present delivered to your room which could be anything from a cold beer to free snacks.
Where to Eat in Denver:
Guard and Grace
An absolute must-eat-at in downtown Denver on California Street is Guard and Grace – an upmarket stylish steakhouse from acclaimed chef Troy Guard.  Named after his daughter Grace, there's a stylish bar area, dark wood booths with drop lighting and gleaming polished wood floors.  It also boasts a temperature controlled floor to ceiling glass wine cellar for around 4000 bottles!  The steaks here are pretty special – choose from New York strips and rib eyes or go all out for the fillet mignon flight which offers 4oz prime, angus and grass-fed cuts.  Feast on extravagant sauces – the crab oscar, foie butter and bearnaise are all to die for and don't forget sides – loaded baked potatoes and crispy brussell sprouts are the must-haves.  If Josh is still there, he's possibly the best waiter we've ever been waited on, he'll definitely look after you!
Where to Drink in Denver:
The Cooper Lounge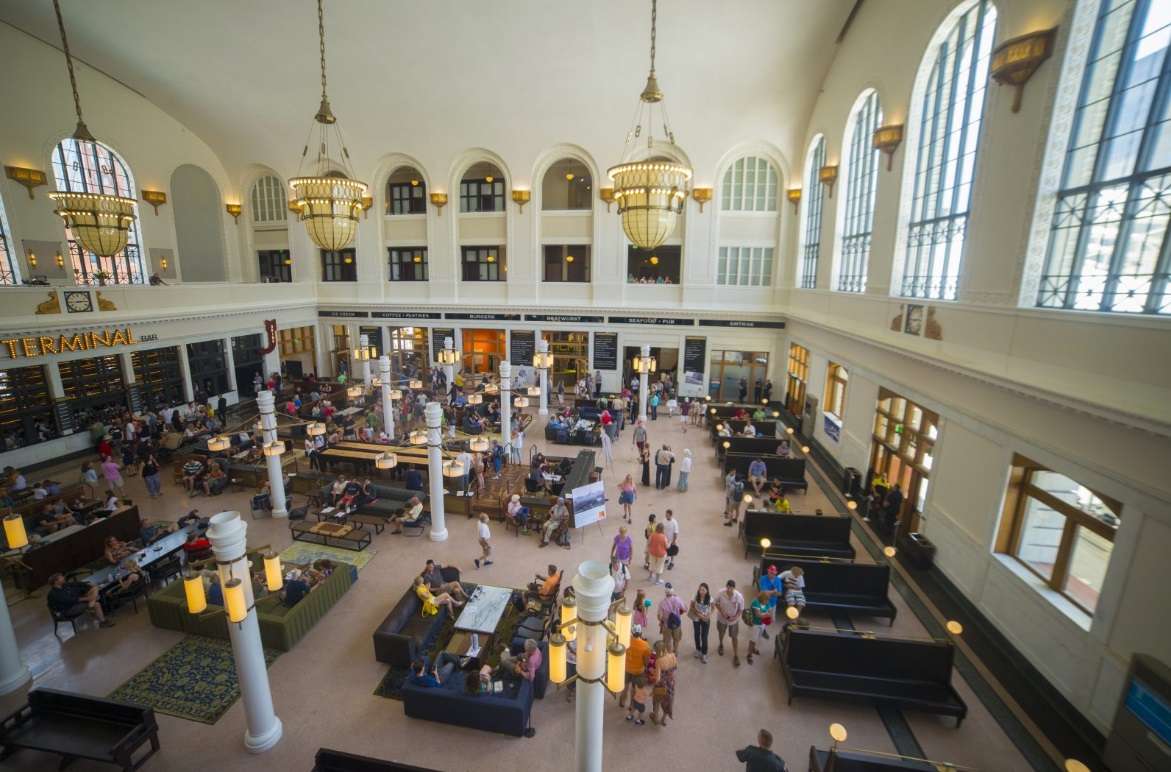 Siting pretty in the mezzanine area of Denver's Union Station, you'll find this absolutely charming Gatsby-esque lounge with beautiful views over both the station and downtown across 17th Street.  The Cooper Lounge's relaxed atmosphere, pretty decor and high arched ceilings make it an impressive space for cocktails with friends or for date night.  Old meets new as antique furnishings clash with hi-tech tablet menus.
Representing a bygone, golden era, you can while away the hours on the leather couches, at the high tables or around the sweeping bar centre-piece.  There's an extensive list of bubbles and wines for special occasions, while cocktails include the Coloradier (Breckenridge Bourbon stirred with Breckenridge Bitters and Sweet Vermouth, served with an orange twist) and our favourite – the Cosmo De Oro (Silver Tree Vodka, Leopold Brothers Orange Liqueur, Cocchi Americano, and White Cranberry Juice).  The Club Car Cuisine by Chef Lon Symensma includes a black truffle Cauliflower Gratin, Colorado Wagyu Steak Tartare and an assortment of chocolate truffles.
Where to soak up some culture in Denver:
Denver Art Museum
The Denver Art Museum's North Building was designed by Italian architect Gio Ponti and was said to have taken his architectural inspiration from a folded napkin.  As a result, you'll find no right angles anywhere in the building and while many of the square, rectangle and diamond shaped windows may look haphazardly placed from the outside, they were actually strategically positioned so that the light coming in, didn't damage any of the artwork!
Now a popular cultural landmark in Denver attracting thousands every year, The Denver Art Museum was expanded in 2006 with to include the Frederic C. Hamilton Building designed by Daniel Libeskind.
Current exhibitions include the iconic story of Japanese Samurai, told through 140 objects (until June 5th), While A Place in the Sun ex;ore the work of Walter Ufer and E. Martin Hennings role in defining American art in the twentieth century.  You can also view the world-famous American Indian art collection, while other displays feature African and Spanish Colonial art, textile and fashion.
Where to shop:
Cherry Creek Shopping Center:
With every shop you can think of including the legendary Macy's all under one roof, Cherry Creek Shopping Center is a premier dining and shopping destination just 4kms from downtown Denver.  Benefiting from hundreds of discounted offers on clothes, products and food, an exclusive discount booklet on arrival will save you even more money on already cut price clothing (compared to the UK).  Expect to save around 50%.  Big name brands include Burberry, Abercrombie & Fitch, Louis Vuitton, Ralph Lauren, Victoria's Secret and many more.
http://www.shopcherrycreek.com
Where to Watch Live Music in Denver
Red Rocks Ampitheatre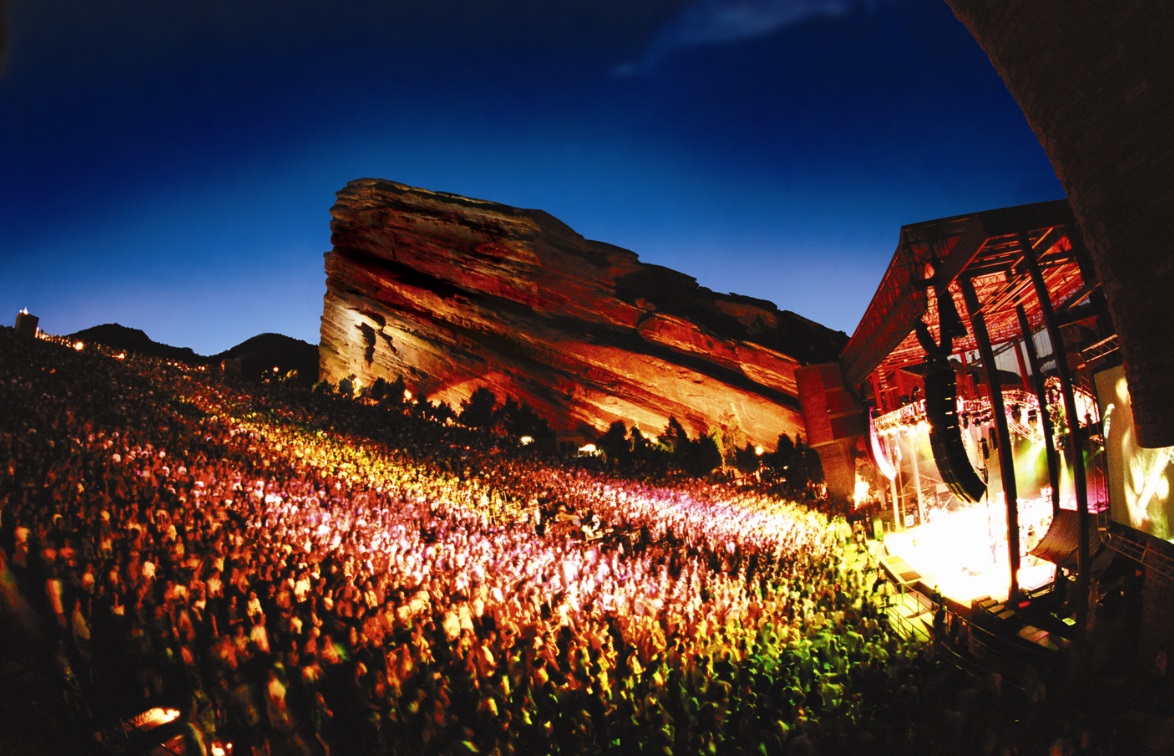 Inspired by the ancient Greek amphitheatre at Taormina on the island of Sicily, this absolutely awe-inspiring rock structure, 16kms West of Denver has to be seen to be believed.  The open-air concert venue which can hold around 9,500 people has played host to some of the biggest musicians from around the world.  Because of the positioning of the huge rocks which make up the amphitheatre, Red Rocks is said to be the world's only naturally-occusing acoustically perfect amphitheatre!
Performers who have graced the stage are all listed in the Red Rocks Hall of Fame, inside the Visitor's Centre where there's also interactive displays for educational insights into music and the amphitheatre.  With a varied list of acts, everyone from Lionel Richie to Skrillex and Ed Sheeran performed at Red Rocks in 2015, with 2016 seeing acts like Bob Dylan and Disclosure gracing the stage.  There really is no better place to see your favourite artist or band.
Check out upcoming acts here.
In addition, Red Rocks Ampitheatre is also renowned for its fitness activities, including bike rides and adrenalin filled fitness challenges.
Before seeing a show at Red Rocks, be sure to stop off at the The Ship Rock Grille with its delicious menu and stunning views.
Many thanks to Visit Denver for their amazing insight and help in putting this guide together: http://www.denver.org