New Year, new smile!  If you're in need of a makeover for 2019, there's no better time to visit White Swan Aesthetics who can cater to all your treatment needs including their Boutique Teeth Whitening system which promise dramatic results!  They also carry out a range of features from eyelash lengthening to dermal fillers and even the controversial vampire facial!
Coffee and red wine (two of my downfalls) have over the years turned my once sparkling smile into, dull, yellow, unhealthy looking teeth.  And I knew it was definitely time to do something about it.

Based in seven locations including Harley Street and as far out as Caterham and Hertfordshire, I chose the convenient Wimbledon practise as the starting point in my quest for those pearly whites (I've some serious teeth envy for Rylan Neale-Clarke and pretty much the whole cast of MIC).

The dentist who carried out my consultation – Dr Imogen Bexfield was absolutely fabulous and had the most amazing teeth herself – most definitely reassuring!  After explaining the procedure, impressions of my teeth were taken which took less than a minute and I was shown what I'd need to do to fill each tray with the syringe based bleach.  The impressions were then sent away by White Swan Aesthetics and within two weeks, I had my moulds delivered in the post.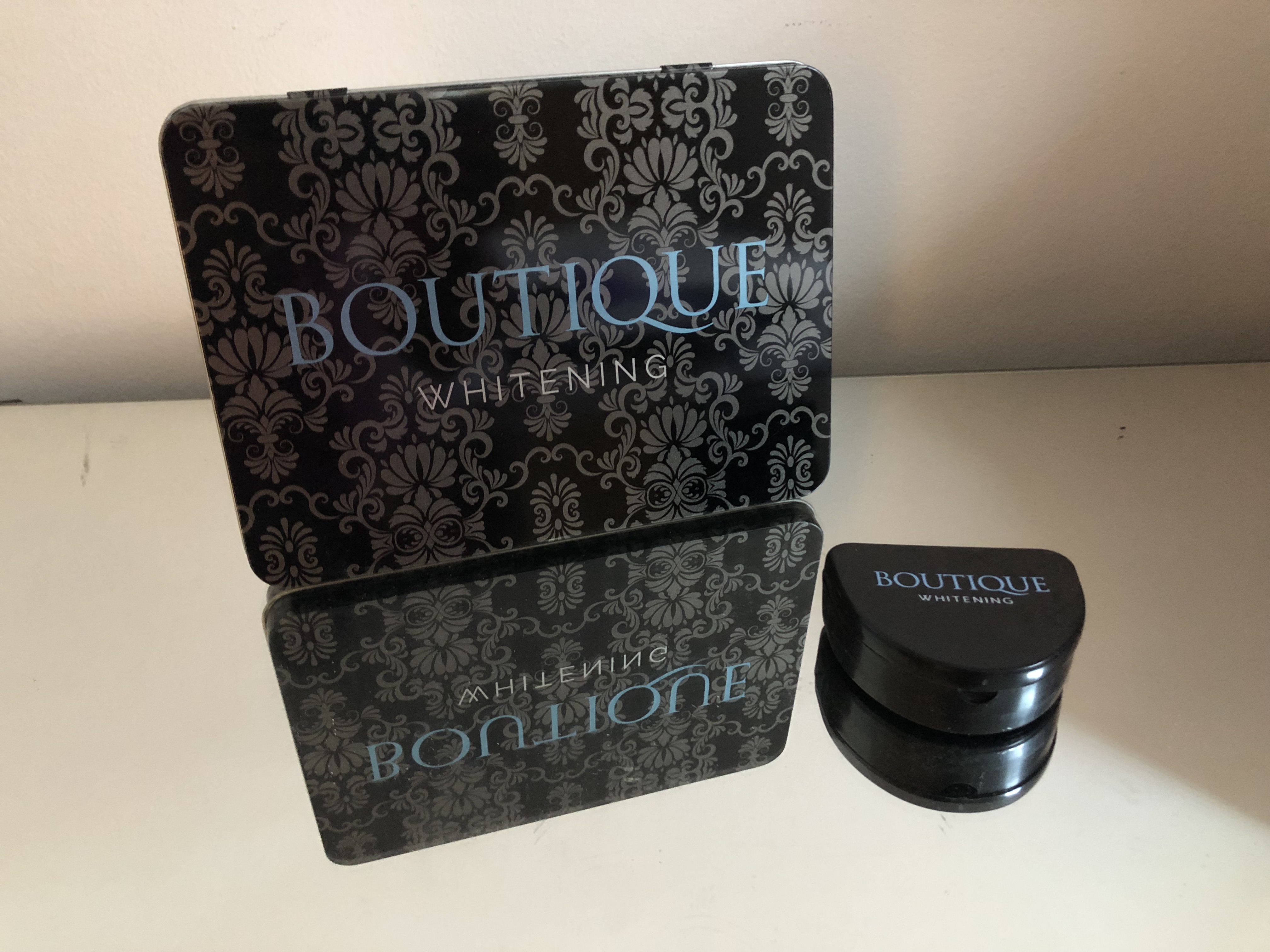 Boutique Whitening's products are packaged beautifully – like a high end make up box.  With a syringe supply of the gels, I began my lightening journey, wearing the moulds, which I filled with a drop no bigger than a match stick into each of the teeth indentation marks on the mould.  Although they contain hydrogen peroxide, they're safe to wear for anything from one to four hours.

Because they're moulded so precisely at the start, the fit is amazing – the gel is pushed right into each individual tooth which obviously ensures the very best results compared to generic sets you might buy from the pharmacy.
Peroxide systems are said to produce much better results than laser teeth whitening systems and after just a few days, I could already see the results!  Every day I'd get excited to use my Boutique Whitening, because each time I'd remove the moulds, the results would speak for themselves!
It's recommended you visit the dentist every five days of treatment with a follow up consultation to check on the final results.  There's also the opportunity to add on a one hour power boost to get your teeth to that envious B1 grade on the teeth whitening scale!
The results are better than I could've hoped for and I'm told if I continue to top up, the results will last FOREVER!  This means I will have to work on smiling way more on my Instagram selfies, to show off my brilliant white gnashers!
Boutique Whitening from White Swan Aesthetics starts from just £249.  Click here for more info.