There's nothing more glorious than England in the sunshine and no better place to celebrate the British Summer than at Hilton Bournemouth.
I appreciate the irony as I type this whilst listening to the rain beating against the windowpane. However, whilst recently enjoying a much welcomed (and overdue) week of British summertime, it confirmed why the UK staycation, if you could guarantee a consistent summer, could be sublime.
Bournemouth is a wonderful hub of seaside charm. Its warm microclimate explains the cheery, sunny disposition of those who live here – I mean, you can't help but smile here!  Boasting seven miles of sandy beaches, majestic cliffs and an attractive palette of multi coloured beach huts along the promenade – you'll be forgiven for only soaking up the beach life during your stay.
However, don't forget to enjoy the other delights the town has to offer.  This includes attractions including the Bournemouth Pier Zip Line – the world's first pier to shore zip line – the oceanarium, a stroll around 2,000 acres of Victorian gardens, golf courses, museums, new cinema complex, vibrant town centre and shopping and a lively evening scene of bars, clubs and restaurants.
With hotels, guest houses and B&B's a plenty, the Bournemouth Hilton is a refreshingly modern addition to the town's wide range of accommodation.  Situated walking distance from the beach and town centre, the hotel was built four years ago and is conveniently steps away from the Bournemouth International Centre if you're visiting for events, concerts or conferences.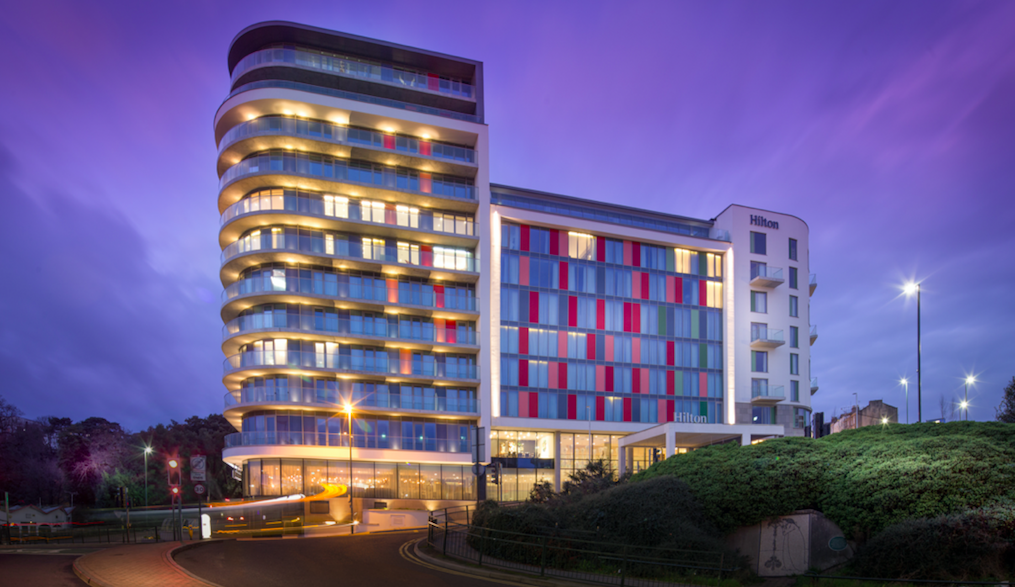 Classic meets quirky, its tall modernist glass exterior is a blue beacon in the town's skyline.  The lobby's floor to ceiling window floods in light to provide a contemporary welcome.  Bringing together natural design elements of the beachside and local forests in which the hotel's 177 rooms nestle, it  has a warm and friendly feel of south coast charm.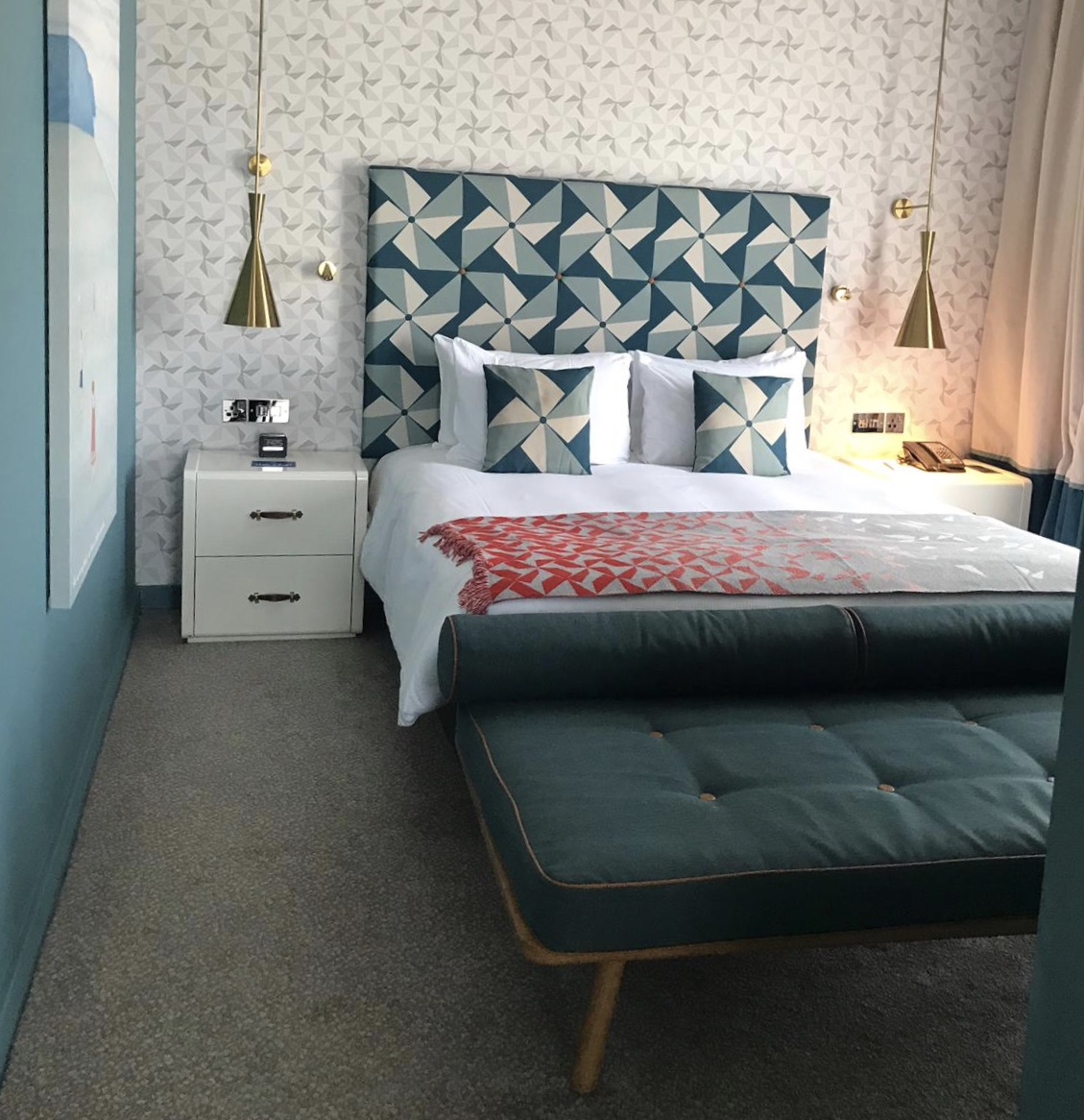 Checking in to a Junior Suite, the room had an art déco vibe with its blue and brass touches for a distinct luxury seaside experience.  Its spacious and modern bathroom offers both a walk-in shower and freestanding bath.  The relaxing lounge area provides a chill out zone in front of the wide screen TV and workstation.  The bright and airy bedroom brings opulence with its blue hues, brass fixtures and invitingly comfortable bed.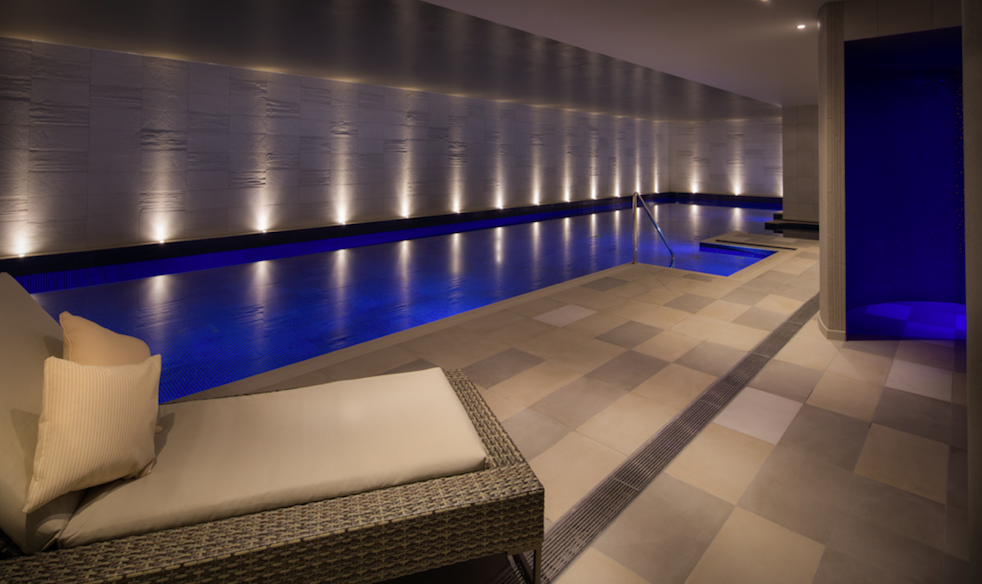 Having enjoyed Bournemouth's town and seaside promenade walks I was keen to discover more of the hotel's facilities.   The hotel is home of the UK's first eforea spas which has an extensive menu of treatments designed to help invigorate, relax and revitalise. The health club offers a 24-hour state-of-the-art fitness. Unlike most hotel pools which can come up short, this heated 20 metre pool was ideal for a few laps then relaxing in the jacuzzi, steam room and sauna, before dinner.
The hotel has three bars. Tonic Social with its sun terrace is a lively street level bar and popular go-to destination with music, summer BBQs, coffee and cocktails and light bites. By the lobby, is That Bar which offers cocktails and drinks and is a great spot to enjoy a quiet drink.  For a pre-dinner cocktail however, the only way was up – to the highest bar in the south west of England.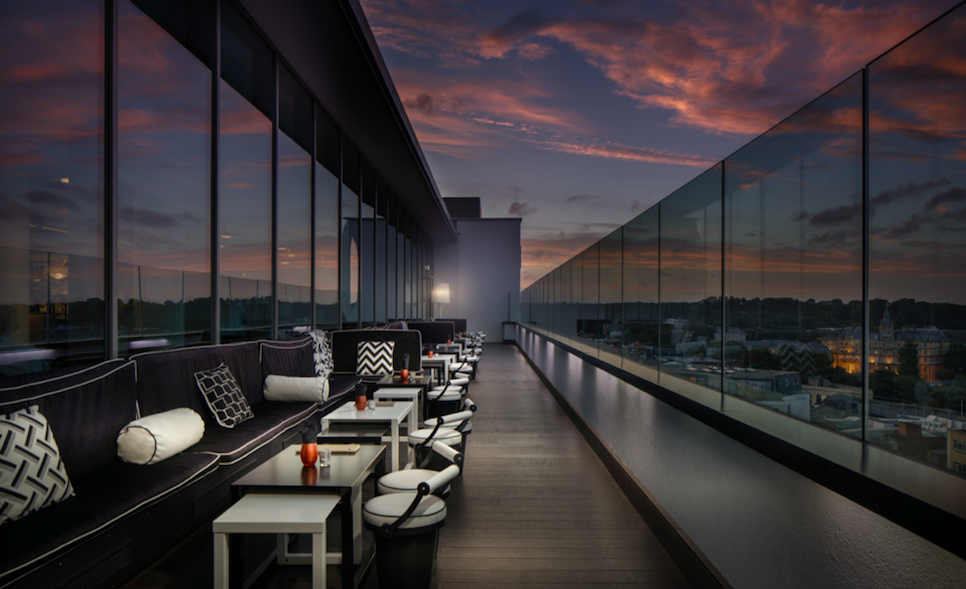 LEVEL 8IGHT SKY BAR is a must visit for its dramatic views across the gardens and out across Bournemouth beach. I had popped upstairs to take pictures during the day and found it was a great place for afternoon tea. In the evenings – with that view, outdoor seating and fairy lights – I would definitely recommend sampling their extensive drinks menu of handpicked wines, premium spirits and extravagant and creative cocktails.
Being in the SKY BAR, I opted for the 'Beyond the Clouds' signature cocktail – a refreshing fruity blend of Tanqueray Gin, Kwai Feh, Lychee Liqueur, Lemon, Cranberry, Raspberries and Sugar.  The signature cocktails are created by the bar's team and changes every six months.  All cocktails are priced at £11 (Happy Hour is Sunday – Thursday before 6-8pm when classic cocktails are £7.50) and mocktails at £6.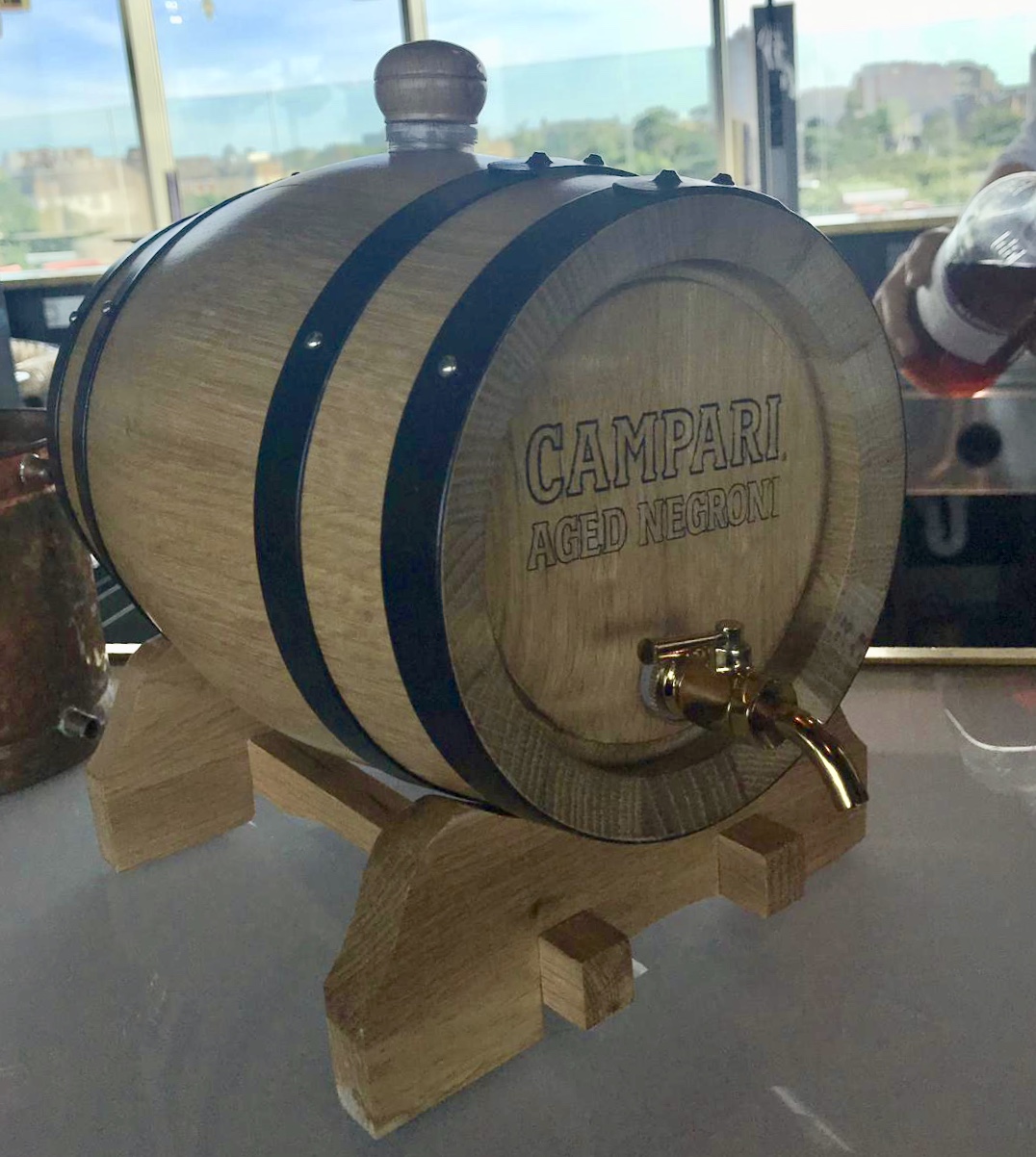 This is a special year for the Hilton, Aperol and Negroni as they celebrate 100 years with their Apertivo100 cocktail menu.  Master mixologist Gavin McIlwaine offered a sample of his Barrel Aged Negroni, with the sweet flavour of plum as he explained how the mixture had been allowed to rest in the three-litre oak barrel on the bar.  Delicious and certainly one to savour.
Alas there wasn't more time to sample more of the cocktail menu – the next stop was dinner at the hotel's Schpoons and Forx restaurant. Executive chef Matt Budden offers British dishes with a twist with its adventurous use of bold flavours and, actively part of Chefs' Forum initiative, the menu uses local and seasonally sourced ingredients.
The open restaurant layout with its big windows, open plan kitchen and central Tandoor clay oven, really brings a homely feel to its farm to plate dishes.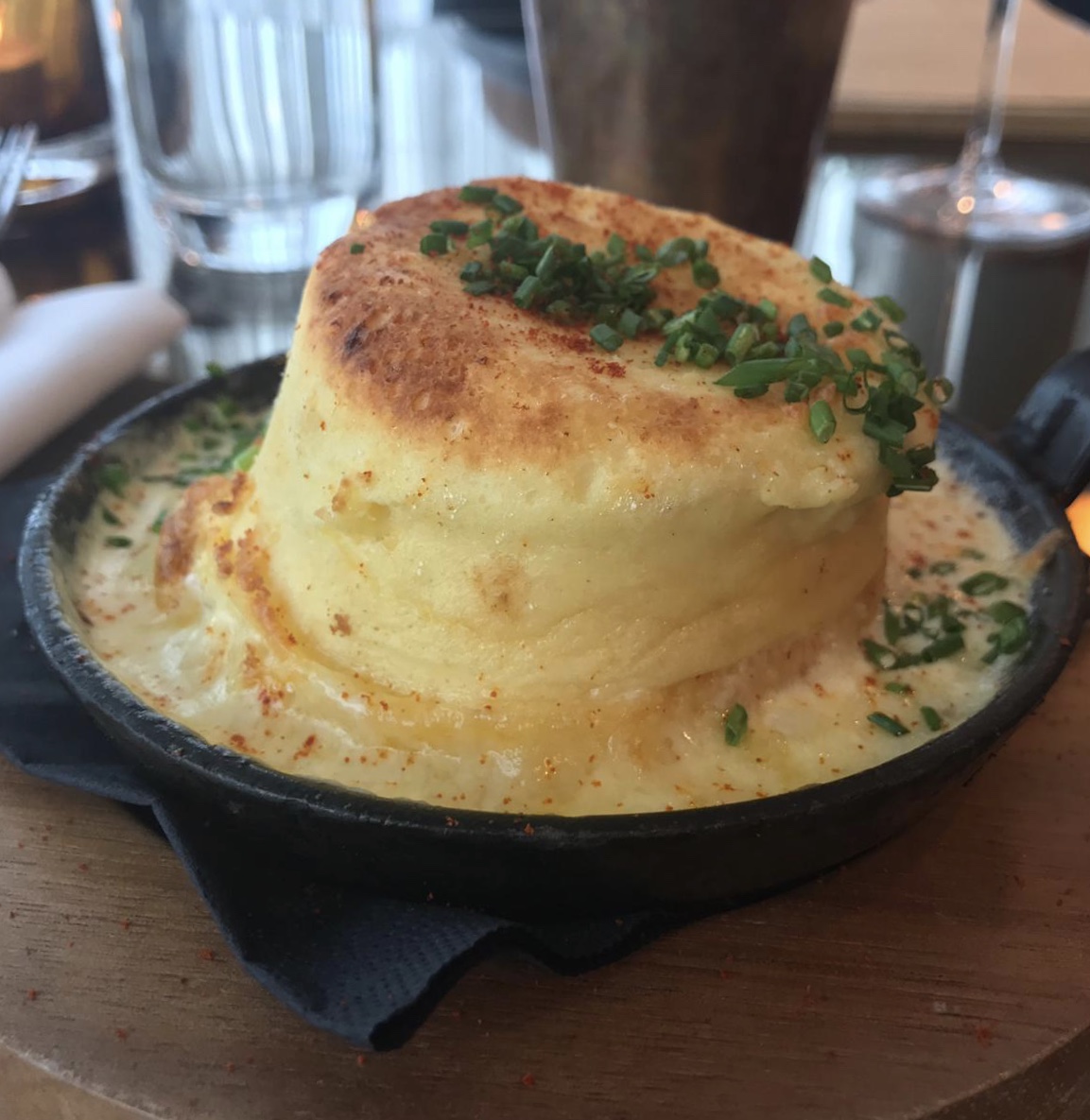 For starters, I tried the twice baked Dorset Cheddar souffle with shallot cream. The heartening smell of melted cheese hits you immediately – the light and airy souffle is beautifully balanced with the strong cheddar and rich cream making it flavoursome as opposed to heavy.
Perfect alongside a fruity glass of Casa Albali Verdejo, Sauvingnon Blanc from Valdepenas, Spain (£7.50 for a large glass, £19 a bottle)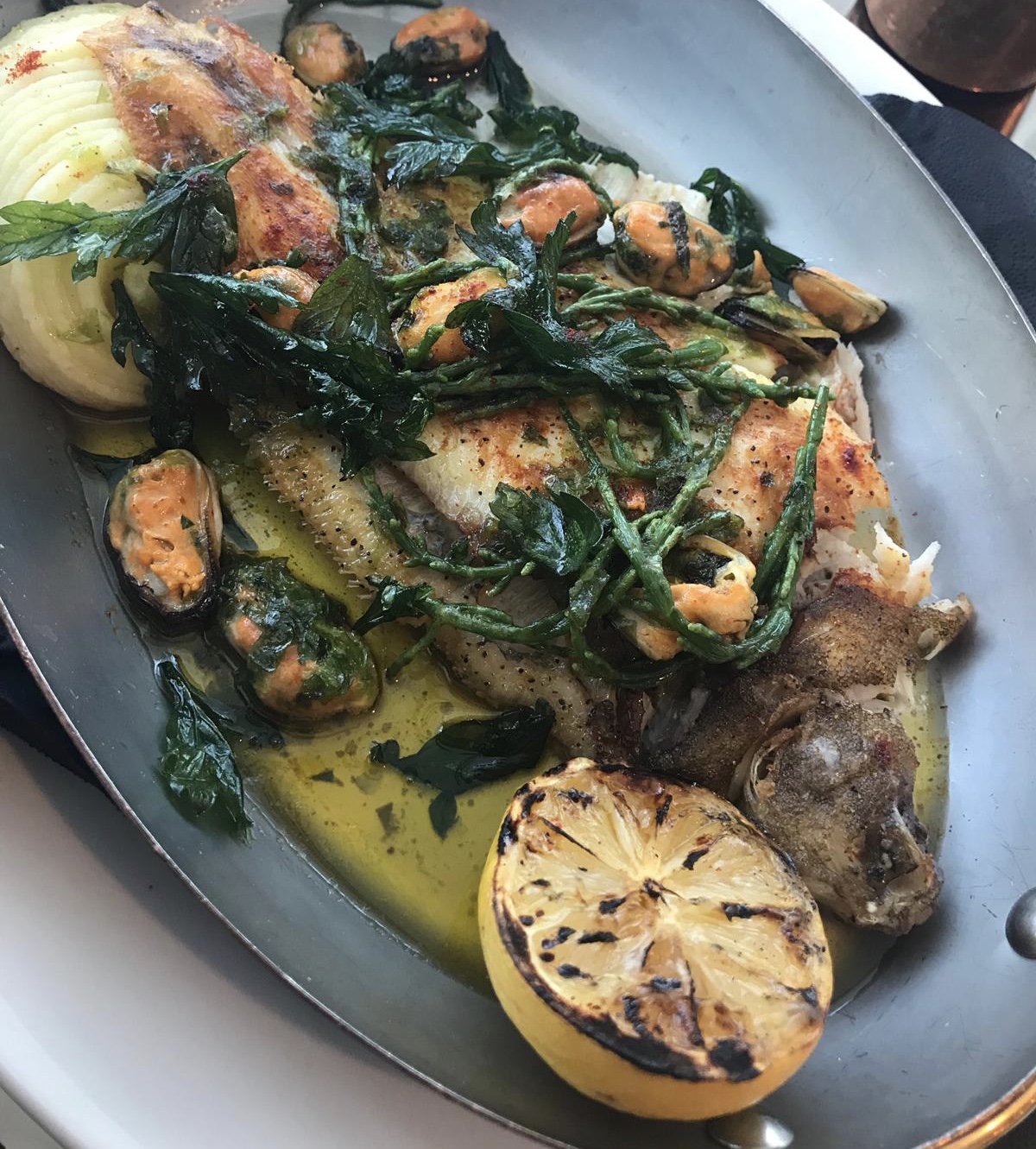 This was followed by one of the night's tempting specials – Lemon Sole, locally sourced (of course), cooked with mussels, saffron and seaweed butter with a generous side dish of spinach, olive oil, lemon and garlic.
I nearly conceded defeat when offered the dessert menu, but 'Sweet Schpoons' offers a mini taster of each of the four desserts offered. They ranged from 'lick-your-spoon good' dark chocolate, Nutella and salted caramel mousse and butterscotch doughnut, to comforting sticky toffee and pear pudding and clotted cream ice-cream.   The light and delicate pineapple, coconut, mango and lime pavlova would have been the perfect end to my meal choice, so was pleased to have savoured even a bite of it. Finally, the tasty Cambridge burnt cream with raspberry and shortbread.
Success! Food envy had been averted.  The only casualty was the chocolates on my pillow placed during the turn down service – they would have to be enjoyed another time.
Hilton Bournemouth is a ray of sunshine on the 'coast with the most' and even when the typical British weather sets in, there's still plenty to enjoy, both in the hotel and around.
If you're visiting London, check out our review of wild rooftop bar Doubletree by Hilton Hotel at Tower Hill by clicking here.