Singapore is so hot right now! No longer the place you'd stop over to get to somewhere else, Singapore is  a destination in its own right.  An exciting, culinary and cultural mecca, and as of last year, home to five of the World's 50 Best Bars too.
2019 is the perfect time to visit as the city-state celebrates its bicentennial – commemorating the 200th anniversary of Stamford Raffles' landing in 1819 which signified the beginnings of the modern Singapore.  Here's Luxe Bible's guide to the Top 11 Must Do's.
Food – Hawker Centres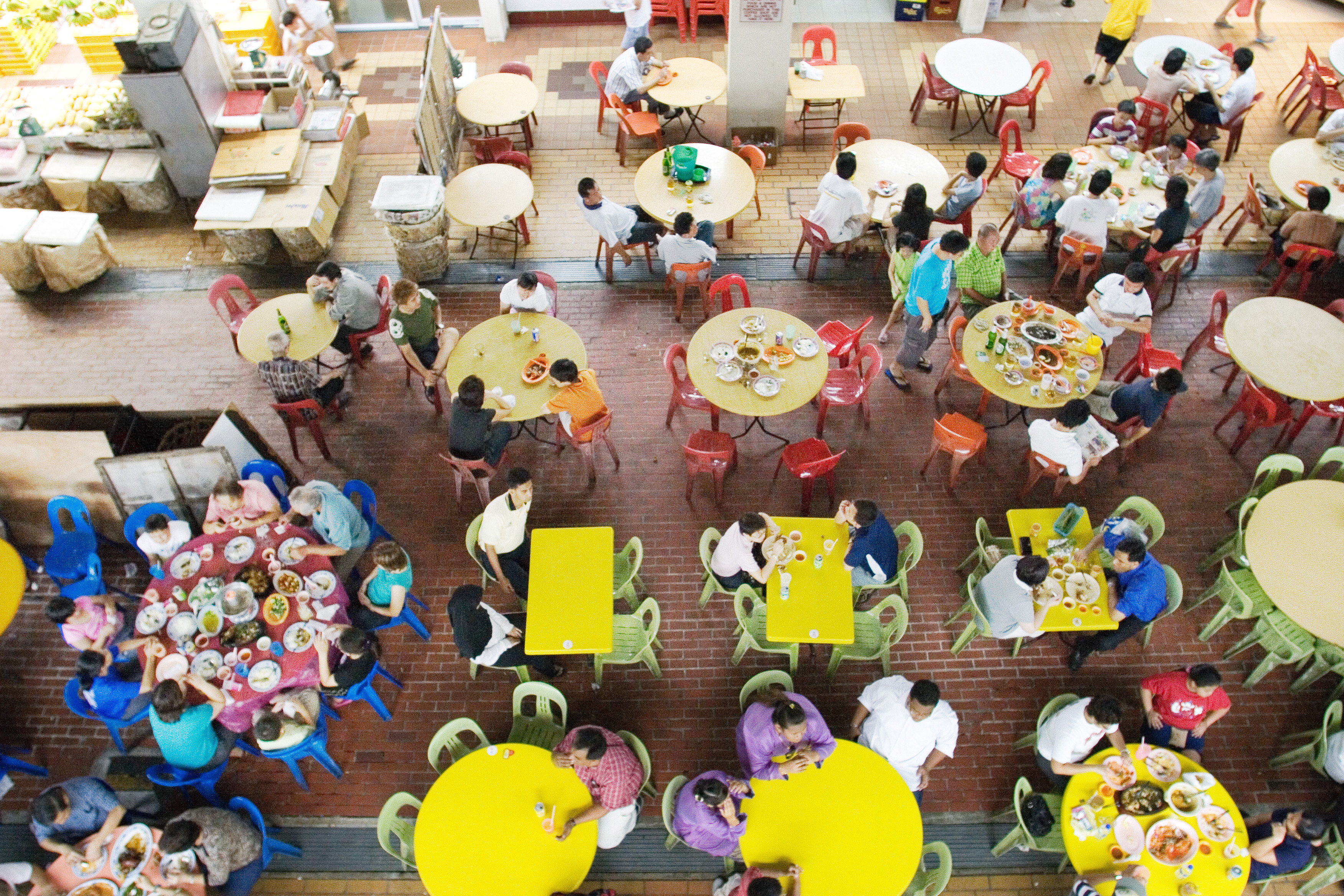 There's no two ways about it – Singaporean's absolutely love their food!  Instead of saying 'Hello' or 'How are you?', their standard greeting is actually  'Sudah makan' meaning 'have you eaten?'.  There's no greater way than to witness their love for grub than at one of the many many Hawker Centres across Singapore.
These open air food courts have a wide variety of stalls selling Thai, Chinese, Indian, Malay and even Western dishes.  What's more, Hawker Centres are extremely cheap in comparison to the high cost of living here.  You'll easily be able to buy a meal and a drink for around £4, including a Michelin starred dish of Soya Sauce Chicken for that price!
Whether it's stir fry, curry, chicken, frog or noodles, you're guaranteed to get it here.  Head to the Changi Village Hawker Centre to try the speciality Nasi Lemak which is a rice dish cooked in coconut milk and pandan leaf.  It can also be served with anchovies, peanuts, egg and chili.  The Tiong Bahru Hawker Centre is another good one to try, plus it's right next to a gorgeous little shopping area housed in Streamline Moderne style buildings.  Don't get dressed up, do expect to sit on a bench with a bunch of strangers all tucking into their food and use this as the perfect opportunity to suck up the local cuisine and the atmosphere!  The longer the queue at any one stall, normally means it's a good place to buy from.
Food – 2am Dessert Bar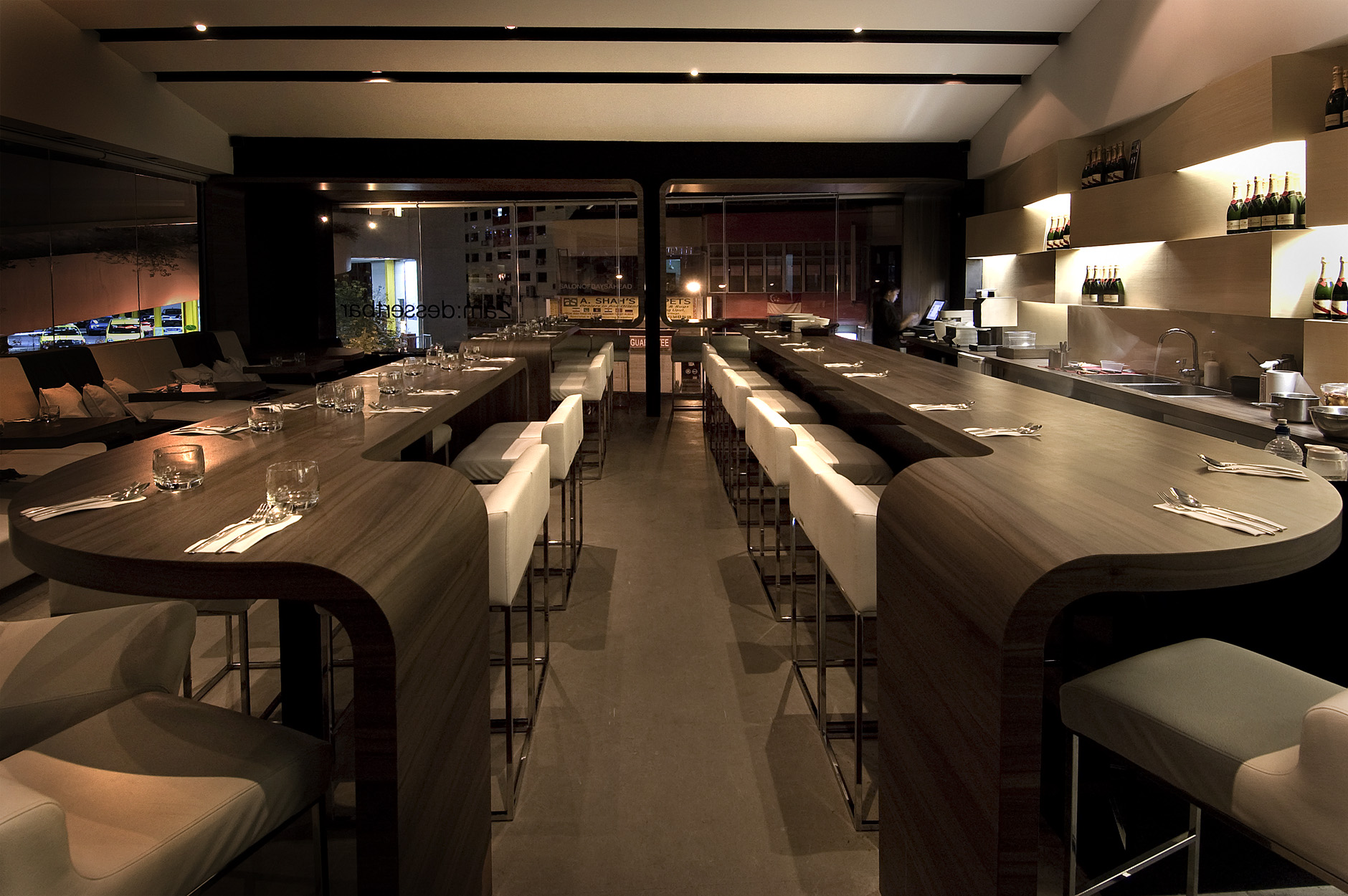 Another popular place you must try and fit in is the 2am Dessert Bar, serving up cocktails and desserts into the wee small hours in a sophisticated setting.  Owned by Asia's number one pastry chef Janice Wong, all dishes are a work of art, including the cocktails.  The current menu includes the absolutely beautiful Cassis Plum, a cassis bomb ball filled with elderflower yoghurt foam, plum liquer and a bamboo shoot in teriyaki sauce.  If you don't make it to the 2am Dessert Bar, try her restaurant bar in the National Museum, while there's also a concession in Harrods.
Food – China Town
While you're in Singapore, China Town is a must.  Today, it comprises five districts and has modernised rapidly.  While many houses remain intact architecturally, much of it has also had to adapt to new hotels, restaurants and the influx of a different crowd.  Part of its heritage has been painstakingly preserved, but almost everywhere is the evidence of contrasting cultures – both new and old.  You'll find old temples and mosques here – still very much in use, an amazing Hawker Centre (frog porridge is one of the common delicacies here, plus the aforementioned  Michelin starred chicken rice stall), and an abundance of cute little shops and stalls as well as trendier restaurants and bars.
Drinks – Native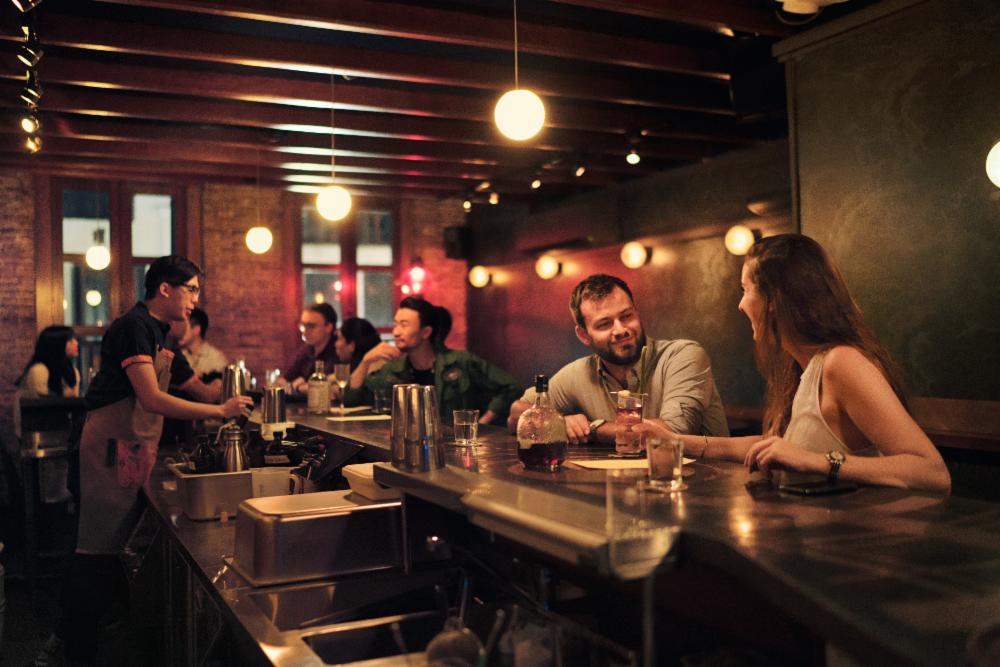 With Singapore currently home to five of the World's Top 50 Best Bars 2018, you'll be spoiled for choice with must-visit hot spots like Native.  This uber cool and cosy cocktail bar was founded by Vijay Mudaliar of Operation Dagger, and now number 13 on the list, Native boasts an eclectic list of drinks – each one based on a different part of Asia.  Ingredients are locally sourced and even foraged.  Try the Antz cocktail… if you're brave enough…
Drinks – Clarke Quay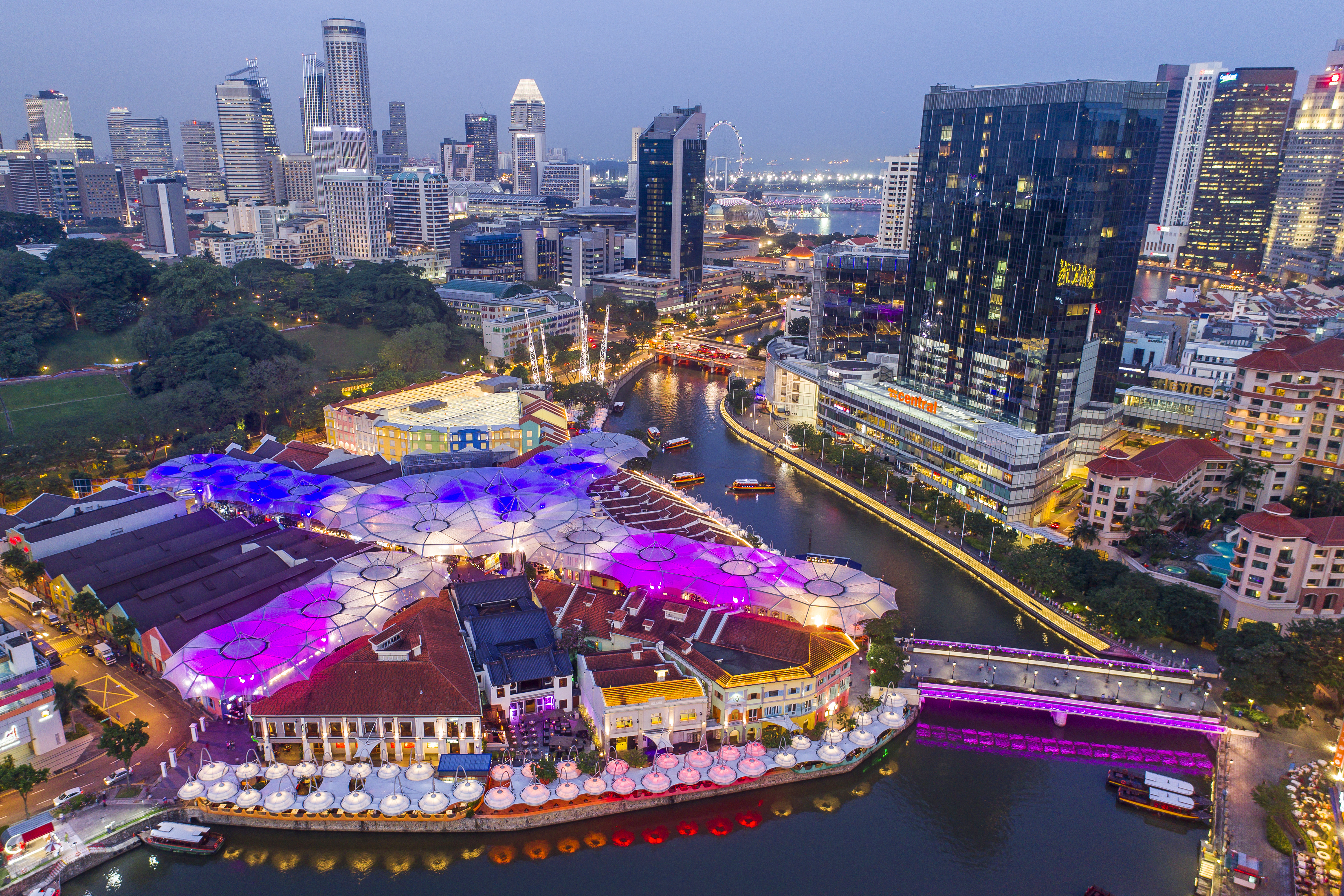 If you're looking for a buzzy, busy night out, then Clarke Quay has it all going on from hotels to restaurants, to bars… to clubs…. and err even more bars!  Start over at Merlion Park where you can see Singapore's national icon – the mythical Merlion.  This infamous statue which spouts water against a beautiful backdrop (including Marina Bay and of course the staggering Marina Bay Sands hotel) is half lion and half fish.  Its body, a symbol of Singapore's humble beginnings as a fishing village, while the lion head represents the city's original name 'Singapura' meaning 'Lion City' in Malay.  From here, take a restored bumboat all the way down the river for an informative yet relaxing guided tour.  Take a boat at sunset for a great view of the city, then you can hop off at Boat Quay or Clarke Quay for a food and drinks.
Drinks – Manhattan Bar, Regent Singapore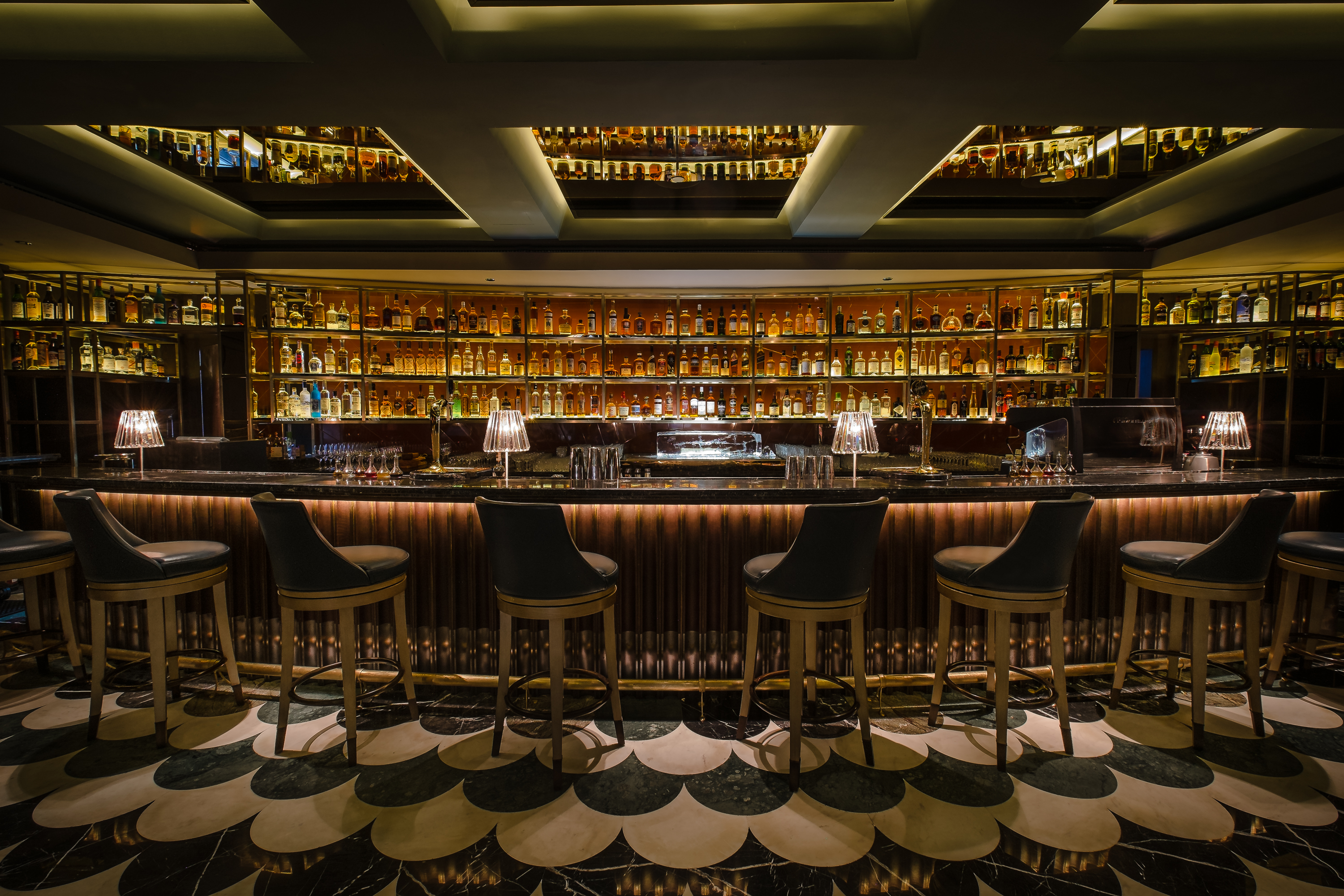 Deliciously decadent and overtly opulent, while you're staying in Singapore, you must stop by the Manhattan at the Regent Singapore which also makes 2018's list of the World's Top 50 Best Bars at Number Three!  It's boast a stunning seating area and beautiful bar as the backdrop, lined with hundreds of fabulous bottles.  The cocktail menu is quite amazing and no expense is spared in the making of these glamorous drinks – even the ice has been produced using a 'premium ice programme' to ensure they're the very best.
The Manhattan also houses the first ever in-hotel Rickhouse featuring over 100 American Oak barrels.  The snazziest of nibbles wil compliment your Sazerac, artini or Cosmo, including 'Rebellion Burgers' with Angus beef, tomato onion jam, Nicasio cheese and butter lettuce packed neatly into a paprika bun, or the 'Maine Lobster Roll'  with soft crab meat, avocado and remoulade sauce.  You can also use one of their three private rooms for more intimate affairs, hidden behind a secret door.
Drinks: Long Bar, Raffles
Well it's always good to say you've been isn't it?  Raffles, the iconic  five star luxury hotel which has become iconic since its opening in 1887 is home to Long Bar, where you just have to try the legendary Singapore Sling!  Although it's closed at the moment for a complete re-furb, it's due to re-open this summer.
Leisure – MacRitchie Reservoir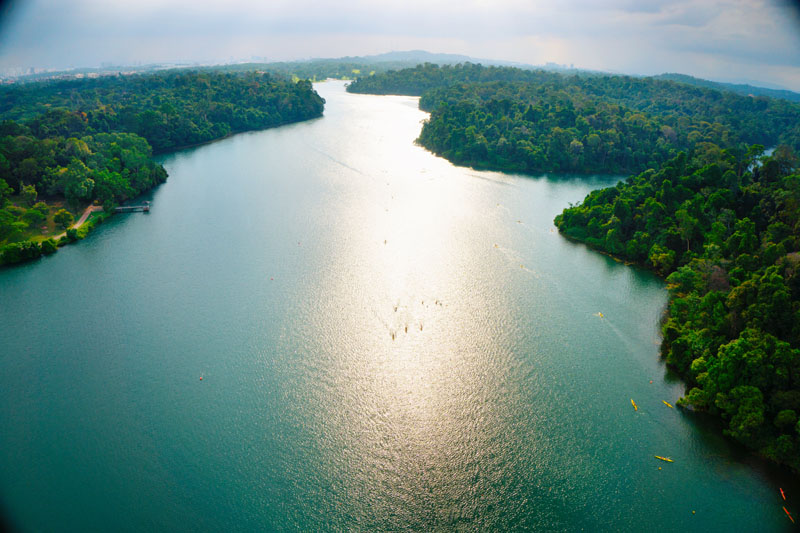 Contrary to what you might think, Singapore has four natural nature reserves, making it as much of a garden city as the modern cosmopolitan city its known as.  Each year Singapore's Prime Minister plants a rain tree in Singapore, keeping up a tradition which has been going since 1963, when the importance on greenery and nature was first recognised.
One of these four main nature reserves which is definitely worth visiting is the MacRitchie Reservoir – the oldest reservoir in Singapore, surrounded by lush green forest.  Here you'll find opportunities for hiking, fishing, bird spotting and some absolutely amazing views of the rainforest and city beyond, on the treetop walk across a 250 metre suspension bridge!  Don't forget to take water and wear comfortable shoes!
Leisure – Pulau Ubin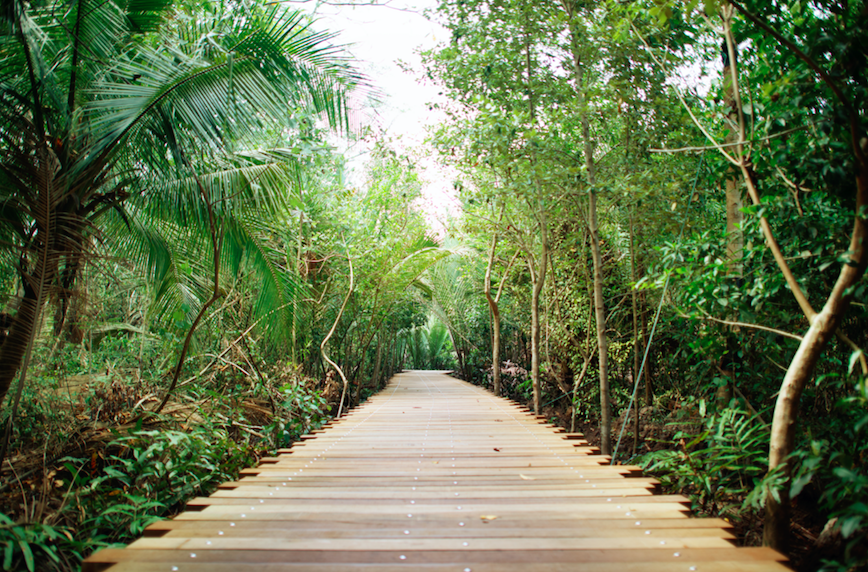 It's well worth taking a trip over to the boomerang shaped Pulau Ubin Island situated in the North-East of Singapore.  Here you can experience Singaporean life back in the 60's as the local residents still live today 'kampong' style with wells for water, diesel generators for electricity and they feed their families through farming.  Grab a mountain bike and take on the rugged terrain, it really is an exhilarating ride.  Then park up at the Chek Jawa Wetlands – one of the richest ecosystems in Singapore where you can spot all kinds of wildlife in its natural habitat along the 1km boardwalk.  Before you drop your bike back, be sure to stop and refresh with some beautifully ripe coconut water at one of the tiny shops.
Leisure – Sentosa Beach
Singapore has a beach resort?!  Yep.  And you'd never realise you're only 20-25 minutes from the centre of Singapore when you get there!  Totally relaxed and chilled out, the beaches are beautiful and also lined with cool beach clubs for drinks, dinner and sunbathing.  Most of the beach clubs also have pools.  You can get a handy bus along from one end to the other where there's many bars, coffee shops and restaurants.
Leisure – Gardens by the Bay
Gardens by the Bay is a spectacle which just has to be seen.  101 hectares of reclaimed land has become an absolutely stunning outdoor space in Central Singapore and this gorgeous park is now home to a number of gigantic movie-like solar-panelled 'supertrees' which stand 50 metres high.  There's a magical light and sound show each night called Garden Rhapsody with two nightly performances at 7.45pm and 8.45pm as the trees are all illuminated in time to the music – it really has to be seen to be believed.  You can also take advantage of the incredible views by visiting the Indochine Supertree bar and restaurant which is also 50 metres up!  Drink a cocktail, indulge in some fantastic Eastern and Western food and really feel like you've got your head in the clouds!
Fly to Singapore with Singapore Airlines are a fantastic airline to fly with.  Comfortable, spacious seating, delicious food (with an Asian twist) and more movies than you could ever watch during your 12 hours and 30 minutes direct flight!  Flying straight into Changi airport means you can be in the Marina Bay district within 40 minutes of landing.
Photos courtesy of Singapore Tourism Board