So the weather seems to be holding.  Kinda!  The Luxe List August 2019 has some great outdoor ideas to make the best of the weather this month including Jazz on the Water, Weightless Brunch with John Frieda at Bourne & Hollingsworh which includes a free goodie bag (sign us up), and on Glorious Twelfth, there's no better place to celebrate than at Wiltons – a restaurant steeped in history and tradition.  Get that diary filled up.
Mai Tai Celebrations at Trader Vics 30th August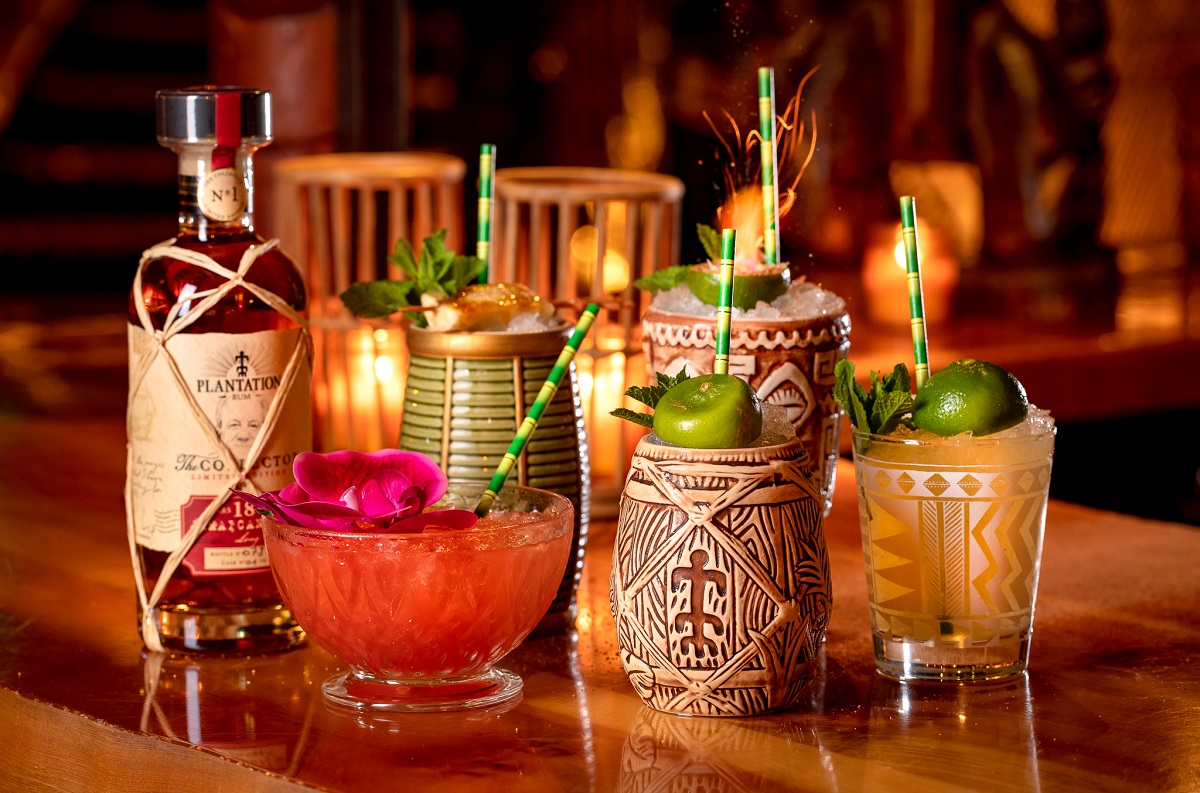 What better place to celebrate Mai Tai Day than at tiki paradise Trader Vic's at the Hilton Park Lane?!  Starting at 7pm, the ticketed event includes a gorgeous welcome Mai Tai to get you in the mai-tai mood, and an luau style open buffet featuring the restaurant's amazing food.  Expect suckling pig and tuna poke, plus a one hour beginners ceramics class so you can make your very own tiki mug to take home!
With a Polynesian band, plenty of dancing, dance tutorials, a tiki bazaar and DJ, there'll be a rum masterclass from Plantation Rum and cocktails on offer from the brand new menu for just £10.
And the real reason you're here is to try the world's most authentic Mai Tai from Plantation Rum, using their 'Collector' Jamaican rum.  This cocktail is based on the original recipe from 1944 (which was said to be used in the very first creation) and priced at £44, this heavenly concoction is as close as you'll get to the real thing.
Get your tickets here priced at £25.
Celebrate National Burger Day at by CHLOE. with the New Bacon Cheezeburger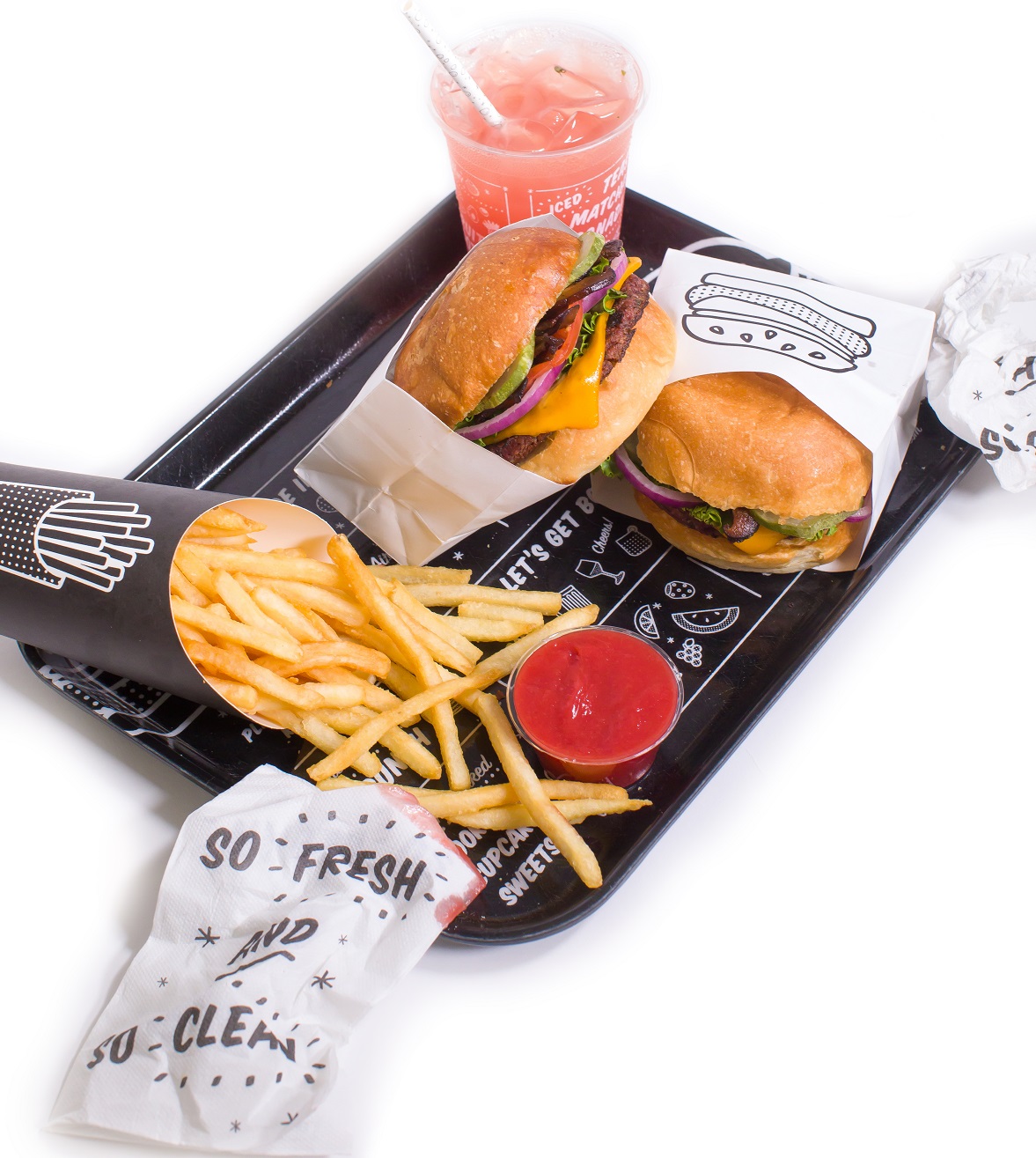 Any excuse to stuff our faces, it's National Burger Day on Thursday 22nd August and plant based restaurant by CHLOE. has come up with a corker to celebrate.  The brand new bacon cheezeburger (£10.50) is made up of a beet-lentil-walnut patty, cheddar cheese and shiitake bacon, topped with lettuce, tomato and onion in a potato bun, drizzled in special by CHLOE sauce.  Get your chops around one at any of London's by CHLOE. outlets including Oxford Circus, Covent Garden, Tower Bridge and London's 02 Arena, as well as Street Feast's National Burger Day party at Hawker House.
GREY GOOSE Vodka Al Fresco Cocktail Terrace, Covent Garden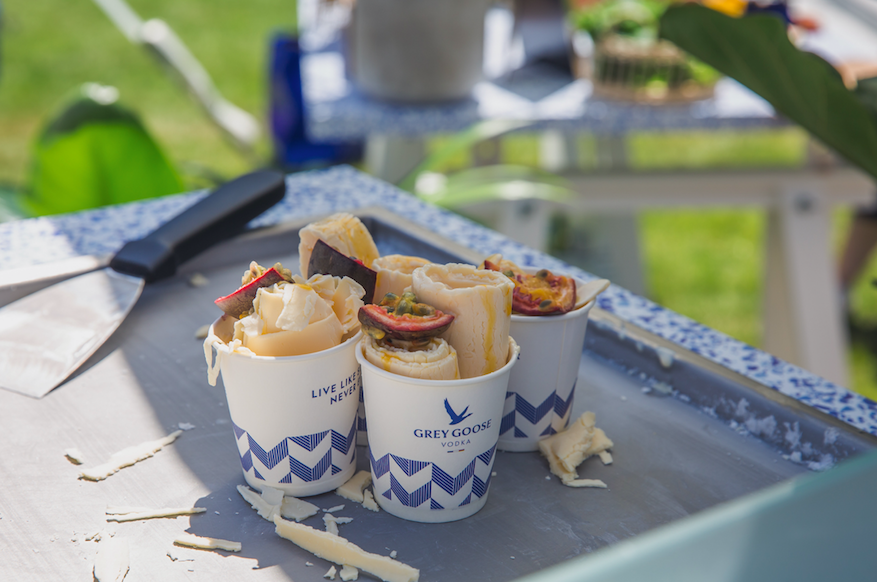 Having popped up in Covent Garden's East Piazza until 19thAugust, The 'Live Like Summer Never Ends' terrace by GREY GOOSE Vodka is the ultimate cocktail destination bar this month with a variety of experiences and spontaneous moments to help celebrate every occasion.
With not-to-be-missed performances which could happen at any time, there will also be a world first – the chance to experience the world's first sub-zero cocktail draught tap system which will showcase four different flavoured Espresso Martinis. Meanwhile, the GREY GOOSE terrace has partnered with Covent Garden's coolest bars and restaurant with each offering a week long residency with unique entertainment, food pairings and masterclasses.  Expect to see Sushi Samba, Covent Garden Cocktail Club, Grind and Balthazar all doing their thing.
If you're lucky enough to be there at surprise 'summer o'clock', you'll be sipping on free cocktails too.  Book a space on the terrace here.
Bourne & Hollingsworth John Frieda Brunch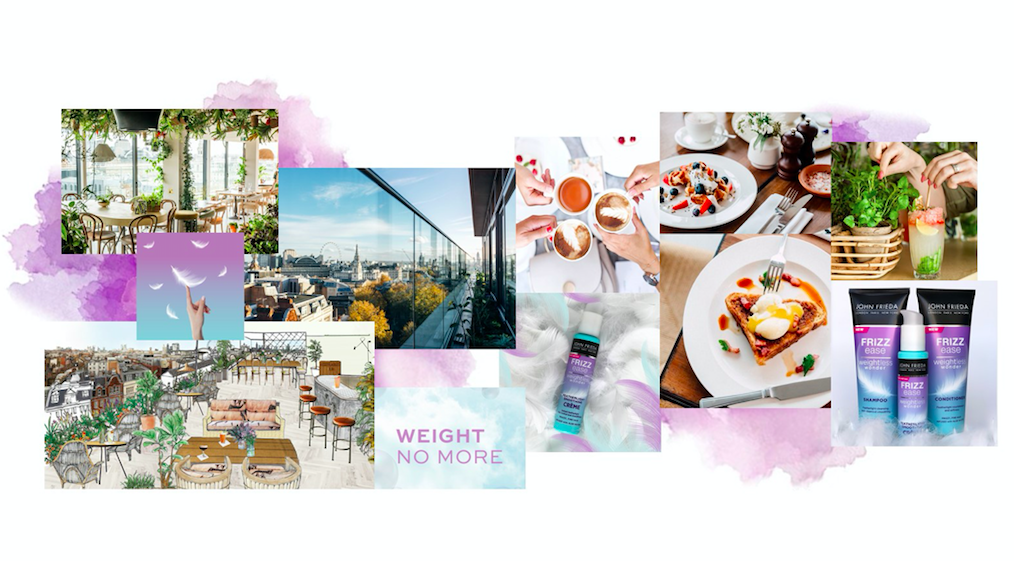 To celebrate John Frieda's new Frizz Ease Weightless Wonder, kings of brunch, Bourne and Hollingsworth will be throwing a weightless brunch series every Saturday and Sunday in August launching on Saturday 10thAugust.  The private garden room will be transformed into an Instagram worthy space set against the backdrop of London's rooftops.  Brunch is priced at 30pp and includes two courses, a cocktail, juices and tea or coffee plus an awesome John Frieda goodie bag worth over £40.  Book here: https://www.bandhgardenroom.com/john-frieda-brunch
Cognac and Cigar Tasting at L'Oscar's Blue Tree Yard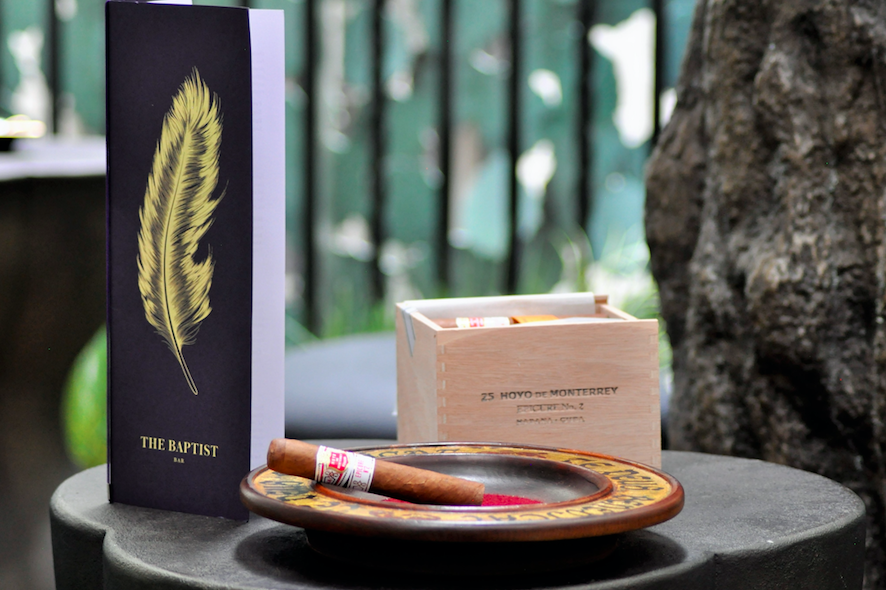 Indulge in cognac and cigars at L'Oscar with a Hennessy VS welcome drink in The Baptist Bar on Wednesday 14thAugust, followed by the exclusive tasting in the hotel's secluded Blue Tree Yard.  Hosts Max Helm (Brand Manager and Ambassador for Hennessy UK) along with Mark Gibson of Hunters and Frankau who import and distribute the world's finest cigars, will take you through the tasting which will feature Hennessy XO and Hennessy Paradis Imperial Cognac which will be paired with a Romeo y Julieta Wide Churchill Cigar.  A selection of delicious canapes will also be served, from Chef Tony Fleming.  Priced at £50.00 per person, reservations can be made via supperclub@loscarlondon.com
Celebrate The Glorious Twelfth at Wiltons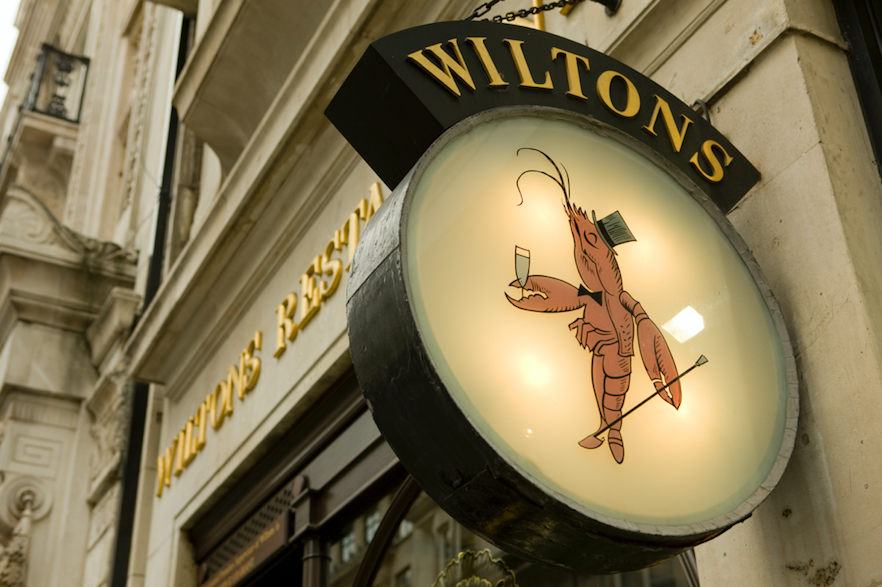 There is no better place to celebrate the start of the game season than at Wiltons – the traditional London restaurant which dates back to 1742.
Renowned for serving the very first grouse of the season, the birds are shot in North Yorkshire before being expertly prepared by Wiltons' head chef Daniel Kent and the team, and served up at 8pm that same evening.
With grouse season running right up until the end of February, Wiltons reflect that with a wide variety of grouse dishes on their menu through until next year. On The Glorious Twelfth, Wiltons will serve their grouse in the traditional manner – simply roasted and stuffed with fresh watercress.  There'll also be accompanying grouse liver paté with croutons, crisp bacon, bread sauce,  fried bread-crumbs, home-made redcurrant jelly, a rich grouse jus and traditional game chips!
Book in now for the 12thAugust and experience the very finest grouse in the finest of surroundings.
Seafood Brunch at Oblix East at The Shard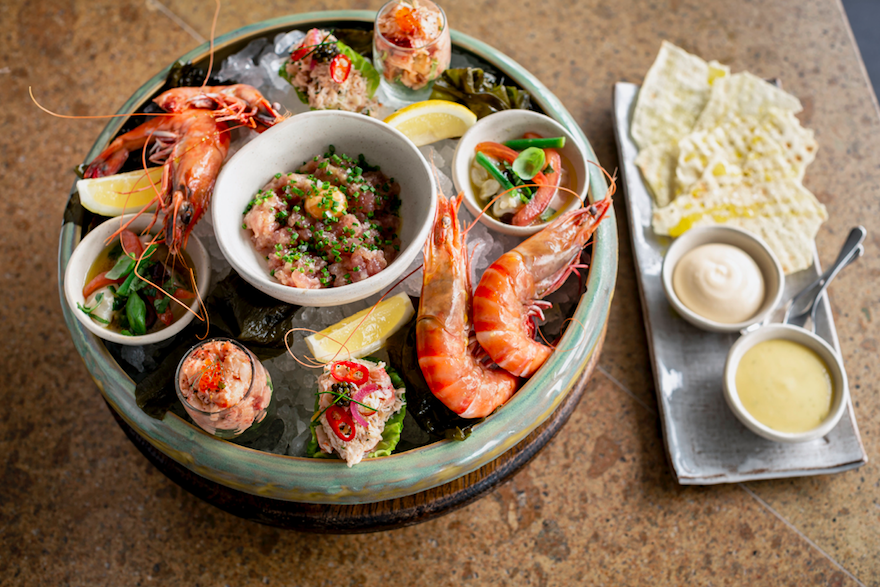 When the weather heats up, there's no better way to cool down than with copious amounts of bottomless Billecart champagne and deliciously fresh seafood.  Oblix East has just launched their month long run of seafood brunch, every Saturday throughout August.  The three course brunch will be available from 12pm – 3:30pm, including amazing dishes from the seafood counter for £70 and unlimited champagne for an additional £45.
The Fore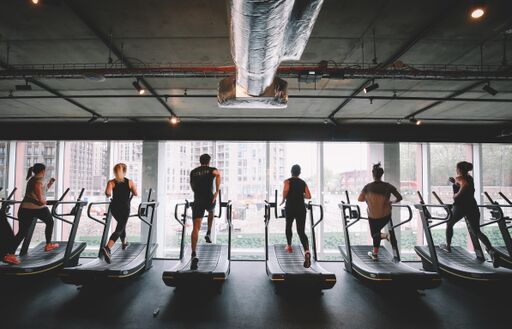 Get in shape this September at The Fore – a stunning space in King's Cross which is far more than a fitness studio. Providing wellness across all four elements of human health – physical, emotional, social and intellectual, The Fore offers a co-working environment, café, and juice bar, luxurious interiors and two studios for personal training and group fitness classes.
With a trailblazing new group class concept, an expert trainer will constantly be on hand to help perfect form and technique.
The signature classes include The Rip Trainer – rotational equipment which developed power, speed and functionality; TRX which works on your own bodyweight for resistance training which will develop full body strength, balance and flexibility; and The Skillmill – a curved running machine which is self-powered working the posterieor chain more effectively than any over treadmill workout.  The best bit?  No class is ever the same, making sure you never ever get bored.
Monkey 47 Gin Lavender Terrace at Blakes Hotel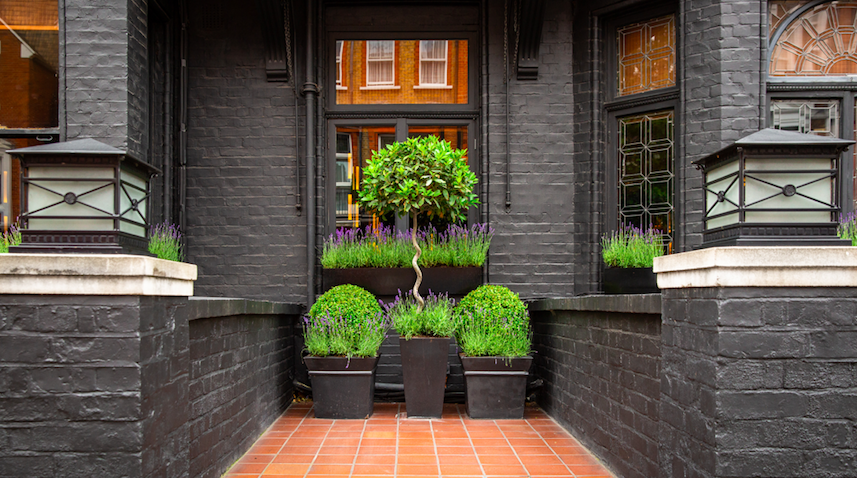 Running all summer, Blakes Hotel, the boutique style South Kensington abode have teamed up with Monkey 47 Gin to offer a selection of gorgeous cocktails.  Meanwhile a blooming lavender field has been installed across the whole façade of the hotel and the Blakes Bees who seem to be enjoying their stay at one of London's most iconic hotels, will eventually produce lavender honey.
Monkey 47 Gin cocktails which have been curated by Blakes' Bar Manager Chris Cwiek, will include summery creations like the Blakes Bee (Monkey 47 Gin, homemade infusion of St Germain and Monkey 47 Gin, homemade lavender syrup, St Germain, Cream the Violette and Lemon Juice – £17) and the 47 Monkeys with Monkey 47 Sloe Gin, Monkey 47 Gin, Lime Juice, Muddled strawberries, Paychaud bitters, Perrier Jouet Rose Champagne, Lavender foam and basil leaf – £19.
Head chef Peter del Campo has also created a capsule summer menu to accompany the drinks with dishes on offer including Blueberry and Lavender Pannacotta (£8) and Beetroot Cured Salmon (£15).
Live Music at POTUS, Crowne Plaza, Albert Embankment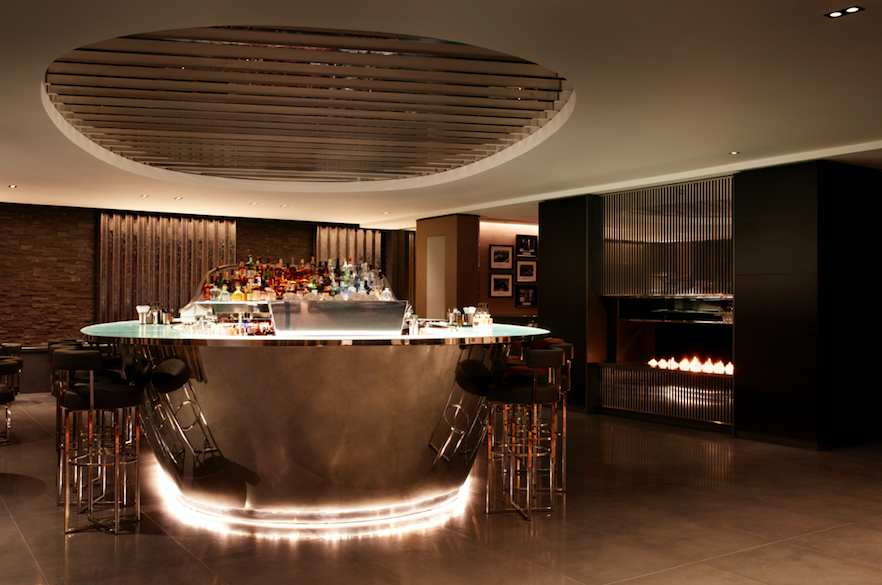 Our favourite American inspired bar POTUS is set to com alive every Friday and Saturday night with live music nights form 8pm – 10.30pm.
The stunning setting is the perfect place to enjoy drinks and dinner while listening to acclaimed Dutch pianist and singer Lara Olivia who will be making full use of POTUS' grand piano.  To accompany this singing sensation, POTUS has also unveiled a new bar menu which takes inspiration from the restaurant's main menu.  Offerings will include Mac & Cheese, Trio of Sliders and Seafood Sharing Platter.
Bar 31 and Tanqueray Gin Summer Terrace at Shangri-La at The Shard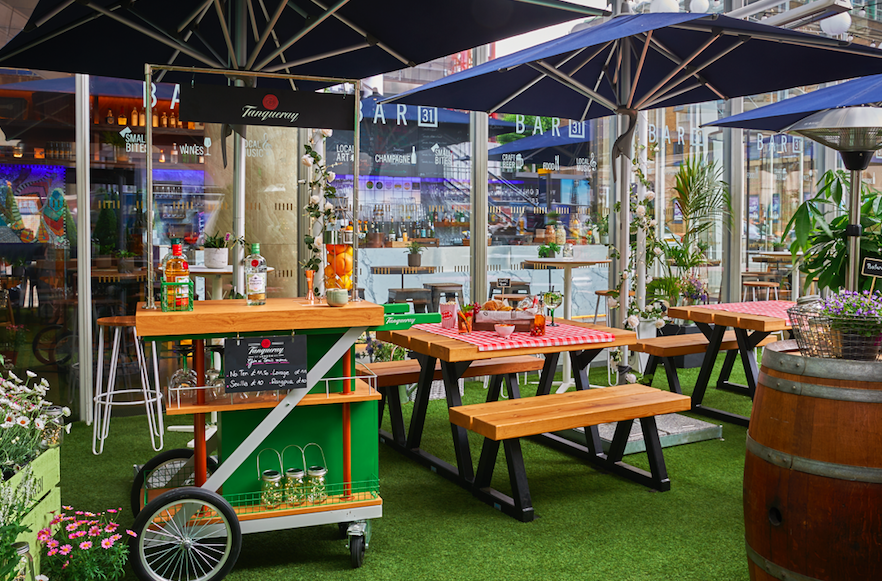 The Shard's number one neighbourhood bar is open! Serving up a delicious new citrus inspired gin menu with Tanqueray Gin, the garden at Bar 31 has been transformed with picnic tables, wild flowers, twinkly lights, lanterns and of course a tonne of fresh herbs and plants for a truly al-fresco feel.
Highlights on the menu include the Royal Blush cocktail made with Tanqueray No. TEN, rhubarb, lemonade and fresh raspberries and the Lovage cocktail which mixes Tanqueray Lovage with Fever -Tree Tonic, coriander and Juniper berries.
Meanwhile, the team have put together a gorgeous picnic box to be enjoyed on the terrace featuring half a roast chicken, Cornish Yarg Cheese from Neal's Yard Dairy, freshly made sourdough bread from Bread Ahead, piccalilli, salad and a homemade hummus – the perfect sharing picnic for two!  Booking is not required and the terrace is open Tues – Weds 11am – 10pm and Thurs – Sat 11am – 11pm.
There'll also be a cocktail masterclass taking place on 14thAugust with award-winning bartender and Tanqueray Brand Ambassador Jack Sotti. Tickets are £25.  Please contact the reservations team at Shangri-La Hotel, At The Shard, London to secure a ticket on Ph: 0207 234 8000 or email london@shangri-la.com
The Ivy Kensington Brasserie's Summer Collaboration with RIXO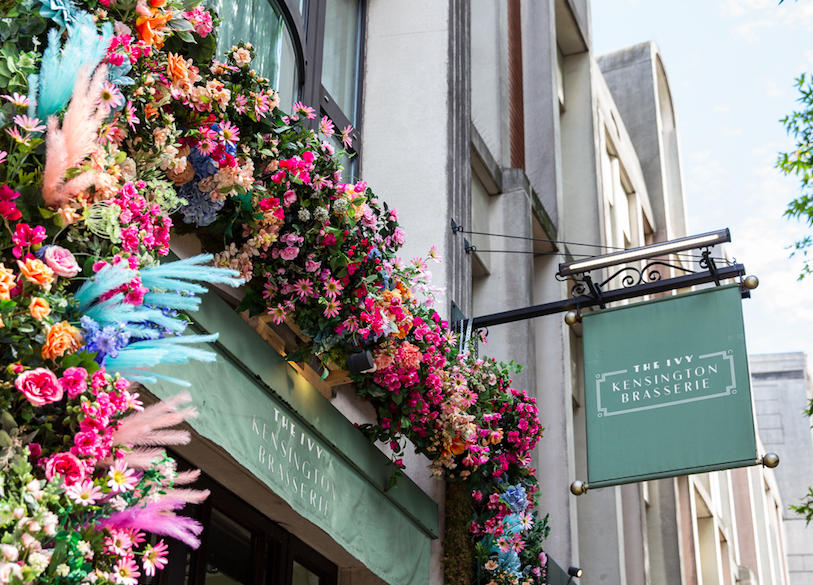 To celebrate both summer vibes and this year's BBC Proms at the Royal Albert Hall, The Ivy Kensington Brasserie is teaming up with iconic fashion brand RIXO, with two limited edition cocktails which can be enjoyed on their own or alongside the restaurant's pre-Proms menu.
Guests will be greeted by a stunning floral external installation paying homage to RIXO's bold and playful prints.
Dalloway Terrace's new 'Summer Estate' Makeover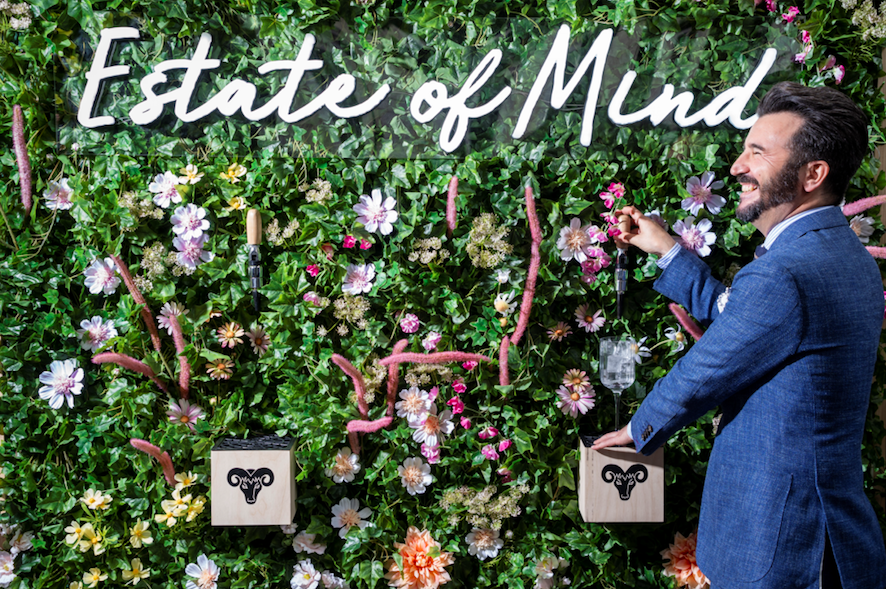 In partnership with Ramsbury – makers of Ramsbury Gin and Vodka, the stunning Dalloway Terrace has been given a makeover with a gorgeous new English floral installation courtesy of master florist Nikki Tibbles Wild at Heart.  Wild daisies, delphiniums and embellishments make the terrace the perfect place to enjoy refreshing cocktails made with Ramsbury Single Estate Gin and Vodka.
There's also a brand new all day brunch menu to compliment the delicious drinks such as buttermilk pancakes served with berries and lemon curd or bacon and maple syrup (£12), along with sea bass ceviche (£14) and burrata (£12.50) among the menu highlights.
Try the summer pavlova (£8), British cheeses (£14) or amaretti tart (£8) for dessert.
Fentiman's Secret Spritz Garden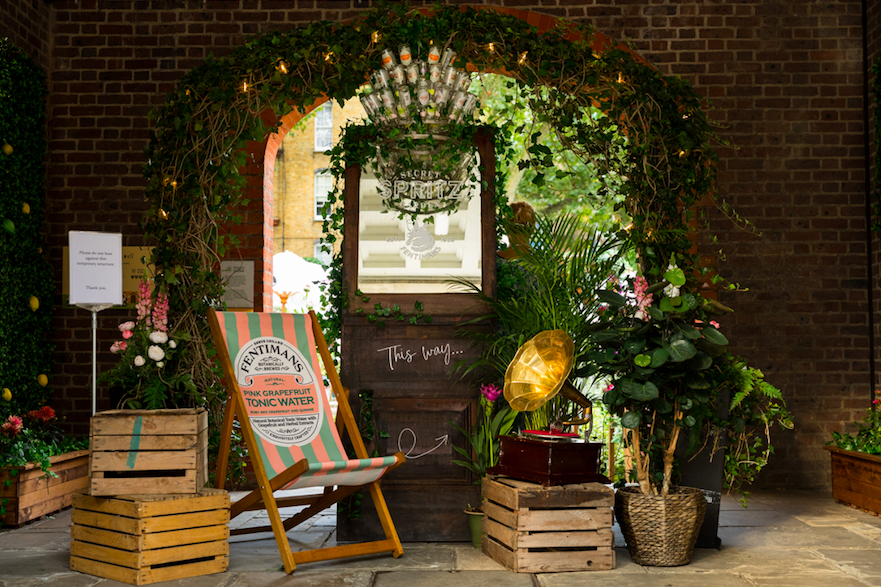 Having just opened last week, the Fentiman's Secret Spritz Garden in Farringdon is a hideaway filled with delicious smelling herbs, aromatic plants and tasty spritz cocktails.
Created by mixer makers Fentimans, the botanical garden is the perfect place for after-work drinks this August with a 200 year old olive tree at its heart.  With foliage, a fountain and romantic swing seat, you can enjoy their full range of tonics across the mouth watering cocktail list ranging from Valencian orange to pink rhubarb.
The Secret Spritz Garden is open until 29thAugust including the Sunday of the bank holiday weekend.
Jazz on the Water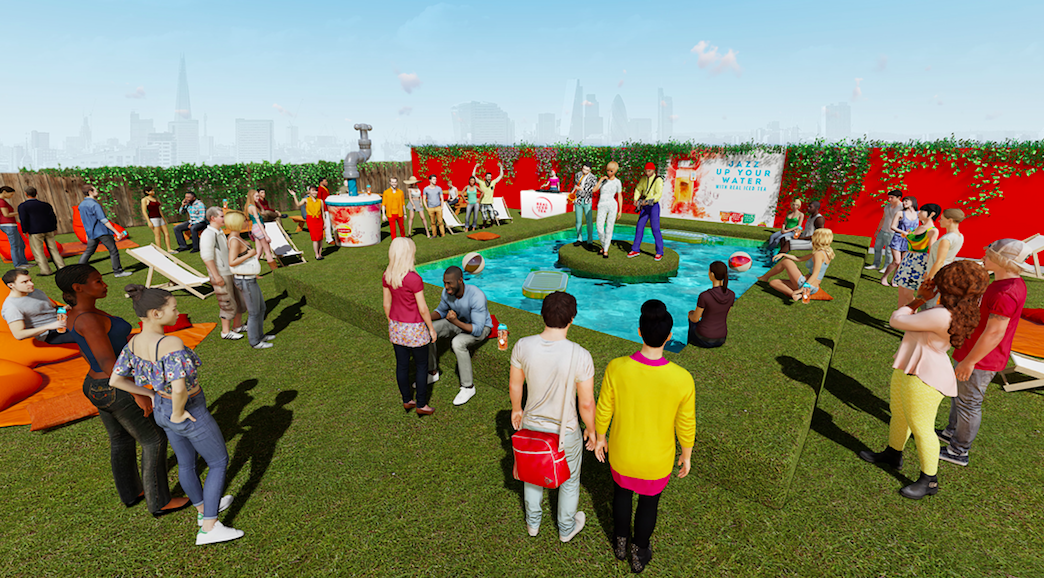 There really could be nothing cooler this weekend as Real Iced Tea by Lipton puts on a jazz show like no other with acts taking to a floating stage in the middle of a swimming pool.  Taking place on the 10thAugust, festival goers can stay refreshed with five different flavours of Real Iced Tea while listening to the jazz acts which will include contemporary brass band headliners Dat Brass Acoustic Soundsystem.  The event will run from 1-6pm at the Green Space in Waterloo on the South Bank.  Get your tickets here.