Mother's Day is Sunday 22nd March and if you're struggling to find the perfect gift or just want some inspiration, check out The Coolest Gift Guide Around for Mother's Day.  Luxe Bible has got you covered.
Tom Dixon Candle
From The Eclectic Family of Tom Dixon candles, the London Candle is a statement piece for any room which also just happens to smell absolutely divine!   The hand spun copper container has a beautiful eye-catching design, along with solid white Banswara lid made of marble.  Capturing the vibe and scent of London with nettles and crocuses channeling the fragrance of London parks, there are notes of black pepper, vetiver, patchouli and cedar wood while the candle burns. Available from Amara priced at £100, there are hundreds of gift ideas on this awesome website.  Shop now, here.
Skinny Tan CHOC Range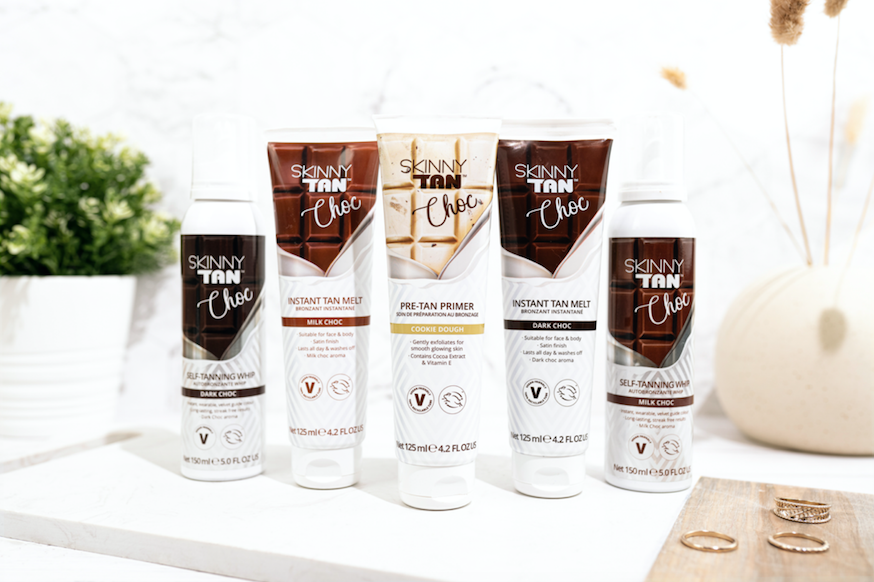 Whipping the tanning world up into a frenzy, Skinny Tan is made with 99% derived natural ingredients, is streak free, orange free and instant!  What's more, a new range has been added this winter with luxurious sweet smelling Choc products proving a massive hit!  Say goodbye to that awful metallic smell and indulge in Skinny Tan instead!
With three new additions to the line, The Pre Primer Cookie Dough Scrub is the perfect pre-tan product, containing real cocoa extracts and Vitamin E, while Choc Self-Tanning Whip (available in medium and dark shades) is quickly absorbed and leaves a tan which develops further in 6-8 hours.
If you need glow and bronze fast, then the Instant Tan Melt with it's smooth, sweet smell gives instant colour and washes off easily.
The full range is available from Superdrug, from £19.99.
Katherine Hamilton Luxurious Lingerie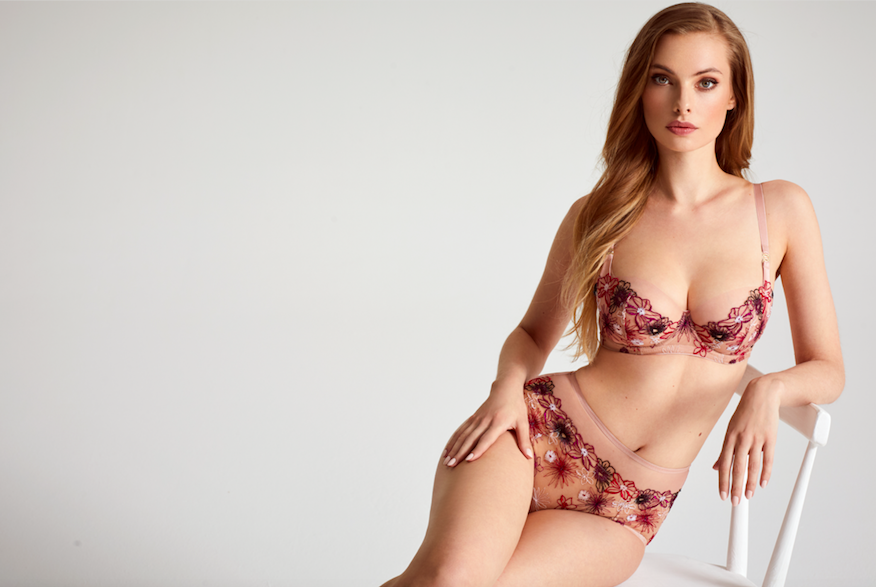 Calling all hubbies with no idea what to buy!  How about the perfect present from British, luxury lingerie brand Katherine Hamilton?  With an absolutely beautiful collection (and specialising in larger cups and for those with smaller backs), the latest Spring/Summer range is a ray of sunshine with coral, pink and berry tones dominating, while classic styles remain.
With each piece hand crafted, Abrielle is one of the best sellers – delicate and feminine, the luxurious fabric feels gorgeous on skin, while the tulle design gives the illusion of a two piece cup.  With custom-designed French embroidery on briefs, it's a stunning set and comes in an elegant box, wrapped in tissue making for the absolutely perfect luxurious gift.  Eden Evening Sand meanwhile (pictured) is from the new 2020 range combining Swiss designed floral embroidery with gorgeous silk.
Paul Smith Special Edition Sipsmith London Dry Gin & Distillery Tour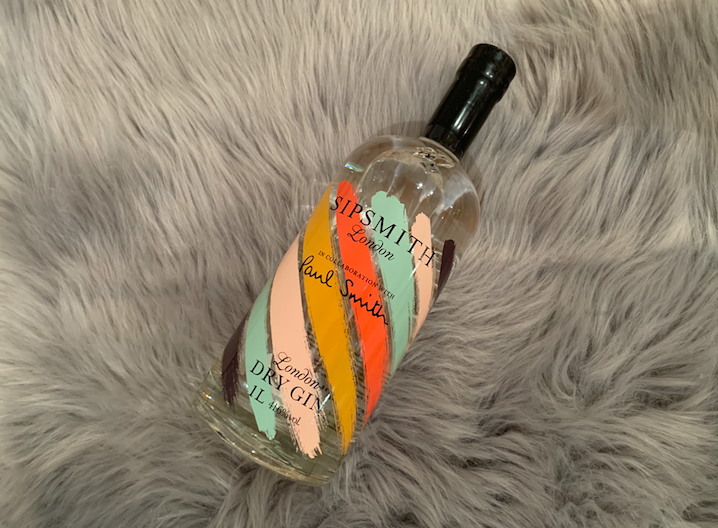 Sipsmith is one of our favourite gin brands and at the moment, it's sporting one off the most beautiful bottles we've seen!  Far from 'mother's ruin', the Paul Smith Special Edition Sipsmith London Dry Gin is a Mother's Day must-buy!  Available exclusively from Selfridges (£49.99), award-winning Sipsmith's bottle design has been given a fresh twist with the iconic Paul Smith Artist Stripe painted right across the hand-dipped wax bottle.  With the same traditional Sipsmith expression – floral on the nose, dry, tart and orange on the palate and with a spicy finish, the beautifully botanical bouquet makes for the perfect tipple and will look amazing in any drinks cabinet.
In addition, there's also an accompanying book – SIP: 100 Gin Cocktails available for just £15.99 and if you're going all out this year, how about a Sipsmith distillery tour with a behind the scenes glimpse at what goes on at the London distillery.  Available from www.sipsmith.com the tour includes an intro to three copper stills and tutored tasting for £25.
PAYOT Mother's Day Gift Set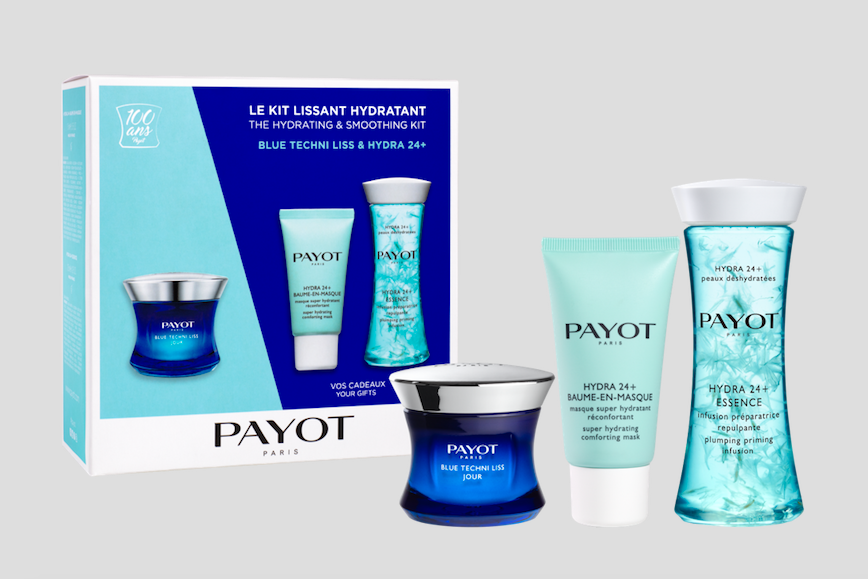 With 100 years of expertise, PAYOT'S luxurious product range provides the ultimate pampering experience.  With innovative formulas incorporating the very latest in scientific advances, the PAYOT Mother's Day Gift Set is a fabulous gift for any mum.
Priced at just £50, the gift set is fantastic value for money compared to buying each product separately and contains 1 x Blue Techni Liss Jour 50ml, 1 x Hydra 24+ Baume-en-Masque 15ml and 1 x Hydra 24+ Essence 125ml.
The Blue Techni Liss protects against the elements all day while melting into skin and also smells amazing.  Meanwhile, the hydrating mask nourishes dry and thirsty skin with ultimate softness and comfort – also protecting from blue light damage, while the Hydra plumping priming infusion is lightweight and feels luscious on the skin with a delightful aquatic scent.
Maison Sybarite Perfume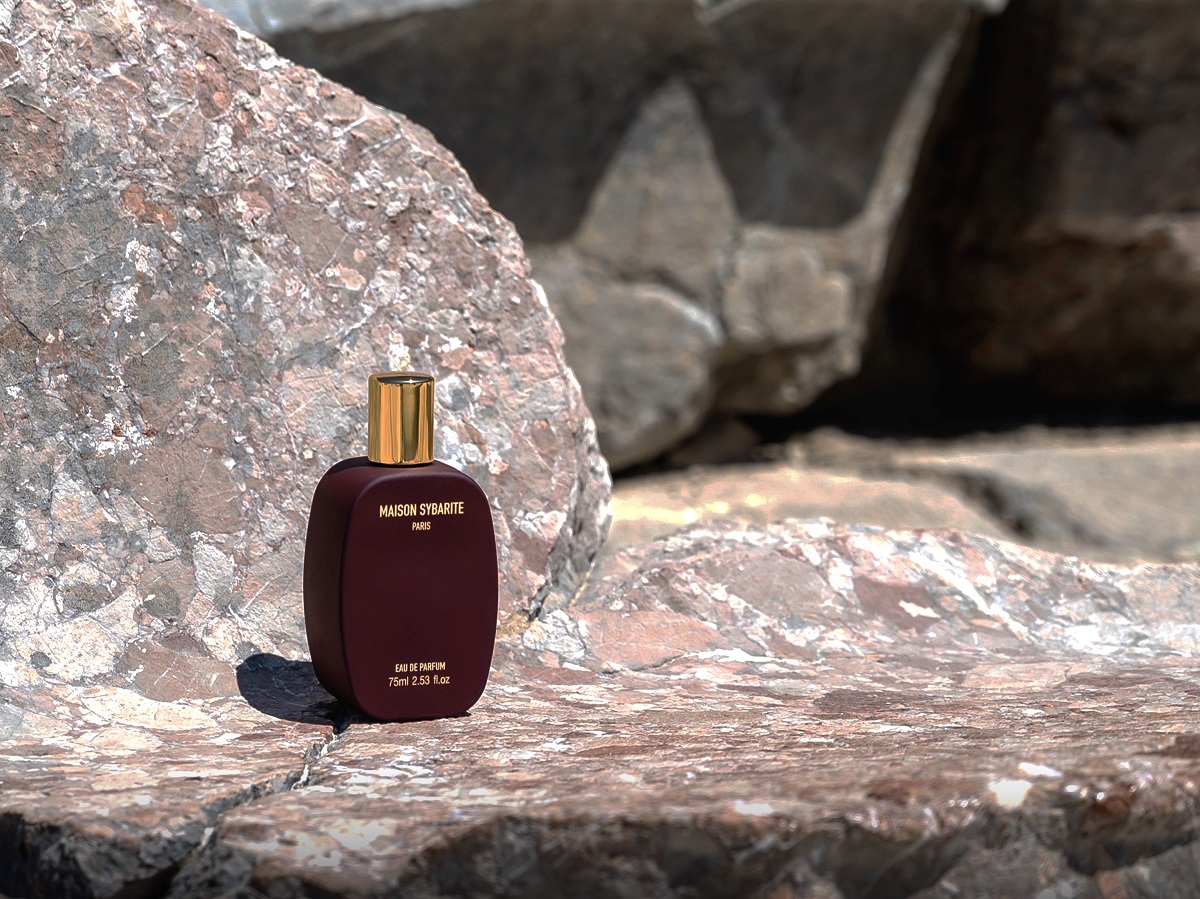 Leading the way when it comes to 'clean beauty', French perfume brand Maison Sybarite have launched the first ever water-based fine fragrance line.  Alcohol free, non oily and non sticky, this revolutionary product would make the perfect gift for any eco warrior, as it's sustainable and harnesses the natural benefits of micro emulsion.
Evoking feelings of empowerment and confidence, these go-getting fragrances come in four long-lasting, addictive scents – the spicy, woody 720 with notes of lavender, nutmeg and cinnamon; the warm and alluring Opulent wood which has notes of sandalwood, black pepper and orange blossom, the elegant, sensual Bed of Roses with hints of bergamot and luxurious saffron, and the subtle citrussy Spicy Calabria with notes of bergamot, ginger and patchouli.  Priced at £160 per 75ml, available from Bloom Perfume.
Red Berry CIROC Personalised With INKD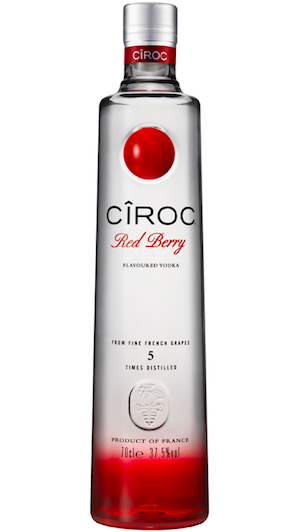 Definitely one of the coolest vodkas around and constantly bringing us new and exciting flavours, we love the gorgeous new CIROC Red Berry and so will mum!  Every bottle of CIROC is distilled five times for the purest quality vodka, smooth and delicious on its own or when mixed into a fruity cocktail.  Infused with raspberry, strawberry and other natural flavours, CIROC Red Berry is the perfect pressie for vodka lovers with a novel twist.  What's more, you can add that personal touch with INKD's personalisation service which offers customers the chance to write your mum a personal message on the bottle.  Looking to serve up some cocktails for the family?  We've got the perfect recipe.  For the CIROC Berry Special just pour 35ml CIROC Red Berry Vodka, 35ml Rose Wine, 15ml Elderflower cordial and top with Fever Tree Mediterranean Tonic Water.  Servie in a hi-ball glass with strawberry slices.  De-lish.  Available from INKD at £33.
Belkin Pocket Power 10k Power Bank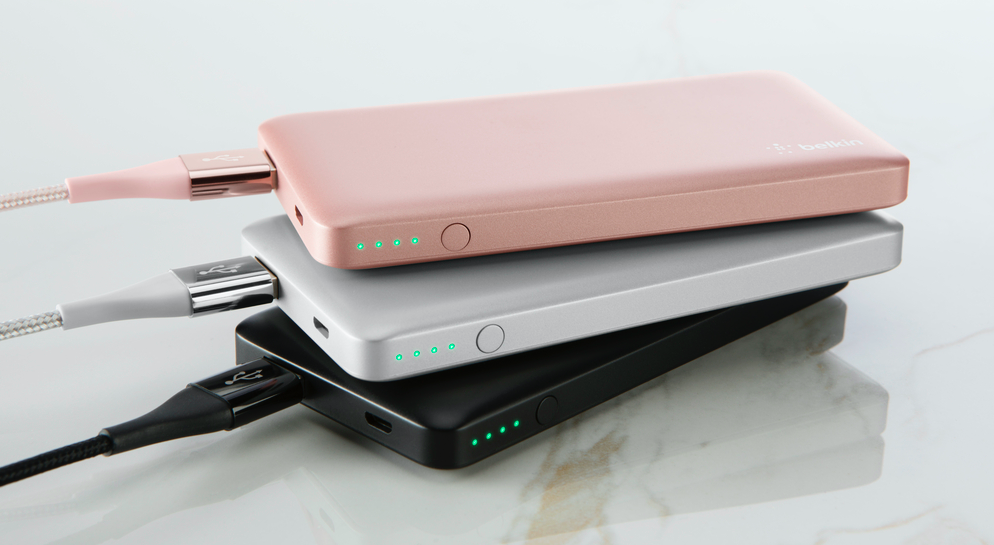 Make sure you can always keep in touch with mum wit the Belkin Pocket Power 10k Power Bank in pretty rose gold.  Also available in black and grey and with durable plastic casing, this portable charger is slim and lightweight – fitting easily into pockets or bags.  Its 10k charging capability means phones will have enough battery power to fuel an additional 70 hours of video playback while the universal USB port will also charge devices like smartwatches, fitness bands, headphones, speakers, action cameras and Bluetooth enabled devices.  What's more, the dual USB port means you can charge two devices at the same time for double efficiency, and in the very unlikely event that  anything should happen to your device while you're charging it, Belkin will replace or repair up to the value of £1500.  Available here, for just £34.99.
Quirky House Plants from Root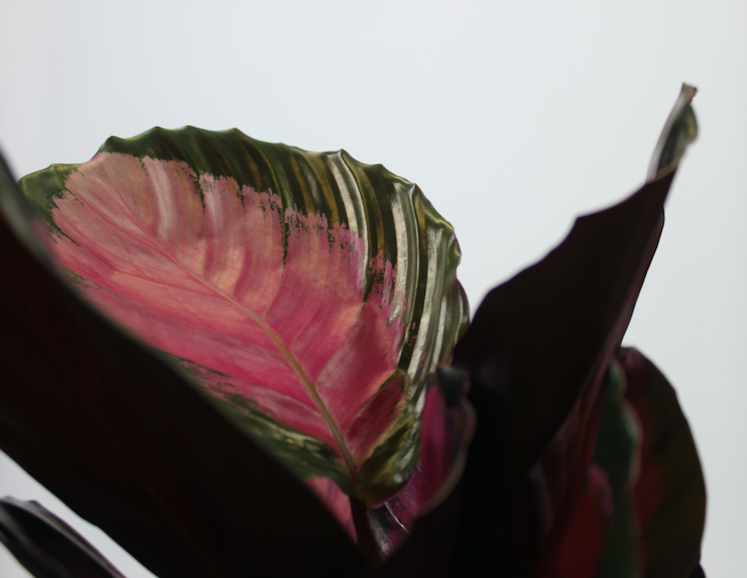 Possibly the coolest gift – a gorgeous house plant that will always remind mum of you!!  Root have a selection of gorgeous houseplants to suit even the quirkiest of personalities!  Requiring very little upkeep and making the perfect addition to any room, you can choose from the stunning vivid pink Calathea Crimson (£21) exotic and eye-catching with its big, beautiful round leaves tinged with deep purple; the Mother of Thousands (£15) otherwise known as Saxifraga whose creeping runners take root to form new mini plantlets; or our fave, The Peace Lily (£8 or £18) which not only looks gorgeous but acts as a clever air purifier – giving out oxygenated air and filtering out harmful toxins.  Amazing.  Check out the Root website for the full range of house plants.  Every plant also comes lovingly hand packed in a recyclable cardboard box surrounded by packing peas to provide extra warmth for your plant during the journey and what's more, you can just throw them in the compost bin, or dissolve them in water to dispose.  Genius.
Barefoot Wine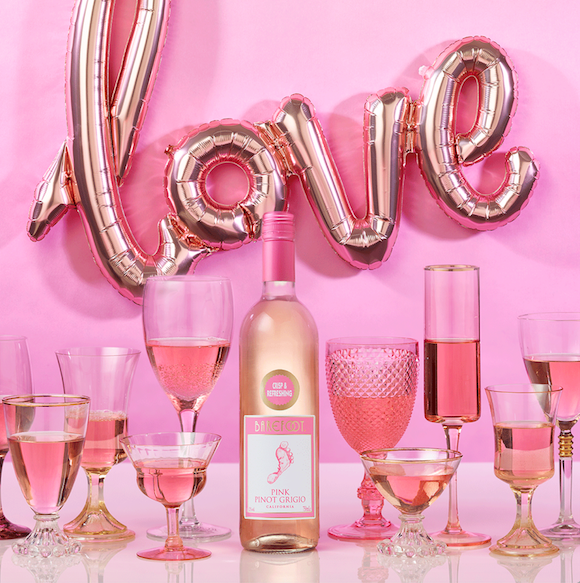 A bottle of wine will always be a welcome gift this Mother's Day and there's bound to be one she'll love!  Whether its Sauvignon Blanc, Chardonnay, Cabernet or Malbec, Barefoot Wine have you covered.  From crisp and refreshing to dark and smouldering, the full range of wine can be viewed here.  Our favourite?  The Barefoot Pink Moscato will make the perfect gift with a bouquet of roses.  Sweet and versatile, lush and lively, this goes down a treat with a bowl of strawberries and whipped cream (that's after you've cooked her lunch…!)  From £6.99.