The Varsity Hotel & Spa is perfectly placed for an idyllic stay in a famous city.  Iconic for its world class university and just over an hour from London, Cambridge offers up botanical gardens, mathematical bridges, and of course, punting on the river.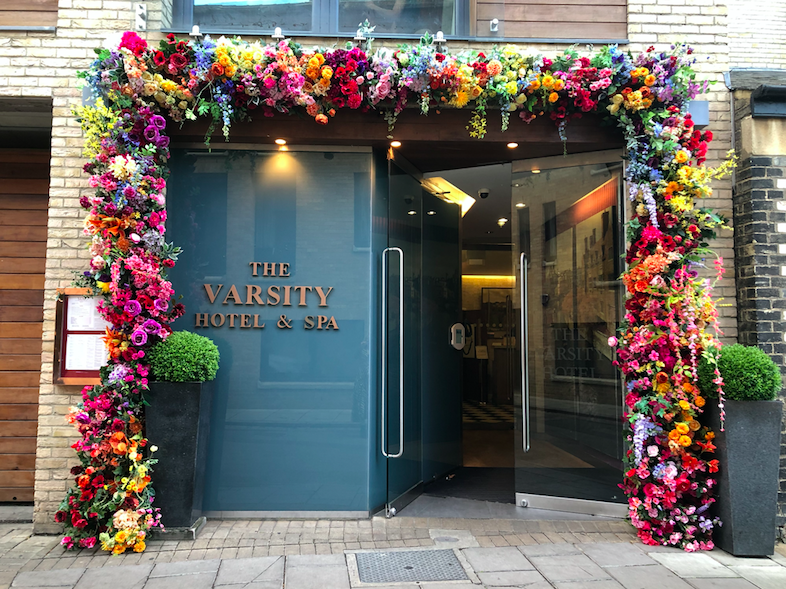 As a great choice for a staycation, mid-week or weekend escape, The Varsity Hotel's Conran designed building benefits from a great location.  With the entrance set back off the main street, it can be easily missed with an air of hidden exclusivity, yet as Luxe Bible visited during the cherry blossom season, the entrance had been beautifully framed with an array of multi-coloured flowers which definitely brightened our arrival on a cold, wet Tuesday in May.
With a small but well designed reception area with an immediate sense of calm, the staff were attentive from the onset, parking our car (which is set away from the main building) and checking us in swiftly.
The classy understated design continued throughout The Varsity Hotel with academic themed display cases and prints lining the corridors.  As we were shown to our room, we were told every room in the hotel has been individually designed, each intriguingly featuring nineteenth century wall papers named after different academics which we thought was a lovely personal touch.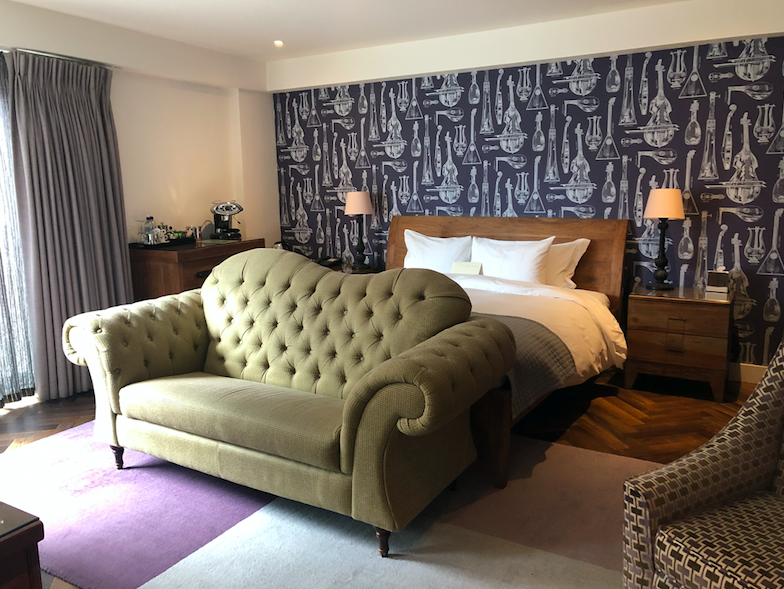 Our room most definitely felt luxurious, styled with velvet and a very large bed along with opulent sofa, and quirky little touches of academia like the bookcase filled with books to give it that boutique, unique feel.  The bathroom continued to impress with its Victorian freestanding bath and monsoon shower large enough for two, (or more!), neutral in shade and complimented with Elemis products – our personal favourite!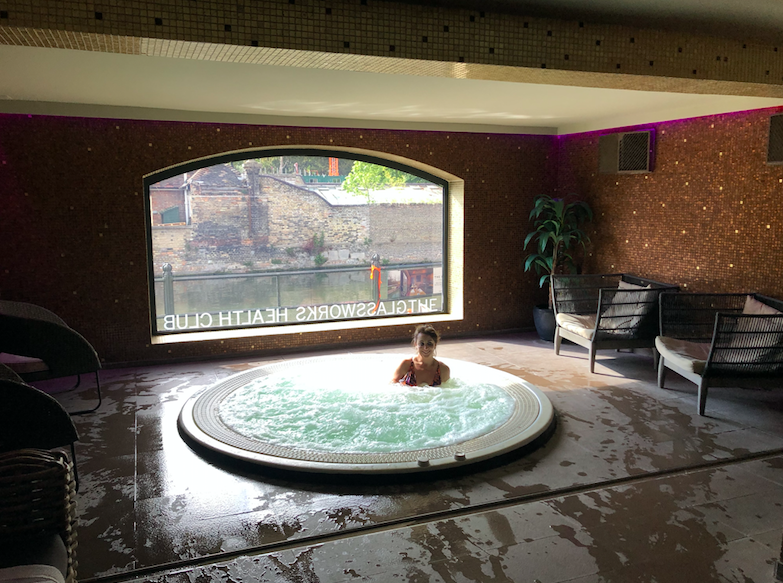 As punting was out of the question due to the typical British summer, we hit The Varsity Hotel health club and spa, which was complimentary during our stay.  The Glassworks Gym was well kitted out and the spa (although compact), was very well designed featuring sauna, steam room and jacuzzi.  The highlight was definitely the jacuzzi which looked out onto the river as we indulged in soothing bubbles and watched tourists braver than us taking to the River Cam to go punting.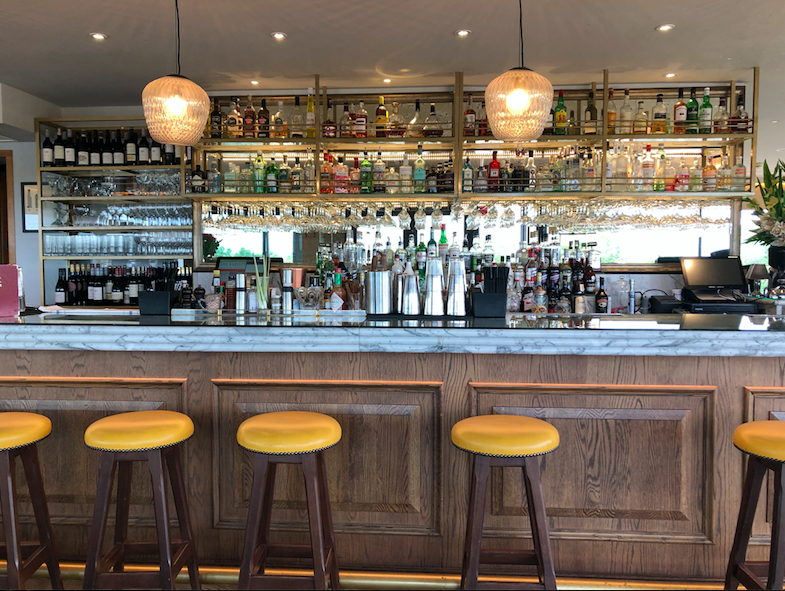 Midweek breaks of course allow for afternoon wine, so the Six Brasserie bar was the perfect place for a cheeky afternoon Cab Sauv.  The views really are incredible – a real feast for the eyes of architectural splendour.  If you're a bit of a daydreamer, you can easily drift away, fantasising of medieval times gone by in this historical city.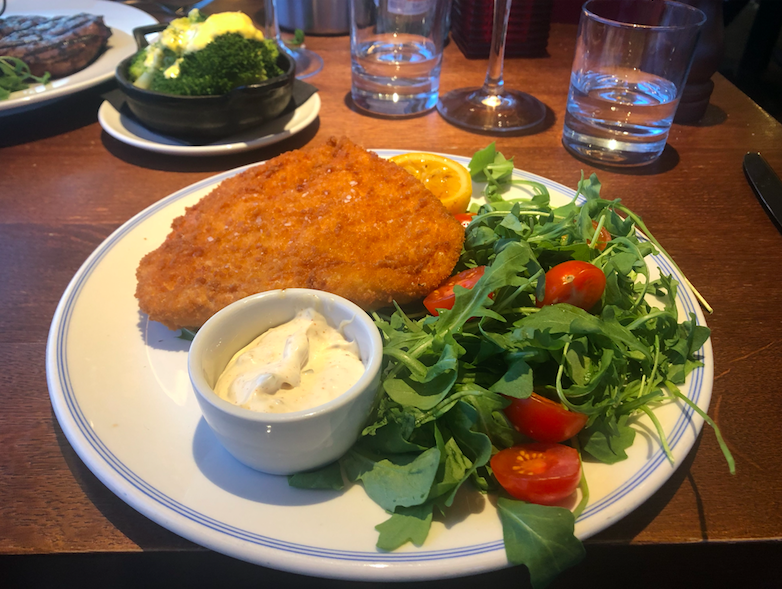 The views from Six Brasserie are just as spectacular in the evening.  Serving fresh seasonal British food, the restaurant is open to residents for breakfast, lunch and dinner.  Despite it being a Tuesday, the restaurant was buzzing – clearly a hit with the locals too.  To start, we devoured creamy burrata with a colourfully presented tomato salad.  Mains include a range of steaks along with classics like Chicken Milanese which came with herb marinated Cherry Tomatoes, fresh rocket and lemon.  With fish, lamb, chicken and veggie options, there's plenty to choose from.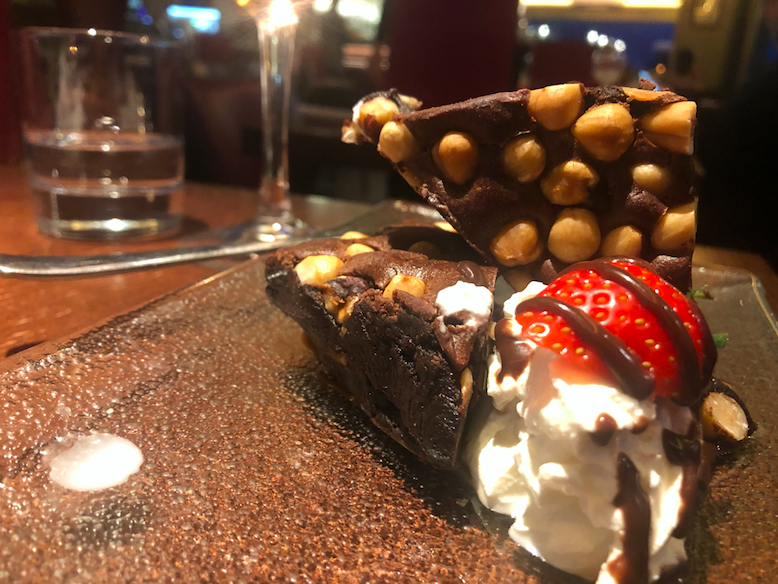 Although there were some amazing desserts from crumble to cheesecake and brownie to creme brûlée, we were most impressed by the cheese board.  A selection of absolutely outstanding cheeses including roquefort, goat's cheese and brie were accompanied by a mouth watering apple chutney which we loads our crackers with.  There ended our evening, as we were looking forward to a peaceful nights' sleep in our luxurious room.
The only disappointment during our stay was that the weather was too wet to take in the stunning roof terrace which is open to the elements with unbelievable views  – the perfect place to enjoy cocktails at sunset.  Now there's the perfect excuse to come back and stay again when the weather picks up!
The Varsity Hotel & Spa has real personality of it own with a magical ambience and trendy hip feel.  A must-stay in the beautiful university city of Cambridge.
Click here for The Varsity Hotel & Spa website and if you're planning a trip to London, check out the Luxe Bible review of South Place Hotel – also Conran designed.