The five star Amwaj Rotana JBR located on Dubai's fashionable Jumeirah Beach should be your number one choice if you want exceptional service and a range of quality restaurants all in one place.
This is a hotel that knows how to treat its guests and absolutely nothing is too much trouble – in fact, by the end of your stay, you'll probably know the names of most of the staff who are so incredibly friendly, you'll leave the hotel wanting to go back just to visit them!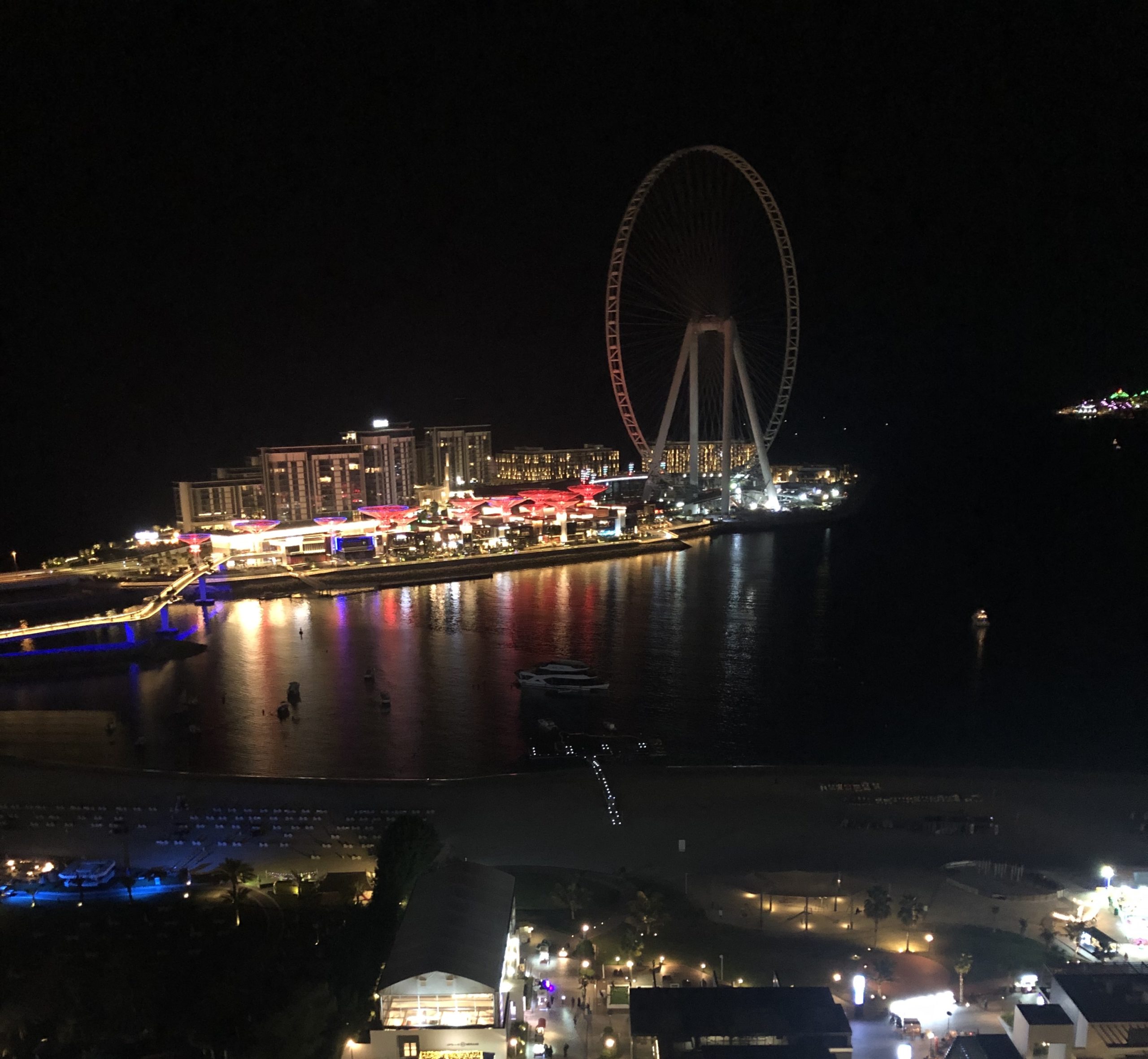 In a fantastic location, the Amwaj Rotana JBR boasts gorgeous views right out across the beach, including Ain Dubai (Dubai's new ferris wheel on Bluewaters Island) and the tip of The Palm Jumeirah as well as all of the action down below – you can see right along 'The Walk' a pretty pathway running parallel to the beach, with shops, coffee shops and markets as far as the eye can see.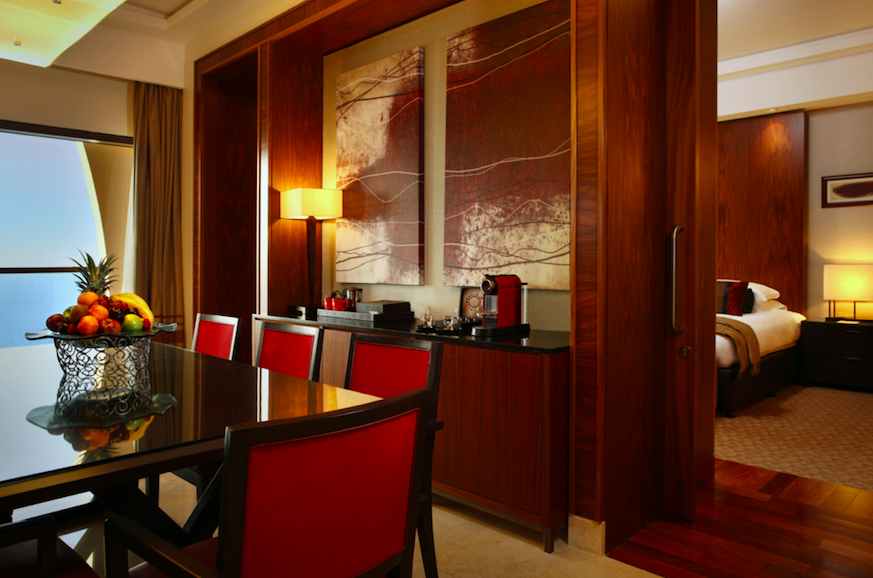 Rooms at the Amwaj Rotana JBR are incredibly spacious and many boast those stunning aforementioned views from their huge balconies.  With room for queen sized twin beds, our Classic Sea View Suite also benefited from a table area and lounge chair, as well as all the amenities you'd expect from a five star hotel!  If you've forgotten anything, you'll be impressed (as were we) with the range of complimentary toiletries and products including mouthwash, toothbrushes and even razors with shaving cream!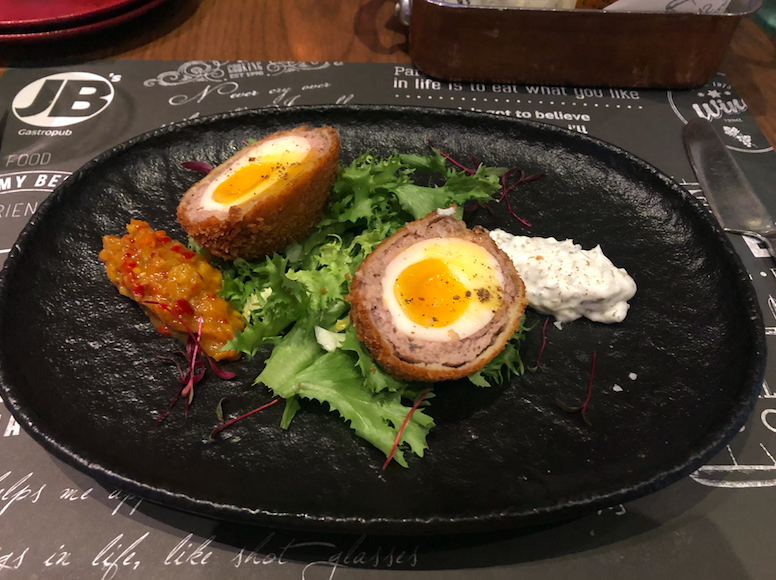 Amwaj Rotana JBR boasts not one or two but six great places to eat and drink.  Our favourite was the fabulous gastropub JB's (accessed via a separate entrance next door to the hotel.)  Here you can take in the posh pub atmosphere and also eat delicious food in a relaxed setting, with everything on the menu from scotch eggs to steaks.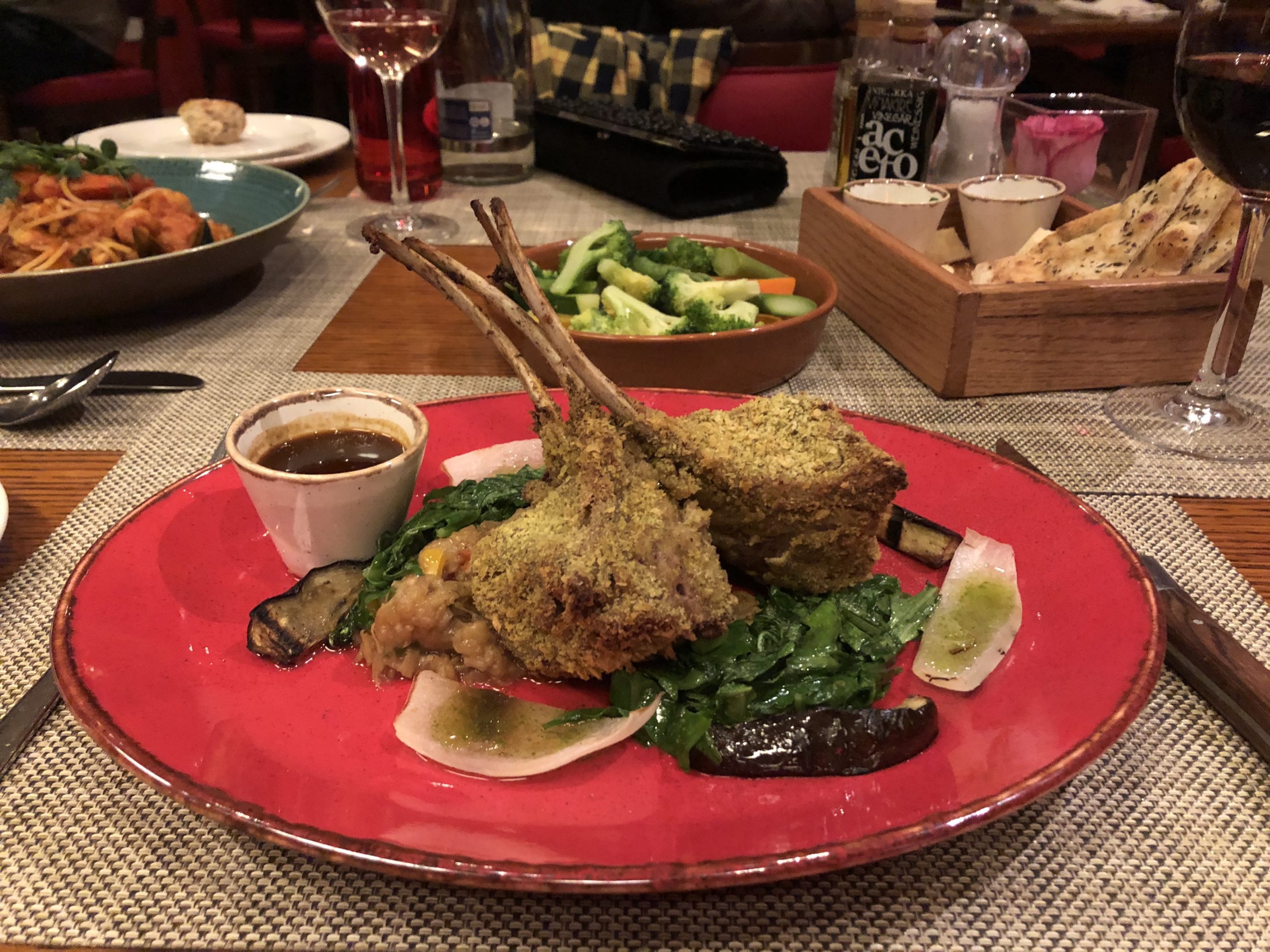 Rosso Bar and Restaurant is another brilliant spot for dinner amidst a cool, buzzy atmosphere and the food is sooooo tasty.   The swanky bar area offers a great Ladies Night offer on cocktails, while I can definitely recommend the succulent lamb rack, coated in pistacchios with aubergine and sauteed spinach.  My gluten free friend couldn't believe there was gluten free spaghetti on the menu and totally devoured the seafood pasta with mussels, clams and prawns in a beautiful white wine sauce.  With a huge wine list too, the staff are extremely knowledgeable and if you leave it up to them, they'll give your a fabulous pairing every time.  Rosso is definitely a restaurant I'd go back to, even if I wasn't staying at the Amwaj Rotana.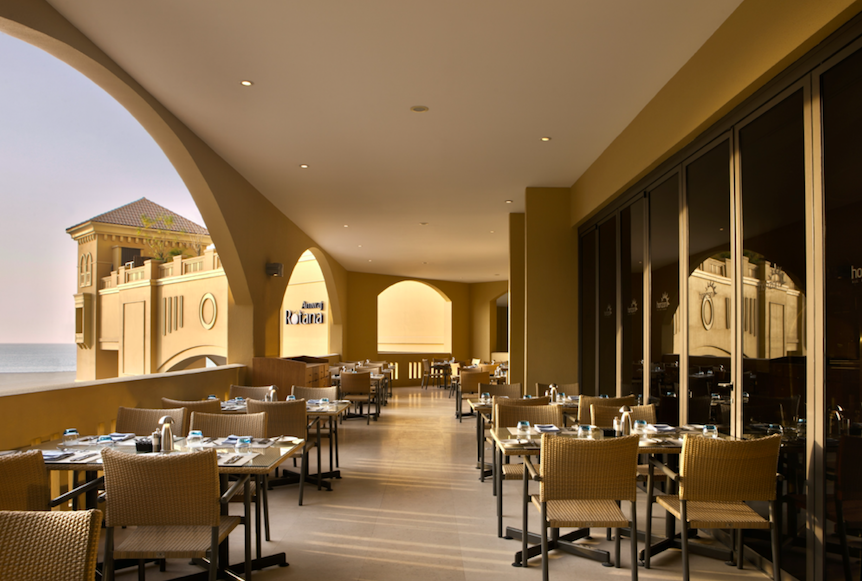 Other eateries include Japanese cuisine at the renowned Benihana, snacks at the Sundeck Pool Bar, drinks at Fumo Lounge with outdoor terrace, afternoon tea at the Atrium Lobby Lounge, and if you're staying half board, you'll be treated to an abundance of choice at breakfast, lunch or dinner, courtesy of the main restaurant – Horizon.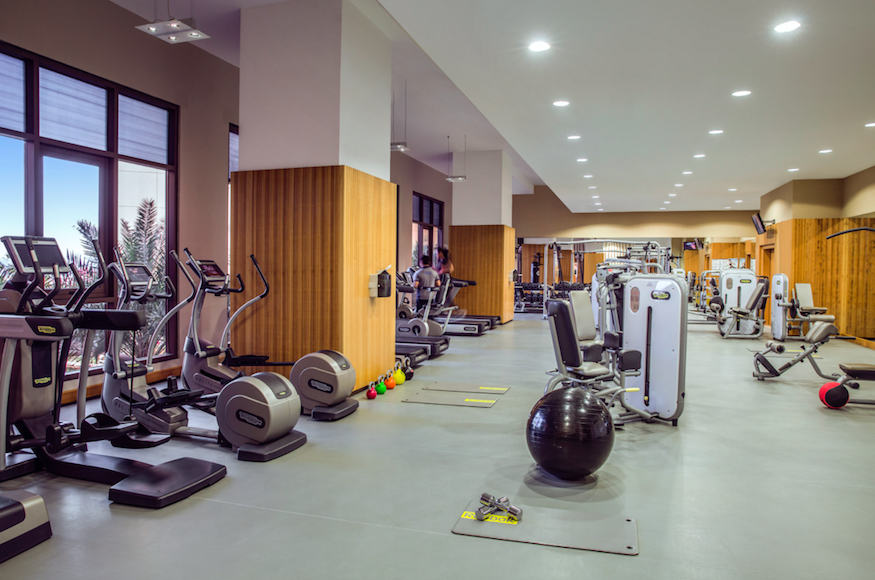 With so much food around, we were grateful for the spacious gym area within Bodylines Fitness and Wellness Club (which we actually did use!)  Kitted out with all the equipment you'd need, the gym is located on the same floor as the indulgent spa.  There's a couple's massage room so you can both have your treatments at the same time, and our massages were so heavenly, we literally felt like we were floating afterwards!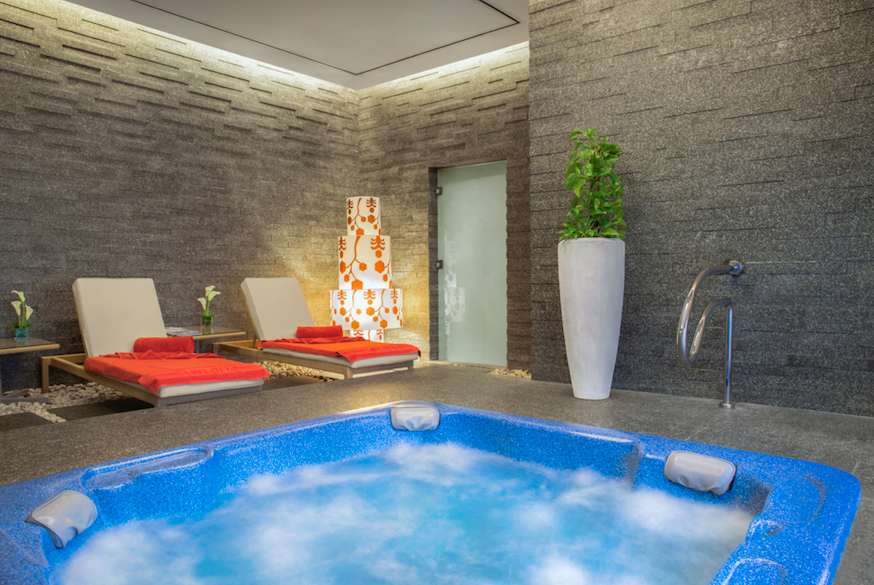 We particularly loved chatting to Quennie on the reception desk – she was just so helpful with all of our requests.  Post-massage, we took advantage of the jacuzzi and chill out area upstairs – it made for the perfect afternoon when the weather was a little stormy.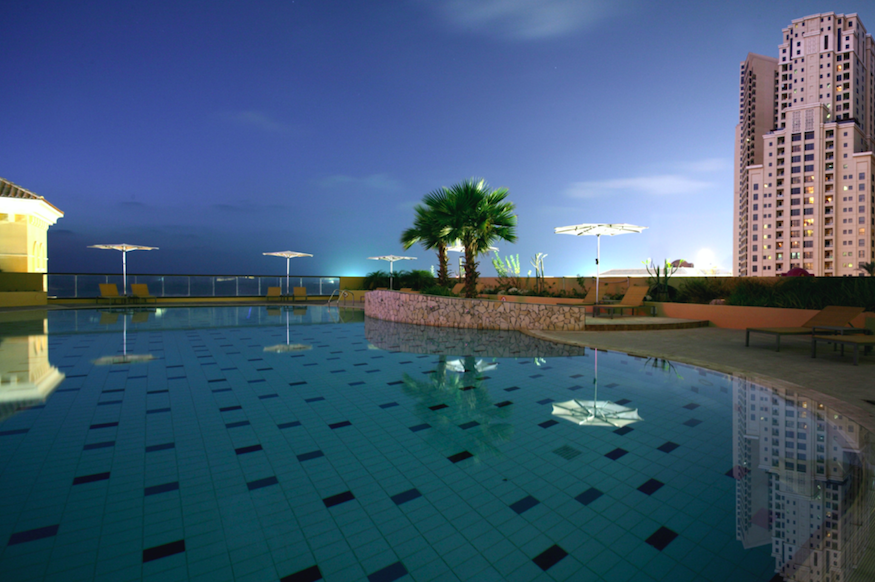 Visiting in January, the weather can be a little temperamental, but we still managed to relax around the beautiful pool.  Luckily, this is heated, so you can use it all year round in the warmer months, the pool area is also the perfect place to grab a bite to eat or enjoy an early evening glass of wine.  From here, you can easily access the beach and walkway which we found to be so convenient.
With an abundance of hotels in Dubai, you might find it difficult to choose one that ticks all the boxes, but the Amwaj Rotana JBR most certainly does.  Big bedrooms, beautiful rooms, great quality food, fantastic staff and an enviable location.  To book, click here, or to check out our review of JB's, click here.