Walking into the Canopy by Hilton London City, there's an immediate sense of calm which hits me as soon as my luggage is taken from me at the door. Maybe it's the truly beautiful design, the warm and welcoming staff who are genuine in asking all about my journey here, or the expansive lobby with its ambient lighting.
The luxurious green velvet sofas look like an incredibly inviting place to hang out in, set against the backdrop of a beautifully stocked bar sparkling under twinkling lights. The lobby is also home to the Freedom Café where you can grab a bit to eat any time of the day or night. The menu offers up a range of easy options including cold pressed juices, rare teas from the East London Tea Company and a range of scrumptious dishes. Choose from tasty small plates like the more-ish mac and cheese croquettes and grilled halloumi, or the more filling cheese toasties, aubergine bakes and burger options from the main menu, along with desserts which include a candy apple fritter with caramel cinnamon spiced sugar!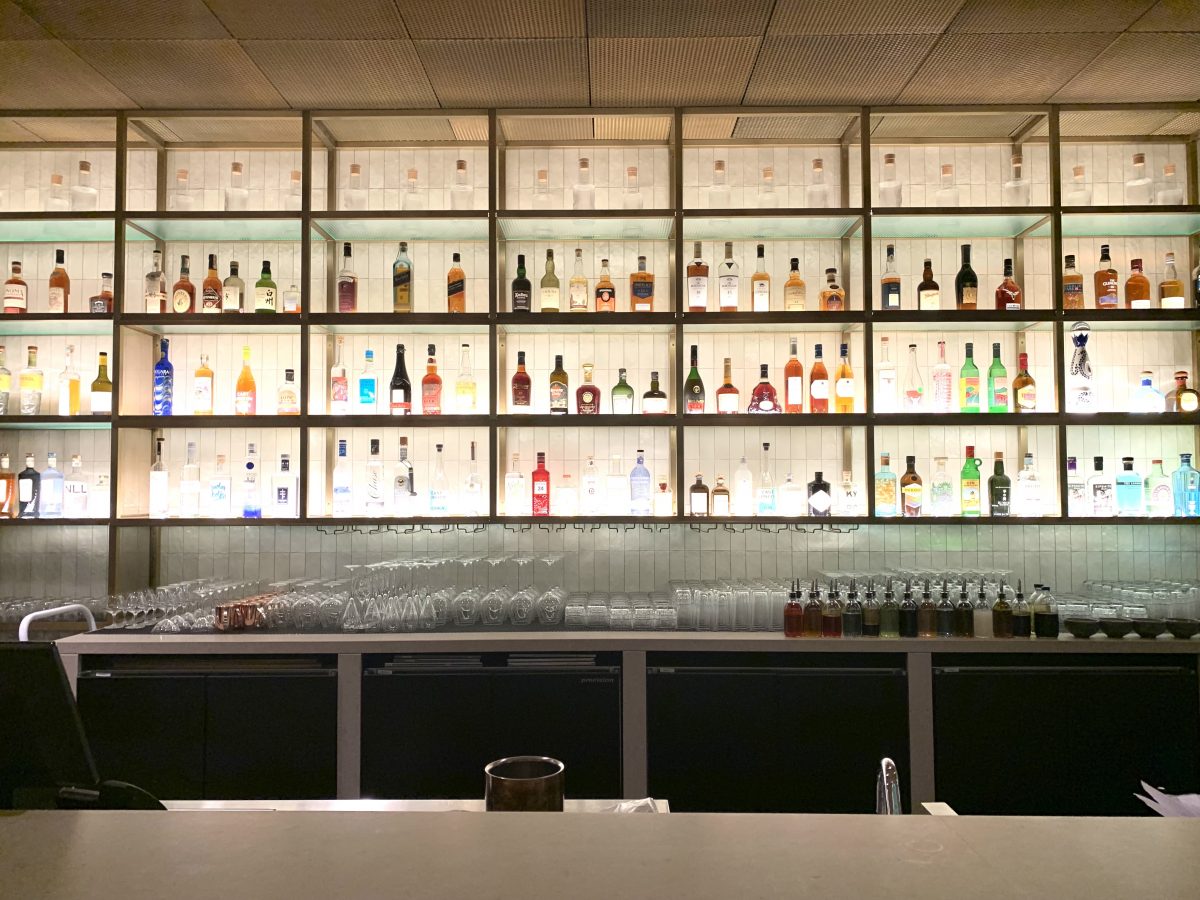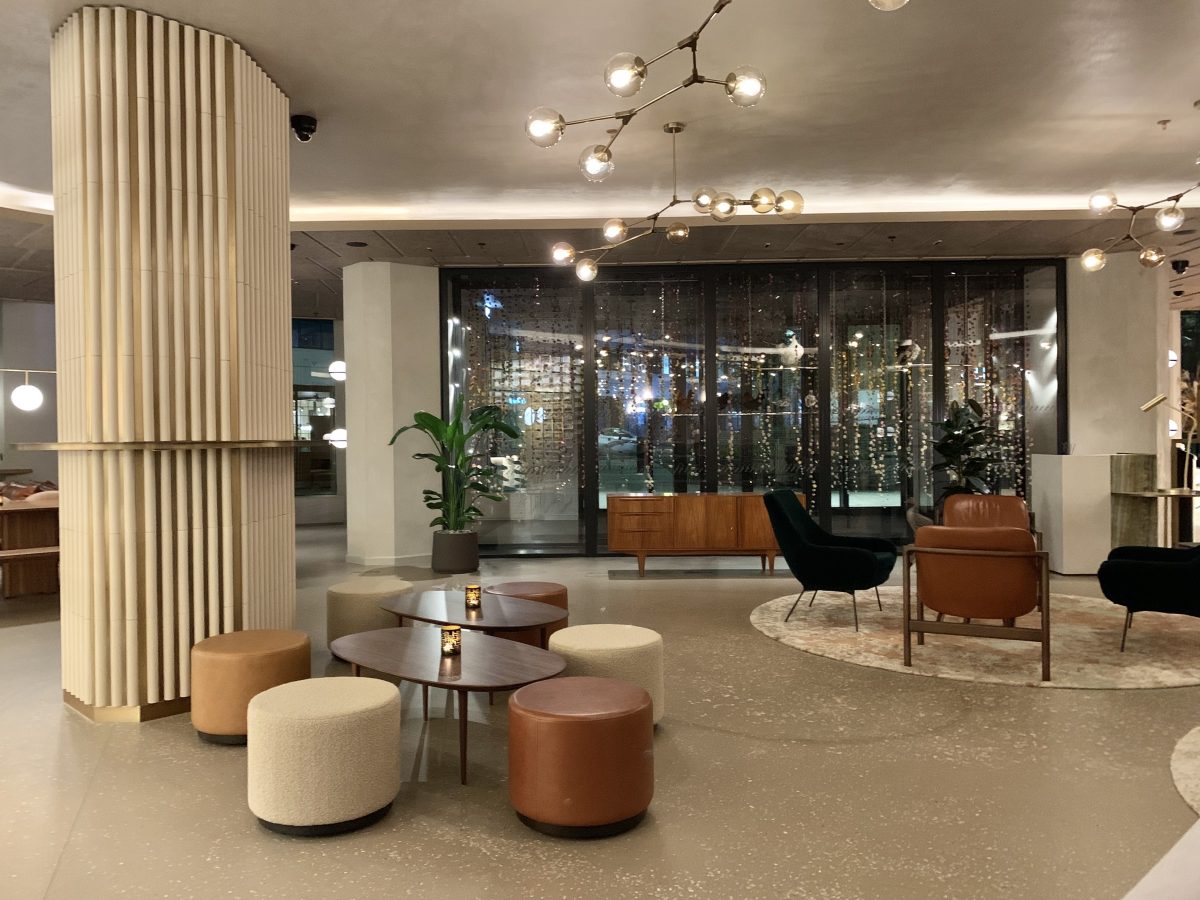 As the corridor curves round towards the lifts, there's an extra lounge room known as The Retreat – a beautiful cosy area with a striking modern fireplace offering comfort in a more intimate setting in the same high end design. I make a mental note to use this room later when I need to type up some notes and work through my emails.
At the far end of reception is the gorgeous Penny Squares restaurant – its menu taking inspiration from Jewish influences from the local community. The entire design of the hotel is rooted deeply in the history of the area and the weaving legacy of the 18th century Huguenots who settled in nearby Spitalfields. You'll spot these gorgeous subtle references to the areas of Aldgate and Whitechapel throughout the hotel. From the wall fabrics in the rooms which take inspiration from local textile designer Anna Maria Garthwaite (who made quite the impression with her floral abstract creations) through to the hotel's rugs which channel 19th century ikat patterns, each bedroom also features a letter press tray on the wall showcasing small items you would've found in the nearby Freedom Press founded in 1886.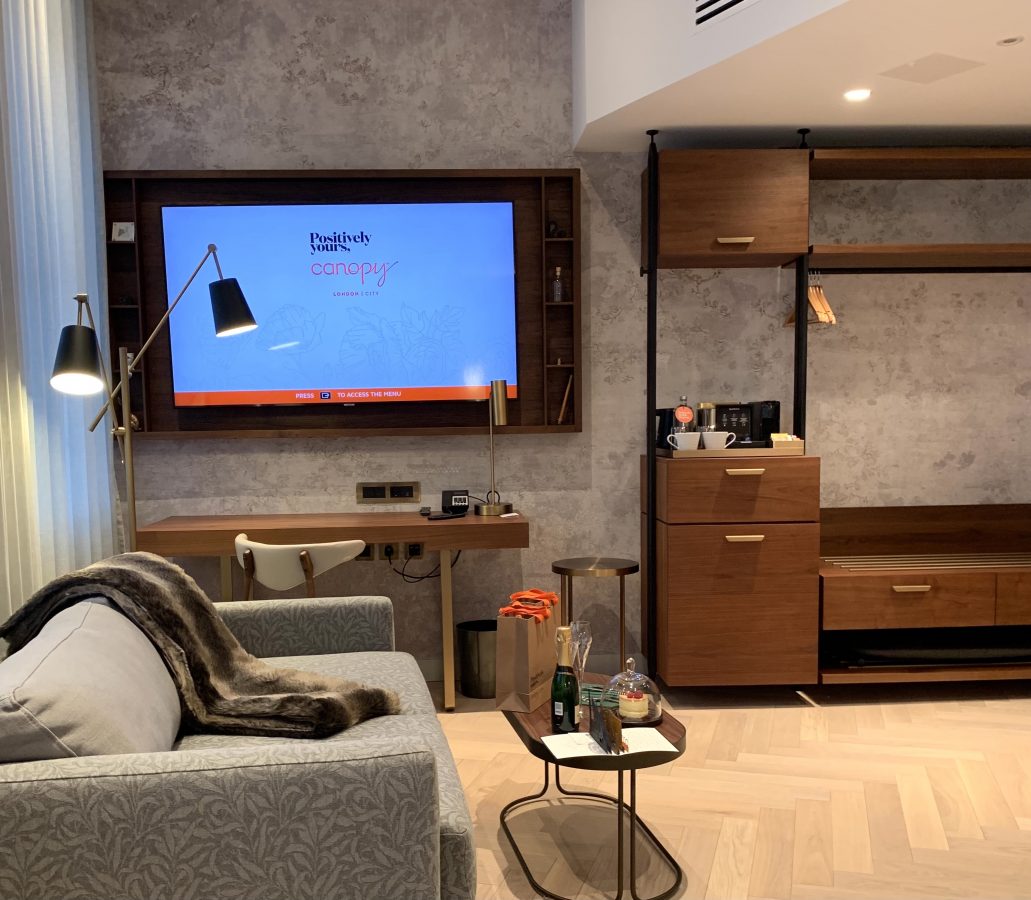 The rooms themselves are modern, stylish and super cosy with industrial touches to give them that edge. I stayed in a king premium room which included a lounge area with a sofa and coffee table, luxurious dressing gown and slippers, fancy bath products and even a very fancy salt & honey hand scrub – all sourced from producers in the local area. It's a space that feels creative, comfortable and well thought out.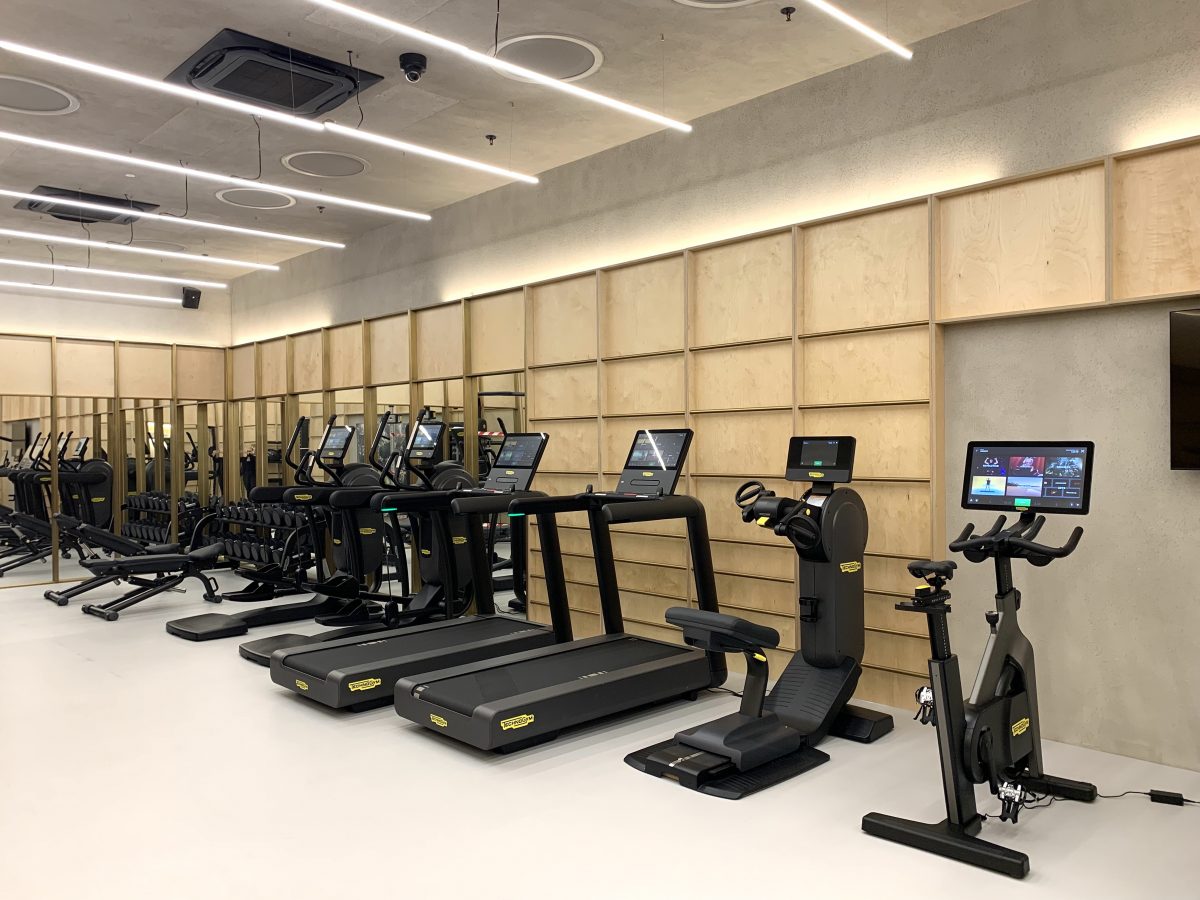 With the hotel having literally just opened a couple of weeks before I stayed, I took full advantage of the brand new state-of-the-art gym equipment which had just been installed. With Technogym running machines, cross trainers, full cross fit section, weights bar and free weights, I was super impressed with my workout. I normally find gyms in hotels to be very small and basic, but this seemed to have everything I needed.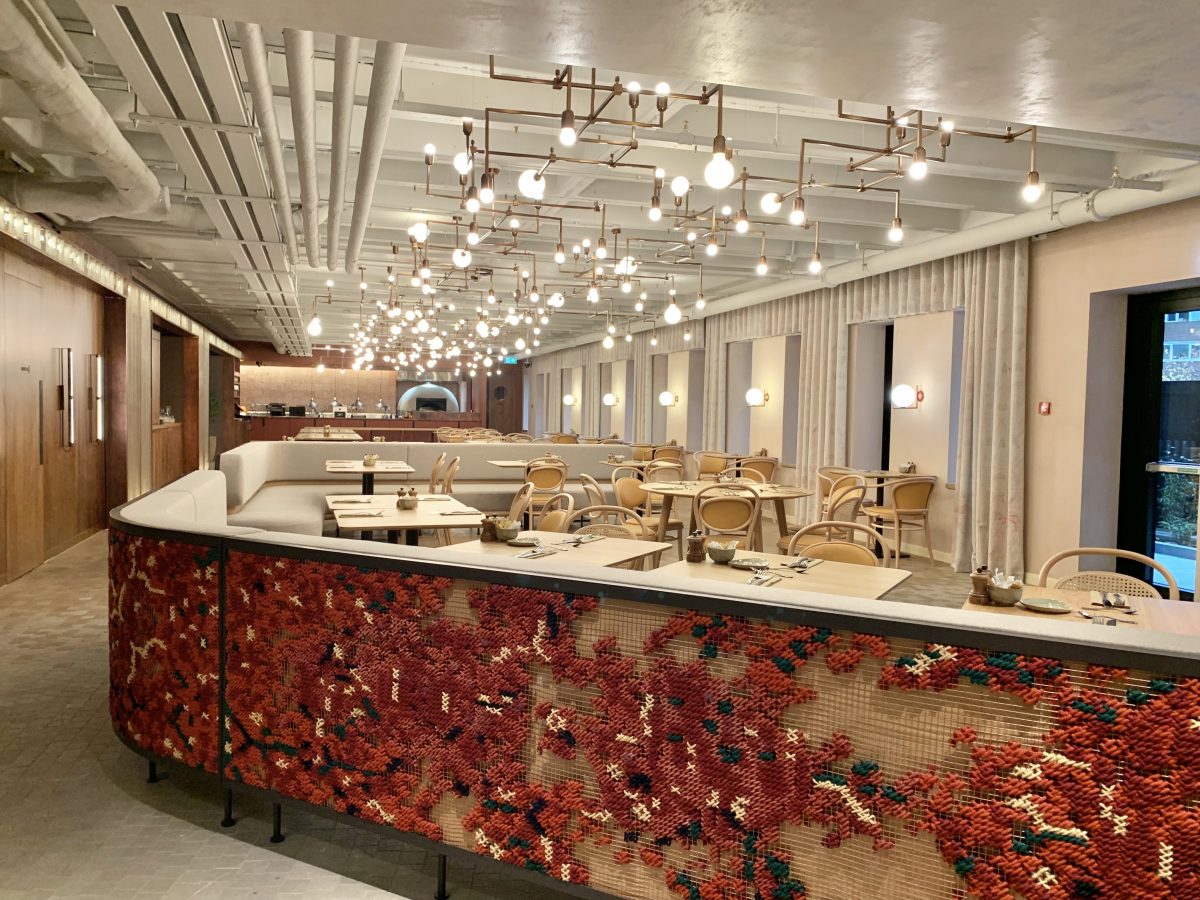 Breakfast is offered in Penny Squares restaurant and it's a full on affair with everything you could possibly want to eat after a great sleep. From yoghurt pots to a full English, along with cereals, teas, coffees and every fruit juice you can think of, the tables are well laid out and I loved the stylish crockery. It's worth mentioning that Florattica is Canopy by Hilton London City's statement rooftop bar, but it unfortunately wasn't open when I stayed. Coming soon, this space will also offer food in an intimate, stylish setting – the perfect place to take in the views of East London while sipping on innovative cocktails.
In a prime location with Aldgate station on the doorstep, Canopy by Hilton London City is a great spot to position yourself in for exploring London. With the East of the city and its edgy cool vibe literally right on the doorstep, connections into central London, Oxford Street and Covent Garden are also mega accessible.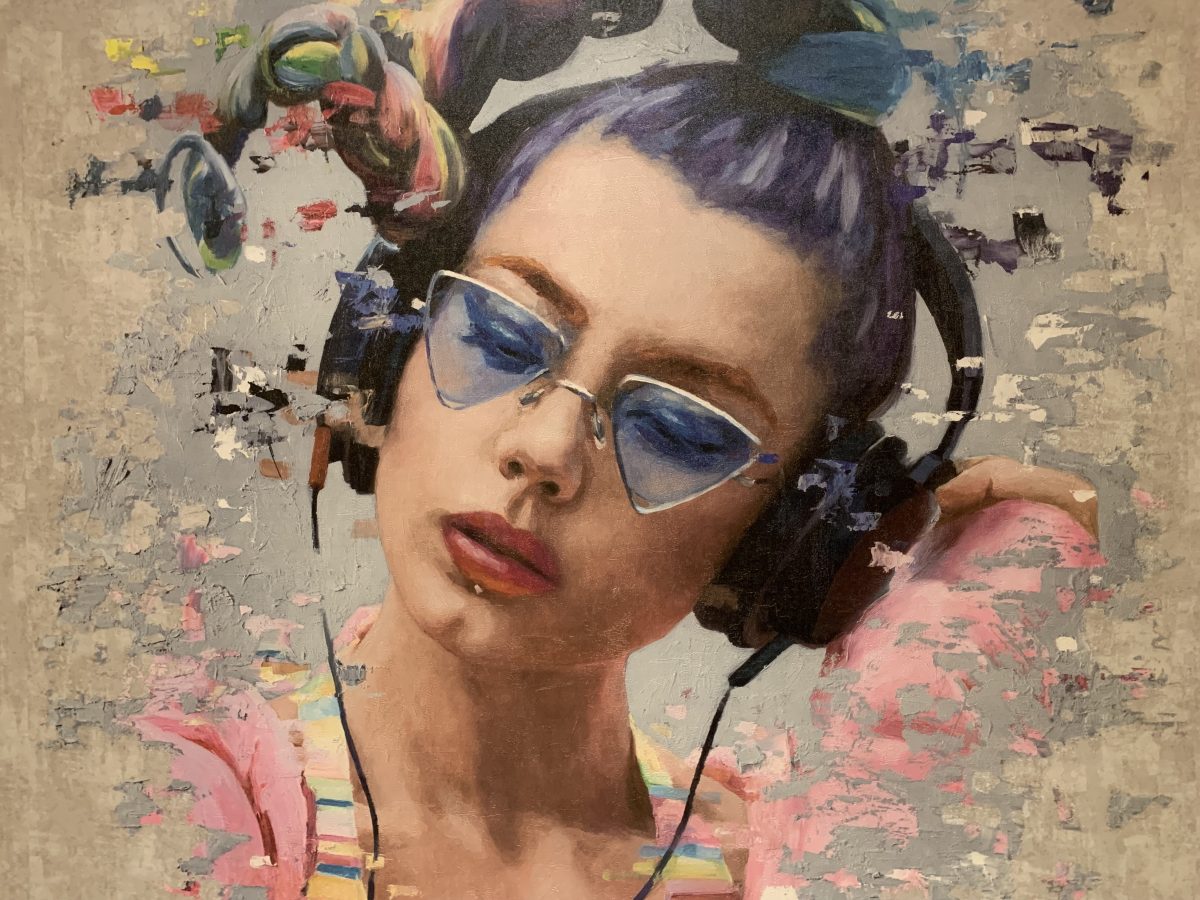 Hilton is obviously extremely well known the world over, but the Canopy brand is a really clever concept incorporating the local area whilst maintaining a modern luxurious feel. You'll find your bed also has a 'canopy' style overhang above it which is a nice quirky touch. The pet friendly Canopy by Hilton London City is a top choice for a modern city break. Book your room now, or click here to view more of London's brand new hotels.