We could all do with a bit of extra pampering and relaxation right now, and without the option of visiting a spa or salon the question we're all asking is how to recreate the perfect routine at home. Here are some key ingredients for the ultimate spa like routine which you can create in your own home.
Music
Engaging the senses and aiding in relaxation, music can be the perfect addition to a relaxing evening in. Start by selecting some spa like music from a playlist and play it on a low volume; sounds such as the ocean can be perfect for slipping into a relaxing zone.
Scents
Lighting candles or spraying a room fragrance is ideal for setting up your space for relaxation. Choose scents such as lavender or lemon balm for reducing stress and inducing calm, perfect for unwinding in the evening. For those looking to complete a refreshing spa like routine in the mornings, a lighter fragrance such as rosemary is ideal for setting you up for the day.
Facial
One of the most important parts of the pampering session is to perfect the facial. Choose products such as those available from Scentsational with refreshing and relaxing fragrances, which will aid in moisturisation and brightening the skin. Begin by cleansing the face and move on to using a gentle exfoliator to clear the pores. Use cotton wool soaked in warm water to remove and then apply your chosen face mask.
If you have dry or combination skin, choose a moisturising cream mask; for tired skin which needs a refresh an exfoliating mask is perfect. Whilst relaxing with your face mask on, opt for reading a book, or perhaps slipping into a relaxing bath!
Remove the mask with cotton wool balls again, then use a gentle toner to remove excess. To finish your facial routine, apply a moisturiser, serum or oil.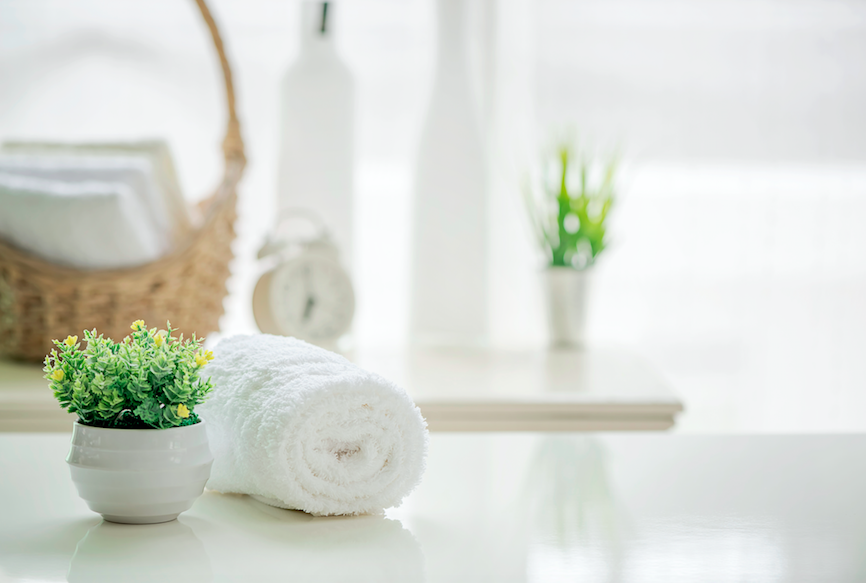 Bath
To set up the perfect bath, run the water to a preferred temperature then add bath salts, oils, bubbles or a bath bomb. Choose products with relaxing scents such as lavender and enjoy the soak! If you don't have a bath, then simply add some essential oils to your shower and the steam will add that touch of aromatherapy.
Haircare
Without visiting a salon your hair may need a refresh. To achieve that salon freshness, invest in a hair mask. You can apply this to dry hair and leave it in whilst you complete your facial, or perhaps apply to wet hair and wash out after your bath.
Choose hair products which are moisturising such as those containing coconut and argan oil for the perfect hair refresh. When washing your hair, make sure to shampoo twice and condition the ends; if you have naturally oily hair then conditioning your roots too much could be adding to it!
Meditation
Either before or after your beauty regime, meditation can be perfect for achieving that added relaxation. Settle down without distractions to help reduce stresses and practice slow breathing. Guided meditation through apps can be beneficial or simply taking some quiet time to yourself could also do wonders.
So, there you have it, the perfect way to achieve a spa like routine at home. It's important to take time out to relax and unwind to maintain and boost overall wellbeing.