Situated on iconic Charlotte Street in the heart of London's Fitzrovia, Flower Burger is the brand new vegan burger joint that you need to try this summer. With its rainbow burgers and sumptuous sides, this is definitely fast food with a colourful twist.
Born in Milan and already all over Europe, this Flower Burger is the UK's first and it's finally open for dining-in after lockdown. Inspired by the Flower as a symbol of positivity, joy and love, this restaurant combines their 100% plant based menu with '60s hippie vibes for the ultimate feel-good dining experience.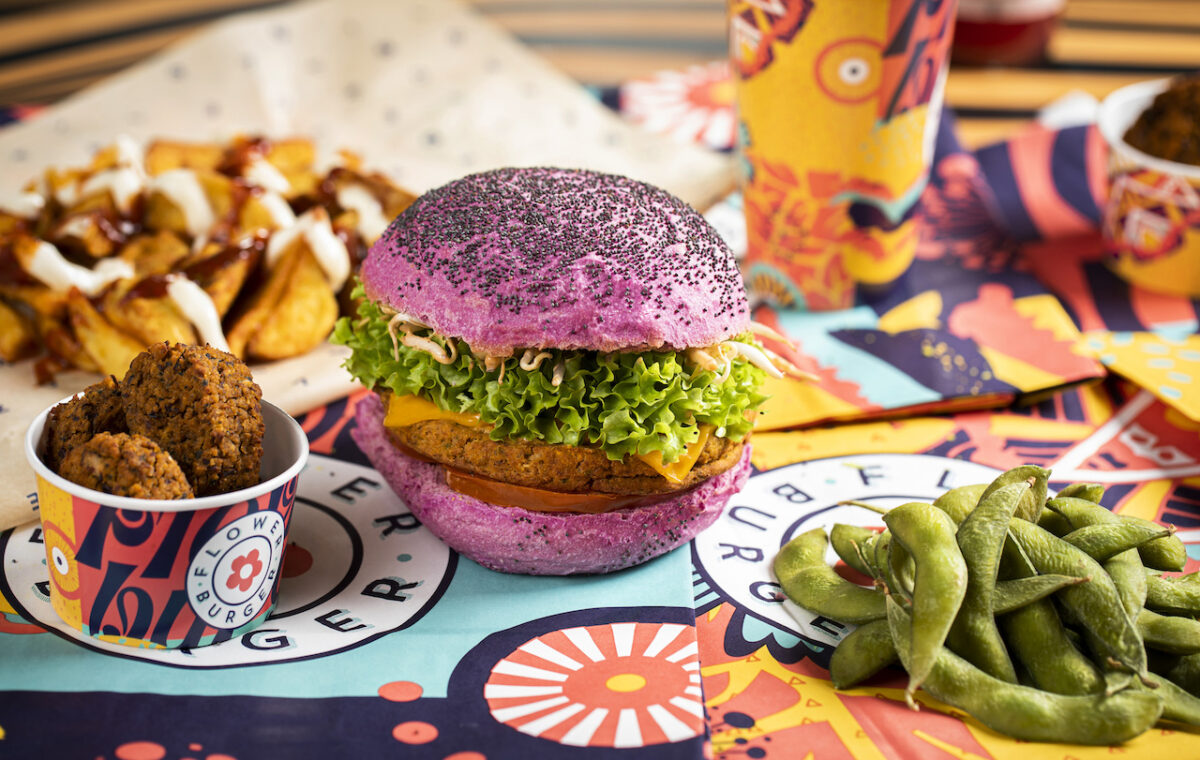 The collection of rainbow burgers are coloured with all-natural ingredients like turmeric or beetroot to get their iconic look. I had the Cherry Bomb which was a vibrant pink bun filled with a lentil patty, lettuce, tomato confit, soybean sprouts, flower cheddar and rocktail sauce. As well as being great for the 'gram, the burger looked utterly delicious and I couldn't wait to get stuck in.
As a self-professed meat-lover, I was sceptical about the vegan burger concept but it blew me away. It was juicy and full of flavour, and I honestly didn't miss the meat one little bit. Other popular burgers include the green Jungle Burger (including a red bean and oat patty, courgette and wild sauce) and the violet Flower Burger (including a seitan and red bean patty, double flower cheddar and magik sauce). Each burger has its own unique look and flavour combination, so I guarantee you'll want to go back to try out a different one!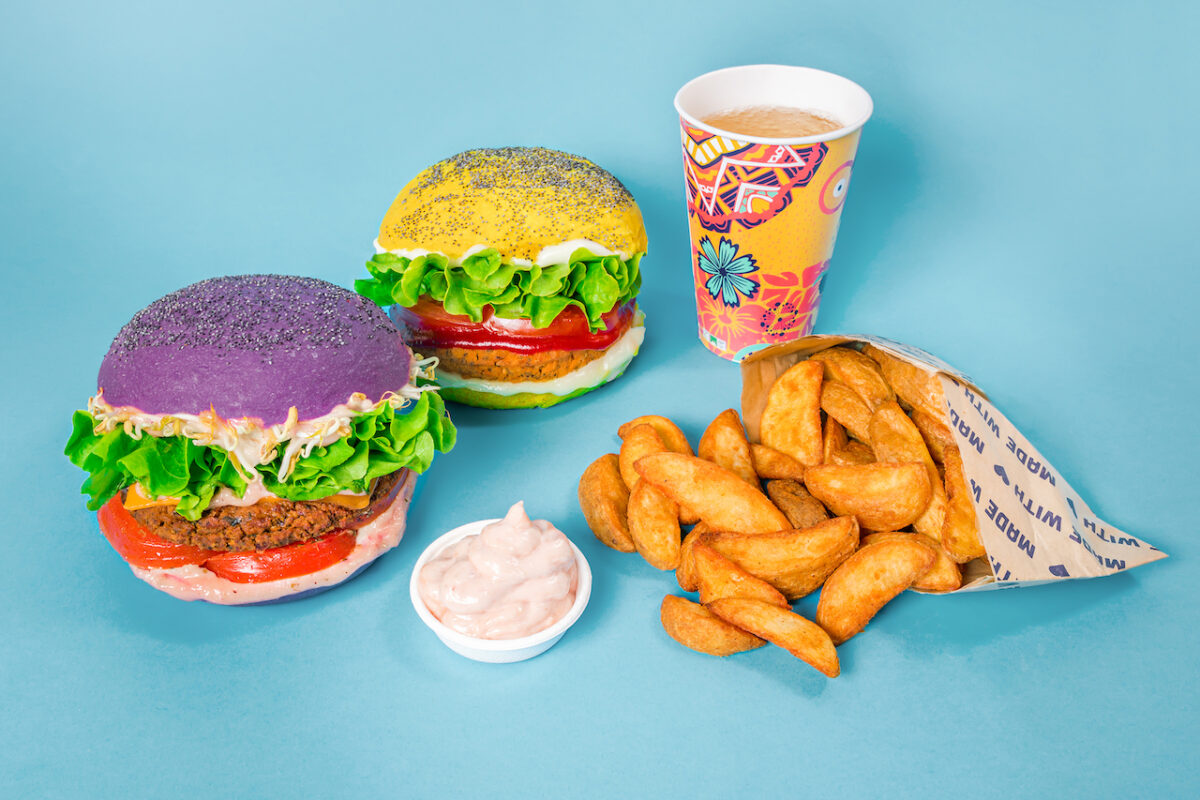 I paired my burger with a side of wedges, but you can also choose from edamame beans or patatas bravas. The meal combo is ideal – you can get a burger, a side and a drink starting from £10.95. This is definitely not your standard burger joint – you can enjoy a range of Sicilian bottled soft drinks, a beer or even a prosecco with your food! If you're feeling hungry, you can also treat yourself to a vegan dessert like the Choco Love (a melt-in-the-middle chocolate cake) or the Chocolate Salami (dark chocolate and biscuity goodness!)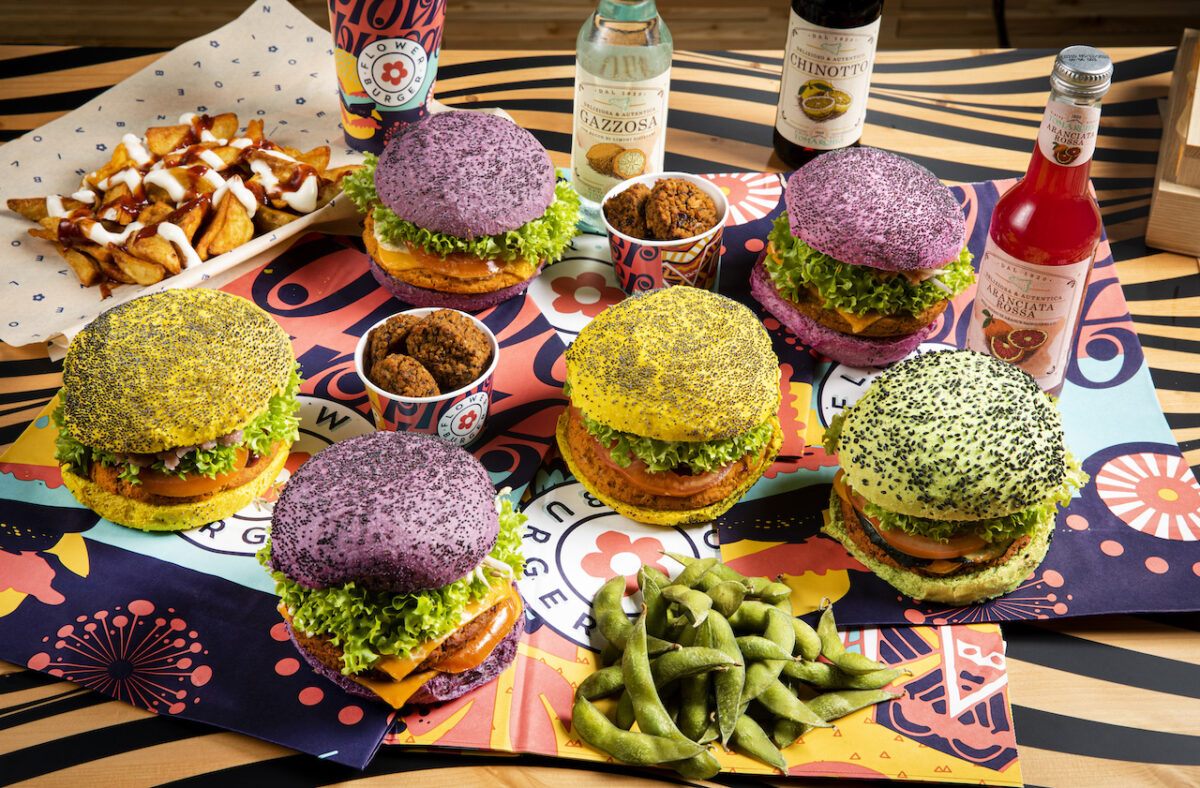 The interior design is almost as colourful and playful as the burgers. There is some seating upstairs and outside (for those summer nights), but if you head downstairs it opens up into a much larger seating area that you wouldn't even know was there. It's bright and spacious, complete with psychedelic tables, funky graphics and even swinging chairs!
After months of being locked away at home, London is finally opening up again and the sun is coming out! This colourful dining experience is perfect for a shopping lunch break or a chilled evening with friends. Whether you're a vegan or not, these burgers should definitely be added to your must-have list this summer!
Follow Flower Burger on Instagram here. Written by Luxe Bible's Ellie Green