This is one resort which is worth waiting for! We've got everything crossed that international travel will have completely opened up again by October 1st – just in time to book the holiday of a lifetime to the brand new Cora Cora Maldives.
Location
Cora Cora Maldives is located in beautiful Raa Atoll in the Indian Ocean – 45 minutes by seaplane from the Velana International Airport, or 30 minutes if you're taking a domestic flight, followed by a short 20 minutes speedboat.
The Cora Cora Maldives Concept
Celebrating freedom and wellbeing at this brand new unique and innovative resort, Cora Cora Maldives comprises of 100 villas and suites with each one having been individually curated to reflect the spirit, culture and heritage of the stunning destination.
Accommodation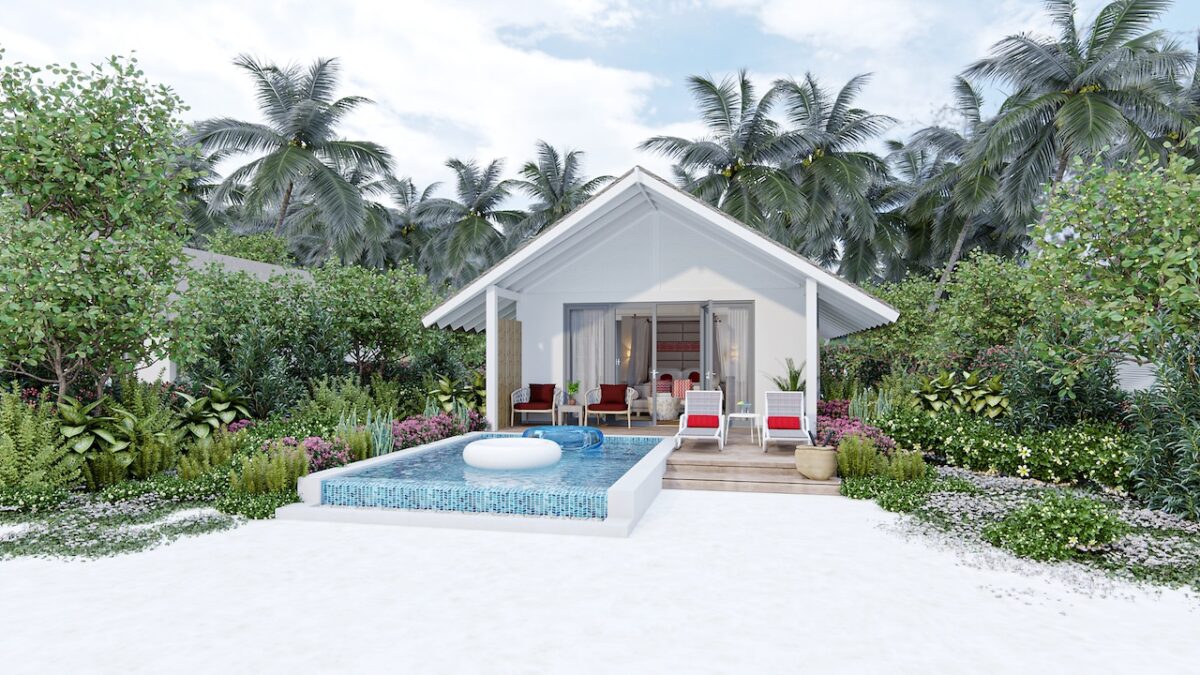 As you'd expect in a luxury resort, accommodation at Cora Cora Maldives will exceed expectations in every sense. With the Beach Villa ranging from 68sqm, right up to the spacious two bedroom Lagoon Pool Villa, the dwellings have been designed with total freedom at the forefront, seamlessly blending luxury, romance and family friendly options for an experience which will suit all. All villas and suites are inclusive of Wi-Fi, satellite TV, fully stocked bar and organic amenities.
Food at Cora Cora Maldives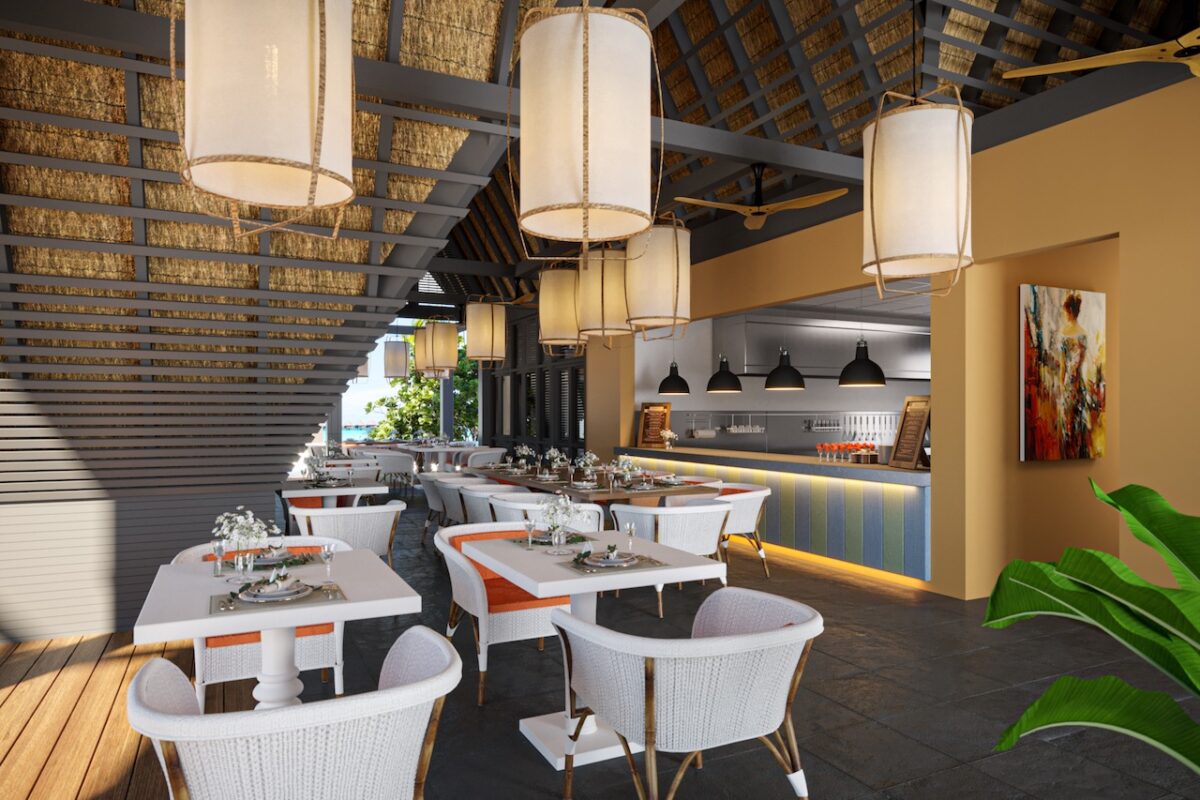 The all-inclusive Gourmet Plan with an expertly created range of contemporary and traditional dishes from Culinary Director Umberto Piccolini, will ensure guests are treated to a range of exceptional dining options while staying at the resort. With five restaurants and bars and a focus on fresh healthy food, there will be a selection of delicious dishes on offer ranging from plant-based meals to authentic curries, homemade vegan ice cream, fresh salads and fresh seafood. Restaurants include Tazaa for breakfast, paying homage to various kitchens on the old spice route, Asian cuisine at Ginger Moon and the Japanese restaurant Teien.
Cora Cora Maldives Art & Culture
Cora Cora Maldives will be the very first resort of all of the islands to showcase its cultural heritage through a collection of 400 local artefacts on show at the licensed art gallery and museum. Guests can immerse themselves in the rich history of the Maldives and learn all about its heritage, whilst browsing exclusively curated exhibitions.
Wellness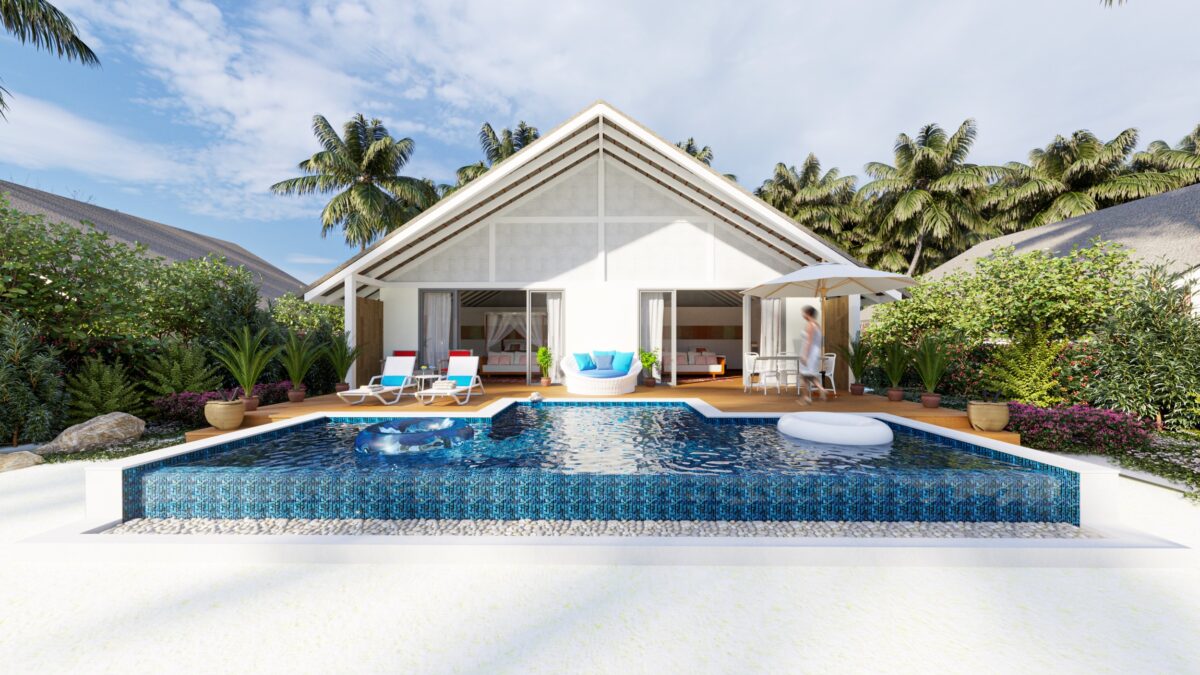 After the past year, it's no surprise that wellness resorts have grown in popularity.  With wellness at Cora Cora Maldives' very core, guests can be sure they're health and well being is a top priority.  Treatment rooms at the spa will exude calm in tropical surroundings, while mindful activities will give guests the opportunity to really connect with the tropical setting.  With a yoga pavilion, gym, and watersports centre where guests can learn to dive, the stunning wildlife-rich crystal clear waters of the Maldives are the perfect place to indulge in a new sport.
With plenty of activities and programmes to keep the kids entertained, exquisite dining options, luxurious villas and suites all set against the backdrop of a tropical paradise, Cora Cora Maldives should be right at the top of your list when it comes to must-visit far flung destinations.  Visit their website for more details.
(Featured Image: two bedroom lagoon pool villa at Cora Cora Maldives)