Get ready to go really wild in Soho with Gamma Gamma and its exotic pan-Asian menu.  If you like a side dish of adventure served with your main, then you'll love this vibey restaurant on the former site of Bo Drakes.
Experimental cuisine is what differentiates Gamma Gamma from the rival eateries it shares Greek Street with, because eating here, means you're pretty much guaranteed to try something you've never tried before!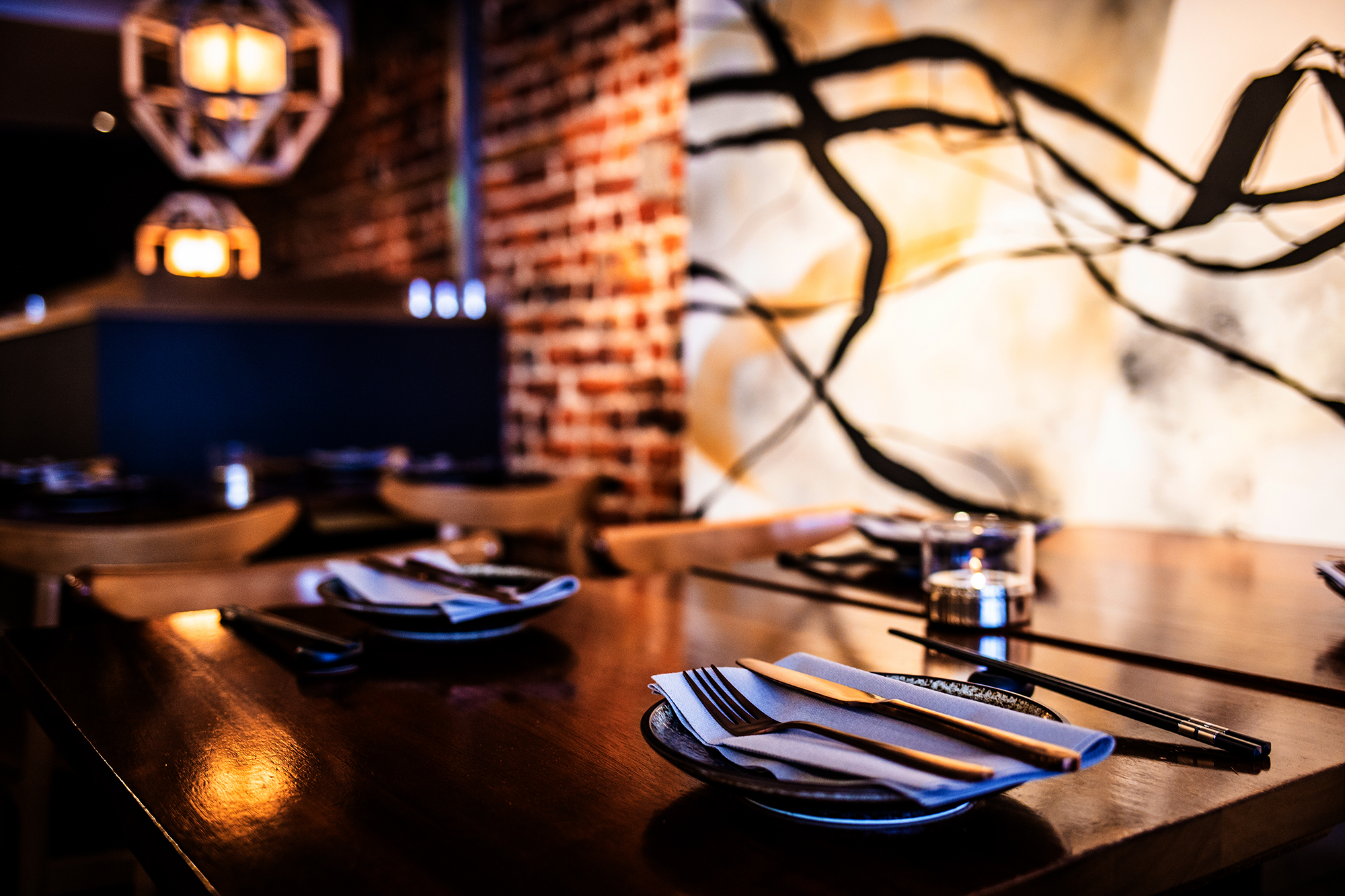 The low lighting, cool design and buzzy vibe create a great atmosphere, while the exposed brickwork, murals and graffiti work from Nick Harvey, along with the central bar feature give Gamma Gamma its edge.  But does the food measure up?  In a word, yes.  Absolutely.
The staff are great and can help you through the menu – every weird and wonderful description was brought to life by our server Hazel as she talked through each.  Gamma Gamma has a tapas sharing style concept, which also means the dishes will come out when they're ready rather than starters and mains, which I quite liked – it's nice to challenge the palate with lots of different tastes and sensations.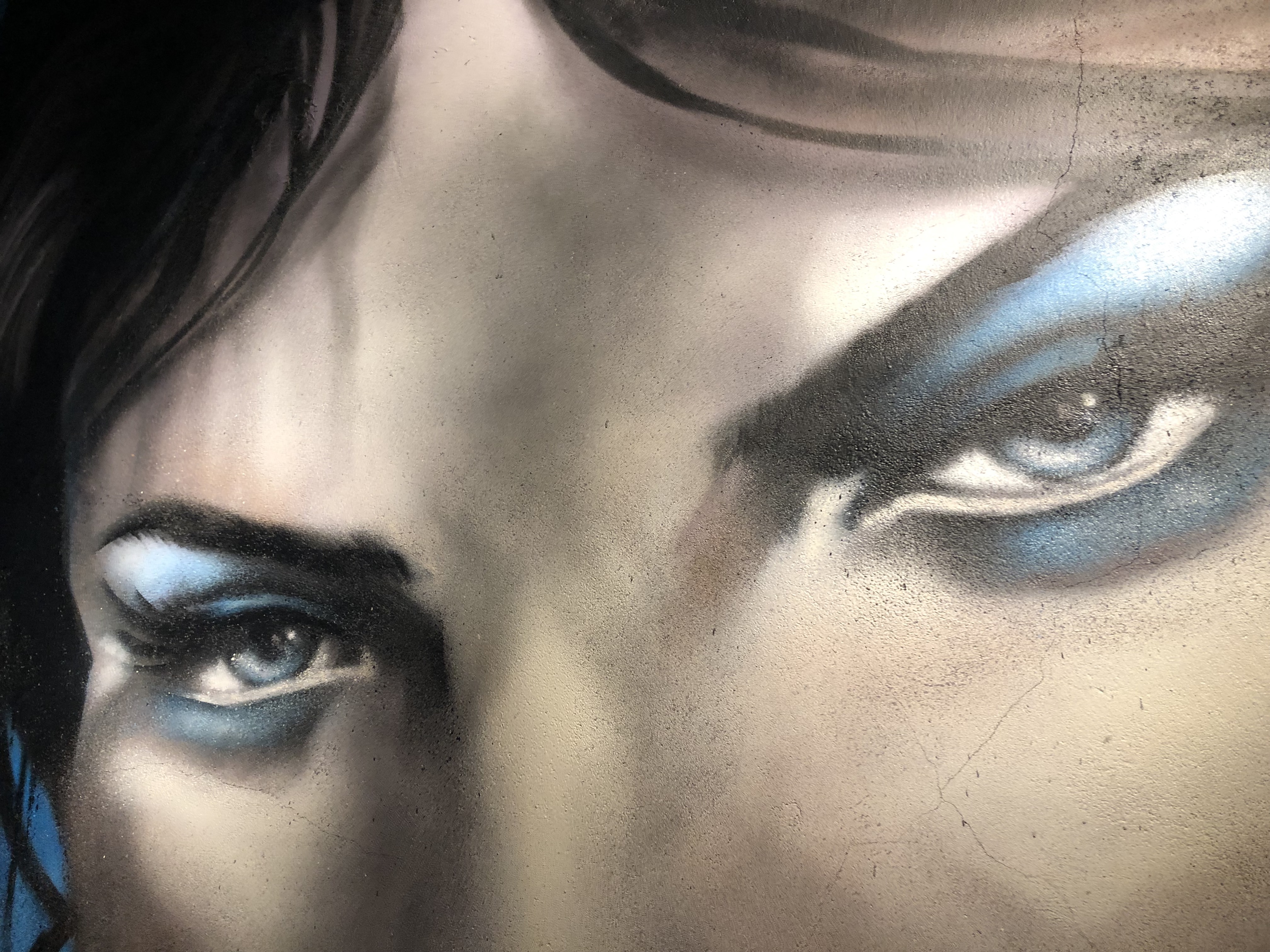 Up first, killer cocktails – and we just had to order the signature Gammartini – a refreshing perky but sweet blend of Bombay Sapphire, hibiscus liquer, lemon, egg white and angostura bitters.  We also loved the Pink Lady with Russian standard, lychee liquer, almond syrup, aloe vera juice, yuzu syrup and raspberry.  A yummy combo which had me on lychee martinis for the rest of the night…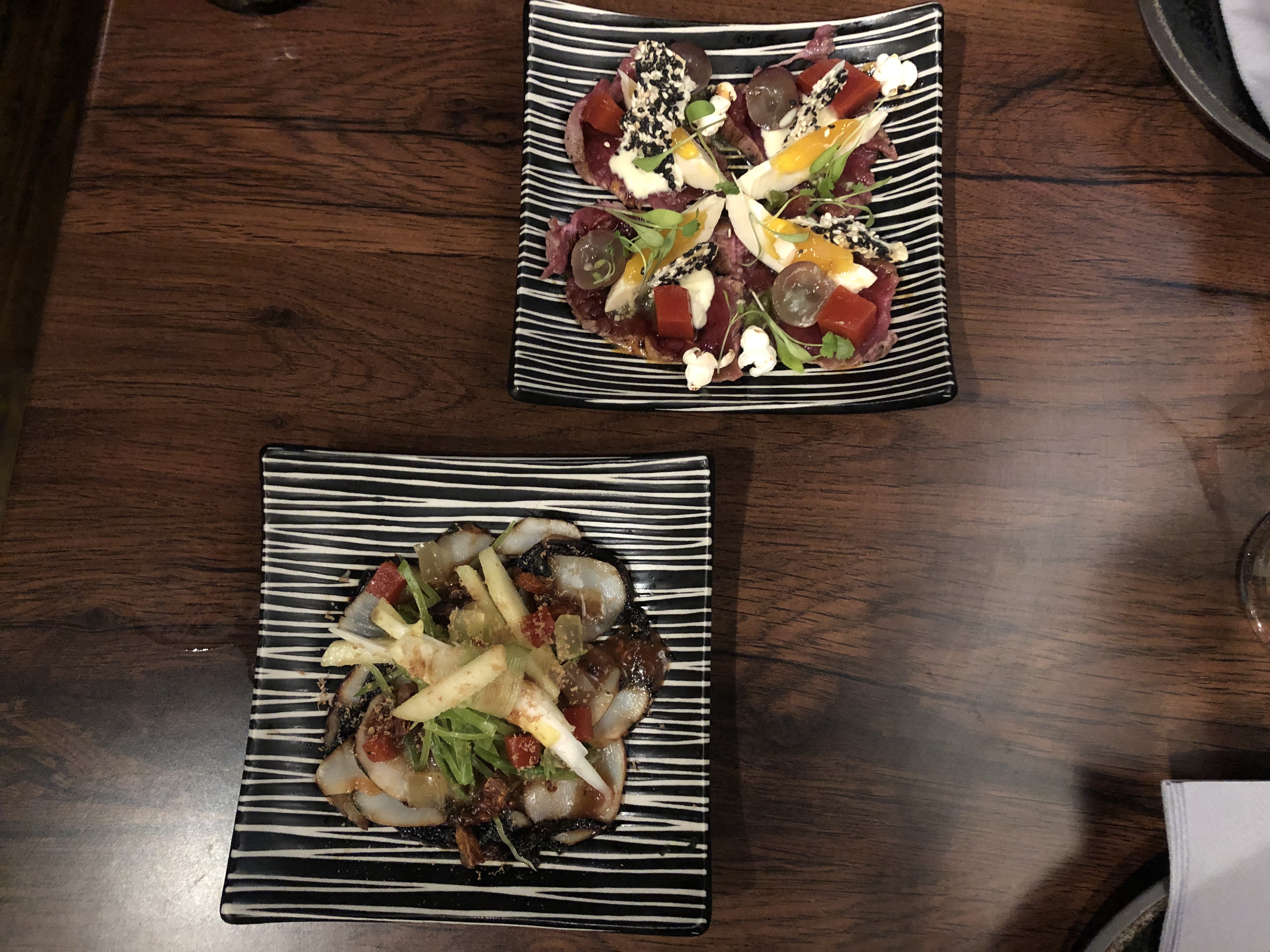 Whilst supping on our cocktails and having the same conversation as probably every other table in Gamma Gamma – (should we feel bad eating the zebra?) – the first plate arrived.  Indeed, and ironically served on very cool stripy black and white plates, the zebra loin tataki came laiden with smoked aioli, siratcha jelly cubes and kizami wasabi for contrasting kicks, topped with a sake cured egg with a perfect yoke.  Further decoration came courtesy of popcorn pieces and sesame for an overload of texture and flavour in the mouth.  The meat itself was quite light in flavour, hence the accompanying array of exciting ingredients.
Next up, from the specials menu – something indeed very special – Cornish hot smoked scallops, black garlic, bottarga, honey, yuzu and siratcha jelly.  How could you see this on a menu and not say no?  The scallops were fresh, meaty and delicious.  The black garlic pungent in the best kind of way and the bottarga (fish roe) a welcome hit of fishiness against the smooth flavour of the scallops.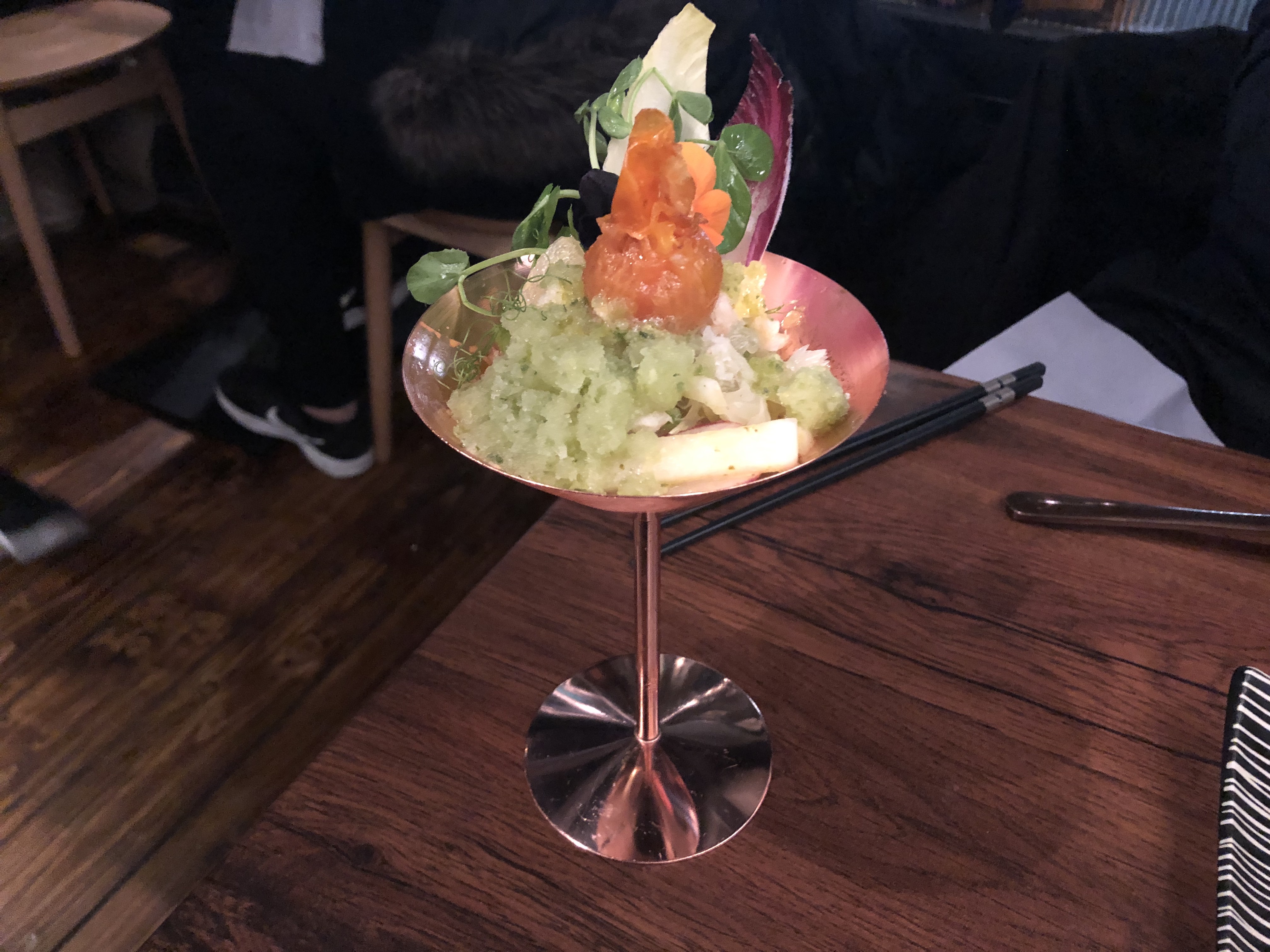 We went on to enjoy a very fancy lobster martini – the perfect pimped up seafood cocktail served in a rose gold martini glass, and complimented by pink pomelo – the sharpness of which worked beautifully with the lobster and a gin sorbet on the side. This proved to be the perfect palate cleanser for the arrival of our bottle of Lan Rioja Reserva 2011 which was bursting with blackcurrant.
My two favourite dishes of the night had to be unbelievably, the sweet potato chips with rosemary, garlic, miso and parmesan – possibly the best sweet potato fries I've ever eaten!  And surprisingly the Kangaroo steak 'tagalog' with soy, kalamansi, garlic and black pepper, caramelised onion and garlic chips was absolutely sensational (£9.90).  Like a smokey steak, this had so much flavour, a really nice texture and tasted nothing like I'd expected.  Dressed up with the Asian influences of soy and balanced with the citrus of the kalamansi and garlic, this was truly a stand out dish and one I'd definitely order again.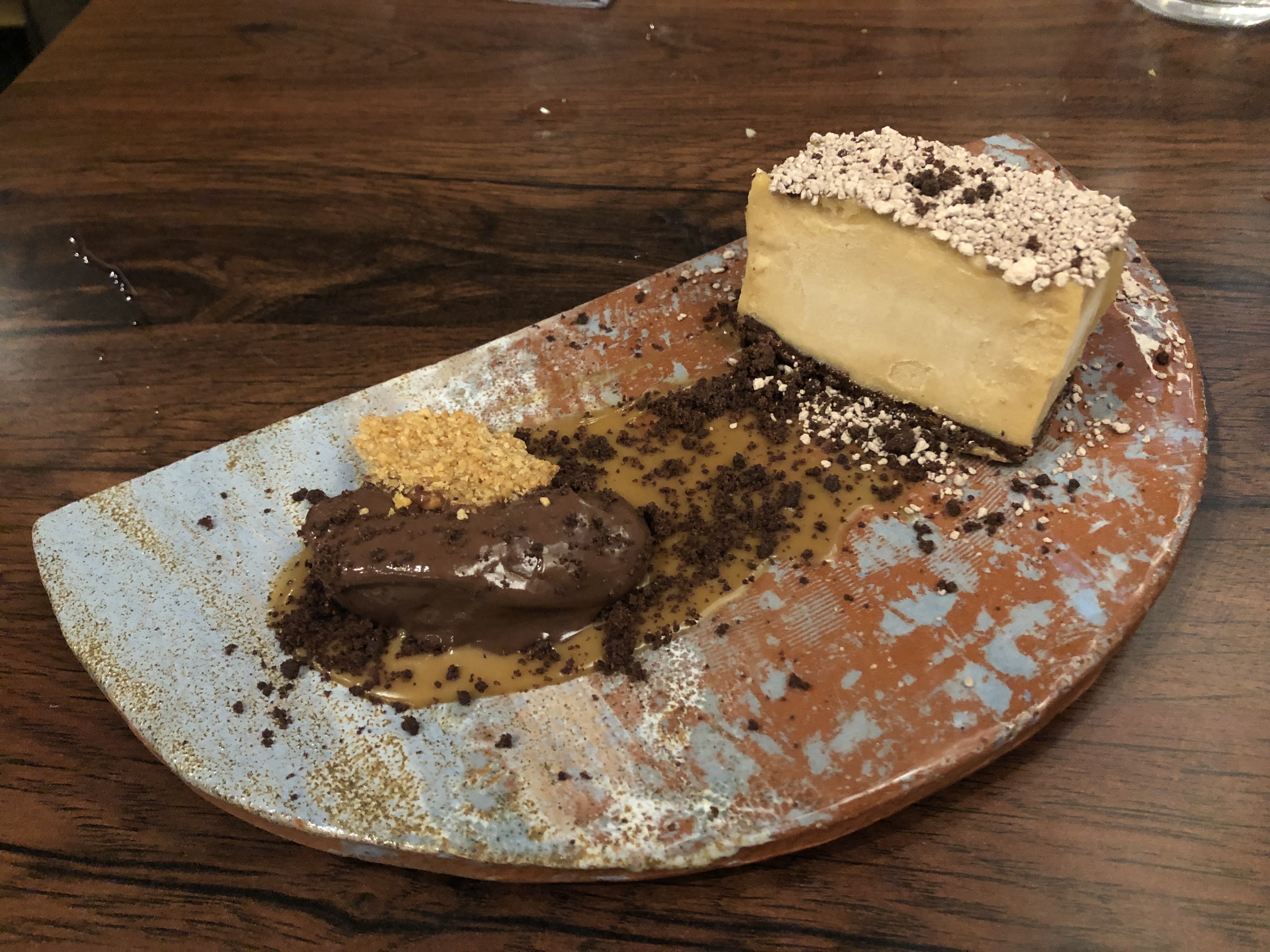 As if we could fit in dessert after all that food, wine and cocktail?  Hell yeh, and I'm so pleased we did.  The desserts at Gamma Gamma are exceptional and our peanut butter and hazelnut praline, with kahlua and dark chocolate delice, peanut brittle and chocolate crumbs was literally inhaled (£7.90)  Like a deconstructed Snickers-come-Reeses-pieces, the crunch of the crumb and peanut brittle with the smooth peanut butter and a hit of dark chocolate was absolute heaven.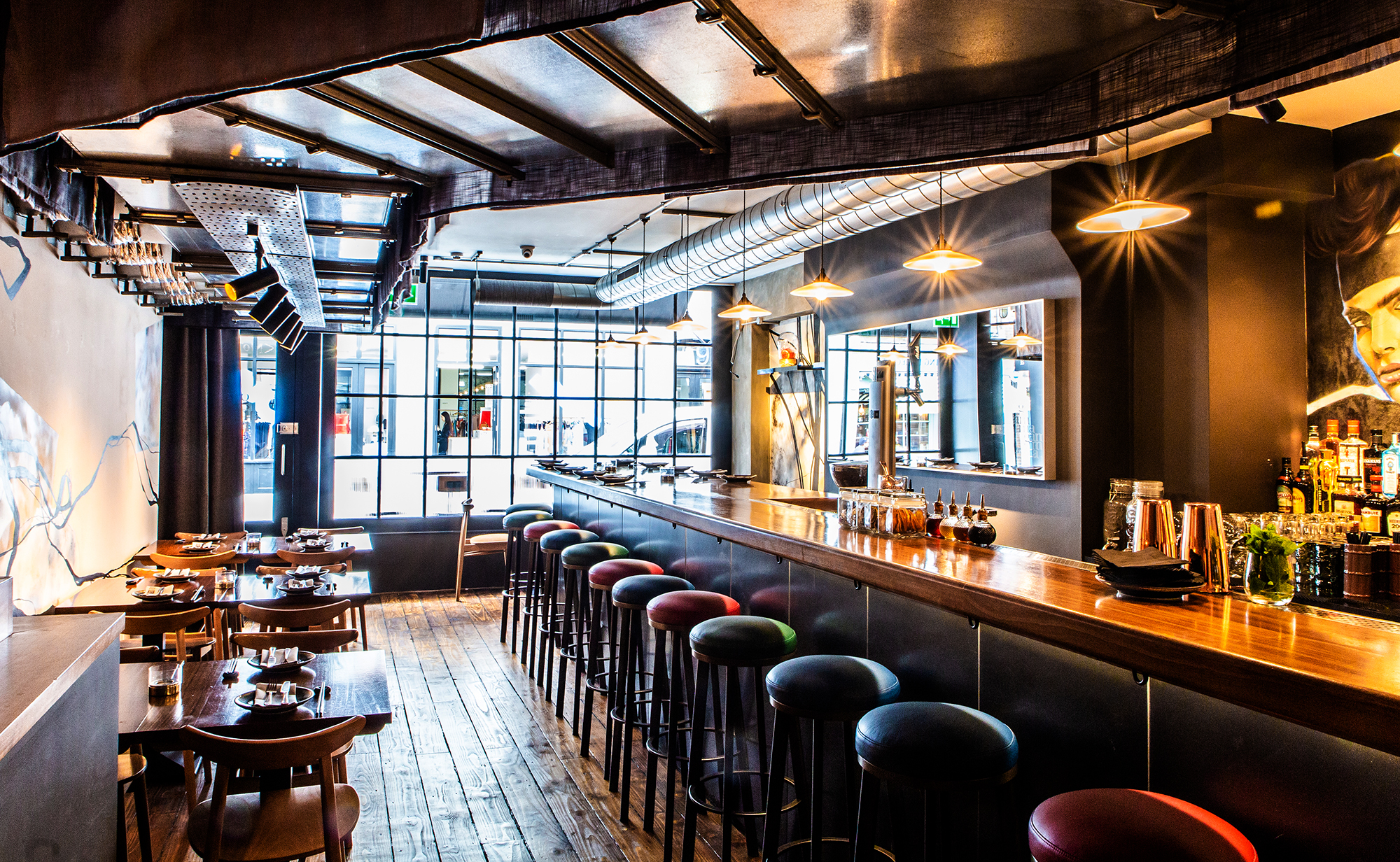 Our night at Gamma Gamma was brilliant.  If pushing your tastebuds to try new things is something you love, in a cool, atmospheric Soho spot, then you definitely need to try here.
Click here to book.