We all want younger-looking, naturally-glowing skin but is freezing your face really the way to achieve it, or just the latest skin gimmick loaded with more trickery than truth? We asked a panel of experts whether or not Ice Rolling really lives up to the hype.
2020 is certainly taking its toll on our skin. If the stress of the pandemic wasn't bad enough, now we've been shut out of the beauty salons once again. Before Lockdown 2.0 put the brakes back on our beauty appointments, freezing facials based around Cryotherapy principles, were most definitely, 'having a moment.'
The basis of Cryotherapy is to shock skin with sub-zero temperatures, causing a sudden flood of fresh blood and more oxygen to its surface. Applied to the body it can be particularly effective where pain relief and muscle recovery are concerned. Applied to the skin, we're talking a plumper, brighter and tighter complexion. Who wouldn't like the sound of that?
On the back of in-salon success, the latest trend in DIY brightening/tightening facials is to incorporate a little of your own cryotonic ice therapy. But can you really reap the same results using ice cubes or a specific tool at home? According to celebrity fans like Cindy Crawford and Tracee Ellis Ross (daughter of Diana, no-less) running ice-cold gadgets across your skin will minimise puffiness, aid lymphatic drainage, relieve sinus pressure, reduce redness and pore size and ultimately, bestow an immediate glow. Impressive claims indeed, but would our skincare experts, Yasmina Kamli from London Real Skin Clinic, Fatma Gunduz, from Skin & Sanctuary and Michelle Lambert from Pulse Light Clinic  agree…
First up, what exactly is Ice Rolling?
'Exactly what it sounds,' says Fatma, a Senior Therapist at Skin & Sanctuary in Hackney. 'It's applying ice to your face.' Yasmina Kamli, Aesthetic Practioner at London Real Skin elaborates, 'It's a form of cold therapy that helps reduce the appearance of pore size and decrease facial puffiness or inflammation.'
So rolling ice cubes over your skin?
'Ice cubes would melt, be messy and difficult to manage,' says Fatma. 'You also run the risk of causing cell damage if one spot is frozen for too long. Save the ice cubes for your G&T and invest in a specialist tool to massage over your face instead. They generally come as globes (think orbs or mini maracas) or rollers filled with gel, water or anti-freeze. Simply store them in the freezer so they're ready for use. A dedicated device will remain cold and drama-free throughout the duration of your facial massage.'
How – and when – should you use them?
'You're recommended to use them in the morning to help depuff and energise your skin,' says Michelle, a Senior Skin Specialist at Pulse Light Clinic. As how best to use them, Yasmina says in the same way you'd use a derma roller. For more of a step-by-step, Fatma's routine goes like this. 'Begin by gliding your globe or rollers from just under the inner corner of the eyes to the cheekbones either in a straight line or using very tiny circular movements, continuing on towards the lymph nodes at your temples. Then work downwards around the sides of your face towards the backs of your ears, down your neck and into the dip of your clavicle bone. Next, start from under the chin and work outwards towards the back of the ear again, draining down into your neck. Keep the pressure light and as long as you're moving all the time, there shouldn't be any pain. If it does hurt then you're either applying too much pressure or holding it in one place for too long.' Whilst there's no time limit, Michelle recommends you keep going for as long as your device retains its chilly temperature, probably up to ten minutes daily.
Can DIY ice rolling really be as beneficial as a salon treatment?
'Treatments like CoolSculpting, fat freezing and Cryotherapy can offer benefits ranging from fat loss and pain relief to muscle healing.' says Michelle. 'As these treatments can only be performed in specialist clinics, ice rollers are simply an at-home alternative for smaller areas to help with puffiness, inflammation and tightening of the skin.' Many users profess that their ice device has conquered oiliness, clogged pores, wrinkles and acne but Yasmina, Fatma and Michelle all remain skeptical of such claims. They're not magic wands after all, simply liquid-filled glass or stainless steel tools. Think short term gains rather than long-term fixes.
According to Fatma, 'In the salon, ice rollers work really well to reduce inflammation and calm the skin after certain treatments such as extractions or a chemical peel. At home, they're best used as a good addition to a manual massage to help reduce puffiness, and drain away toxins.'Yasmina adds, 'Often, after one of my patients has had a laser DYEVL treatment, I apply a similar ice device to reduce inflammation, soothe the skin and accelerate its healing response time. Ice has many benefits for our body and skin. On top of the visible benefits, ice rolling at home can also help ease muscle tension in the face, as well as alleviate jaw tension and migraines.'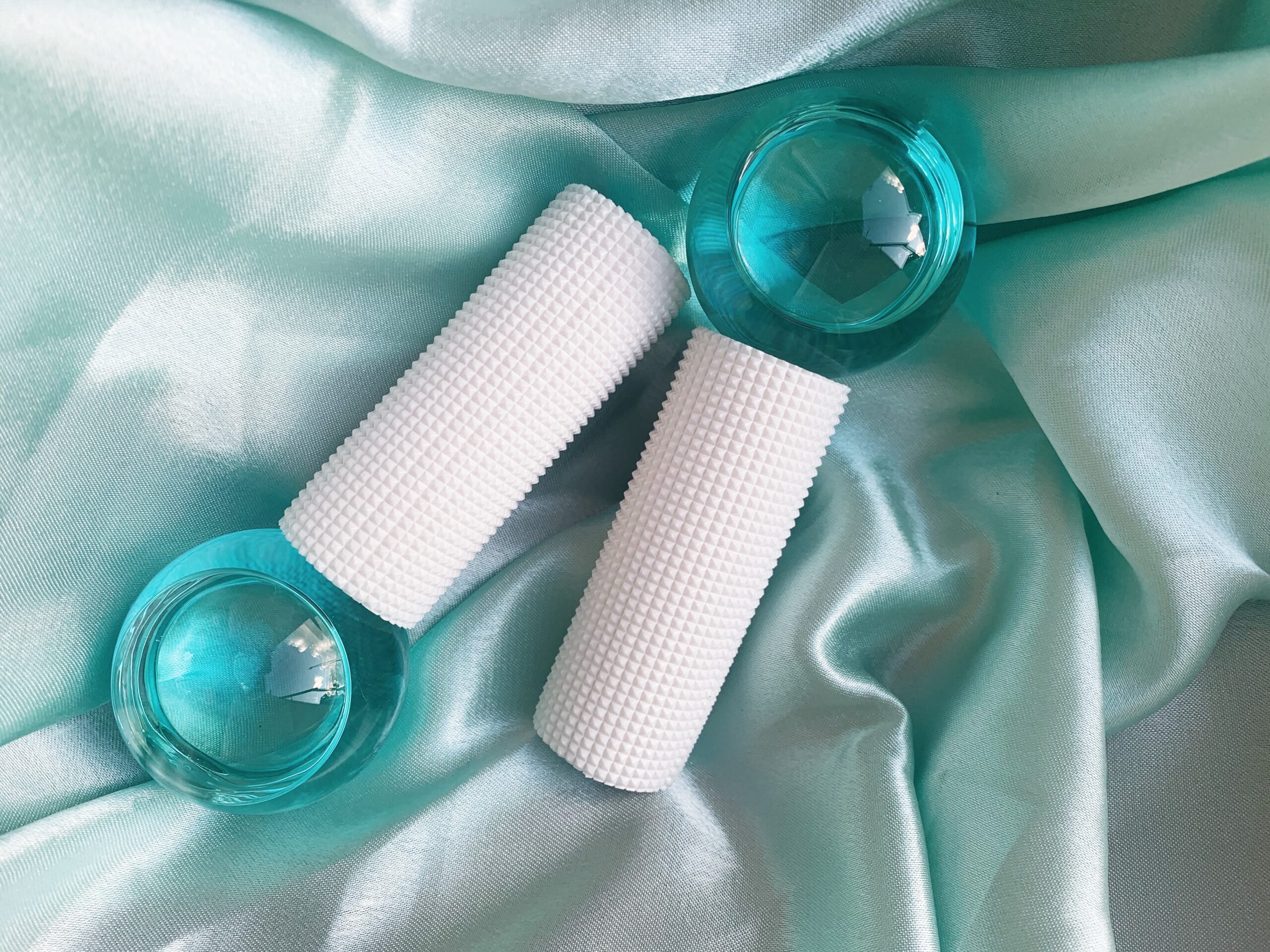 So do they live up to the hype?
'This really depends on the reasons people choose to use them,' says Fatma. 'As we've all previously mentioned, there are definite benefits such as instantly reducing the look of fatigue, puffiness and redness on the face as well as around the eyes. The best devices, when used correctly, also help with a reduction in the appearance of enlarged pores which in itself limits the intake of toxins, dirt and grime, plus they aid lymphatic drainage by helping to flush away built up toxins.
However, I can't believe that something containing just water, gel or anti-freeze in a container will do much other than in the very short term for pore size. Unfortunately it's not that easy. Something as simple as a roller will not stop the overproduction of sebaceous glands leading to angry breakouts either. As for claims about reducing wrinkles, just because ice stopped Captain America from ageing in a Marvel movie, sadly an ice roller won't do the same for us.'
Yasmina is slightly more enthusiastic. 'Whilst there's no clinical evidence available to prove the efficacy of an ice rolling device, it works in a similar way to a derma roller which imitates a skin needling treatment. As such, massaging the skin with this type of device does offer benefits including reducing puffiness, tightening the skin, improving the skin's tone and texture, reducing pore size and inflammation and alleviating tension.'
But are they essential in the quest for lockdown-and-beyond complexion perfection?
You don't need an ice roller (or globe.) But you might want one, if only to add to the motivation of giving your skincare regime extra attention or to pamper yourself at home. In which case, Fatma's preferred device is CryoGlobe by Cryosthetics.  It's certainly a step-up from freezing your dessert spoons – and the orbs stay colder for much longer.
Once the beauty salons are able to open again, you'll probably notice an increase in cooling-tool offerings, particularly after certain treatments where they feel incredibly soothing on the skin. Until then, might an ice roller make it's way into your Amazon basket?
Ice Ice Baby: the benefits of having a home ice device
Tightened pores
Kickstarted blood circulation
Alleviated jaw tension, sinus pressure, migraines and menopausal flushes
Stimulated lymphatic drainage for a natural detox
Reduced puffiness (particularly around the eye area)
Soothed inflammation and/or swelling
Uniformed temperature (as opposed to ice which could burn)
Immediate radiance
Icy does it: in-salon chilly treatments to target face and body
'Cryotherapy, CoolSculpting, Venus Freeze… these are all in-salon treatments that involve ice or super-low temperatures to reduce fat or rejuvenate the skin,' says Michelle. She continues, 'It's imperative that you do your research and book in with a credible clinic, one that is SaveFace accredited or CQC registered.' Within her clinics across London, Michelle offers CoolSculpting, a non-surgical approach to liposuction where unwanted fat is frozen away through Cryoliposis and dispersed naturally. CoolSculpting can be incredibly effective on your abdomen, love handles, chin, back fat, arms, inner thighs and bra fat. During the treatment, a hand-held device is placed over the unwanted fat for 35 minutes during which time the fat cells are frozen and killed off. If it's your face rather than your fat you want to treat, say Rosacea, Michelle advises the IPL M22 Lumenis treatment where a cold gel is layered underneath an IPL device which forces the skin to repair itself following controlled damage to the blood vessels. If it's acne you want to target, following a consultation with a skin specialist, you may be offered laser, IPL or a skin peel treatment. 'Wherever you go, insist on a pre-treatment consultation and make sure you're only trusting your face or body to an experienced, trained professional.'