How much would we love a trip to The Grove in Hertfordshire right now?!  With 3o0 acres of lush countryside, luxurious spa and facilities and an 18 hole golf course only 18 miles from London, we'd do anything to be there right now.  But, given the current situation, The Grove has decided to come to you with some fabulous recipes, tips and ideas to make staying at home feel like a five star stay!
The hotel's head chef has offered some of his favourite recipes, plus there's an opportunity to get a taste of spring with one of The Glasshouse Bar's best-selling cocktails – The Hornets Cocktail (think lavender, honey and lemon), the perfect spring spritz.
The Grove's spa and fitness team has also offered some simple stretches to try every day to care for your body and lift your sense of wellbeing.
Food and Drink:
Take the opportunity to create something delicious at home. These recipes can help in keeping busy and bring some delight into the day.
Recipe: Chicken and Leek Pie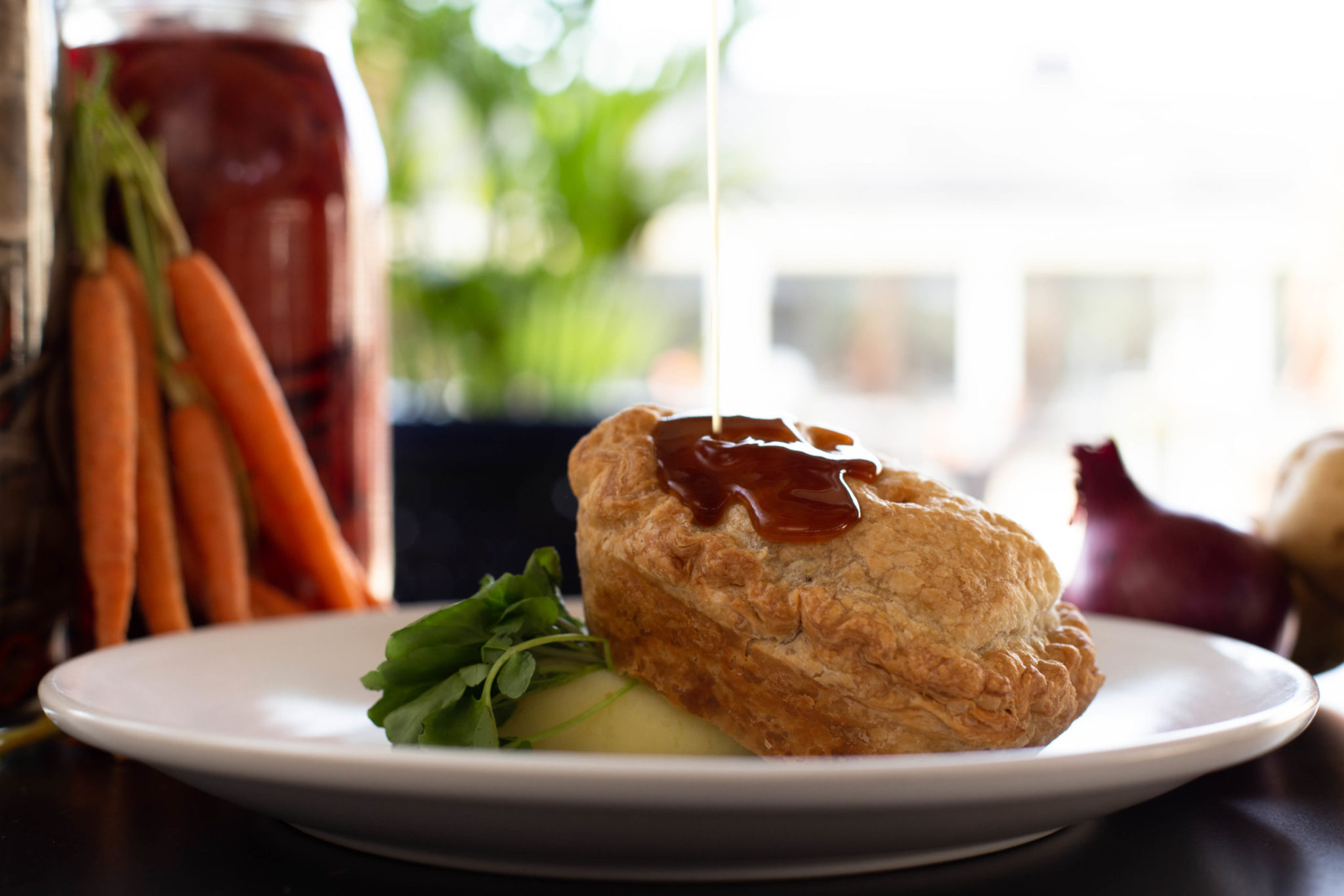 We're an undisputed nation of pie lovers and to honour the mouth-watering dish, here's one of our favourites at The Stables adapted for you to bake at home, created by our Junior Sous Chef Andrea Laszlo. This version is just as tasty yet incredibly easy, using ready-rolled puff pastry.
Preparation time: Less then 30 min
Cooking time: 30min to 1 hour
Serves 4
Ingredients
2 chicken breasts, roughly chopped
2 chicken legs, deboned and roughly chopped
4 garlic cloves, finely chopped or crushed
1 sheet ready-rolled puff pastry (320g/11½ oz)
1 leek, washed and sliced
Small bunch of tarragon chopped
1 spring of thyme
200 ml vegetable stock
100 ml double cream
1 teaspoon preferably Dijon or English mustard
Salt and freshly ground black pepper
Method
Preheat the oven to 190 C
Heat some olive oil in a large frying pan and cook the chicken breasts and legs over a high heat for 3 minutes.
Add the leek, garlic, thyme, mustard and cook for 3 minutes
Add the vegetable stock and double cream. Season it to taste.
Cook it until the chicken is soft and tender then add the tarragon
Pour the mixture into an ovenproof dish and lay the puff pastry sheet over the top.
Brush with beaten egg mix and bake for 35 minutes or until the top is golden-brown and the pie is cooked through
Serve with creamy mashed potatoes
Recipe: Vegan Cauliflower Wellington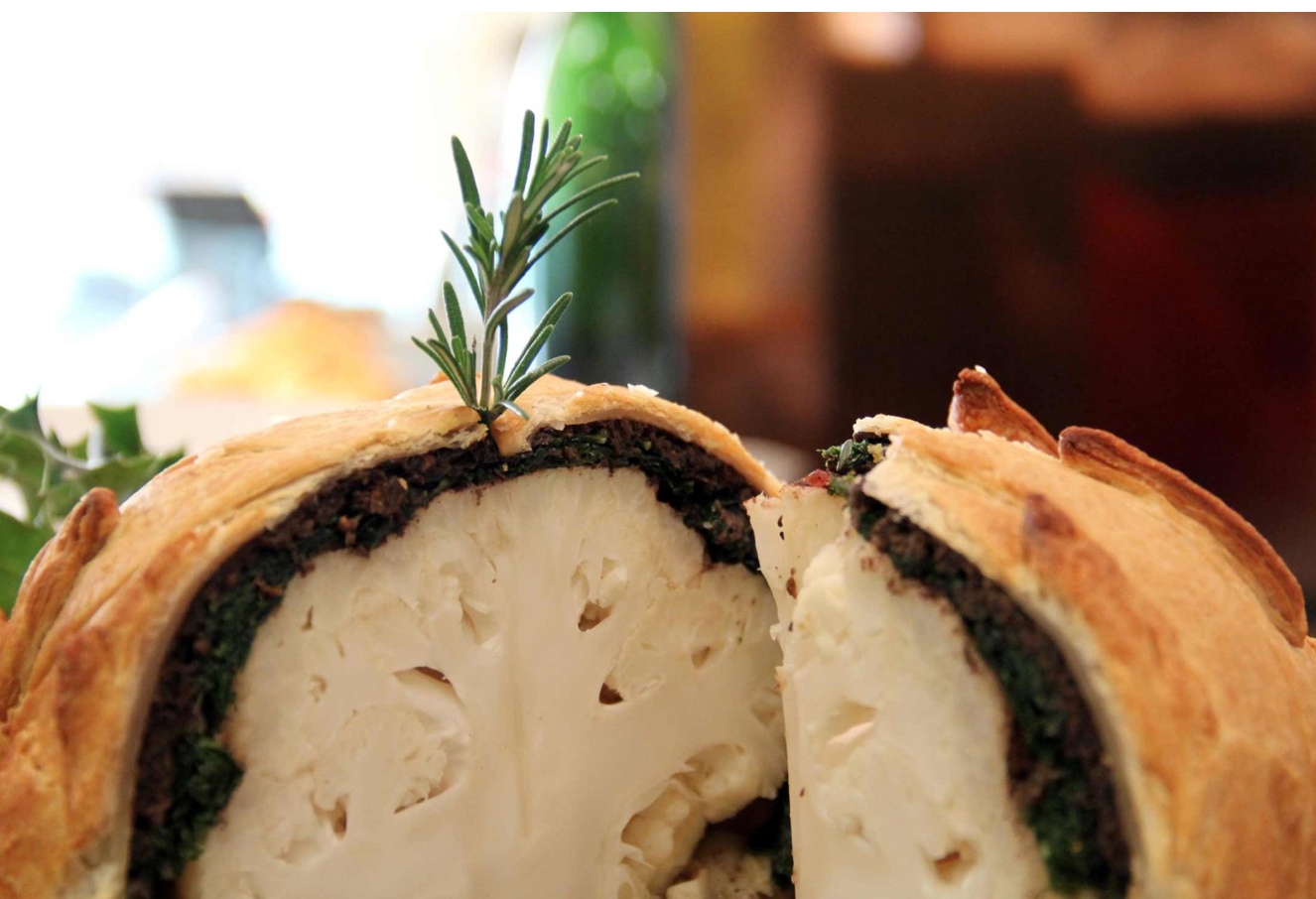 There's no better time to experiment with plant-based recipes to create delicious and healthy vegan meals. Our executive chef, Stephen Wheeler, has shared a recipe for one of his favourite vegan dishes, for you to try at home. The cauliflower wellington is a vegan take on the traditional beef wellington and is the perfect plant-based dish to kick-start a healthy new year.
Ingredients:
Serves 8 – 12
For the Mushroom Duxelle
300g mixed mushrooms
25ml extra virgin olive oil
2 garlic cloves (finely chopped)
10g dried porcini (soaked in 1 small mug of warm water)
Salt
Ground pepper
For the Cauliflower
1 large cauliflower
1 red onion (diced)
2 bunches of thyme (strip the leaves and discard the stem)
25ml extra virgin olive oil
1 tbsp nutmeg (finely grated)
2 cups baby spinach
1 sheet vegan puff pastry
Salt
Ground pepper
Bowl of iced water
½ cup of flour (to dust the bench)
Method
Preheat the oven to 220°C. Steam or boil the cauliflower (whole), for 6 minutes or until a knife is able to pierce the stalk and fall off easily. Then place into iced water to chill. Once cold, remove from the water and allow to dry on a paper towel.
For the mushroom duxelle, combine the mushrooms with the garlic and half of the oil, season well with salt and pepper, and place onto a tray into the oven for around 20 minutes. Once cooked, strain any liquid from the tray and place the mushrooms in a food processor, add the dried porcini with the water they have been soaked in and blend together. Once mixed, set aside to cool.
Place a frying pan on a moderate heat and add the red onion. Combine the salt, pepper and thyme and cook until soft. Then add the spinach and sauté for 20 seconds before placing onto a cloth to cool.
Lightly flour a bench or surface and place the puff pastry on top. Cut the cauliflower into large florets and place onto the pastry. With a knife, gently mark the area around each of the florets  for the filling to go into and then remove the florets from the pastry.
Spoon the mushroom duxelle evenly onto each marked space on the pastry, then layer the spinach on top (ensuring all excess liquid has been squeezed out). Finely grate half the nutmeg onto the mushroom duxelle, before adding the cauliflower florets back to the pastry. With a pastry brush, brush the pastry with a little water and olive oil, then gently fold each corner one by one and seal together.
Place the folded pastry upside-down onto an oven tray layered with greaseproof paper and brush with olive oil. Gently pierce a small hole in the top to let out steam and then into the oven for 15-20 minutes or until golden-brown (ensuring the pastry does not get too dark).
Set aside for 5-10 minutes and then slice into portions and serve with tomato salsa or rich vegetarian gravy.
Recipe: Chocolate Chunk Cookies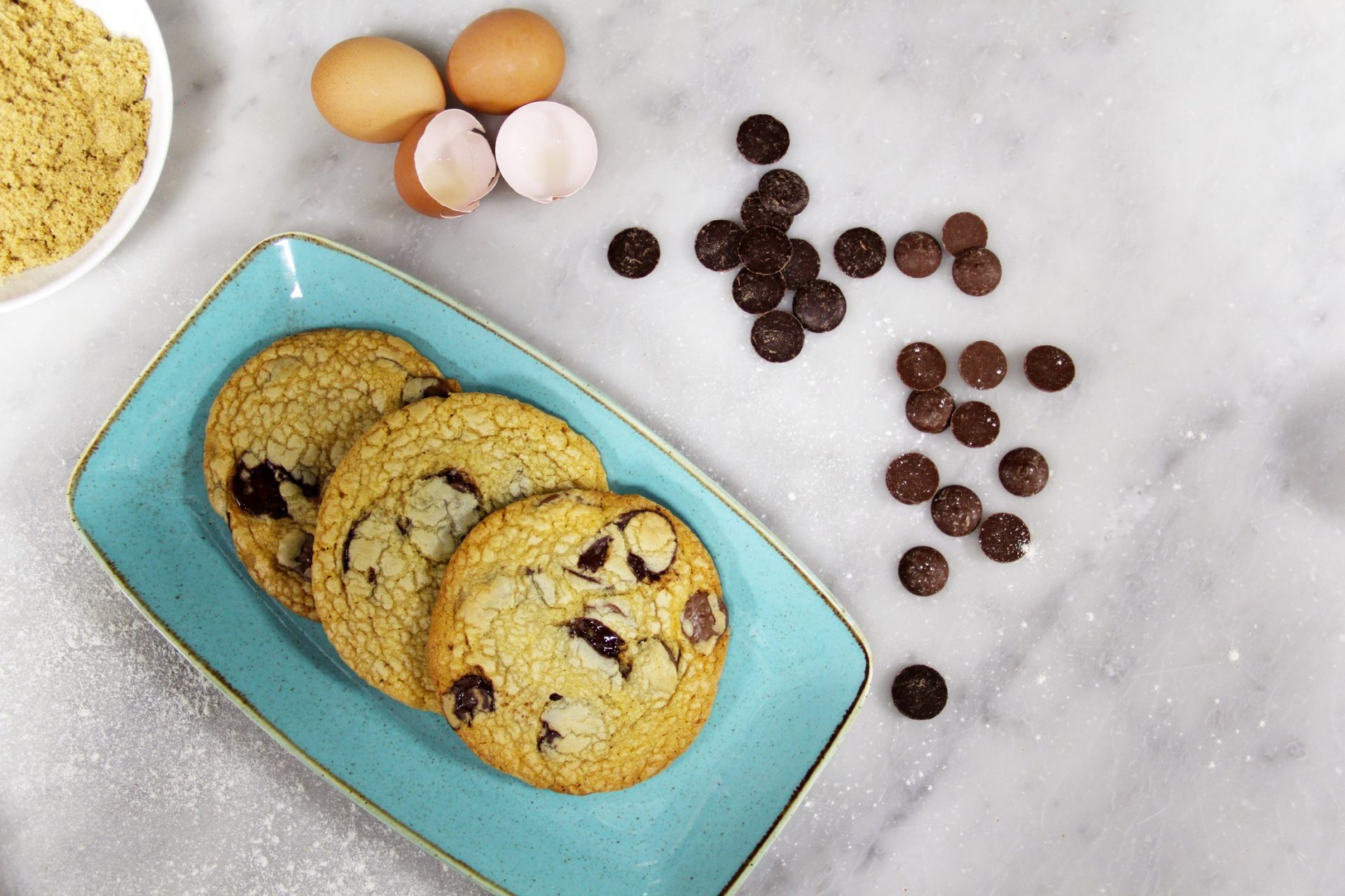 Created by our Executive Pastry Chef, here's an easy peasy, delicious recipe for soft, gooey chocolate chunk cookies, perfect for using up leftover chocolate eggs (if such a thing exists). Enjoy!
Ingredients
350g butter
256g caster sugar
256g brown sugar
5 tsp salt
3 medium eggs
7g baking soda
640g flour
165g milk chocolate Easter egg chunks
170g dark chocolate Easter egg chunks
Method
Beat the sugar and butter until smooth – do not cream
Slowly add the eggs
Then add the dry ingredients
Finally, add the smashed leftover Easter eggs
Roll the mix into 20 x 100g balls and rest in the fridge for 2 hours
Once rested, place the balls on to a baking tray and bake at 180°C for 12 minutes
Top tip – remember the best cookies are served still gooey in the middle!
Stir up a Hornets: Cocktail Recipe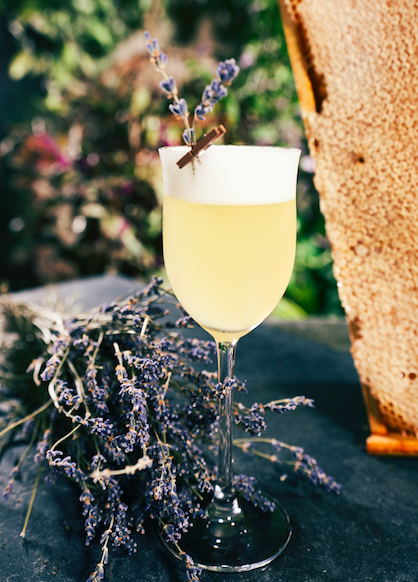 Think lavender, honey and lemon: our exclusive new Hornets Cocktail gives you fragrant sips of garden flavours with a little bite. This refreshing cocktail was created by Holywater, who devised the Garden to Glass theme for The Glasshouse bar.
Why is it called Hornets? It could allude to its bright yellow colour or the local honeybees at The Grove, or even the local Watford Football Club – The Hornets. Whatever the reason, here's the recipe…
Cocktail Accessories
Martini Glass or Champagne Coupe/Saucer
Cocktail Shaker
Hawthorn strainer
Fine strainer
Ingredients
50ml Campfire London Dry Gin
20ml Hertfordshire Honey syrup (2 parts honey/1 part hot water)
5ml Lavender liqueur
20ml Lemon Juice
½ egg white
3 drops lavender bitters
Method
Pour all ingredients into a shaker without ice and shake for 5 seconds.
Add good solid cubed ice and shake for another 5 seconds.
Double strain into your chosen glass and garnish with pegged dried lavender. Serve and enjoy!
Mind, Body and Soul
Wake up your body with yoga stretches. Stretching when you first get up will increase your muscle and joint flexibility and improve your circulation. By activating your muscles, your posture all day will be better. Here are two straightforward yoga poses you can do at home to care for your body and lift your sense of wellbeing.
The Cobra
This pose realigns and tones your spine while opening up your heart. It's called the cobra because you roll up your torso like a snake preparing to strike.
Lie face down. Draw your legs and feet together, keeping the fronts of your feet resting downwards. Point your toes. Press the palms of your hands down on the mat beside your hips, keeping elbows in line with your wrists. Straighten your legs by tightening your knees. Press the tops of your thighs into the floor.
Breathe in while pressing down on your palms to raise your torso, keeping your pelvis on the mat while supporting your bodyweight on your hands and legs. Do not lift your hips off the ground, just stretch upwards as far as you can.
Inhale to expand your lungs and lift your sternum, lengthening the front of your torso straight up. With each in-breath, allow your chest to raise as you tuck your shoulder blades into your back and keep your shoulders down. With each out-breath let your tailbone and pelvis sink down. Avoid straightening your arms.
Hold the pose for 15 to 30 seconds, breathing normally. Roll back down to the floor on a long exhalation.
The Warrior
Holding this pose will increase your stamina for the day to come, each day. It will increase strength and stability in your hips.
Stand up tall. Take a deep breath and breathe out as you jump your feet far apart while reaching out to the sides with your arms. Move your feet as far away from each other as you can, keep your heels horizontal and your toes straight ahead, your arms straight and in line with your shoulders. Your palms should face downwards.
With your torso centred above your hips, rotate your right foot out to 90º. Rotate the toes of your left foot 45º towards the right. Balance your weight evenly between both feet and keep your left leg straight for the duration of this pose. You will know if you have completely straightened your left knee because when you do, the center of your left kneecap will be in line with the middle of your left ankle. Rotate both thighs outward and away from your pelvis.
Now take a breath. Exhale and press your left heel hard into the floor for balance as you bend your right knee down to a right angle, bending down so your shin is perpendicular to the floor with your right knee above your right ankle.
Turn your head to the right and look at your right fingers. Keep your arms parallel to the floor and extend outwards. Lengthen your spine as if your head and neck are lifting.
Hold for at least 30 seconds and breathe as normal. (Over the weeks, you will be able to stay for up to a minute.) To come out of the pose, breathe in, straighten your right leg and turn your feet to face forward again. Now repeat Warrior on your other side.