He's seen you without make up and heard all of your secrets! The Aesthetics Doctor – Dr. Ahmed El Muntasar is the ultimate miracle worker and Luxe Bible's new found best friend!
With three aesthetic clinics in Wilmslow, Leeds and Mayfair, Dr. Ahmed has established himself not only as a leader in his field, but also in the social media world where his Instagram before and afters easily get near 100,000 plays.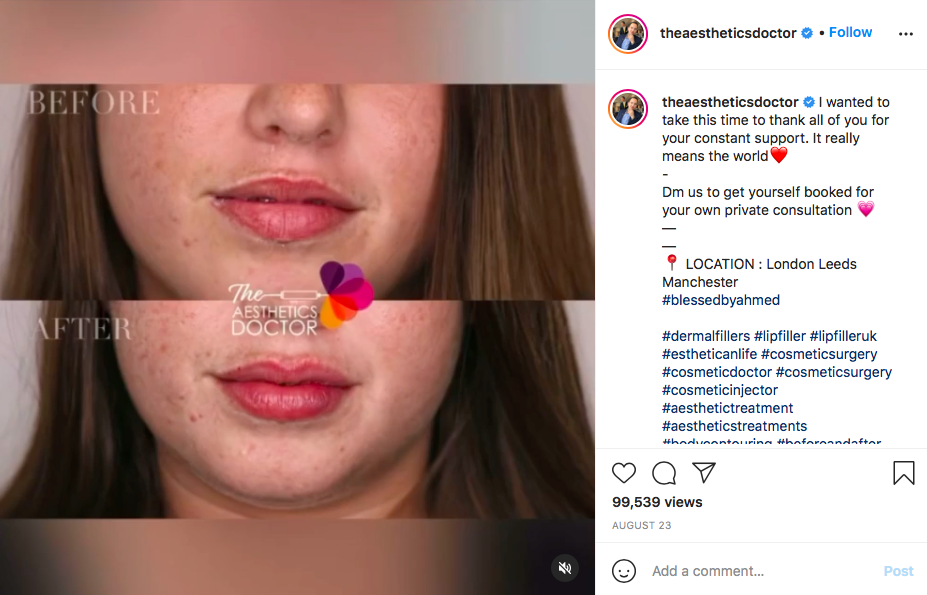 But we know what you're thinking. Out of the hundreds of aesthetics doctors operating in the UK, why is Dr. Ahmed so different from the rest? His stand out personality definitely has something to do with it. He's the most likeable, down to earth and approachable doctor we've ever booked in an appointment with. He's also a bit of celeb sharing his knowledge and advice on TV and in high profile mags like Forbes. What's more, Dr. Ahmed volunteered to work as an NHS doctor as soon as the Coronavirus pandemic hit and once you meet him, you'll understand that's just him – a darn decent all round nice guy!
Not that he takes his work lightly. Quite the opposite. With a BSc Hons in Biomedical Science, an MSc in Medical Education and Leadership at University College London and a tonne of other accolades and qualifications to his name, what's probably rare is that someone so experienced, can at the same time be so personable.
Speaking with Dr Ahmed for a phone consultation before the first appointment was an easy going affair.  It was a good 30 minute or so conversation and yet it felt like I'd been chatting to my oldest friend.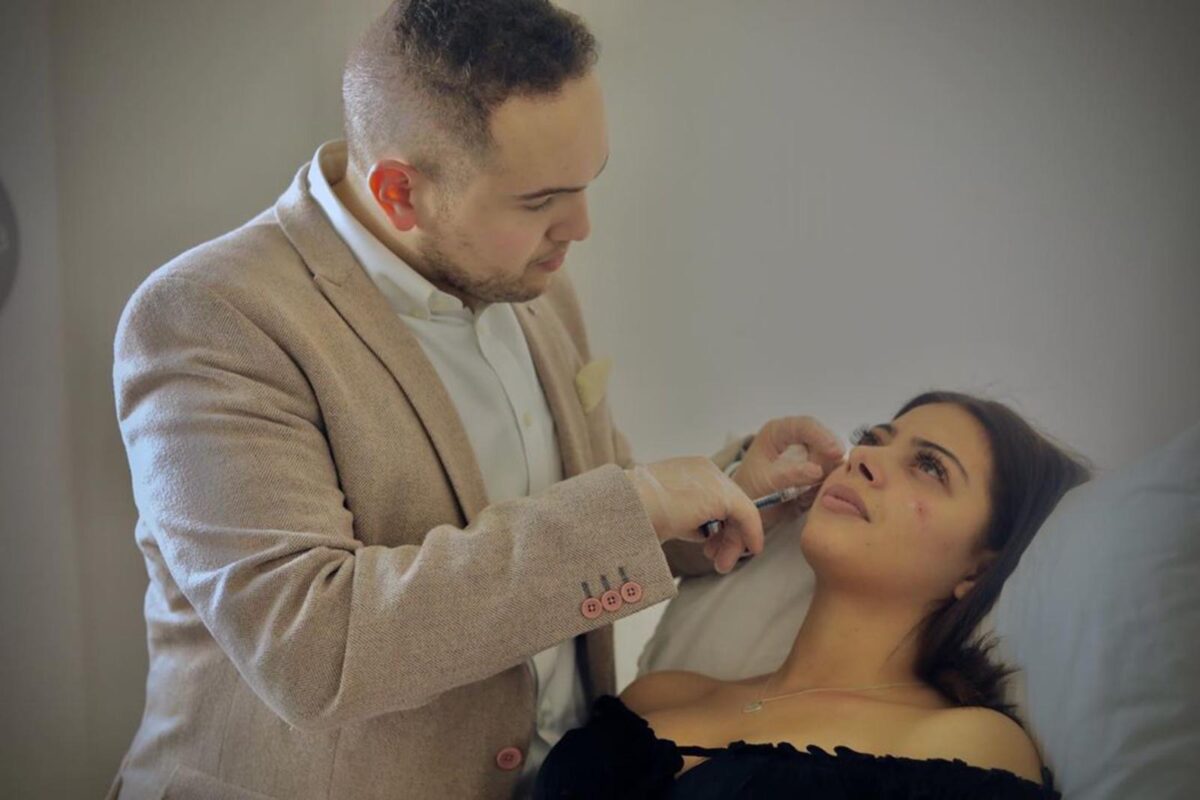 Two weeks later, myself and my saggy skin arrived at The Aesthetics Doctor's clinic in Wilmslow – an upmarket Cheshire town with plenty of designer boutiques and a few high street restaurants I recognised from some of the scenes on the Housewives of Cheshire.
That normal feeling of apprehension disappeared as soon as I soon as I saw Dr. Ahmed's lovely smiley face (even with his mask on!) As a side note here, all Covid precautions are still being taken and I felt very safe in the super clean clinic.
So, 'what can we do with this?' was my main question. We decided on a bit of botox for the crow's feet and wrinkles around my eyes (which seem to be getting worse by the day since hitting 40), and a side ordering for the deep frown line between the brows, which I've never had treated before.
Like a true pro, the botox was delivered swiftly and painlessly, while we chatted restaurants, bars, holidays and my latest dating antics. I could've gladly sat there all day in my little botox bubble, but of course, Dr Ahmed had more clients to see. Who knew having your face injected could be such a pleasant experience and one I would actually look forward to?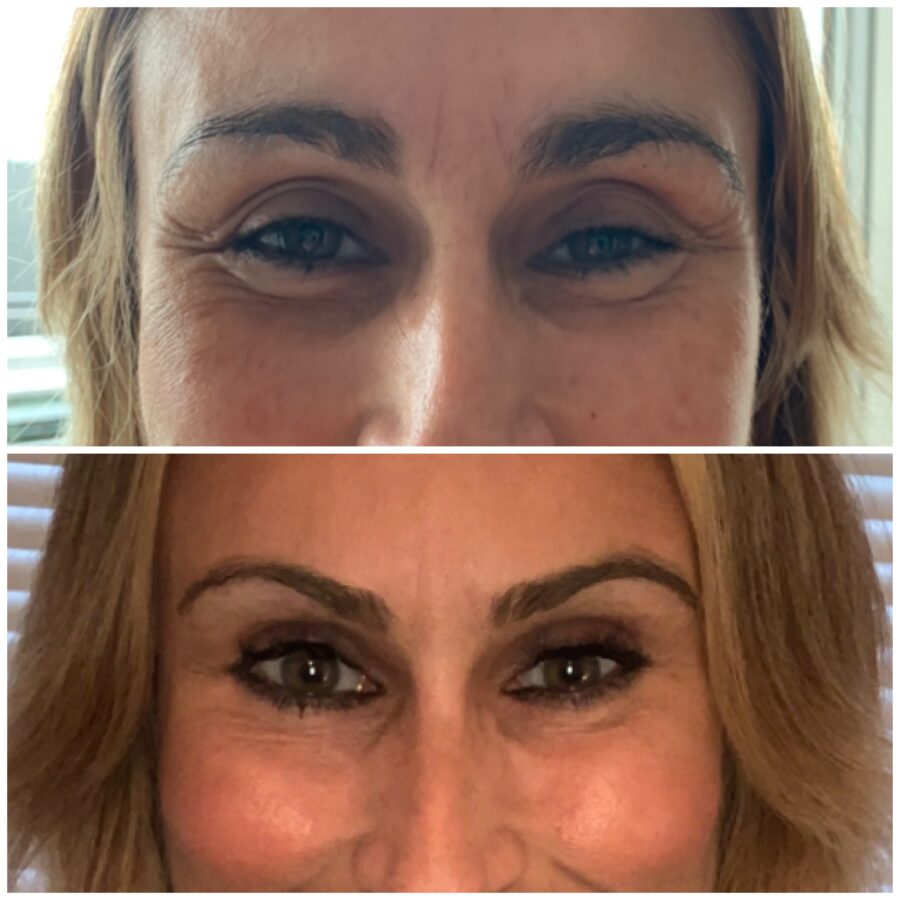 Armed with all the necessary info to ensure I didn't interfere with the effects of the botox (no exercise, no alcohol for the following 48 hours), I also received a really useful email after visiting, for extra reassurance and advice.
Four weeks on, the frown line between my eye brows has gone, and those laughter lines around the eyes are nowhere near as bad. It's fair to say, I'm over the moon with the result, and now studying myself in the mirror to see what else I can get done, just so I can head back in to see him! If you're nervous about getting botox for the first time and don't want the overdone look, then rest assured, The Aesthetics Doctor is your guy. Catch him at his Leeds, Manchester or London clinic and search the hashtag #blessedbyahmed to see his handiwork. You definitely won't be disappointed!
Prices from £200 with a £50 consultation fee. View the full price list by visiting The Aesthetics Doctor website.