We're missing sitting in our favourite coffee house, catching up with friends and savouring every sip… But you can create that really magical coffee hit at home. We reviewed the Melitta Amano and here's why every kitchen should have one.
The Melitta Amano is a Stylish Piece of Kit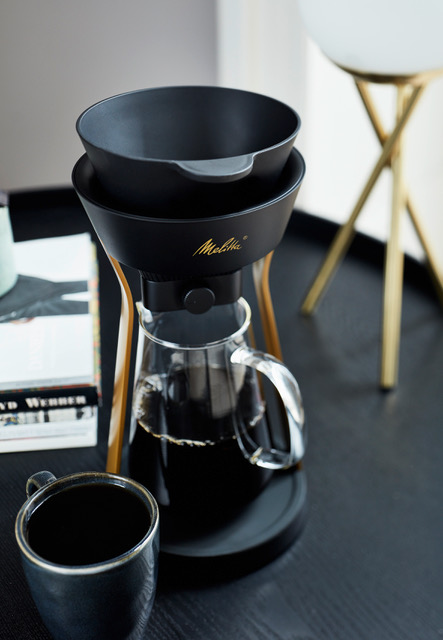 The Melitta Amano has a timeless, classic design and the eye is just drawn to it across the kitchen. Maybe it's the black and gold contrasts, or the compact yet curvy silhouette, but it's definitely a stand out piece. With a removable filter holder which is ribbed to allow for even more flavour extraction, the drip stop outlet means you can close to allow for blooming and also stop dripping, and then open to allow the coffee to drip through text book style.
Making the Perfect Cup of Coffee the Melitta Way
The team at Melitta think about coffee 24/7, which is great for us because the Melitta Amano is the perfect example of a coffee maker which has been designed to perfection. To make the perfect cup, take a filter and place it in the filter holder. Take a scoop of pour over coffee and place in the filter, then pour a small amount of hot water over the top – just enough to dampen the coffee. (For optimum results, the water should be 92-96 degrees celsius – so remove for the kettle and leave to stand for a short time.). The outlet function should be in the closed off position at this point. This is when you'll begin that incredible coffee aroma and you can even see the bubbles on the surface of the coffee. This process right now is one to be savoured and enjoyed – the blooming.
Pour more water into the filter and with a satisfying click, move the drip stop outlet into full flow position. Watch as the coffee pot begins to fill – it's a totally relaxing experience and perhaps a moment of contemplation before the start of a busy day.
Sit Back and Enjoy…
Take your favourite mug, close off the drip stop outlet and pour slowly enjoying those incredible aromas. Sit back, relax, and enjoy… Just like the added pleasure you get from 'a coffee made properly' at your number one cafe hangout, The Melitta Amano adds some luxuriousness to the coffee making process and the taste (if you're using Melitta's coffee), is something else. We love the (Fair Trade) Melitta Bloom Fine Pour Over Coffee Colombia Supremo. Click here for stockists. For more on the Melitta Amano, click here (currently £129.99).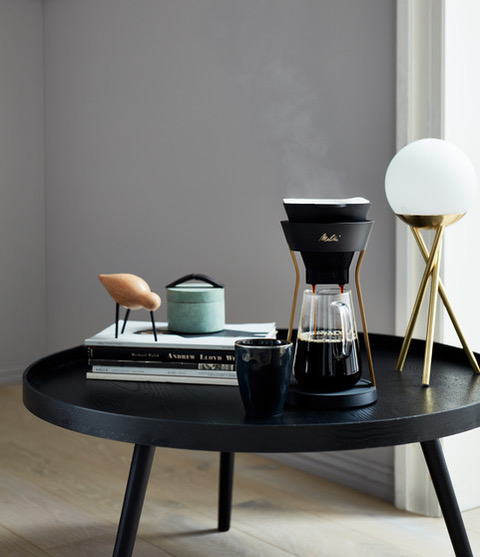 To read our review of the incredible Melitta EPOS, click here.