Intercontinental London Park Lane Hotel is an award-winning luxury five-star hotel located on Hyde Park corner, close to Knightsbridge, Mayfair, and Piccadilly.
A bold British flag waves high in the sky as you approach the entrance to the hotel, which is rather suiting to Number One Park Lane, being once the Queen's former childhood residence.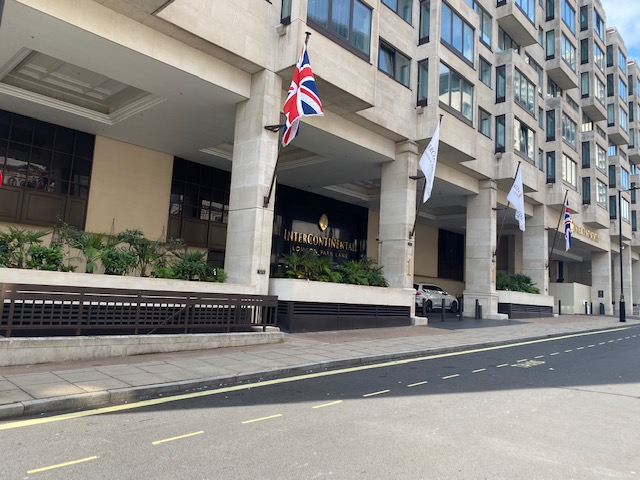 The Hotels gold branding glows against the black marble giving a rich welcome, along with the warmest and friendliest greeting from concierge as we were led through to reception.
The interior is exquisite – extravagant style with modern twist of minimalism. As you walk through the entrance to the hallway there are many dining restaurants, bars, and experiences to be offered from afternoon tea in The Lounge, to the a la carte menu at Number One Park Terrace.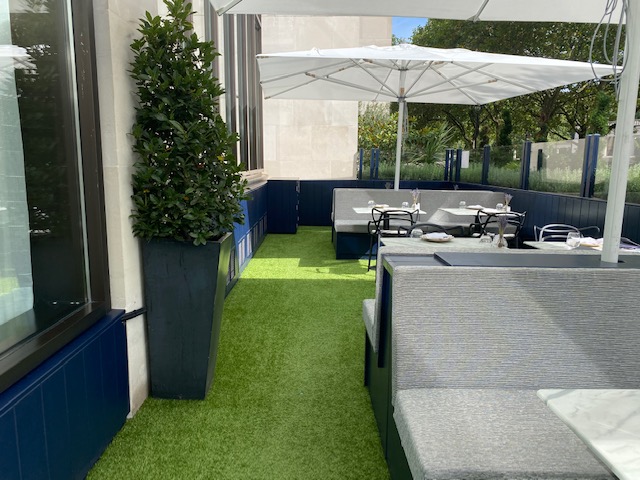 With a warm September in London and outdoor dining becoming such a big trend in 2021, we were really excited to try al fresco lunch at the new Number One Park Lane – the reviews we read prior to our visit call it one of the best in London!
With the terrace overlooking one of Mayfair's best addresses – including the Wellington Arch, there are many marble tables dressed to impress their guests along with large parasols to keep you out of the sun if you wish or perhaps even if there is a little rain! (I hate to mention, but we are in England, and you never know what to expect.)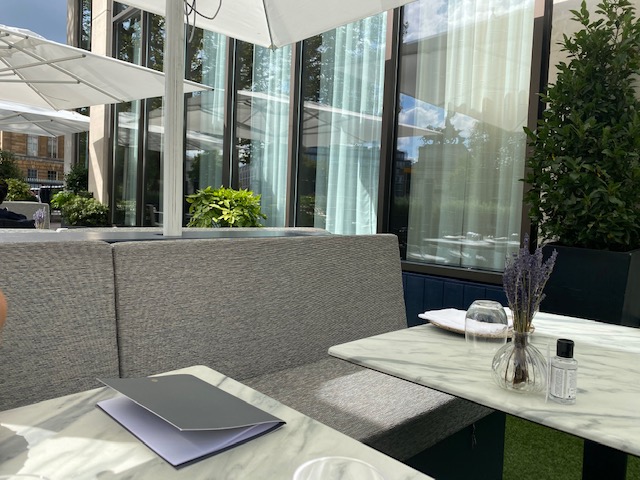 The menu is presented in a rich navy 'book' like form, giving it a very classy feel and the menu, well, a fantastic selection! With something for everyone, a wide variety of dining options offers up the finest British seafood and freshly prepared small plates along with an array of champagne and cocktails.
After looking at the delicious menu, decisions were made, and drinks and food were ordered. The service was most impressive, and the waiters are all pleasant and attentive. Cocktails were beautifully presented with a stunning fruit display and a mixture of fresh and dried fruit. And wow, it tasted delicious!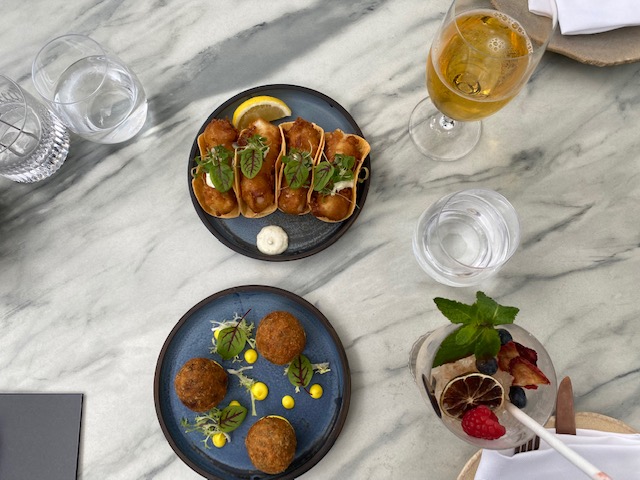 The atmosphere as you sit on the terrace is peaceful and relaxing and you feel like you could be in an exotic location – especially when the sun is shining! You also have the exciting movement of people on the streets which can be entertaining too.
To start, we ordered the wild mushroom and truffle arancini and mini battered fish tacos. The presentation of the dish was very pretty to look at with a pretty touch of colour added to the dish. For mains, we ordered spaghetti bolognese and an Angus rib-eye steak with chips. The spaghetti bolognese was cooked beautifully with rich divine flavours which blended together well. Add a sprinkle of parmesan and voila – heaven! The portion size was very generous – worth every penny. I already want to go back for this dish again!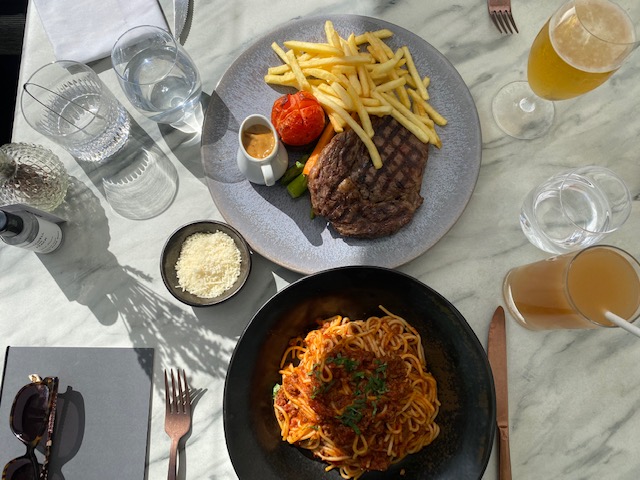 The steak was packed with flavour and was the perfect combination of tender and juicy. It came with seasonal baby vegetables, and you can add a side of French fries. I mean you can't go wrong with either of these incredible classic dishes.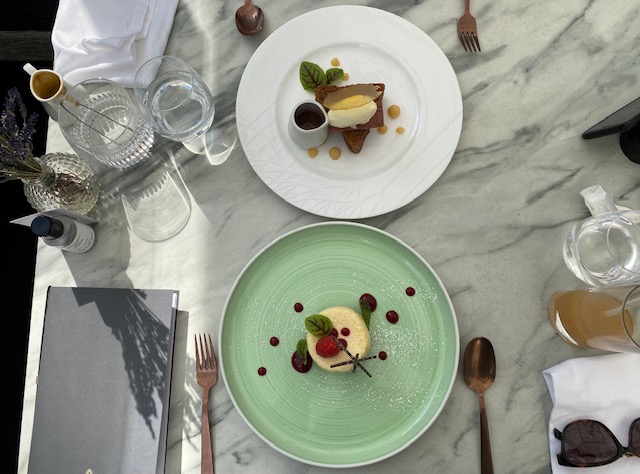 To finish off, it was time to indulge in a luxurious dessert and with such an incredible selection, it was tough to decide – one of the best menus seen in a long time! The chocolate brownie and baked white chocolate vanilla cheesecake arrived swiftly and were scrumptious and again oh so pretty to look at. The head chef came out to meet us after the meal and had a real passion for delivering great food for the guests of the hotel.
Next time you're in London's chicest neighbourhood, be sure to pop by and enjoy some great quality and tasty food at The Terrace at Number One Park Lane – it is guaranteed to be a memorable experience in the very heart of Mayfair, while there are a number of exciting new updates this Autumn and Winter – Luxe Bible will of course keep you posted.
Book your table at Number One Park Lane here or click here to check out more terraces in London.