If you're a wanderluster who's addicted to travel, cool hotels and seeking out new experiences, then Page8 Hotel in London is for you.
Brand spanking new and occupying the site of a former office block in the heart of Trafalgar Square on St Martin's Lane, Page8 Hotel is the second opening for the Page Hotels brand who opened their Hong Kong property Page 148 last year.
On arrival, you'll be greeted by Page8's super friendly staff as the unmistakable smell of fresh coffee takes over the senses.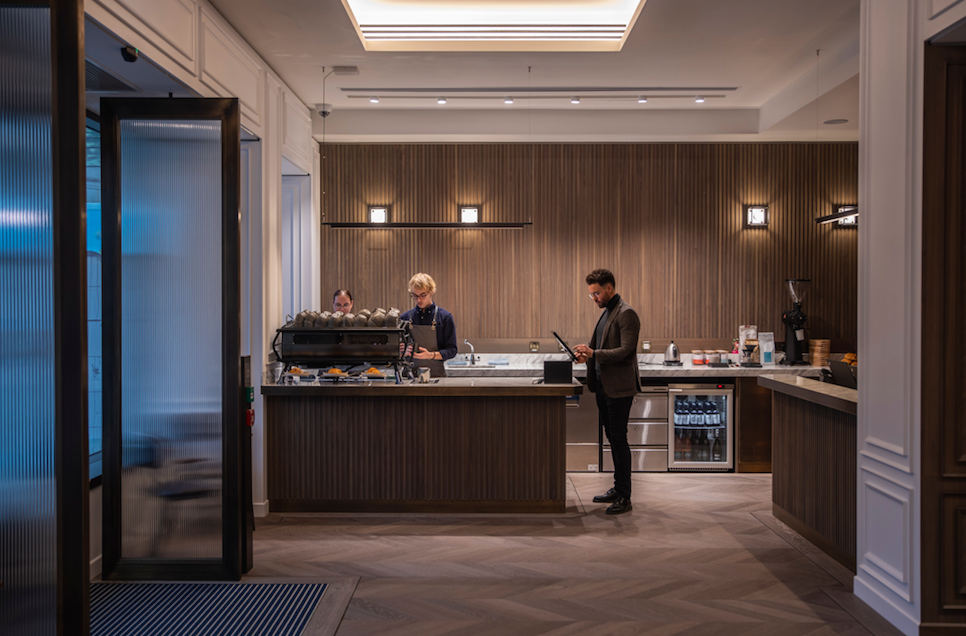 The lobby merges the popular artisanal coffee house Page Common with a check in desk and uber trendy communal seating area – the perfect place to plan your days' itinerary or do some internet surfing (with plenty of plug sockets for laptops).  Enjoy a gorgeous glass of red wine, or coffee which has been made using the daddy of all coffee machines – the Sanremo Café Racer, and chat to like minded travellers.  After all, Page8's ethos is to connect people to people.
If and when you finally make it up to your room (!), you'll find an incredibly stylish abode awaits (courtesy of Willmott Dixon Interiors) complete with stunning high end luxurious furnishings, hand drip Page Common coffee and tea blends, fully stocked mini bar with lots of lovely treats and gorgeous smelling C. O. Bigelow bath products.
The attention to detail is meticulous, with every single element culminating in making you feel like this is the best hotel you ever stayed in.  From the leather studded back chairs, to the old skool rotary dial telephone and the Marshall radio by the bedside, the furnishings and fittings are luxurious and practical.  You'll also get a range of free magazines placed casually around the room, while Page 8's journals section online is full of interviews with some of the city's most influential people, giving practical advice on their travel tips and go to's.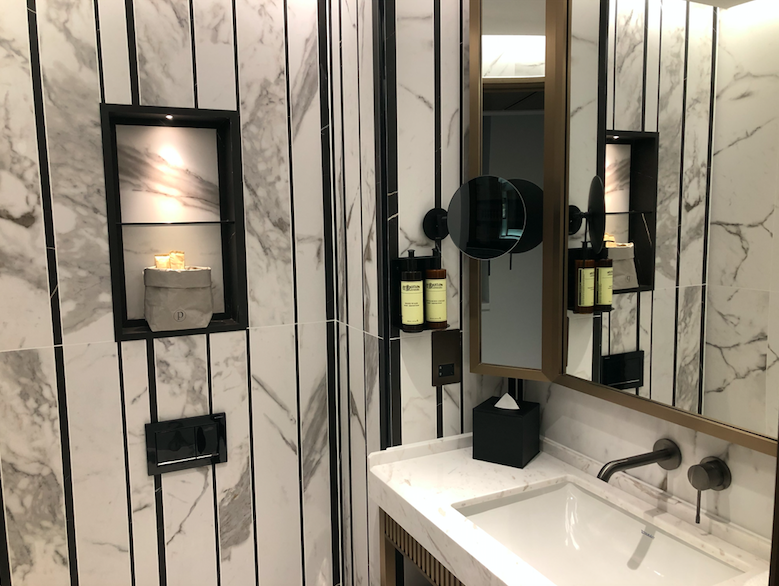 I absolutely loved the bathroom.  Compact but stunningly beautiful, the slabs of white marble and swirls of grey against the black detail and bright lighting made this my favourite part of the room, although I was also rather taken by the complimentary mini bar, and the Blueair Swedish home air purifier.
As a bit of an insomniac, sleep at Page8 came very easily courtesy of the huge bed with big fluffy pillows and big thick duvet – the rooms are oh so quiet and brilliantly soundproofed to ensure you quite easily forget you're in the middle of town.  But once you pull open all the blinds and the natural light floods in, you remember, quite incredibly that you have all the London has to offer literally steps away!
My stay at Page8 Hotel was memorable for all the right reasons – particularly because the staff were just pleasant.  I could've sat in the lobby and chatted to them all day!   And of course, I'll be returning, because the impressive rooftop bar and terrace is set to open with Bisushima Restaurant offering up fabulous foods and incredible views.
Page Hotel's new chapter in the capital is most certainly a very exciting one indeed.  Click here to book and here to check out our reviews of more fabulous London hotels.