Having originally meant to open last year, contemporary Japanese restaurant Bisushima has gone from disrupted beginnings to a true disruptor on the restaurant scene.
Located on the rooftop of the gorgeous Page 8 Hotel which is a stone's throw from Trafalgar Square, Bisushima has been on my list of must-visits since the end of last year which is when it was officially set to open.  It most definitely didn't disappoint when I finally got to visit in May following partial lockdown lifting.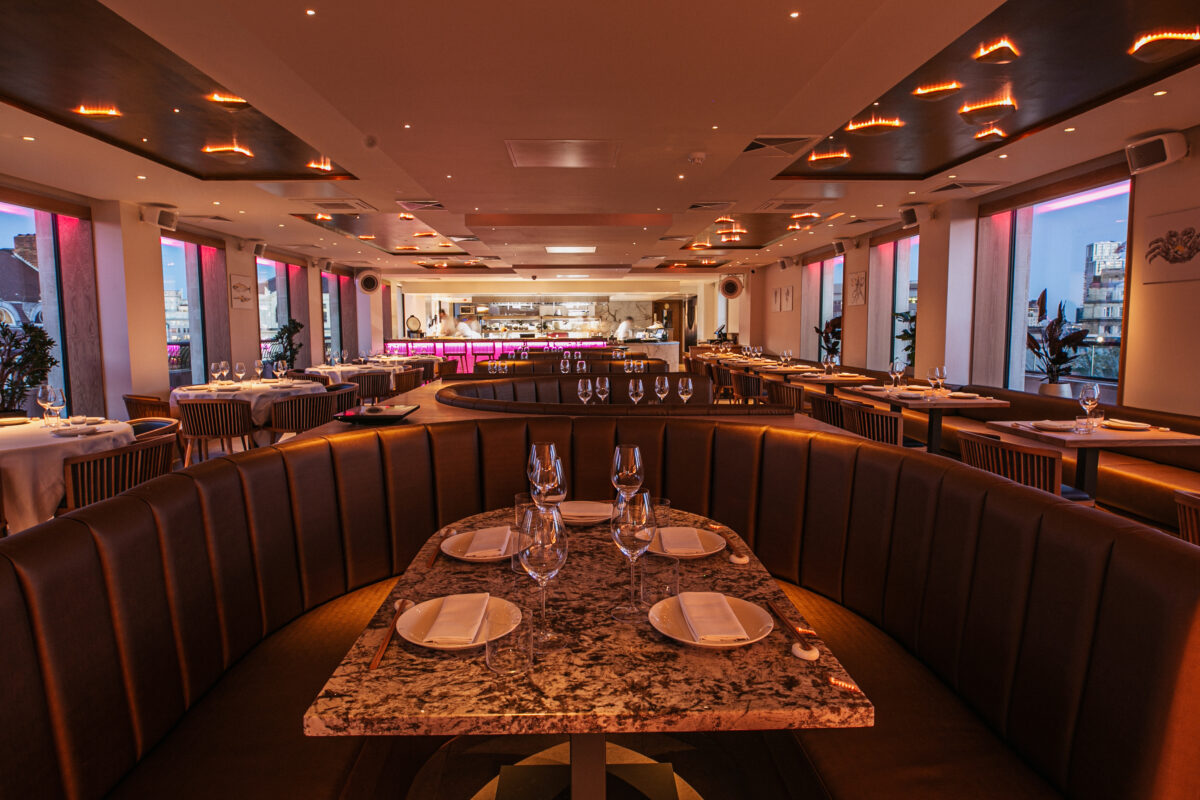 Offering all day dining and London's only Japanese breakfast, Bisushima's enormous restaurant, terrace and bar exude absolute calm from every corner, as soon as you float out of the lift and into the expansive space.  Designed with the concept of nature therapy or Shinkrin-Yoku in mind, Chef and Restaurateur Sergey Men had a very clear vision of how he wanted his restaurant to feel and there's a definite sense of peacefulness and tranquility which washes over you, despite the general hubbub of a busy restaurant and open kitchen.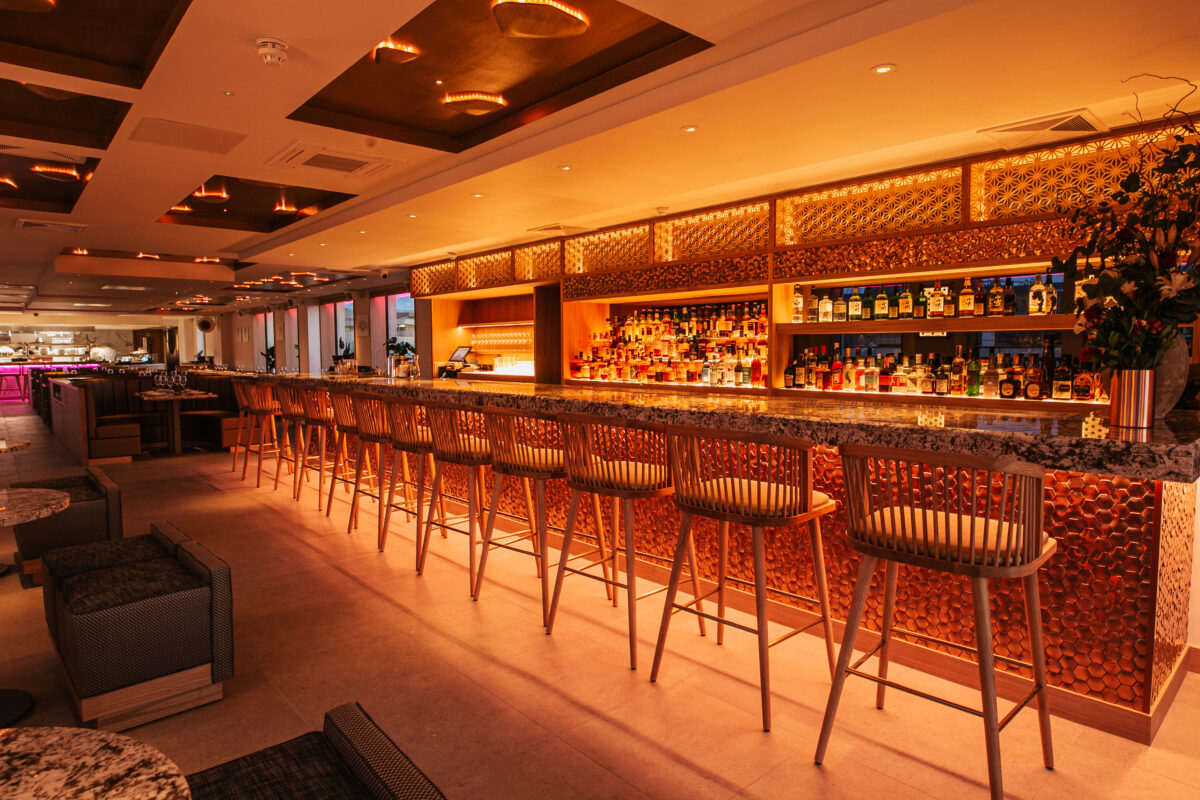 While the restaurant itself is beautiful, the spot you really want to be on, is the terrace. Spacious and welcoming, Bisushima's alfresco offering is the perfect place to sup on champagne and cocktails while waiting for an array of exquisite modern Japanese dishes to arrive.
Sergey's food is all carefully thought through, representing a balance of harmony through each dish, which is central to the foundations of Japanese philosophy.
We started with mammoth sized shrimp tempura – deceivingly light with their fresh batter coat and a tentsuyu sauce – a classic Japanese dipping sauce of dashi, mirin and soy.
Fresh oysters were washed down with a beautiful buttery dry white, while the spicy gochujang gave them a sweet, spicy kick. Another swam in cucumber mizore – a welcome balance to the salty, minerality of the sea.
Lobster and cauliflower was definitely the favourite starter – served in a tall cocktail glass, the combination of flavours was something else!  Chunks of meaty, juicy steamed native lobster hid amongst a silky smooth cauliflower puree with just the right amount of sweetness along with the umami of the tosazu jelly.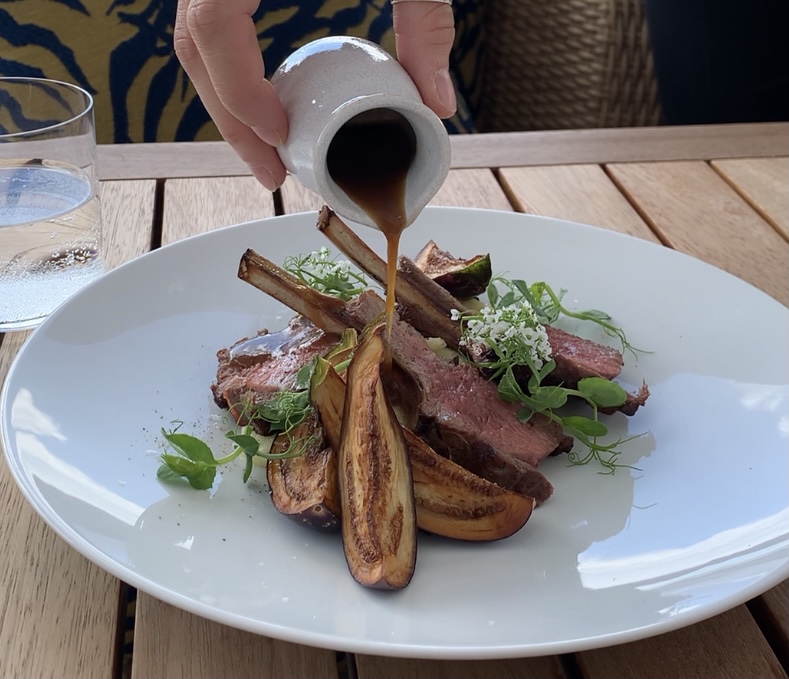 Moving onto mains, grilled lamb cutlets were divine, propped up on a bed of potato puree, and eggplant and decorated with delicate white flowers.  Genghis Khan sauce was poured over at the table for a bit of welcome table theatre.  This rich, sweet, salty and mysterious sauce varies from restaurant to restaurant, but it definitely provided a different dimension to the flavours of the dish. The chef's selection of Sushi followed with a range of nigiri and maki – perfectly rolled into mouth watering bites.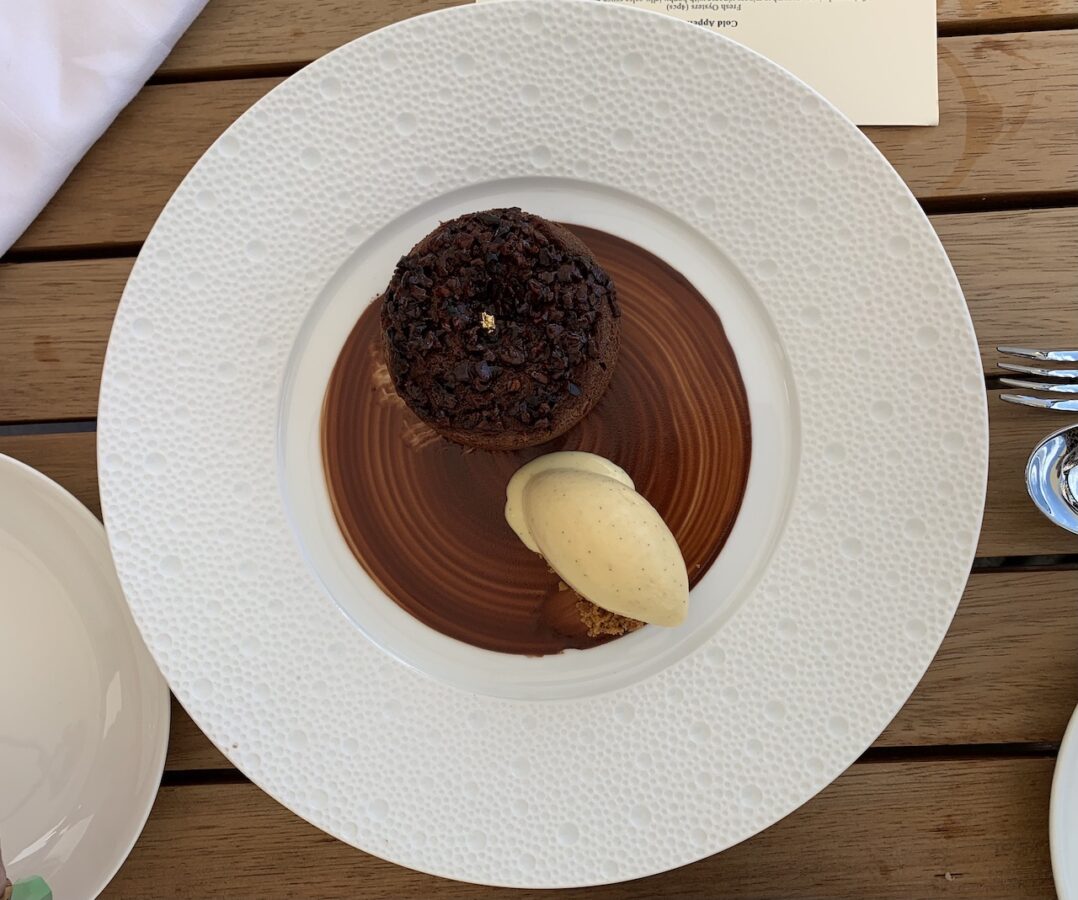 We thought twice about ordering dessert, but I'm so glad we did. We were unprepared for the hit of sheer ecstacy delivered by the lemon pie with sake kasu sorbet – so fresh and fruity and light, yet full of flavour, while the chocolate fondant was everything you could ever want from this dessert with a text book silky sea of deliciousness oozing out when you cut into it.
There's a tranquility and a fluidity to Bishushima which is difficult to describe, but the food, interiors and general vibe work together in harmony to create one incredible culinary experience.  This restaurant should be high on your list of go-to's, and for a special occasion, you won't be disappointed. Book a table here and click here for Luxe Bible's reviews of other rooftop terraces.