Channel your inner Meghan Markle and check out 3 of Luxe Bible's favourite castles that are fit for a royalty.  No sign of Prince Harry.  What a shame…
UK Castles to stay in: Langley Castle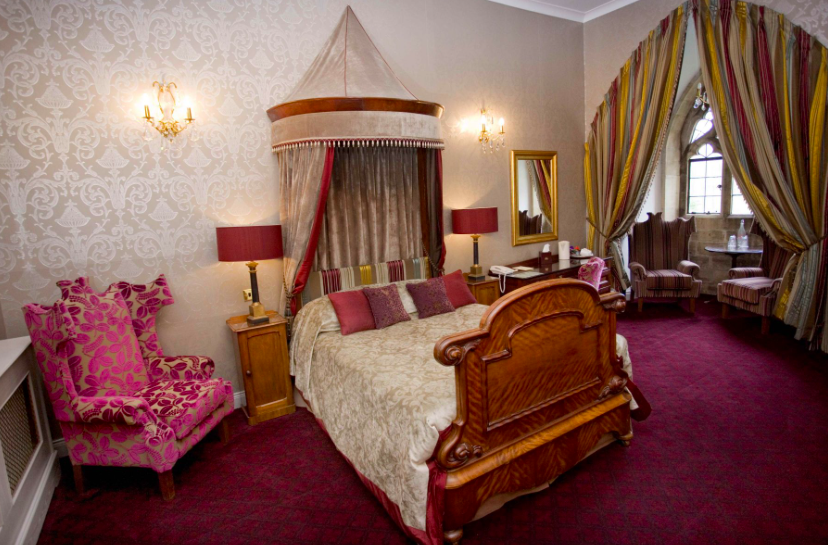 For medieval grandeur in stunning Northumberland,  Langley Castle built in 1350 is a four star hotel with Two AA Rosette restaurant set across six acres.
With beautifully ornate furnishings, suits of armour and the incredibly high stone walls, you'll be immediately transported to the past.  The wall tapestries and paintings depict those who influenced the castle, which is also said to be haunted incidentally, by 'The Grey Lady' Maud de Lucy.
With nine rooms, five feature rooms and four Deluxe rooms, these all bear the names of the people who have shaped its history, although there are a further 27 rooms including the Castle View and Castle Lodge.
Check in to the Josephine room for an elegant spacious stay, decorated with deep reds and dark woods set against a huge arc shaped window.  You can expect period features with all mod cons and indulgent Keiji Takeuchi bath products for the ultimate in relaxation.
Enjoy a pre-dinner drink in the elegant drawing room dinner, before indulging in a classic feast with dishes like the Veloute, Lemon Dover Sole and Vanilla Cheesecake.
The cooked Northumbrian breakfast is the perfect wake up call, before exploring the absolutely stunning woodland in which Langley Castle resides.
https://www.langleycastle.co.uk/
UK Castles to Stay in: Borthwick Castle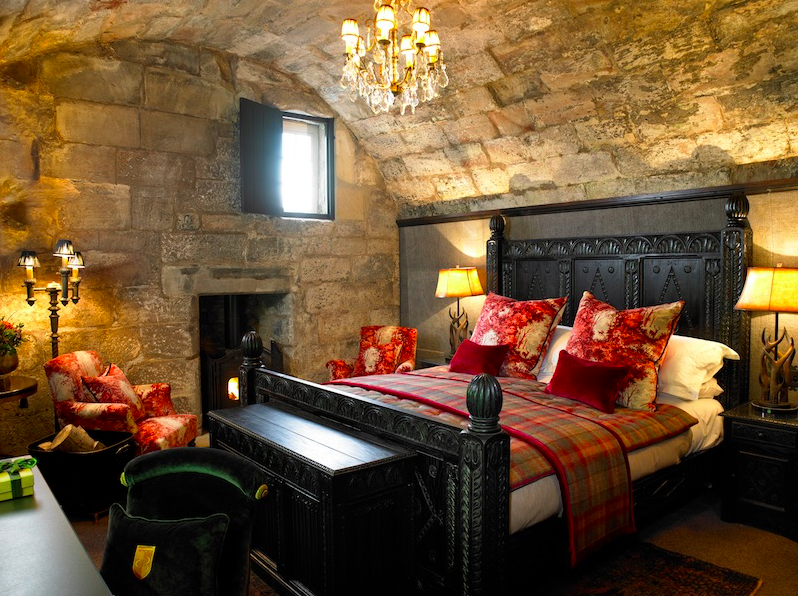 12 miles south east of Edinburgh stands the beautiful Borthwick Castle in the middle of the stunning Scottish countryside.  Bearing the scar of a cannonball launched by Oliver Cromwell in 1650, the castle is still a fairytale despite its imperfection.
This majestic bolthole is available in its entirety to hire out for special events – whether that's a wedding, weekend with friends or other special occasion.  With an award winning design, the Great Hall with its magnificent centre table can be transformed depending on the event – the attention to detail is fabulous – from double silk heeled curtains to Parisian chandeliers..
Stay in the 'Lord Borthwick' room for a trip back in time – high ceilings, oak panels and an oak carved bed, along with beautifully modern bathroom by contrast, make this room the perfect combination of old and new.
Borthwick Castle's chef Derek Johnstone is a rising star – winner of Masterchef: The Professionals back in 2008 and his food is absolutely outstanding. Banquets are a speciality and if you're throwing a big do, then you will not be disappointed with the experience.  All food is locally sourced and Derek can tailor the perfect tasting menu for whatever you're catering for.
The State Room upstairs complete with grand piano is the perfect place to retire with a sherry, or for a spot of Afternoon Tea.  A luxurious space in which to gather.
As well as the 10 luxury bedrooms, there's also a two bedroomed cottage outside, as well as the newly refurbished Gatehouse which is just stunning – the perfect honeymoon retreat.
Accommodating up to 26 guests overnight, exclusive hire of Borthwick Castle costs from £7,500 per night including breakfast, served in the Great Hall.
http://www.borthwickcastle.com
UK Castles to Stay in: Warwick Castle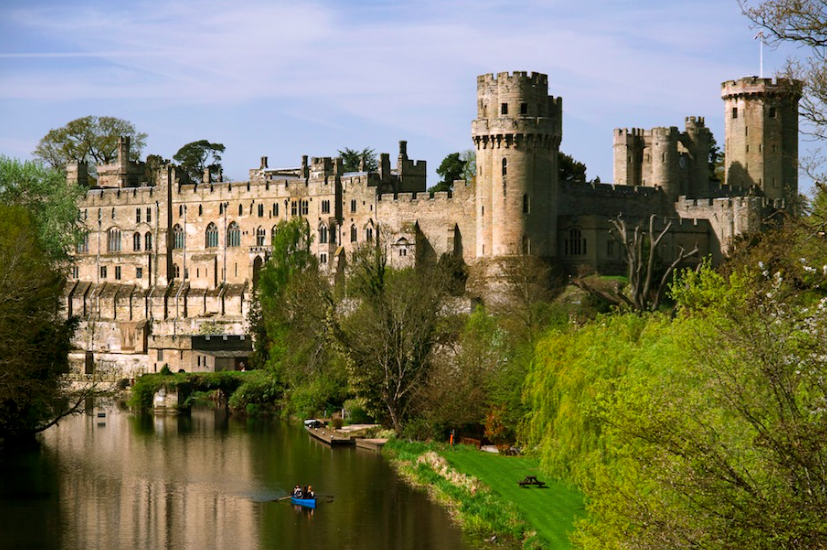 With an impressive 1100 year history, Warwick Castle's Peacock and Rose Tower Suites are the perfect place to holiday like a King or Queen.
Once the castle's private chamber, this was just reserved for royalty, so there's a true air of exclusivity when you stay here.  With suites costing from around £550 per night for a package deal  including breakfast, private expert-led castle tour, two days priority castle access, champagne on arrival, 24 hour concierge and porter service and free parking, the suites occupy their own floor complete with elegant bed chamber and hand carved four poster bed, along with beautifully designed furnishings to keep in with the style of the rooms.