Men are notoriously difficult to by for and even more so this year, as we can't even browse the shops in town this month.  Never fear, Luxe Bible is here with some awesome pressie ideas for the special guy in your life.  Here's the Lust List: Christmas Gifts For Him.
 PaMu Quiet Active Noise-Cancelling Earphones $119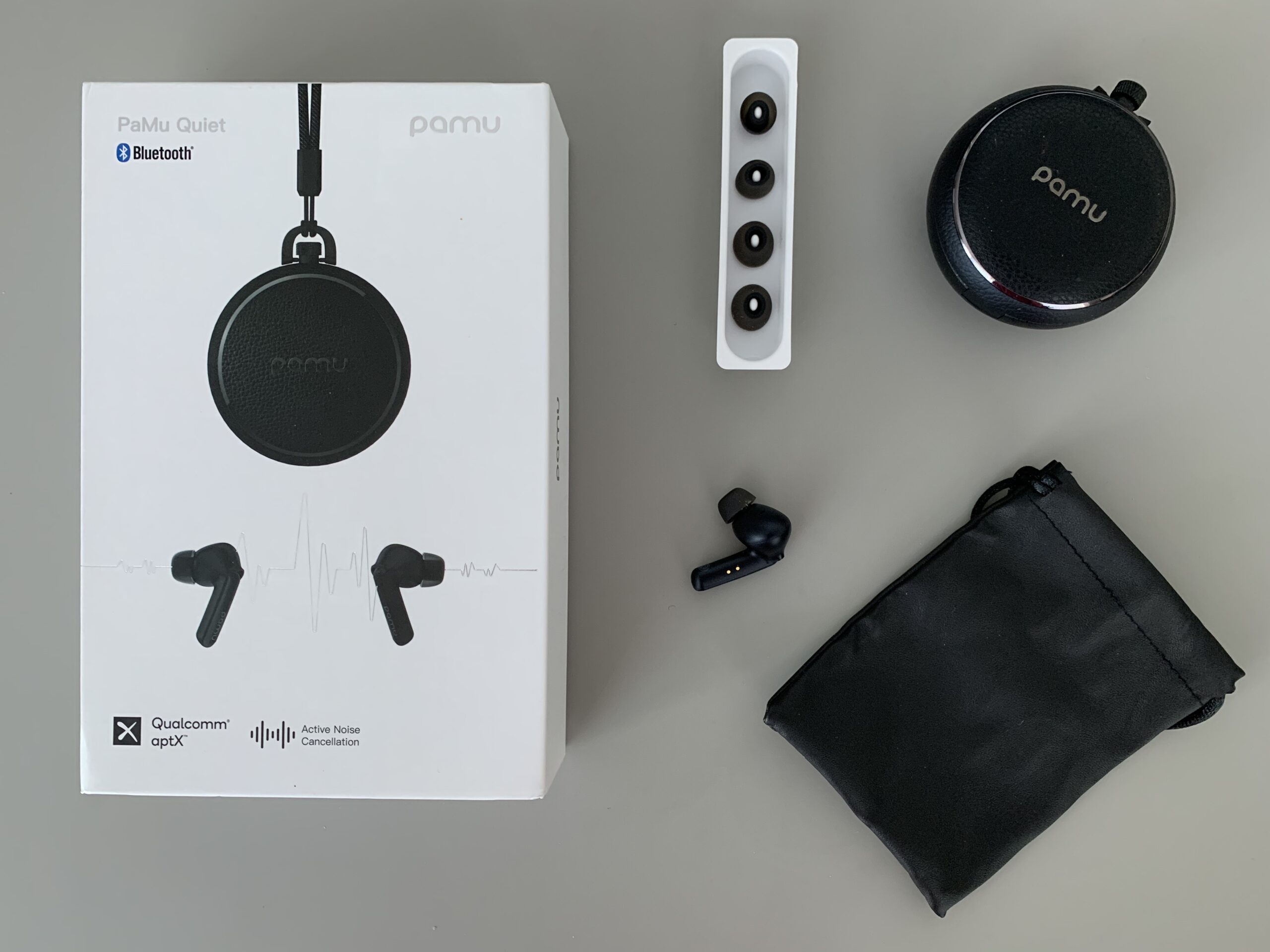 Brand new from Padmate come these super cute ergonomic ear buds which even for very small ears, stay securely in place while walking, running or working out.
They come in a cool charging and carrying case with a blue circular LED light which notifies you that the earphones are in fastened safely into the charging crib.
There's a number of things we really love about the PaMu Quiet Active Noise-Cancelling Earphones  – including the cost – as they're lots cheaper than similar models on the market.  They're IPX4 water resistant which means they're resistant to water splashes from any direction, and they also have active noise cancelling technology (ANC) means that your favourite tunes aren't drowned out by any external noises when you're out and about.
The compact wireless charging kit means they're perfect for charging on the go and give hours of listening, while they also operate via touch control – you can change this to suit by downloading the handy app.
Slick looking, in meteorite black, PaMu earphones are stylishly packaged and include three ear tip sizes for total comfort, lanyard, carry case, charging case and charging cable.  They also offer free delivery on orders over $99.
Ted Baker – Ted About Town Toiletries Travel Pouch Christmas Gift Set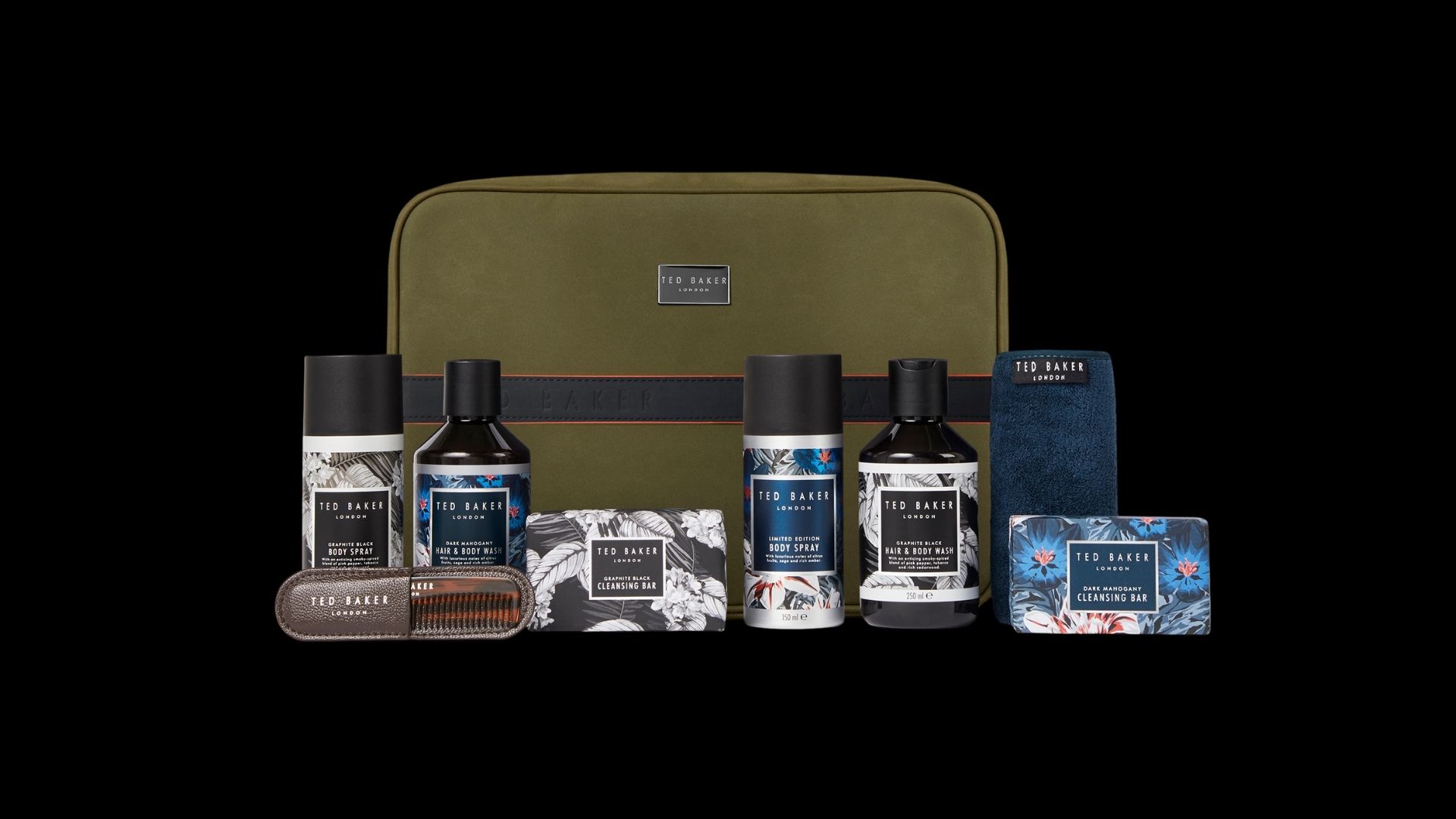 You can always on Ted Baker toiletries for a decent Men's Christmas pressie.  As you'd expect, the new Ted About Town gift set looks sharp and its contents smell divine, plus, up until 24th December, you'll get this £42 set for only £20 making it an absolute steal!
 This latest addition to the collection includes stylish travel pouch which is deceptively big, microfibre face cloth and comb, cleansing bars, a selection of hair and body washes for on the go showering at the gym or on holiday, and both an antiperspirant deodorant and body spray (in either smoky spicy Graphite Black, or luxurious Cashmere gold with notes of grapefruit and sage).
Grab this brilliant grooming kit exclusively at Boots stores nationwide or online at Boots.com
Aberfeldy 18YO £95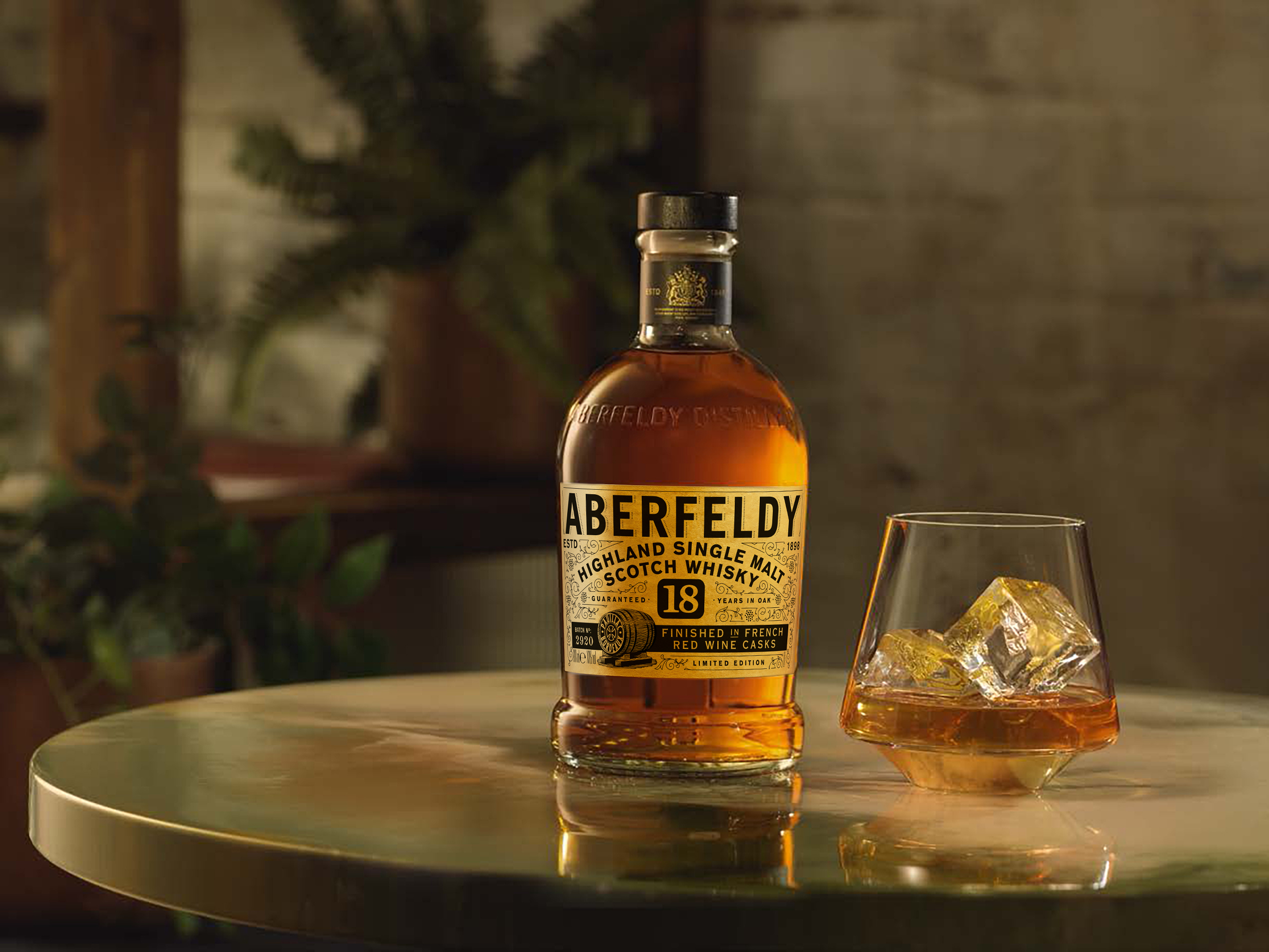 This is a really special tipple for any true whisky lover – a classic Scottish malt with a classy French twist!  John Dewar & Sons' latest expression is the limited edition Aberfeldy 18 Years Old, which having spent its life in a combo of refill casks, has been finished and refined with 4-5 months in First-fill Pauillac wine casks in Bordeaux.
Bordeaux's terroir plays a huge part in the appeal of Pauillac's wines with some of the most sought after and expensive reds from this area.  Rich, full and oaky in style is the typical profile, while Malt Master Stephanie MacLeod carefully monitored maturation and flavour development to produce this beauty which simply has to enjoyed neat.  With 'Aberfeldy's wonderfully soft signature honey and creamy vanilla notes, invigorated with swathes of plush ripe fruits and lovely nutty aromas', Stephanie describes Aberfeldy 18YO as an 'incredibly elegant and fruitful whisky.'
The limited edition whisky can be purchased from the Dewar's website, priced at £95 for a 70cl bottle, 43% ABV.
Mantidy Herringbone Tech Roll in Tan £199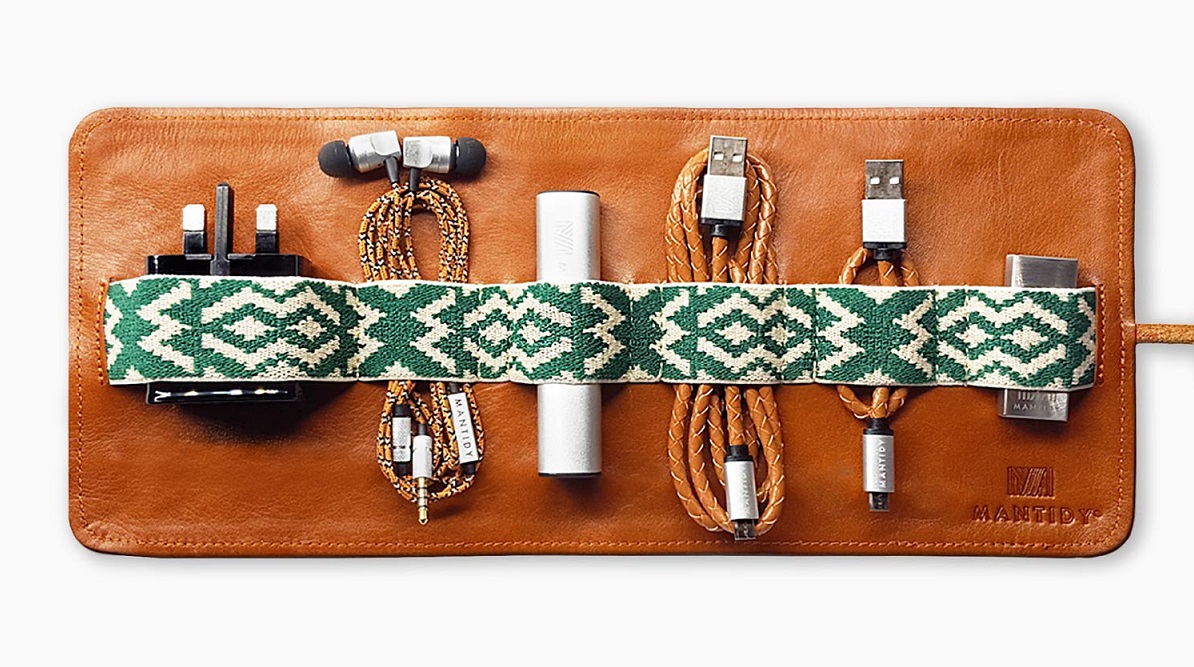 The Mantidy Herringbong Tech Roll in Tan is a stunning hand woven gift for the special man in your life. Made from luxurious premium vegetable tanned full-grade cowhide leather, the tech roll is the perfect modern day accessory for any style conscious guy who wants a bit of practicality in his life.
Contained in the roll is a power adaptor, along with earphones which are 99% compatible with laptops and tablets (plus three sizes of buds included), a power bank battery with 0.2m charging cable, 1m USB charging cable for fast charge and data transfer,  and a 16GB memory stick.  All tech rolls come with 12 months warranty, or 24 months when registered after purchase.  Check out the full range of colours, along with Mantidy's other offerings, on the Mantidy website.  For an added personal touch, embossed initials can be added before online checkout.
London Sock Company – Mind the Gap Box £195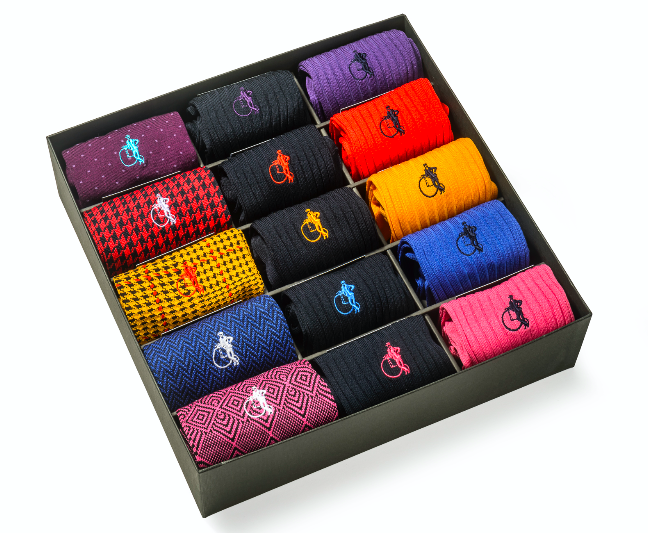 If you don't know what to get him, buy himsocks…  Well, look who's having the last laugh now with one of Christmas' most coveted  gifts from the fabulous London Sock Company.  The most luxurious sock we've had the privilege to wear, these hand-picked boxes ooze with style and sophistication in the classiest of colour collections.
Injecting some personality into the every day, the founders of London Sock Company created their brand back in 2013 with the capital right at its heart.  Inspired by 'the British gentleman' but designed for the 'modern man',  popularity has soared, and while you can buy the gift boxes separately, London Sock Company's USP is its subscription service with new socks delivered by post each month.
The Mind the Gap collection (pictured), is a new 15-pair gift box containing five bold colours from the Simple Sartorial Collection alongside five Simply Navy, and five designer patterns in varying colours which include Ottaway Style Mustard, Jacquard Rose and bond St. Herringbone Blue.  Simple divine and a gift you just can't go wrong with!  Not only are the boxes stunningly presented, the quality is incredible.
London Sock Company teamed up recently with the brilliant Michael C. Fox (Downton Abbey).  Watch 'The Little Things' video, here.
TOG Japanese Knives £140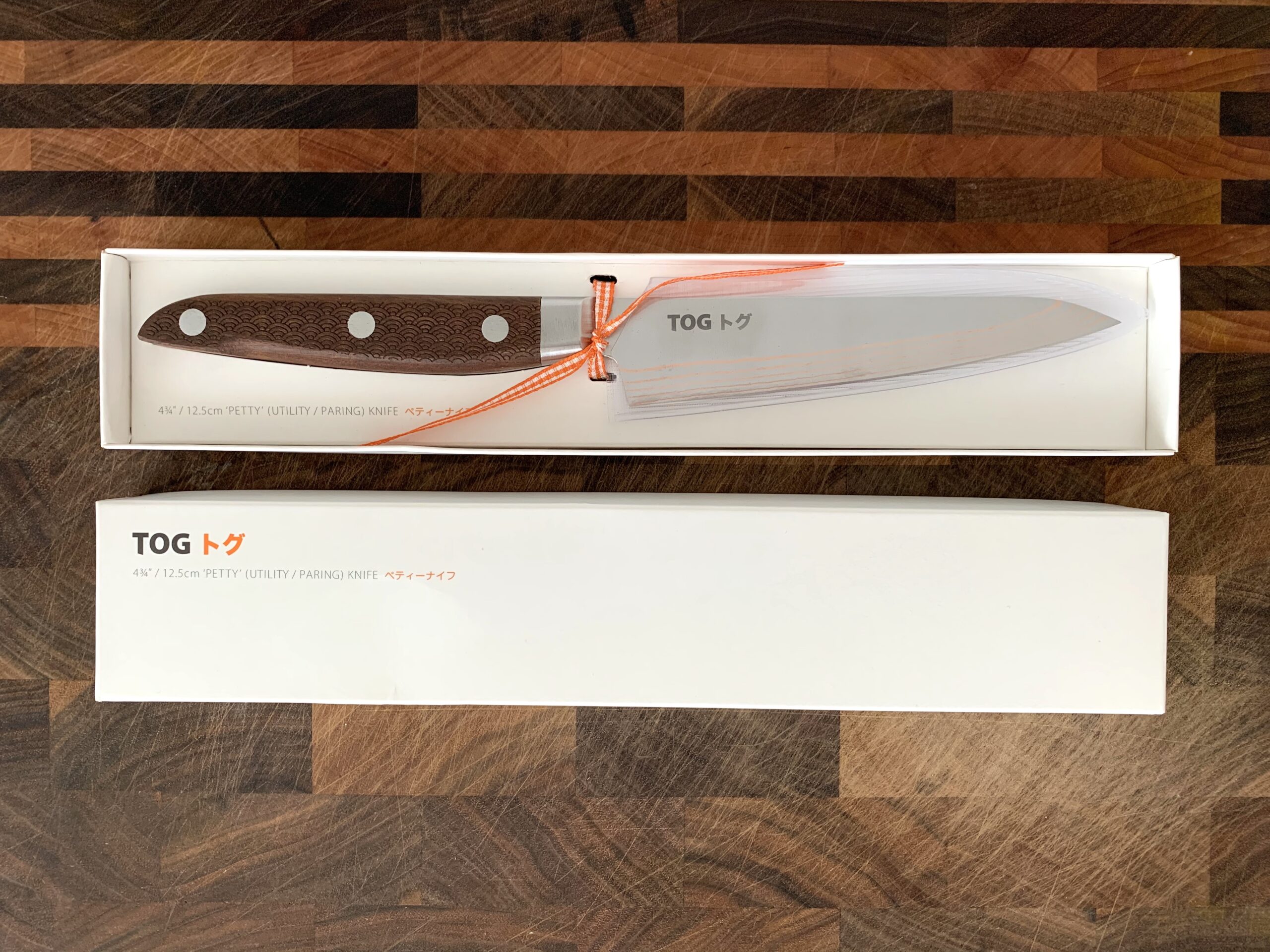 TOG Knives should be a staple in every kitchen – in fact they are in the BBC's Saturday Kitchen, with Matt Tebbutt et al using the TOG range for all of their cooking!
Each knife comes with a lifetime guarantee, so while they're slightly on the pricey side, they are a true investment.
Produced in small batches by skilled craftsmen in Seki – where Samurai swords have been made for over 800 years, each knife is unique, and so are individually numbered. The stunning handles are made from Kebony maple wood –  comfortable to use, well-balanced and water-resistant.
Making for a fabulous gift, the Petty Knife is 12.5cm long and with a sharp tip, is the perfect kitchen accompaniment when it comes to prepping, paring and chopping fruit and small veg and small fish.
Made with unique 21 layer steels, the Petty Knife contains layers of antimicrobial copper (which are the stripes you can see on the blade).  A sturdy, robust, yet lightweight and agile knife, the Petty Knife is priced at £140.  Click here to shop the full TOG range.
Distiller's Cut Rum £35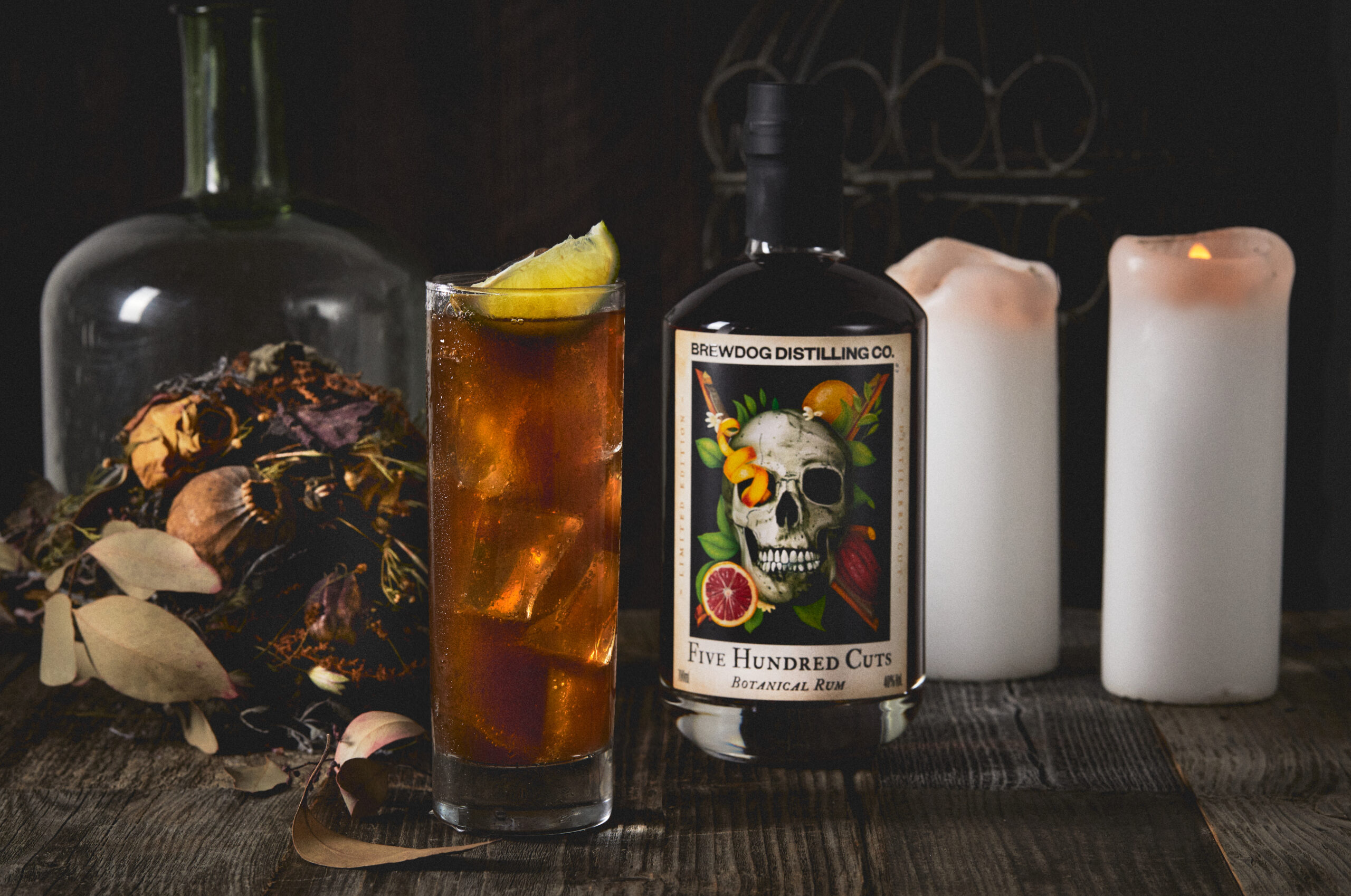 This limited edition Five Hundred Cuts Distiller's Cut Rum from Brewdog Distilling Co. is a bold, barrel aged, handmade spiced rum that's aged in Oloroso sherry casks for 15 months – giving a welcoming hit of blood orange peel and intense spiced botanicals.  It's a perfect winter warmer for the Christmas period and tastes divine with a splash of ginger and a slice of lime over ice.   Priced at £35 from Brewdog.com
BALLS Cordless Trimmer £45
Let's not beat about the bush shall we?  BALLS is a super powerful, cordless, USB rechargeable trimmer for you know (ahem) down there…
For the man in your life, this slightly intimate gift is most definitely one he won't have already and it's designed to give men a luxury grooming experience without so much as a nick.
Thanks to its patented 'SafeSack' technology, the perfect ceramic blade has been tested on the most delicate of areas to ensure there'll be no shocks in store when using BALLS.
Water-proof, shock resistant and suitable for wet and dry shaving, BALLS trimmer has a slip-free grip (yes handy hey?!), and can be used on the most stubborn of coarse body hair with a 6000RPM motor!
What's more, every purchase of a BALLS trimmer is saving the planet as a tree is planted for every one sold.  Hurrah.
 £45 for trimmer and blade subscription.
To check out the Luxe Bible Christmas Gift Guide For Her, click here.