Within the iconic Centre Point building on New Oxford Street, you'll find a restaurant which is OTT, OMG and SATC all rolled into one – VIVI.  Checking in is like you're boarding your own private aircraft and you get to the dining area via a speedy glass lift and futuristic walkway.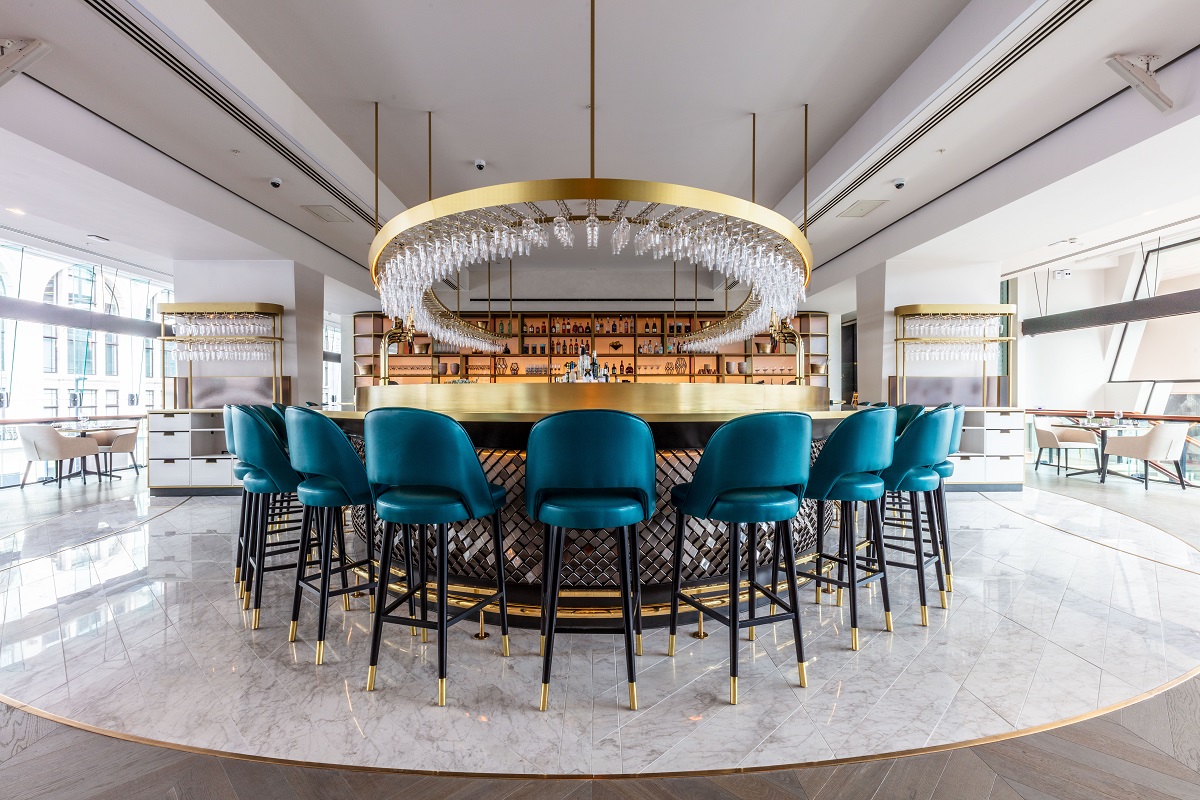 When you reach the actual restaurant, it's like walking onto the set of a film.  You wouldn't look out of place sat next to Carrie and Samantha sipping on Dirty Martinis perched on electric blue high stools at the stunning curvilinear bar, or if James Bond popped up suited and booted and shaken not stirred, again, you probably wouldn't even look up from your candy floss cocktail.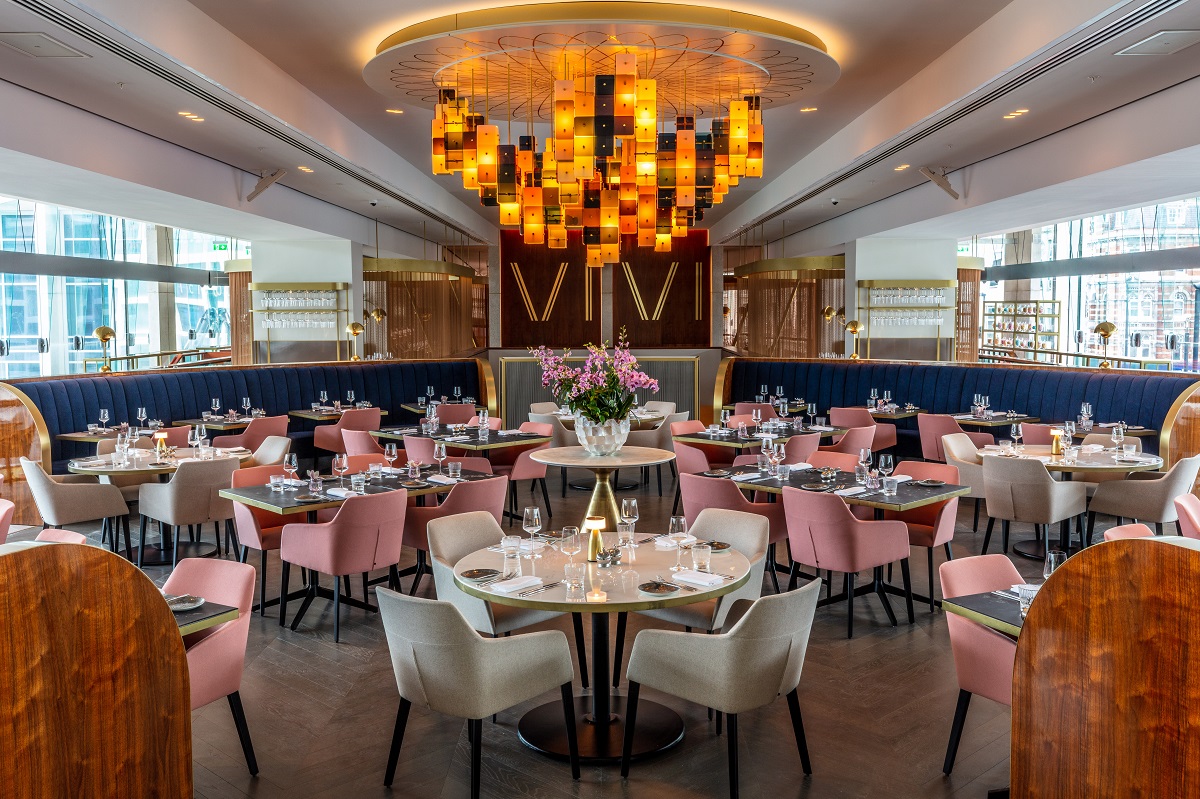 VIVI restaurant (which in roman numerals represents 1966 – the year Centre Point was built), is a slice of sixties nostalgia in a very fancy setting.  It's just all so 'insta'.  The lavish, opulent decor definitely bears the signature bygone touches like the gold finishes and vintage lamps, but the piece de resistance is most definitely the enormous eye-catching chandelier from Vibeke Fonnesberg Schmidt, who takes inspiration from French art nouveau and German Banhaus modernism.
The chandelier sits in the very centre of VIVI's circular dining area, surrounded by beautiful semi banquettes.  The seating area is reminiscent of very stylish stationary waltzer cars before they're pumped into action, while the whole restaurant is encased in floor-to-ceiling glass.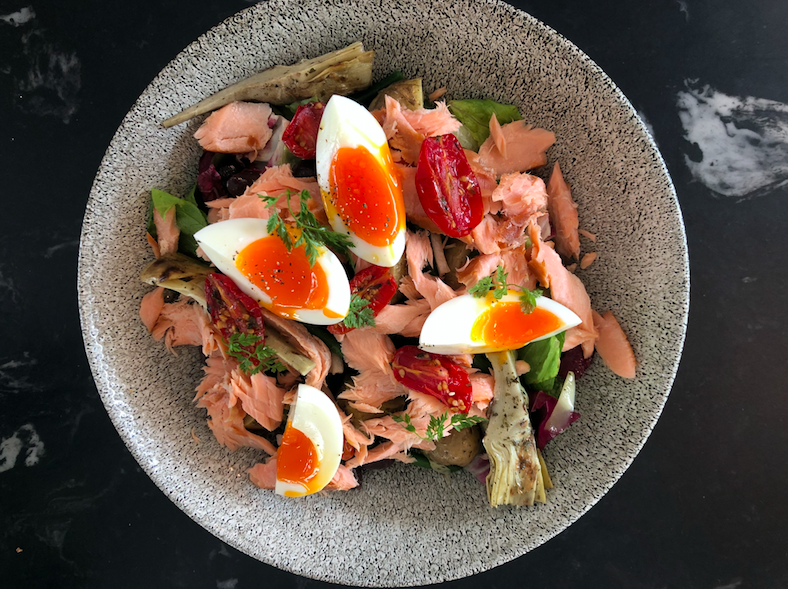 The menu is also nostalgic with a modern twist or 'reimagining' on classic dishes.  Great for a special occasion, we visited for Sunday brunch on a bank holiday weekend when the menu featured such delights as avocado and crab, smoked salmon salads and a classic roast dinner.  Pimp up brunch for just £21.50 with 90 minutes of bottomless bubbles – we thought this was pretty good value for such a lavish setting.
We both started with Cornish crab – generous chunks of sustainably sourced crab meat atop creamy avocado.  Served with gluten-free bread, the serving staff had no problem suggesting alternatives for allergies and intolerances.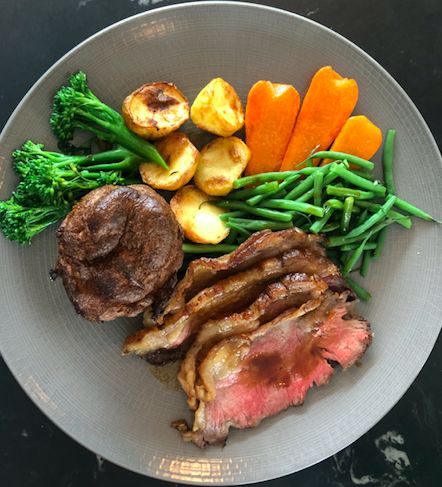 The classic Sunday roast came next – a timeless offering featuring all the usual trimmings and plenty of slices of mouthwatering roast beef.  I also indulged in a very naughty side of mac 'n' cheese which definitely hit the spot.
My friend ordered the smoked salmon salad main which was huge!  As pretty as a picture, there was plenty of colour courtesy of the sweet cherry tomatoes and perfect cooked boiled eggs with bright orange yolks.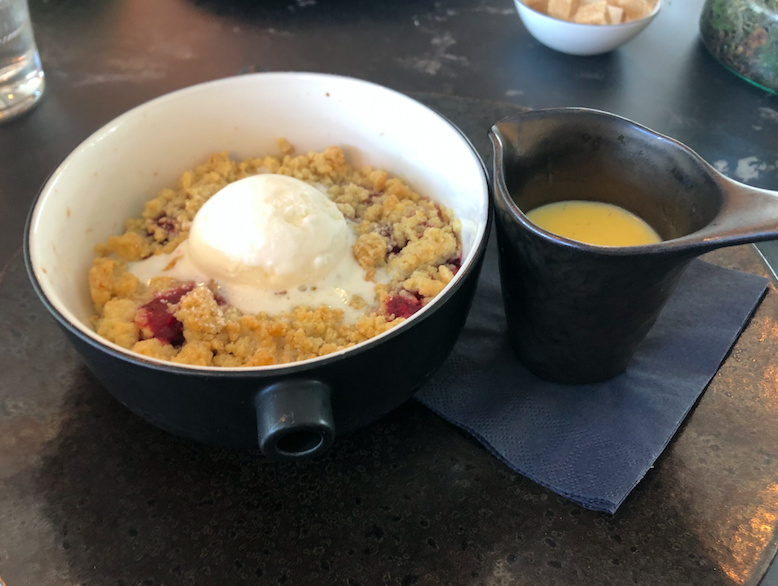 We finished with a classic sixties style rhubarb crumble, washed down glass after glass of seasonal cocktails which were also rhubarb flavoured.
Not only is VIVI a great date place or the perfect venue to celebrate a special occasion, the bar has a DJ on Thursdays, Fridays and Saturdays, and they also offer an amazing afternoon tea.
In addition to VIVI Bar and VIVI Dining, there are a further two zones – the VIVI Liquid Lounge for juices, shakes and shots, and VIVI Gallery for lighter bites.  All in all, an all day drinking and dining destination.
For more of Luxe Bible's favourite London restaurants, click here.