From Monday 17th May, we're allowed to eat indoors, hurrah! But now we're cruising towards summer, we want to make the most of the finer weather and lose the pasty look we've been sporting for the past 8 months! With loungewear and PJs having become the norm for so long, we're dying to grab our best online shopping purchase and get to it. Here's some of Luxe Bible's fanciest outdoor terraces in London to get dressed up for.
OXO Tower's New Rooftop Terrace with The Botanist Gin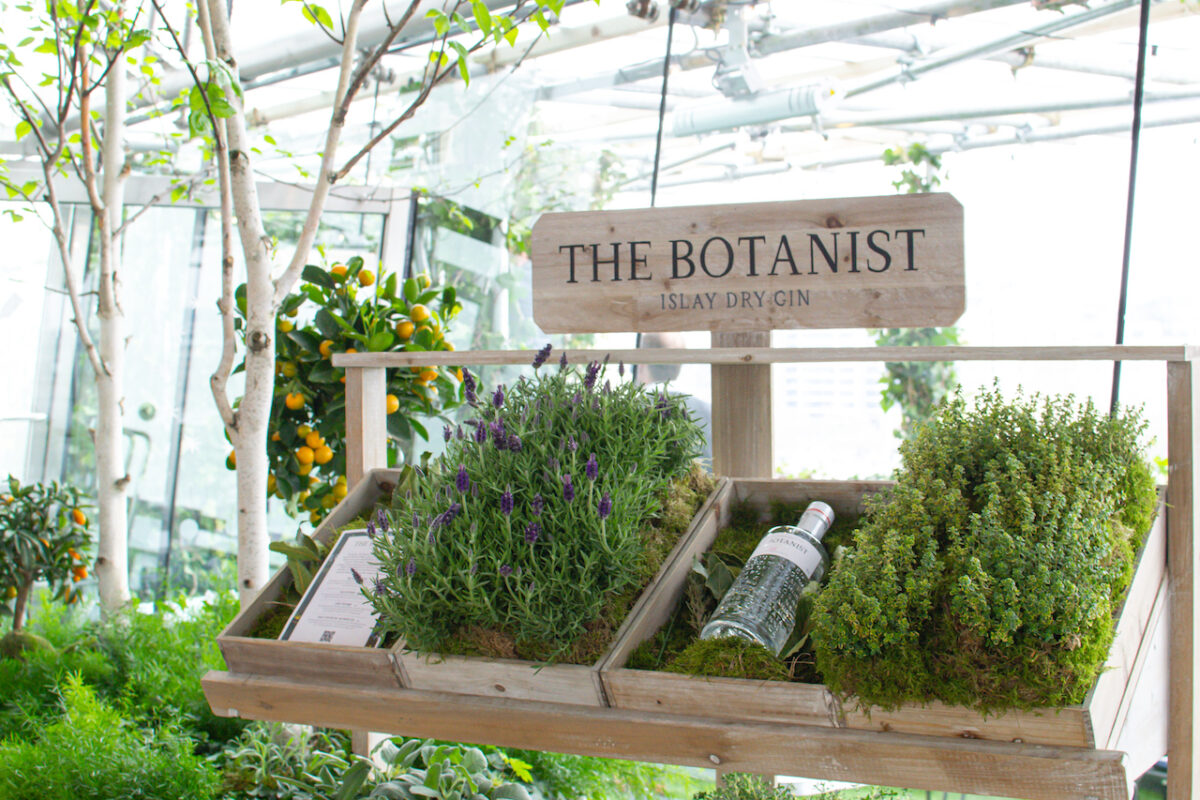 The Botanist Gin has teamed up with OXO Tower restaurant this May to celebrate wild and foraged flavours on the Southbank.  With a bespoke cocktail menu and four course gin themed experience, cocktails will include The Islay Breeze, with fresh lemon balm, lime juice and elderflower tonic and The Scottish-22, infused with lemon zest and finished with OXO Champagne.  Foodies will love the ivy adorned areas on the terrace where they can enjoy dishes likes The Botanist cured sea trout to start and lemon meringue tart with gin sorbet, all paired beautifully with a complimenting gin cocktail.  Click here to book (available Tuesday – Friday 12 – 3pm and Tuesday – Thursday 6 – 9pm.
Mr Fogg's Secret Garden Pop-up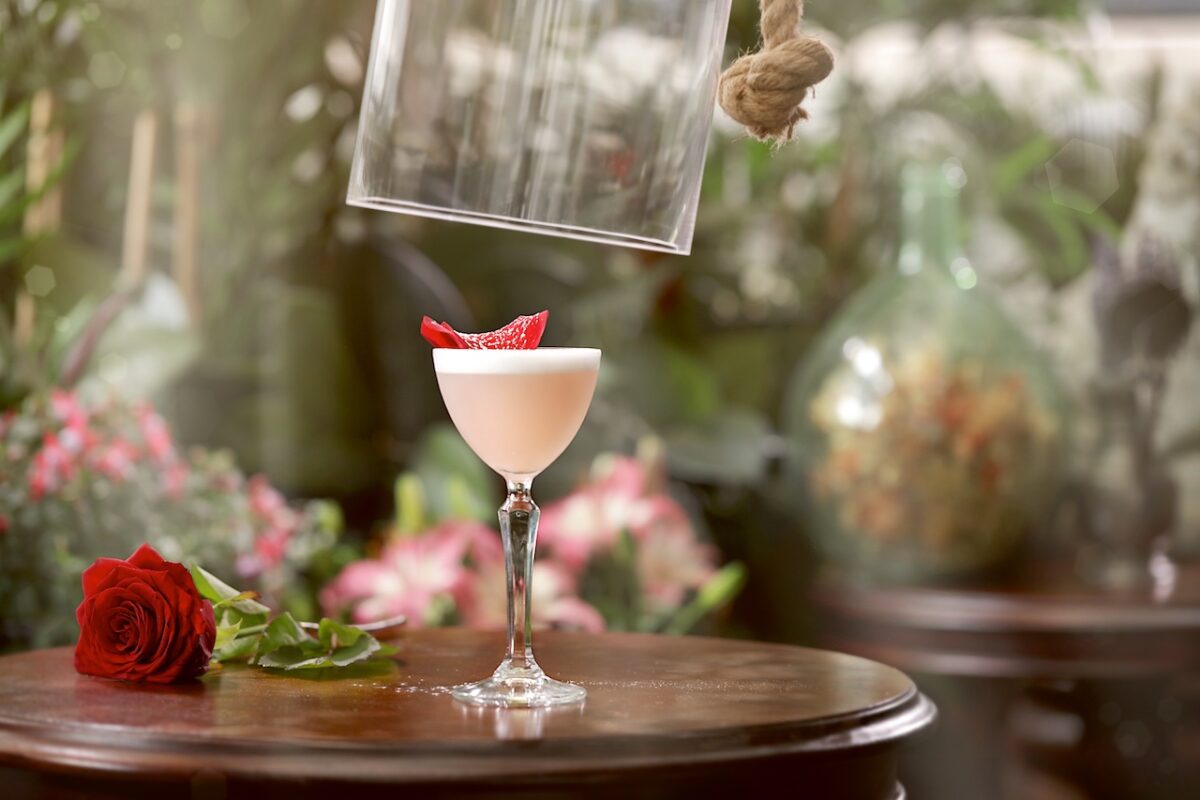 A brand new summer pop-up in the middle of London? We're all about it! Mr Fogg's Secret Garden will open on Tuesday 25th May, accessible via a concealed entrance just a stone's throw away from Mr Fogg's Residence. Once inside, you'll be transported to an English Victorian garden – a hidden oasis with pretty pergolas and wheelbarrows filled with flowers.
Enjoy the Pimm's rose walk where jugs of Pimms and Lemonade will be flowing in the rose garden, or the Tanqueray Orangery where the walls are covered in blossom and oranges – the perfect place to sip on a Tanqueray Dry Gin and Franklin & Son's Indian tonic. Mr Fogg's Potting Shed meanwhile, is the place for themed cocktails like the Free as a Bird (Don Julio Blanco tequila, Aperol aperitif, fresh grapefruit and lime juice, agave syrup, topped up with Franklin & Sons pomegranate and hibiscus soda and the Blooming Spritz with Ketel One Botanical Peach & Orange Blossom spirit, sparkling wine and Franklin & Sons 1886 soda water.
Solas at The Savoy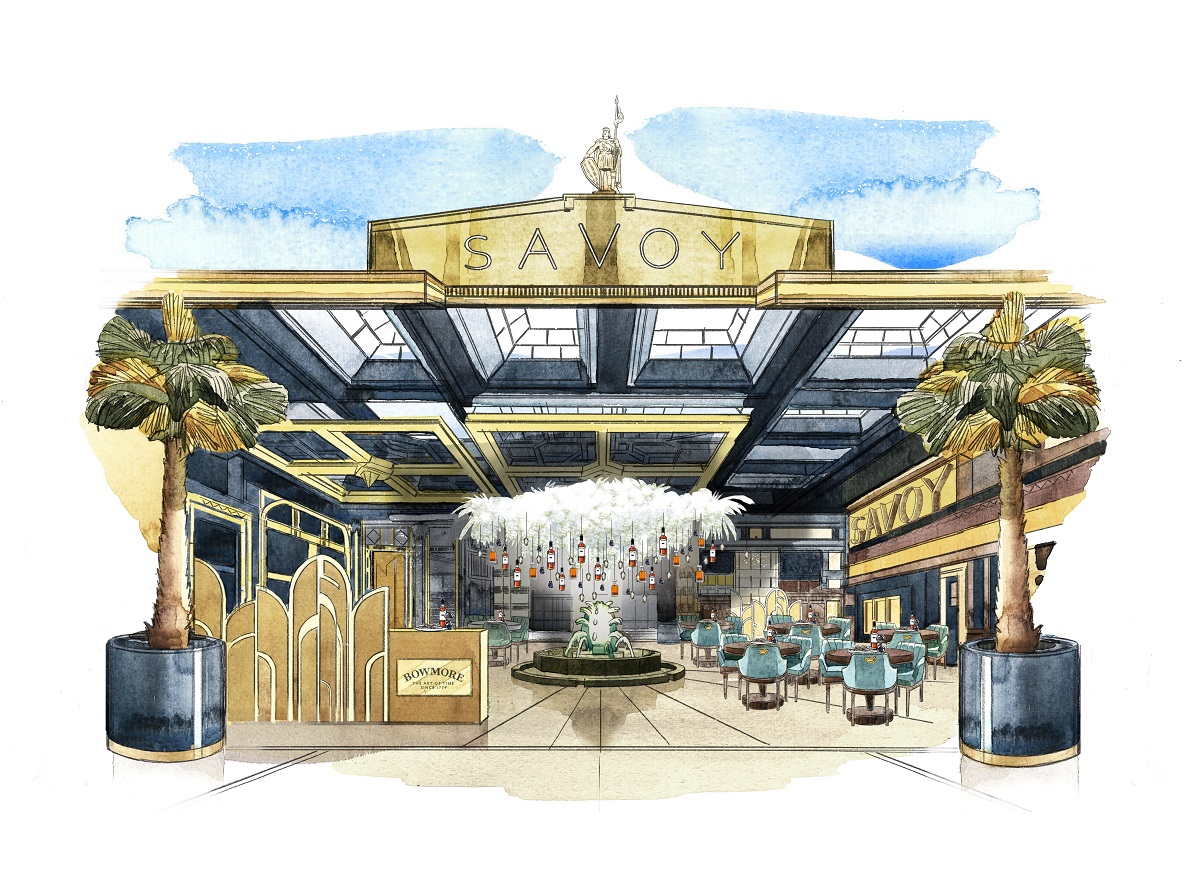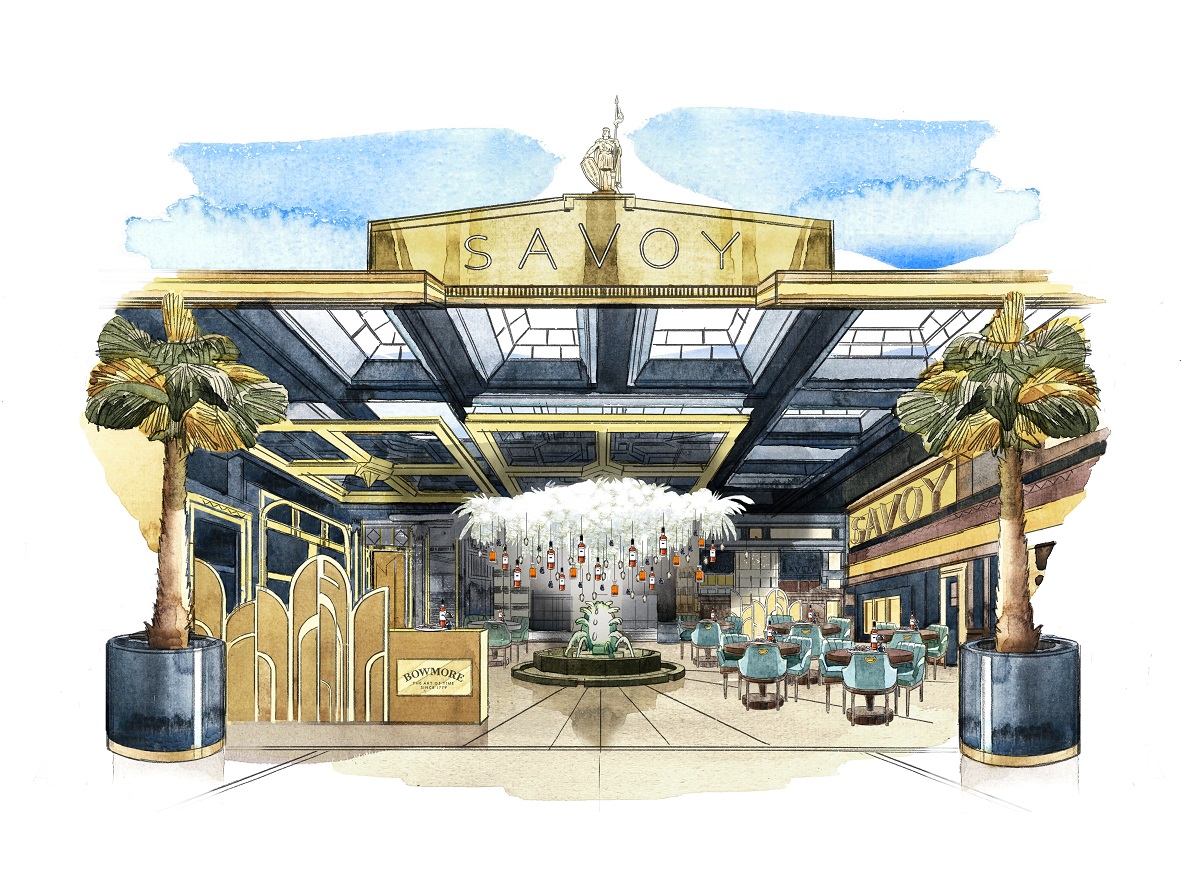 The Savoy – one of London's most iconic hotels, has a brand new offering for its guests – a glamorous new alfresco dining and drinking experience! In collaboration with Bowmore Islay Single Malt Scotch Whisky, the short season pop-up Solas (meaning light, joy and comfort in Gaelic), will serve up refreshing cocktails and food from their delicious seafood bar. Booking is highly recommended so be sure to email savoy@fairmont.com to reserve your spot under their shimmering chandelier! There's more info here on the hotel's re-opening.
The Ivy Kensington Brasserie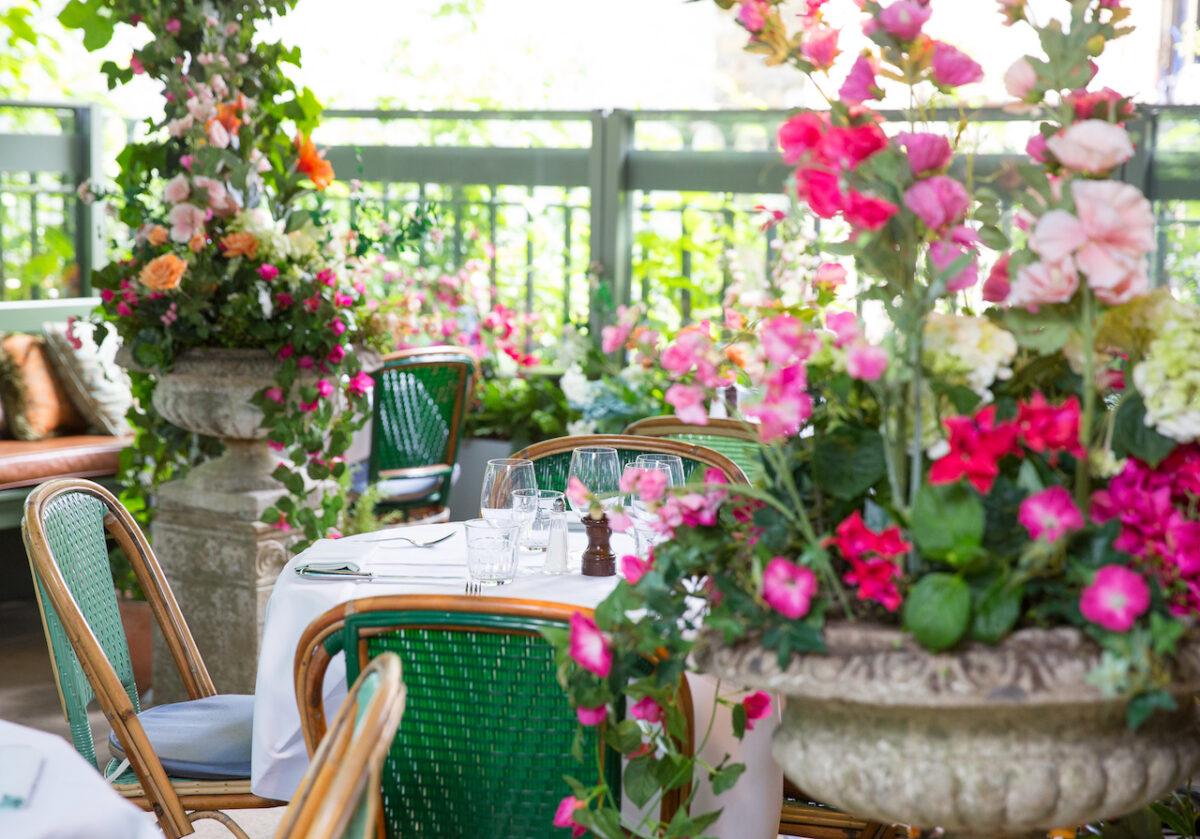 Oh we love an Ivy and Ivy Kensington Brasserie has a gorgeous outdoor terrace to show off your best spring/summer outfit. We've really missed their chicken Milanese washed down with a gorgeous cold glass of quaffable Viognier, so from 12th April you can enjoy delicious dishes from Exec chef Sean Burbidge. With heated and covered outdoor options, you can visit whatever the weather… And did someone mention weekend brunch?!
Also opening on April 12th Ivy Soho Brasserie, Ivy Chelsea Garden, Ivy Cobham Brasserie, Ivy Tower Bridge, Ivy Soho Brasserie, Ivy St. John's Wood.
The Wigmore Summer Terrace and Garden at The Langham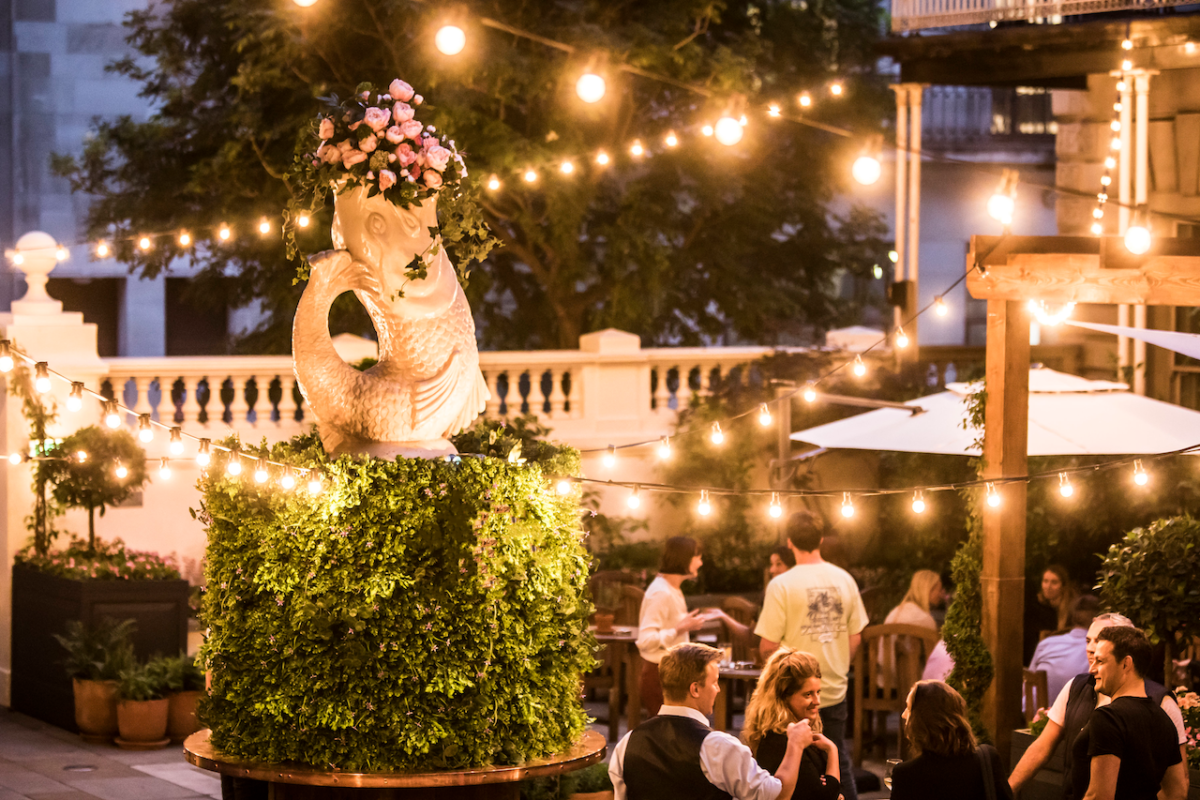 The luxurious Langham hotel is one of our favourite get dressed up for London hotspots, so we're ecstatic to hear that The Wigmore Summer Terrace on Regent Street is looking fabulous and can't wait to welcome us from April 12th onwards. The Wigmore's terrace is now connected to The Langham Hotel's courtyard garden for ultimate outdoor terrace vibes in the heart of the capital. With a pretty pergola, wooden benches and fresh greenery, it's the ultimate secret garden, and should the weather turn on us, there's also heat lamps and covered areas to make an escape from the rain! The menu will also reflect The Wigmore's new partnership, so you'll be treated to a selection of well loved classics and new specials – all overseen of course, by Michel Roux Jr. The buttered lobster roll and masala spiced Scotch egg are just two of the offerings which we've got our eye on! With a number of new summer cocktails to sip from spring through to summer, this is the ideal spot for socialising (while following the rules). Make a booking now, here.
BAR 31 at Shangri-La At The Shard
Shangri-La At The Shard has to be one of the most glamorous hotels in London so we're thrilled to hear we can visit BAR 31's super cool outdoor terrace from April 14th in a group of six, or two households. The Italian inspired Aperol Terazza will be unmissable with its iconic orange hue filling the incredible space. With a selection of bespoke spritzs from Campari and Aperol making up the menu along with antipasti options of cicchetti and pizette, it's the perfect hangout for Spring and Summer. What's more, guests can go all out by upgrading with the Aperol Terazza experience which includes a deluxe spa treatment and/or access to the Shangri-La's hotel facilities including the Sky Pool and Sky Gym!
COYA Angel Court Launches The Courtyard with Veuve Clicquot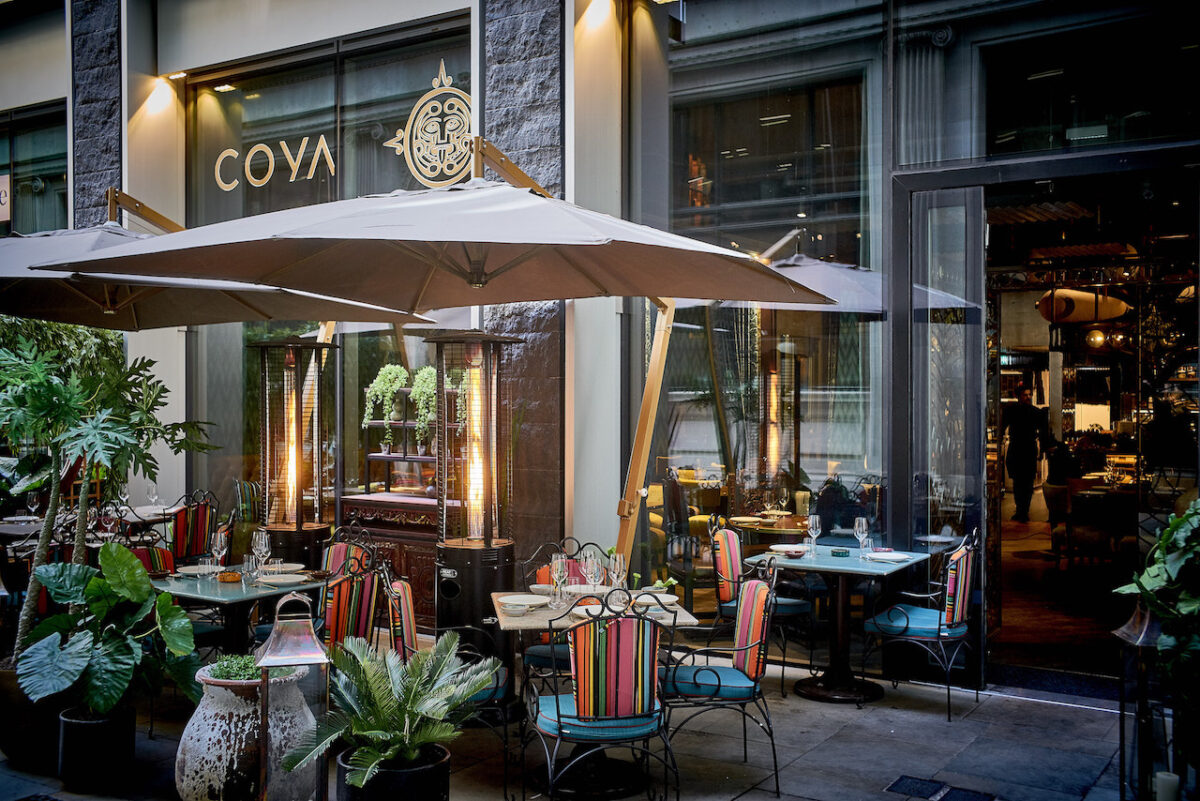 If you really want to go all out and get dressed up for an al fresco adventure, then the place to be and be seen is this Peruvian paradise at COYA Angel Court. The Courtyard will offer outdoor dining in partnership with Veuve Clicquot so you enjoy a champage or COYA's signature Veuve Clicquot cocktail The Pisco Royale while staying toasty under the heaters. Indulge in the all day, or à la carte menus against an incredibly Instagrammable backdrop offering Peruvian sashimi, ceviches and tiraditos, or try the luscious sounding crispy pork belly burger with sweet potato, red onion and coriander and the crispy chicken sandwich with ají panca coleslaw and spicy mayo. There'll also be a set lunch menu offering for just £32. Open 12.30pm – 10pm – reserve your spot now, here, or email reservations.ac@coyarestaurants.com
Trinity x Ruinart Champagne – New Terrace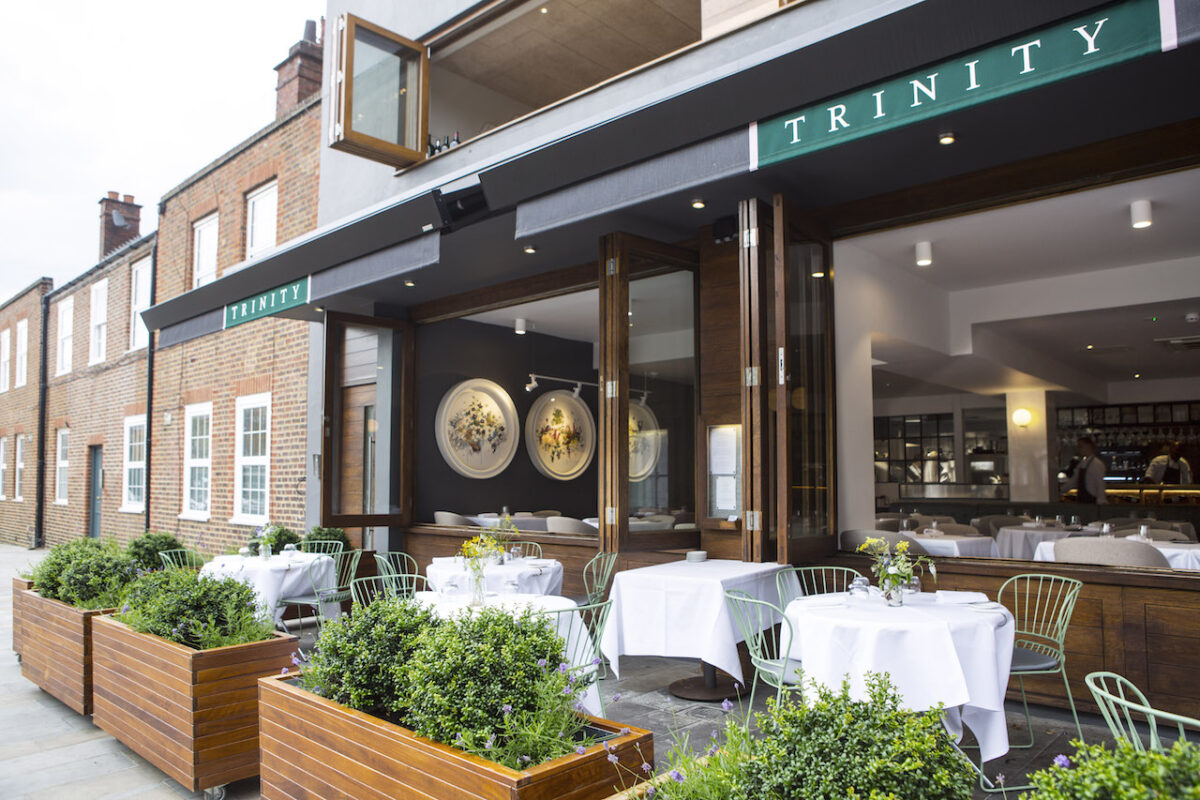 Michelin star restaurant Trinity in the heart of Clapham Old Town is a great spot to hang out at. Now, with added people watching creds, you can sup on a classy glass of champers (hopefully in the sunshine) come April 12th at Trinity's new massive outdoor space, Outside. Partnering up with Ruinart Champagne (smart move,) Outside will include an outdoor bar and kitchen BBQ area. Feast on summery salads and barbie style snacks while you get stuck into the fizz – Dom Ruinart, Ruinart Blanc de Blanc and Ruinart Rose are all offered by the glass.
The Sussex Bar & Restaurant's New Oyster and Vermouth Terrace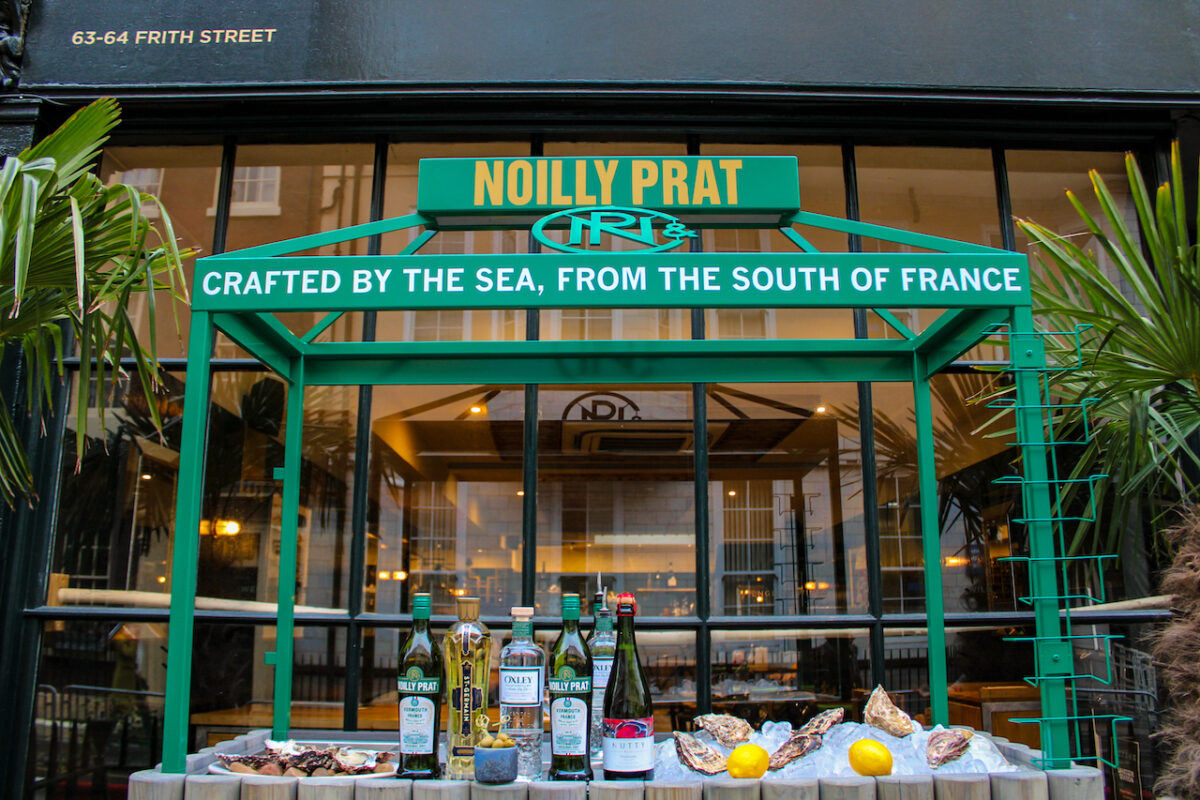 Nothing screams 'get dressed up super glam' like the tantalising combo of oysters and vermouth on the streets of Soho does it?! Sussex Bar & Restaurant have partnered with Noilly Prat for a new outdoor oyster bar like no other – offering freshly shucked Maldon oysters paired with refreshing cocktails like the Summer Spritz which is made with Noilly Prat Original Dry, St. Germain Elderflower Liqueur and topped with nutty wild sparkling wine. You can even get in on the Noilly Prat serving ritual which involves pouring it over the oysters to be sipped out of the shell or devoured in one go! Accompanying small plates will also be available with two set menus – two courses for £22 and three courses for £28.
Granary Square Brasserie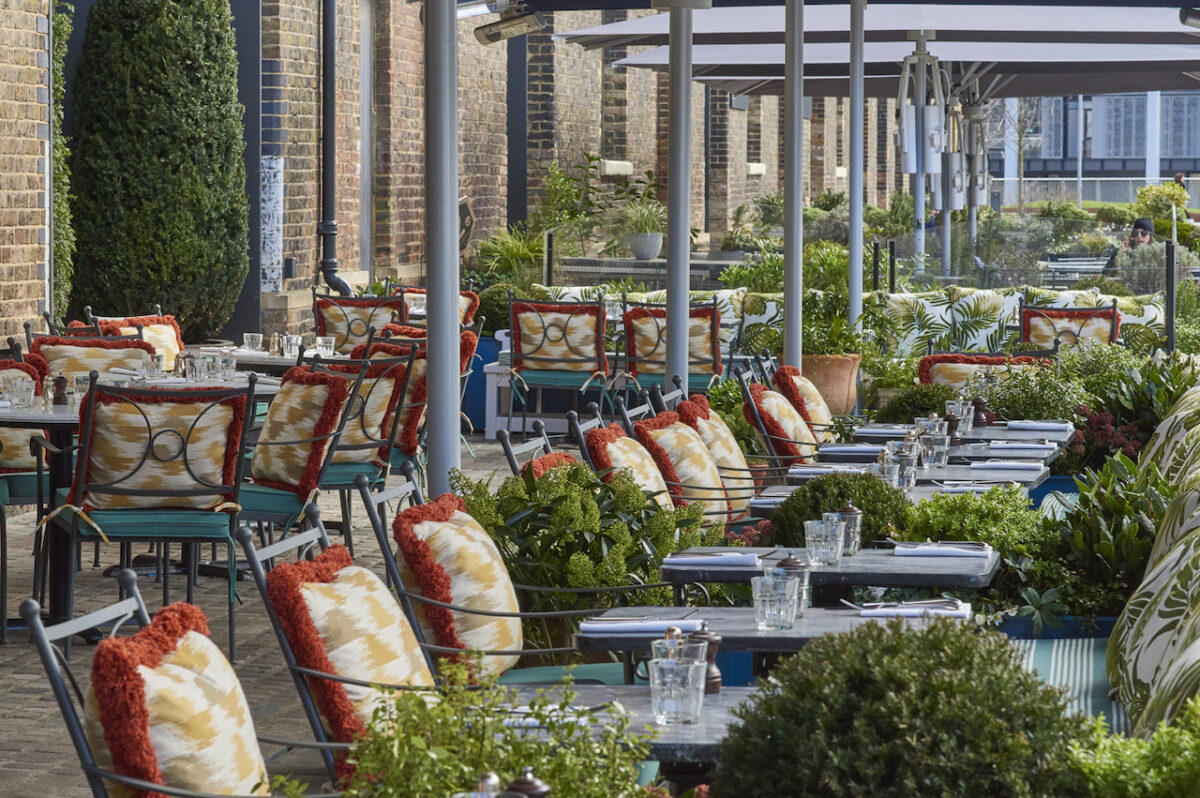 In summer, the Luxe Bible gang love to hang out at Granary Square Brasserie's outdoor area. It's such a cool part of town, with a great crowd and incredible food, so we're really excited to hear that from April 12th, their al fresco terrace will be transformed into a jungle themed carnival paradise! With gorgeous views across Regent's Canal and the Square's picturesque floor level fountains, get ready for tropical foliage, bright florals and six brand new *cocktails like Tiki Negroni and Flamingo-a-go-go. What's more, if you do actually go-go on April 12th, you'll be treated to a night of incredible performances from stilt-walkers, samba dancers and drummers! The entertainment will run throughout spring and summer with DJs and a tonne of fun on the terrace. *Cocktails from £9.25.
Novikov Outside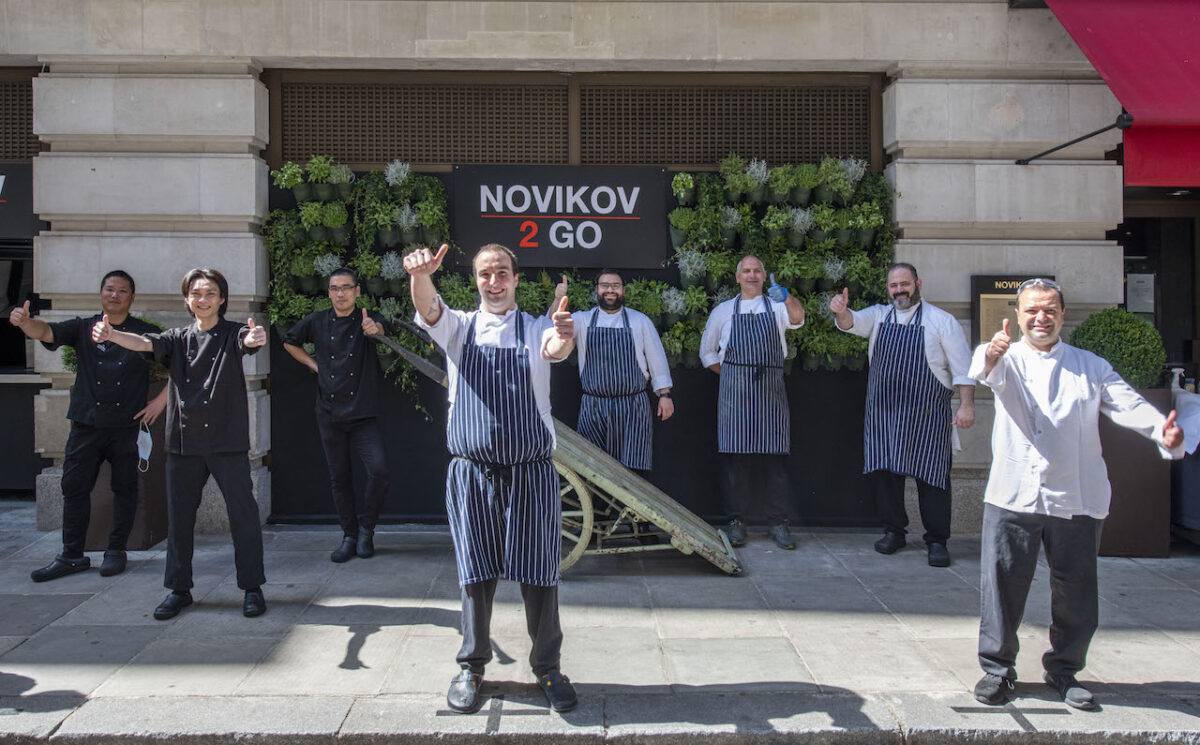 If you've ever been to Novikov (course you have), you'll know this ultra glam spot smack bang in the middle of Mayfair is the definition of dress up. So we're expecting new Novikov Outside to be just as glamourous. From April 12th, you can expect all the decadence of Novikov inside, al fresco stylee. Seating up to 50 customers, there will be Asian signature dishes like Miso Black Cod, along with Italian favourites like Burrata with Sicilian Datterino Tomatoes. What's more, there'll be an Aperol Campari & Asahi Bar, along with the more informal street side BBQ. We think that's everything covered… Email reservations@novikovrestaurant.co.uk to book although there will be six tables available for walk-ins. Open 12-10pm.
For more fun April ideas, check out the Luxe List April and for at home drinks over Easter, check out Aidy and Helena's brilliant guide.