For the ultimate chilled out beach club experience, SantAnna Mykonos has it all.  It's a sprawling complex, boasting Europe's largest salt water pool which runs the length of the beach club, yet SantAnna still manages to offer a laid back, exclusive and intimate vibe.
Chic beachwear is a must – this is definitely the place to flaunt your best assets and your best bikini – you'll not feel overdressed in jewellery and wedges.. After all, Mykonos is most certainly for the beautiful people…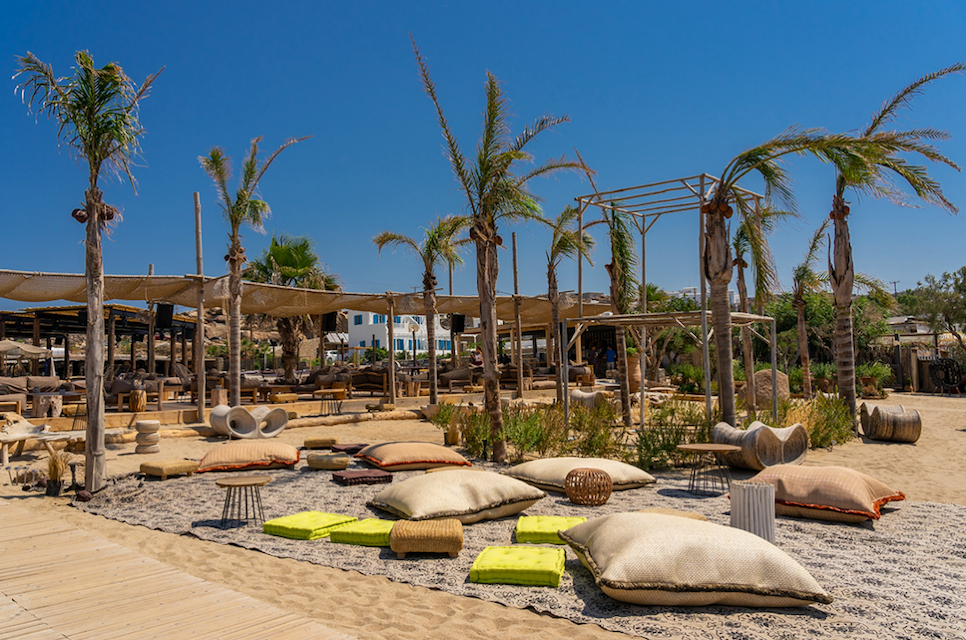 Much more than just a beach club though, SantAnna backs onto its own private beach (Paraga beach has with direct access into Scorpio's – Mykonos' prime sunset hotspot.)  On the beach you'll find hammocks, luxury cabanas and oversized pillows for the most comfortable of sunbathing experiences.
The dance area and DJ booth occupy the central area of the beach club – on what looks like its own private island – accessible via a pretty white bridge (perfect for the gram).  The soundtrack is perfectly suited to the mood, starting with chilled out tunes which progressively get more lively towards evening, but always maintaining that exclusive air.  In summer, SantAnna plays host to International DJ's, you'll find all the details on the website of who's playing when, while there's themed nights like SantAnna's lively house music parties PHOS and Bubbles & Caviar running at high season.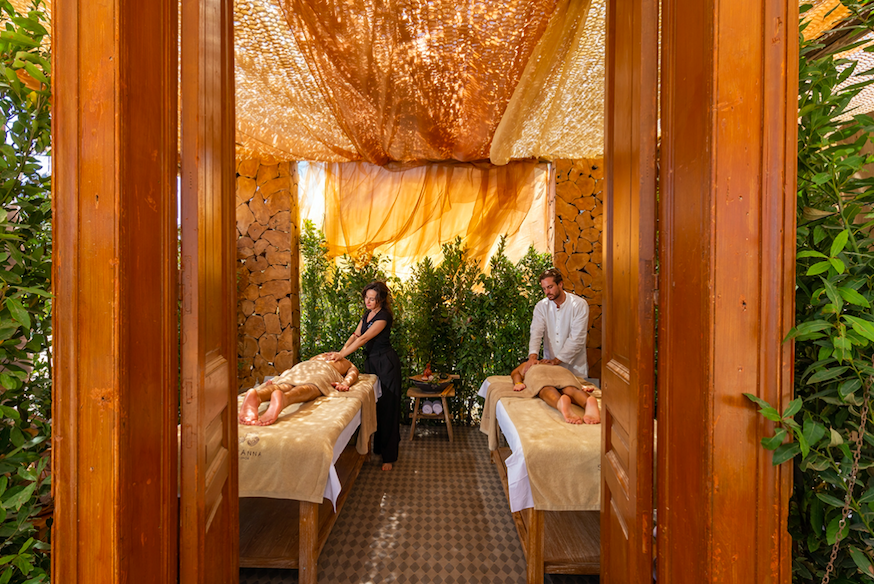 Sant Anna also offers the full wellness experience.  From massages, to beauty and blow dries, through to morning pilates and Vinyasa classes, as well as personal training, it seems there's nothing you can't do while you're here.
And not only is SantAnna just the most beautiful of locations in which to relax, there's also a whole choice of food and drinks options.  The SantAnna restaurant sits beneath a stunning bamboo and wood pergola.  Wine bottles and fridges full of champagne and ice cold rose line the walls, while the sushi station sees all kinds of gorgeous sashimi, maki and cali creations being made – the selection is vast and it's all absolutely mouthwatering.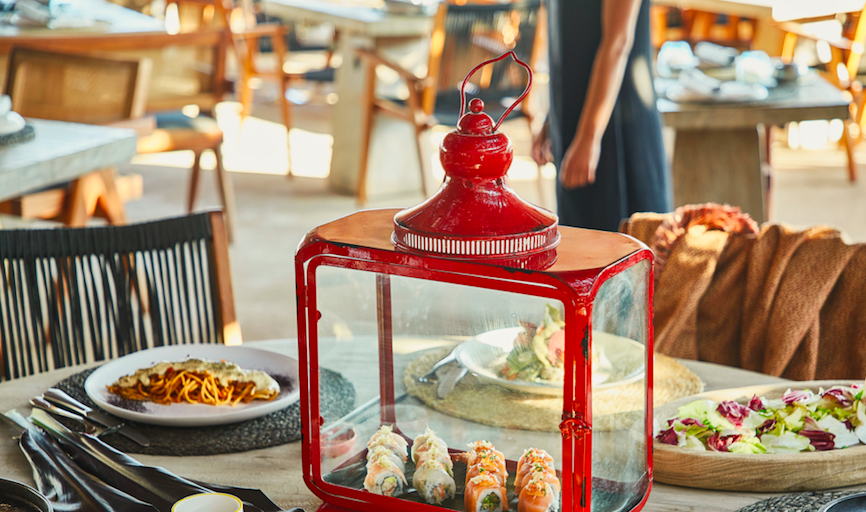 With Executive Chef Theologos Amiras at the helm, along with pastry chef Nikolas Strangos, you can expect first class cuisine offering up everything from oysters and sea urchin, through to Greek salads, giant sized lobsters and a whole range of pastas, steaks and of course, fish of the day on the grill.
We sampled the crab croquettes from Alaska with marinated zucchini on the side, tarama with avocado and coriander oil, followed by sumptuous rib eye steak – big juicy, fatty, triple cooked fries, thick bernaise whichas you eat it, melts into the most perfectly creamy sauce.
My friend was over the moon to see plenty of gluten free options on the menu including gluten free corn penne pasta with chunks of just caught, cooked-to-perfection tuna, a leek celery sauce, and topped with salted Bottarga (a cured fish roe delicacy) which glistened like grains of brown sugar.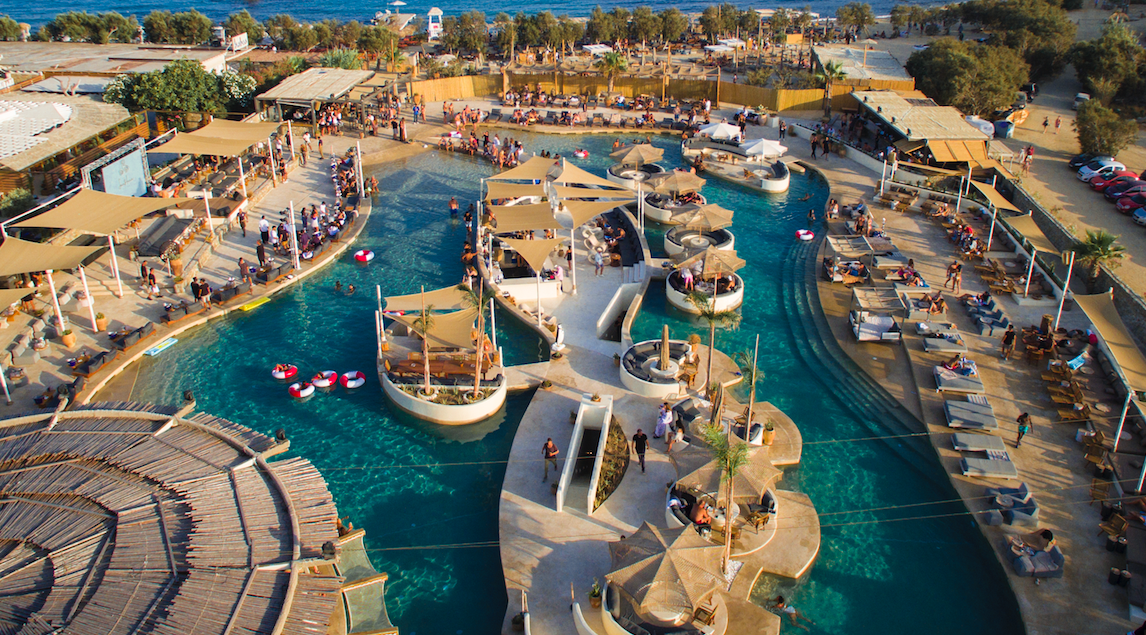 SantAnna Beach Club is most definitely a beach club which goes above and beyond on every level.  If you're heading out the Mykonos this summer, make sure a booking here is high on your list.
Click here for the website.