With the lockdown roadmap heading in the right direction towards freedom, we thought it was the perfect time to put these new luxury London hotel openings for 2021 on your radar.  From what's been dubbed the world's 'first super boutique hotel' to the £100 million transformation in Knightsbridge, here's Luxe Bible's guide to the hottest must-stays.
NYX Hotel London Holborn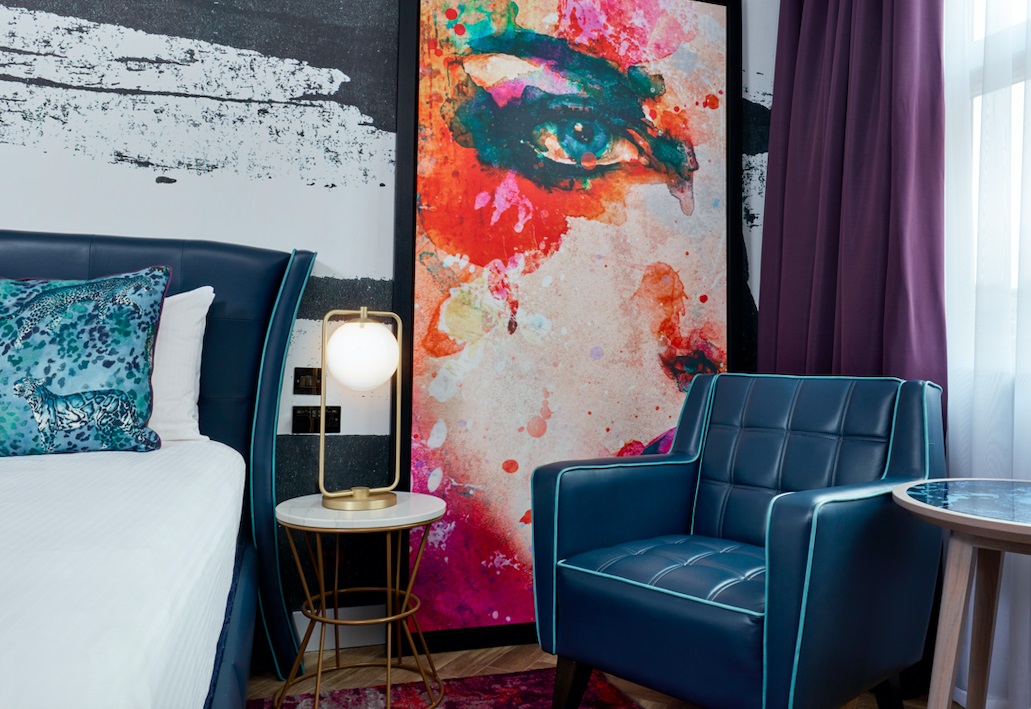 Now NYX sounds like our kinda hotel!  Taking its names from the Greek goddess of the night, NYX Hotel London Holborn is designed to reflect the energy of the city.  Relaxed luxury is very much the vibe here with stunning ultra-modern bedrooms, 'Dream' beds, a fully stocked SMEG fridge and cosy robes.  VIP guests will love the surprising touches which await…  Social spaces boast sultry lighting, awesome music and stylish surroundings, while The Rena Spa features an incredible Greco-Roman swimming pool.  Watch our Instagram reel here.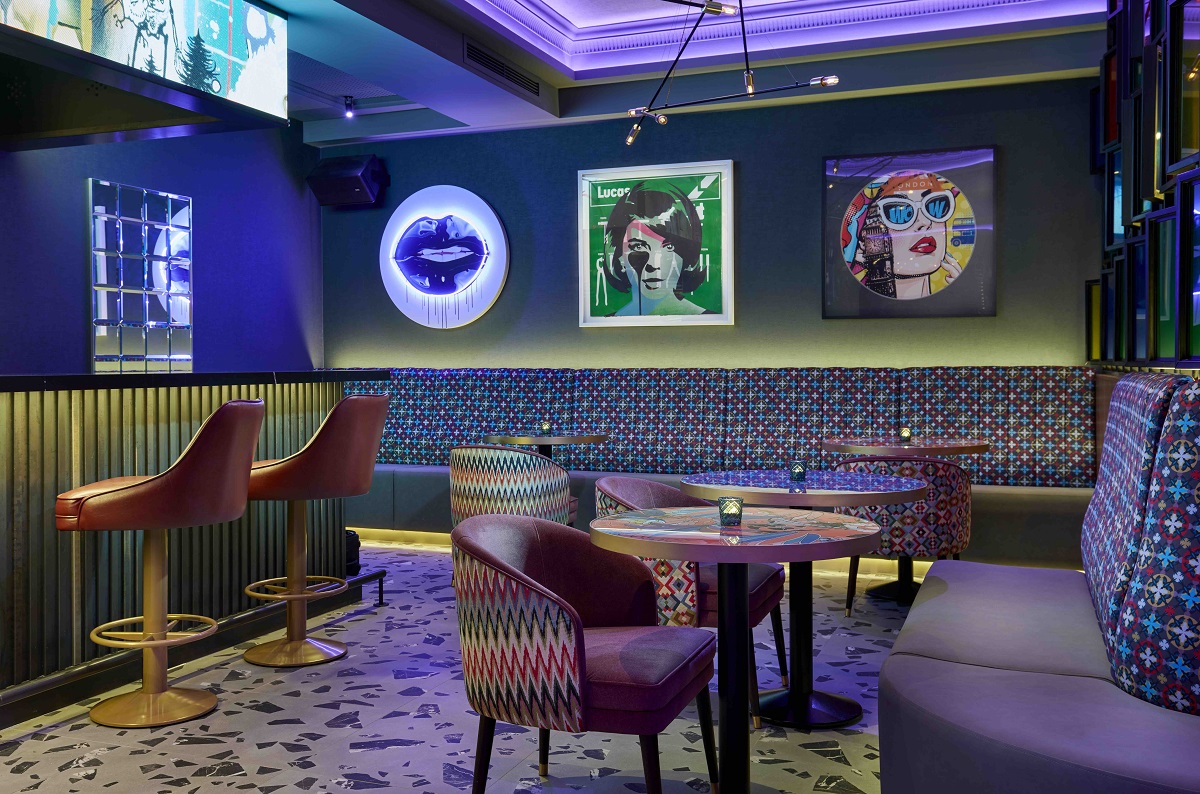 The NYX bar and restaurant will have a DJ on most nights of the week, with creative foods and Instagrammable cocktails on offer from the delicious menu.  With the whole of London on your doorstep, NYX Hotel London Holborn occupies an enviable location and it's placed just a 15 minute walk from Covent Garden and Soho.  The hotel is offering opening rates at £99 for one night and £169 for two – just enter NEWNYX when making an online booking. (£99 rate applies to the first 999 rooms booked up to 31st August / two nights at £169 available until 31st December.)  Check out their Instagram here and their website here.
NoMad London in Covent Garden – Opening May
Out of all of our new hotel openings for next year, this is the one we're most excited about.  With luxury hotels already in New York, LA and Vegas, NoMad London has thrown open its doors and we like what we see!
While our fave NYC based NoMad is Parisian inspired, this first international outpost for the brand sees the NoMad London hotel draw its inspiration from the colourful past of the building itself – the former Bow Street Magistrates Court in Covent Garden where The Krays and Oscar Wilde stood trial.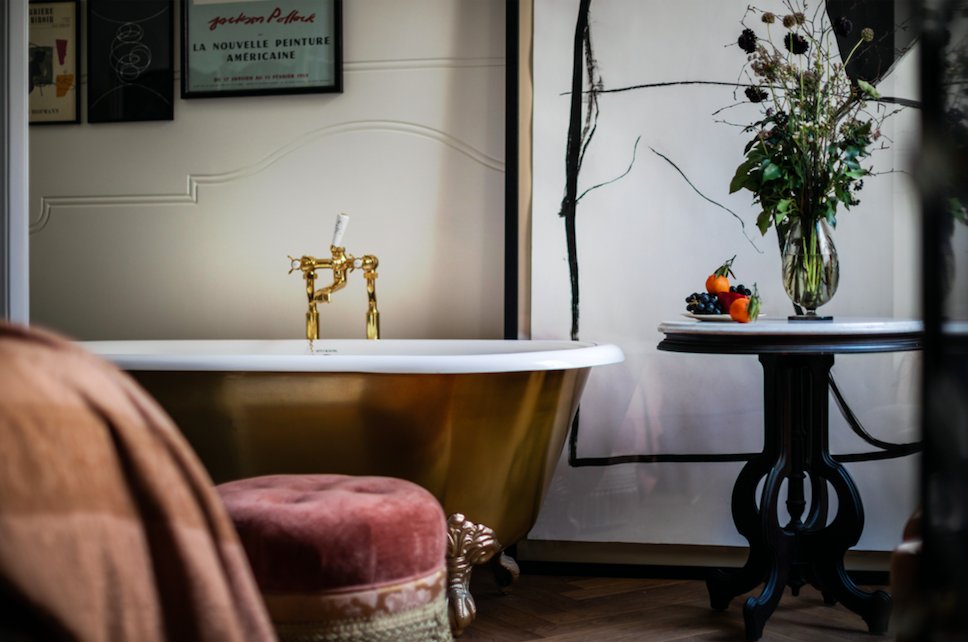 With Sydell Group's Andrew Zobler having joined forces with interior design geniuses Roman and Williams, the result is a combo of antique furnishings and new bespoke pieces, ultimate luxury and underlying mystery with an emphasis on excellence in every sense.  Rooms range from classic through to the Royal Opera Suite and each includes mosaic bathrooms and keyless entry.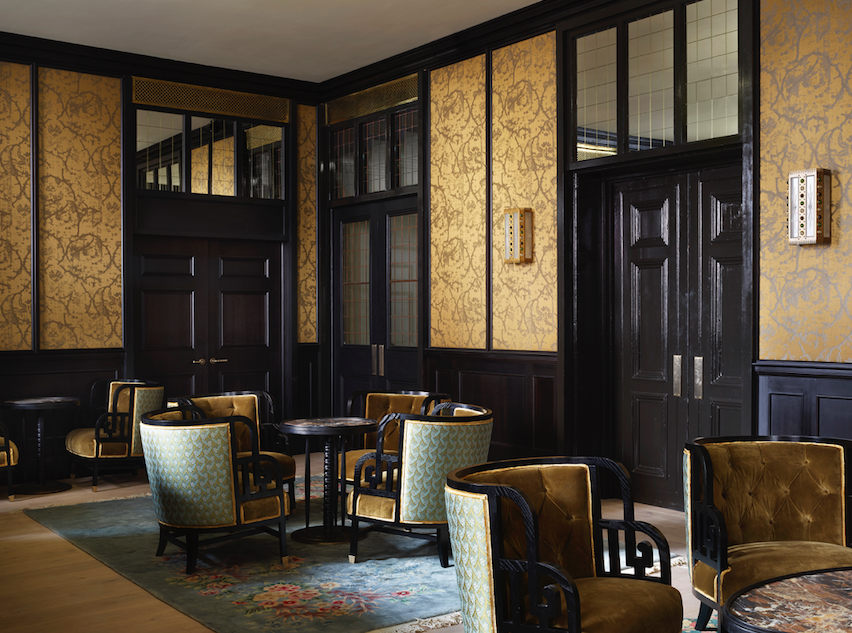 With a glass ceilinged all day dining atrium restaurant at its heart, food features heavily with Exec Chef Ian Coogan at the helm.  Side Hustle serves up Mexican inspired sharer plates and agave-based drinks, and the Library will offer breakfast, light fare through the day, and wine and small places in the evening.  It's definitely our new London fetish.
Room start at £400.  You can book now by clicking here and check out their awesomeness on Instagram here.
Canopy by Hilton London City – Opening Summer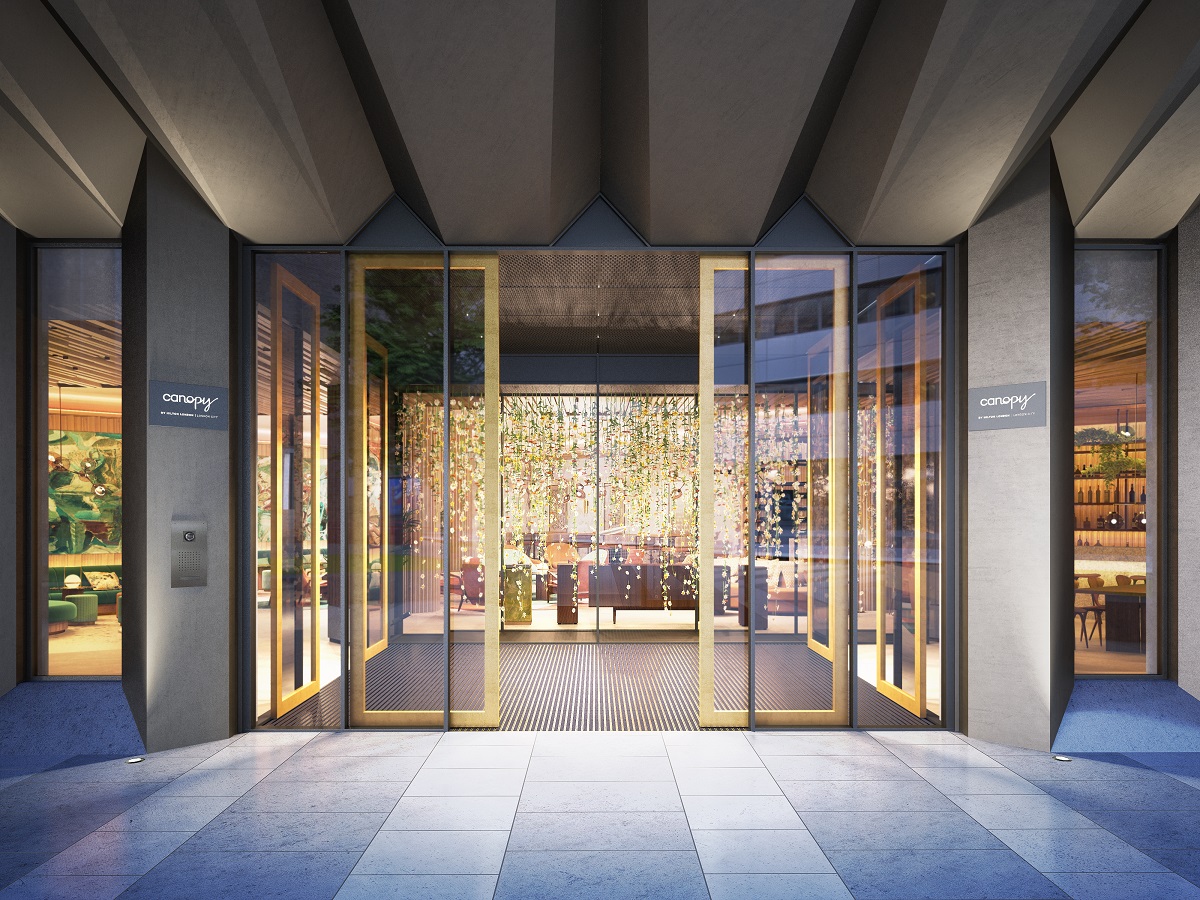 The UK's first Canopy by Hilton London City will open in the East End this summer within the new Minories development.   The portfolio of locally-inspired and contemporary hotels offer stylish tranquil guest rooms with an emphasis on experiencing and exploring the local area.  Grab a complimentary bike and set off to explore nearby London attractions like St Paul's Cathedral or Borough Market.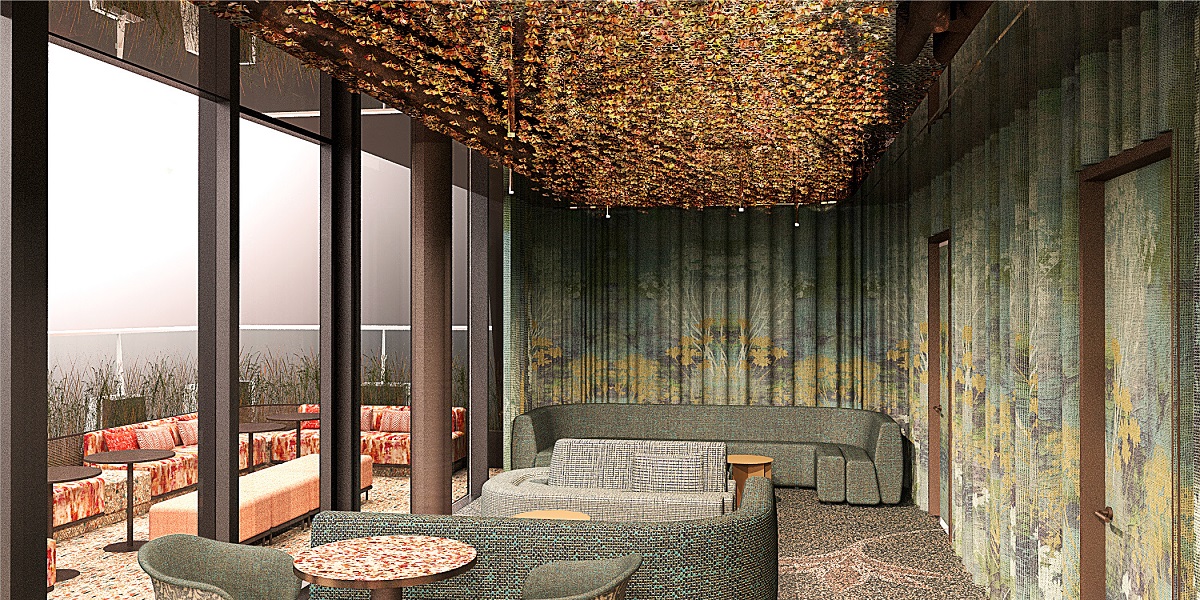 For business travellers, tourists and locals alike, Canopy by Hilton London City will be the perfect hotel in which to relax and recharge, with a number of dining options.  Work or socialise in the Freedom Café with coffee or cocktails, eat artisan breakfast or East End inspired dishes in the hotel's speciality restaurant Penny Squares, or live it up at Florattica – the rooftop terrace boasting floor-to-ceiling flower power!  There's also a swanky, versatile private dining room which benefits from plenty of natural light.
If you're a Hilton Honors member, you'll also benefit from 1000 extra Hilton stay points if you book to stay ahead of the hotel's opening.  Book here.
Main image ACME
The Londoner, London's Leicester Square – Opening September 2021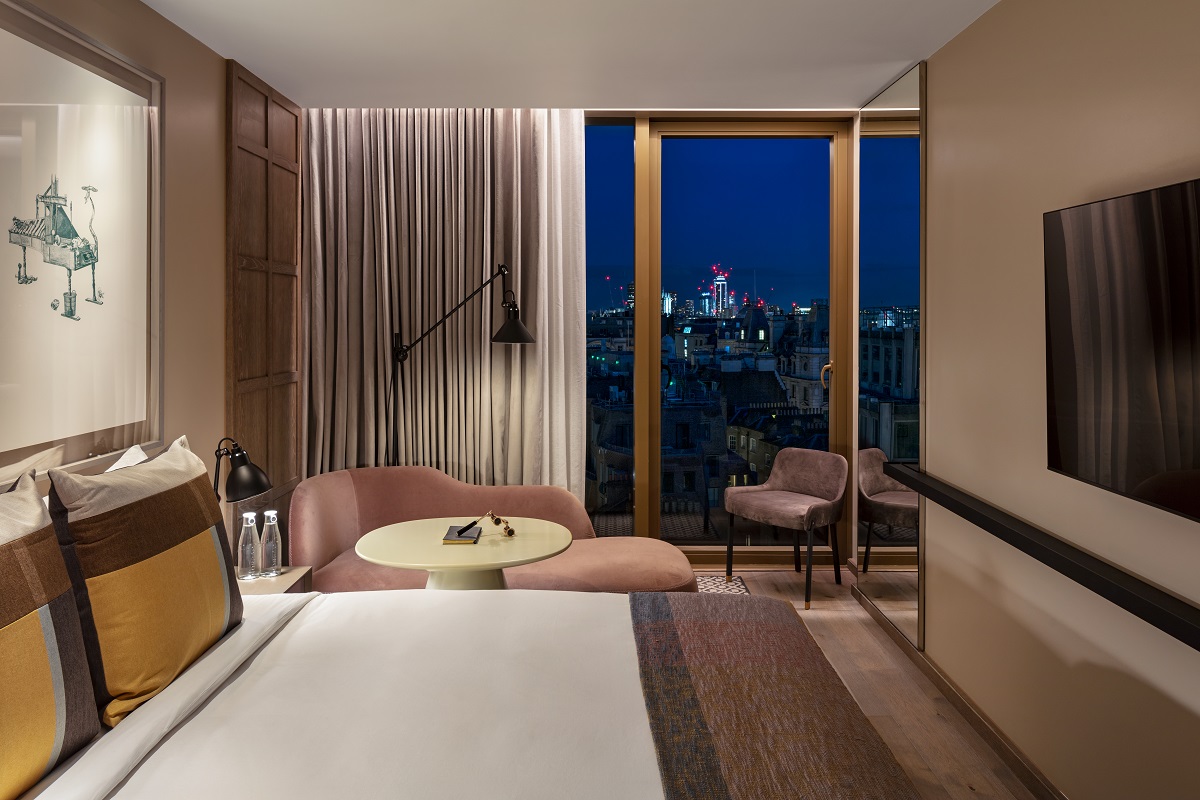 Launching as the world's first 'super boutique hotel', The Londoner, occupying a prime spot in London's legendary Leicester Square, has cost over £300 million to build.  Bringing 'a new definition of lifestyle', contemporary designer Yabu Pushelberg has pushed the boundaries across 16 stunning stories with 350 rooms and suites offering luxury boutique hotel style to satisfy the modern traveller's every whim.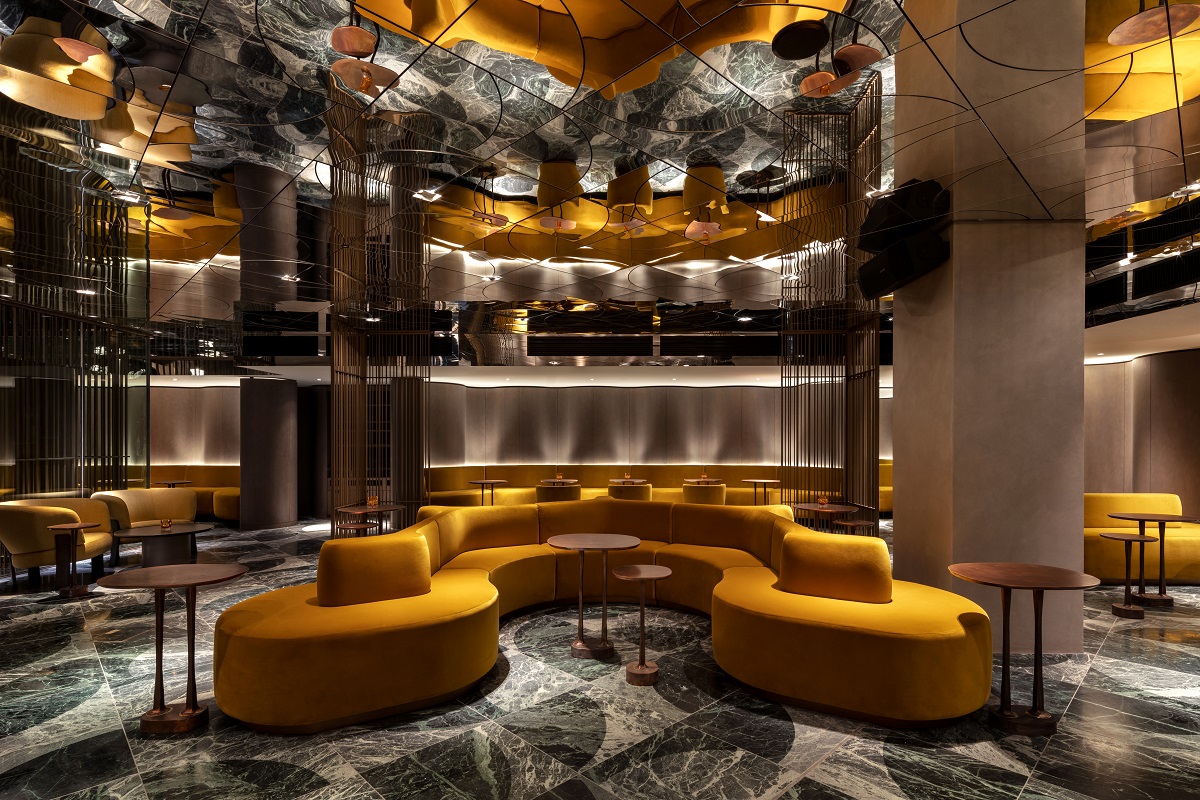 Offering up innovative Japanese cuisine and a new take on Mediterranean flavour, The brand new Londoner hotel will play host to a signature restaurant, a rooftop bar and a gastro tavern, while its very own private club The Residence will showcase three intimate yet sociable, seamless spaces.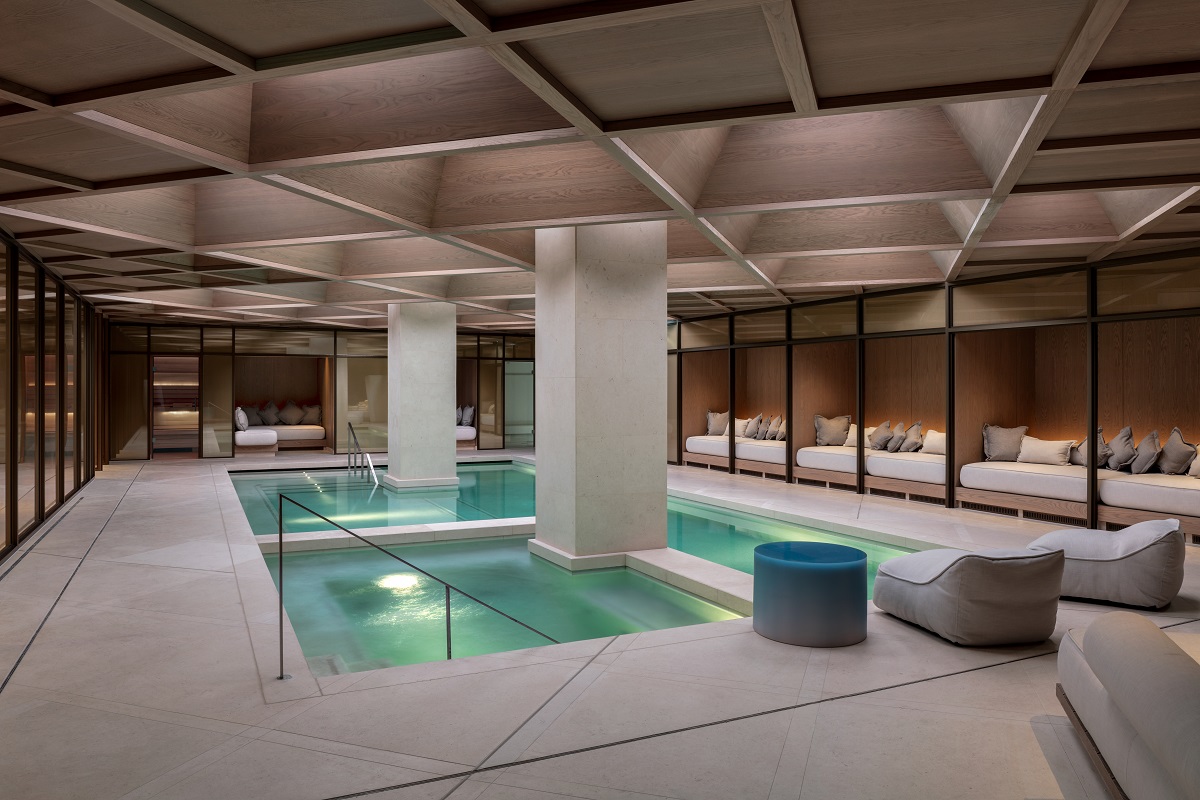 Watch out for this one, it's going to be pretty special.  Room rates from £500.  Follow on Instagram.
Radisson RED London Greenwich The O2 – Opening August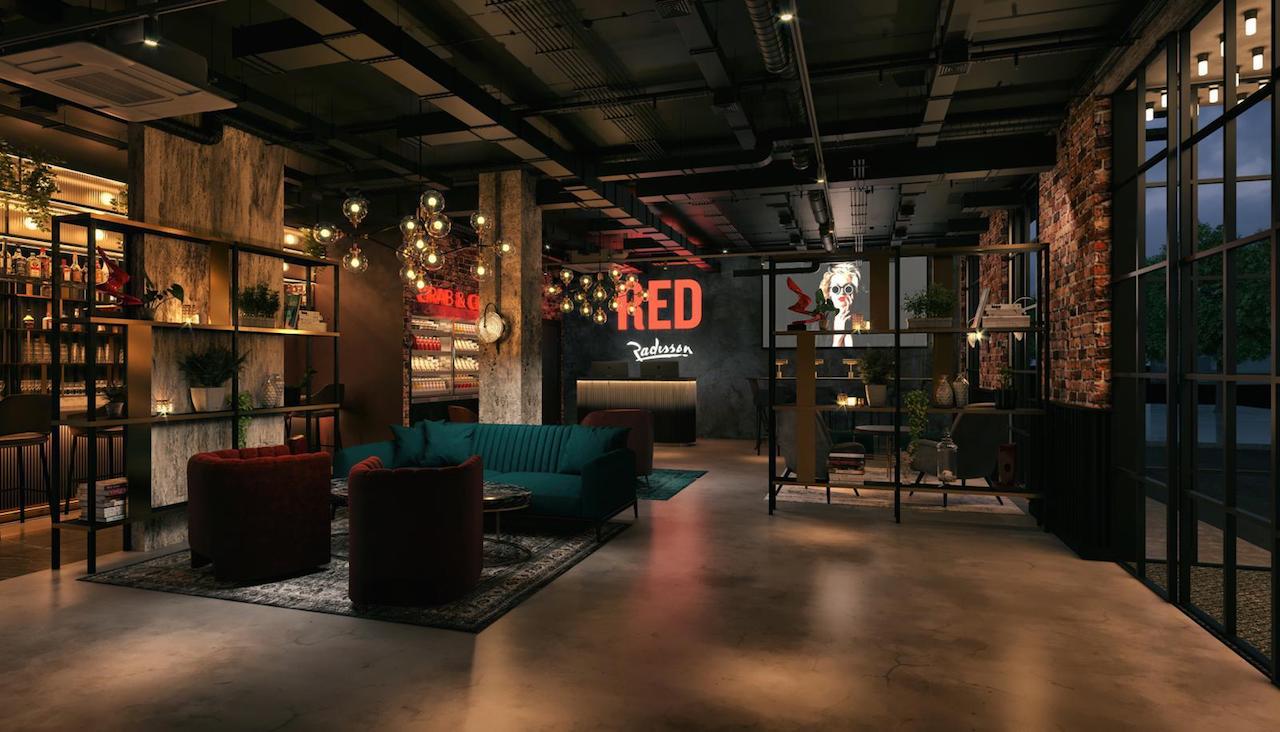 Lifestyle hotel Radisson RED London Greenwich The O2 will open this August offering up incredible riverside views next to the world's most popular entertainment arena – The O2.
Swanky, yet fun, rooms at Radisson RED London Greenwich The O2 will offer spacious, comfy beds, room service any time of the day or night, soothing rain showers and modern, funky designs throughout.
The stylish street level bar and lounge area will serve up every cocktail imaginable from classics to new creations, along with carefully selected wines and plenty of craft beers – the perfect place to hang out whether you're staying at the hotel or not!  Meanwhile, the all-day restaurant with a focus on local sourced ingredients is great for grabbing a bite before you explore the sights and attractions of London.  With burgers, pizzas and salads and catering to all dietary requirements, there's something for everyone on the menu, while Radisson RED London Greenwich The O2 also boasts a rooftop shisha lounge with a glam modern design.
The Hux Hotel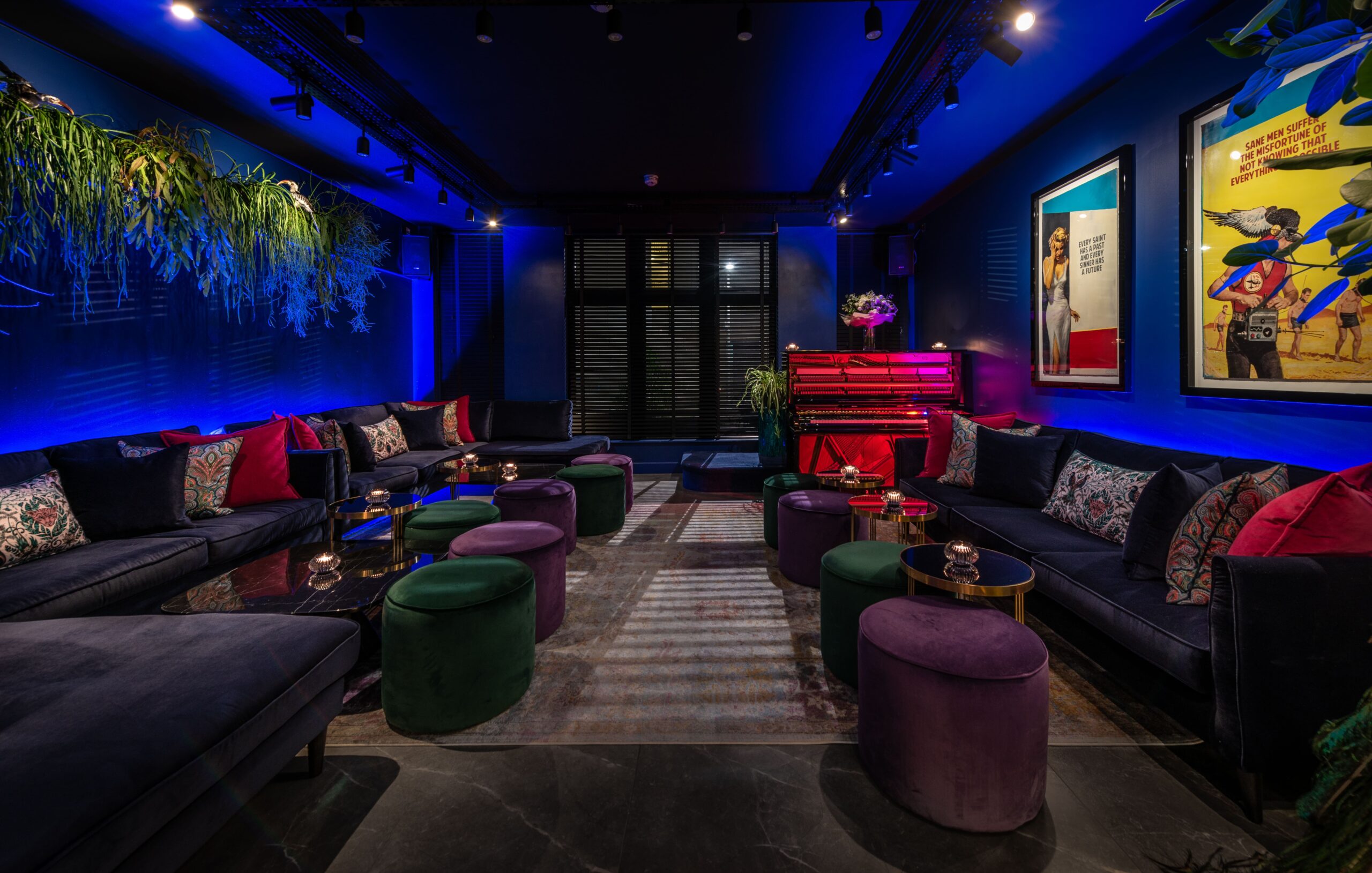 A boutique hotel hidden from view behind a discreet doorway on Kensington High Street?!  We are all over that!  Let us introduce you to The Hux Hotel – a new hotel which soft-launched last year but which is now ready to reveal its bold decor, quirky indulgence and seductive bedrooms.  The eccentric design is set off by resident peacocks and a giant giraffe, and if you like to explore the unusual, you'll feel right at home in their lounge area slash cocktail den slash contemporary art space.  Rooms start from £150. (Main feature image is also of The Hux Hotel)
Luxury London Hotel Openings for 2021 – Pan Pacific London, Bishopsgate – Opening September 1st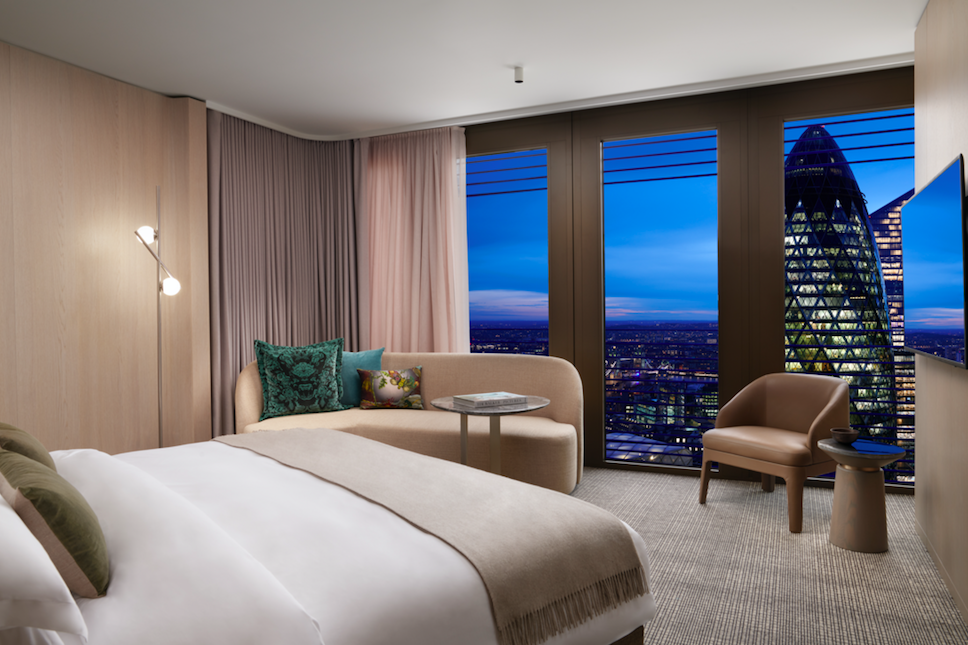 Pan Pacific Hotels Group will open its first European hotel in Bishopsgate – right opposite Liverpool Street Station on September 1st.
Pan Pacific London will offer its signature luxury hospitality and subtle Asian influence, along with classic British essence  for a truly luxurious, prestigious experience.
With 237 rooms and 160 private residences located in One Bishopsgate Plaza (London's new landmark tower), Pan Pacific London will boast an incredible 18.5m infinity pool at the hotel with jaw dropping views, a mindfulness studio and relaxation pods.  Landscaped outdoor areas, a number of restaurants and nine flexible meeting and function room spaces will enhance the statement hotel further.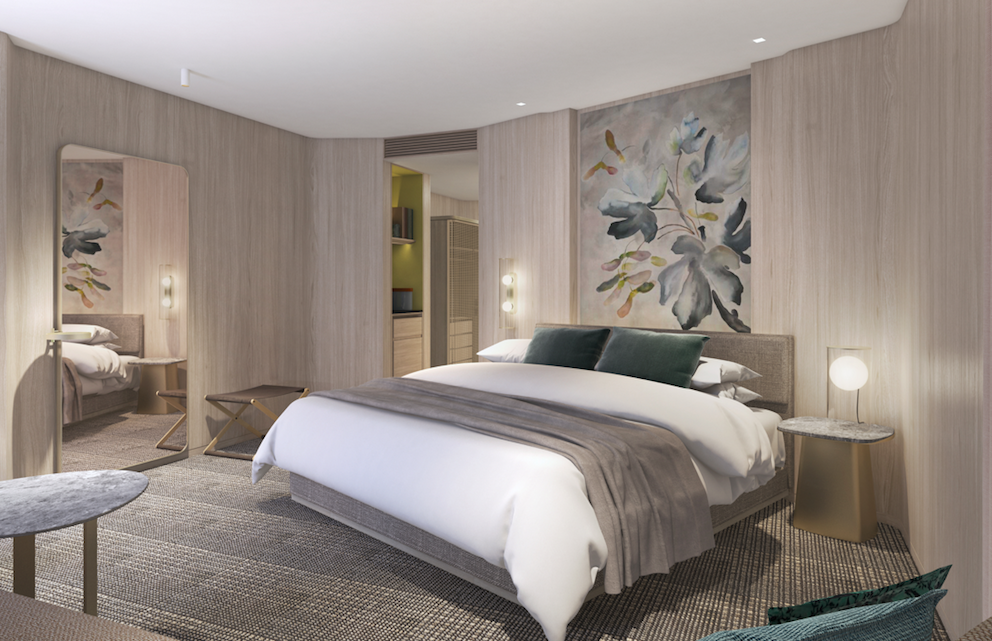 Designed by visionary Yabu Pushelberg, rooms offer neutral tones and relaxing vibes, with deluxe rooms featuring floor-to-ceiling windows and underfloor heating among the luxuries.  The entrance to the hotel ballroom meanwhile, will provide the WOW factor featuring a lift to transport guests down into the events space.
Offer room rates starts from just £325 per night, room only.  Book in advance, by clicking here.  Follow on Instagram here.
Chateau Denmark – Opening Summer 2021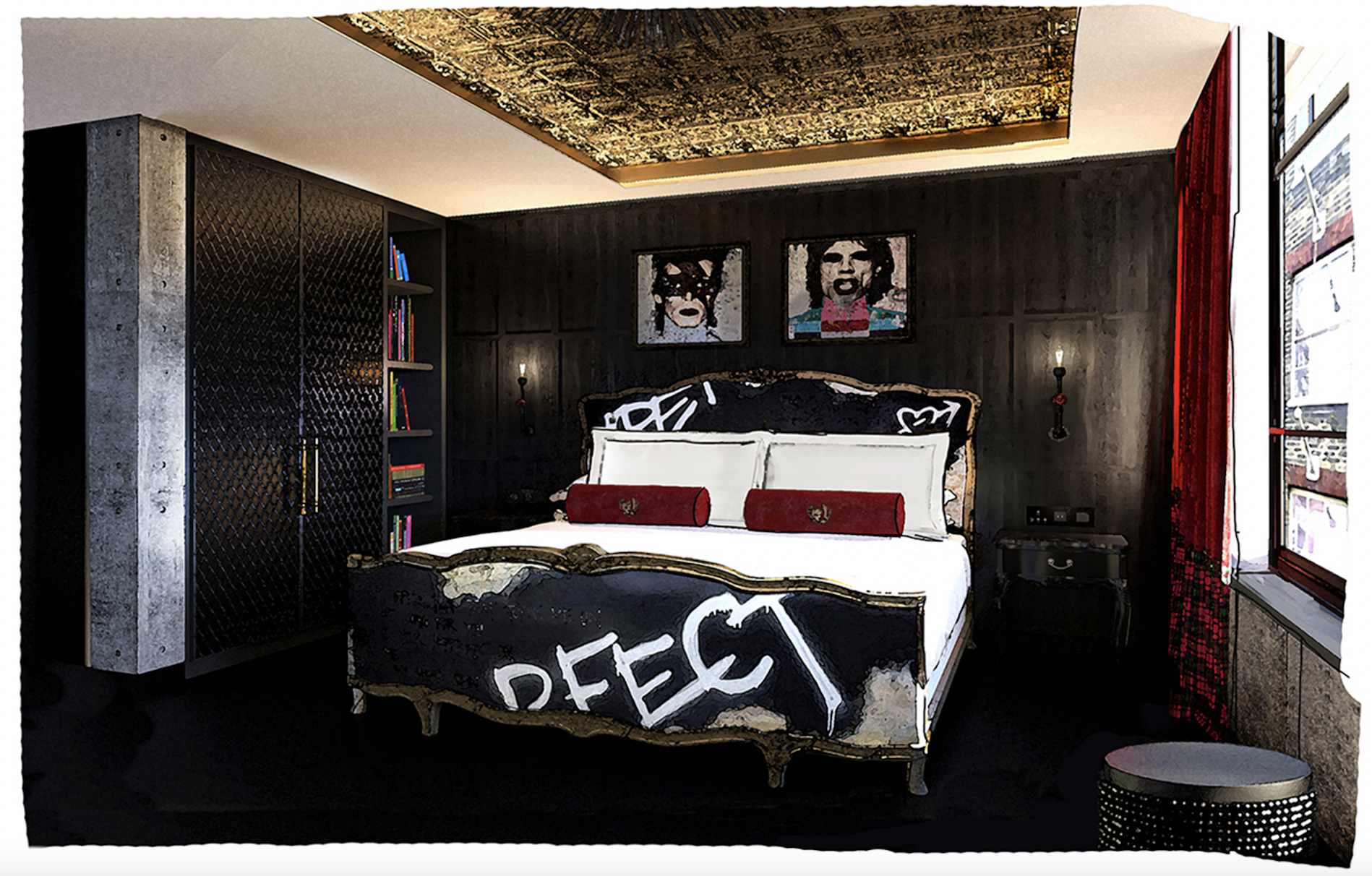 Set to open this summer on London's iconic Denmark Street, Chateau Denmark from Outernet Global's partnership with Carrie Wicks' CAW Ventures will channel the street's historical rockstar status and music scene, paying homage to the legendary artists for which the street is famed.  It's where The Rolling Stones recorded their first album, the Sex Pistols lived, and also the place many believe  Ziggy Starbust was born.  With 55 'session rooms' set across 16 incredible buildings in and around Denmark Street, Chateau Denmark's hotel rooms have four distinct narratives with each telling a unique story.  You might end up staying in one of the  'Vintage Gothic' style rooms exuding charm, 'Timeless Grandeur' with its luxurious opulent Victorian vibe, 'Modern Psychedelia' channeling 60s and 70s London, or 'Punk Now'.  Guests will be in charge of their own experience, while signature rooms will feature maxi bars rather than mini bars – sounds like our kinda hotel.  Follow the hotel on Instagram here.
Kingsland Locke in Dalston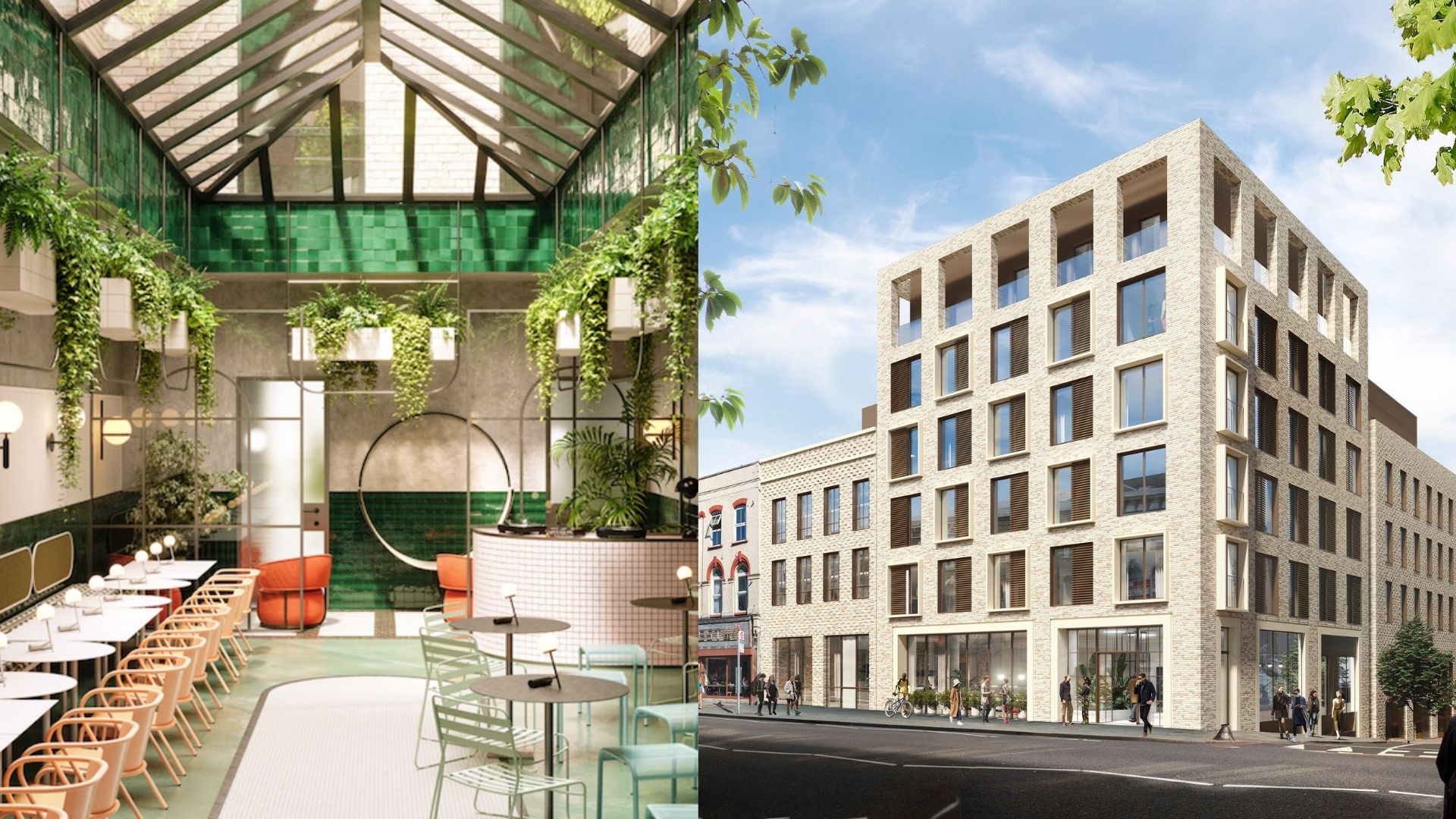 Locke has launched its fourth London property in early 2021 with Kingsland Locke in the heart of Dalston.  With 124 stylish apartments as well as a contemporary co-working space, on-site micro-brewery and gin distillery, Kingsland Locke will fit perfectly into Dalston's eclectic neighbourhood with vibrant spaces, while the design inspiration comes straight from the surrounding area with raw textures and a muted palette – courtesy of local studio Red Deer.
With all day restaurant, workout studio and coffee shop to boot, the focal point of the hotel will be its lower ground floor atrium transitioning seamlessly from relaxing day space into a lively evening hang out.  Follow on Instagram here.
Beaverbrook Town House – Opening Summer 2021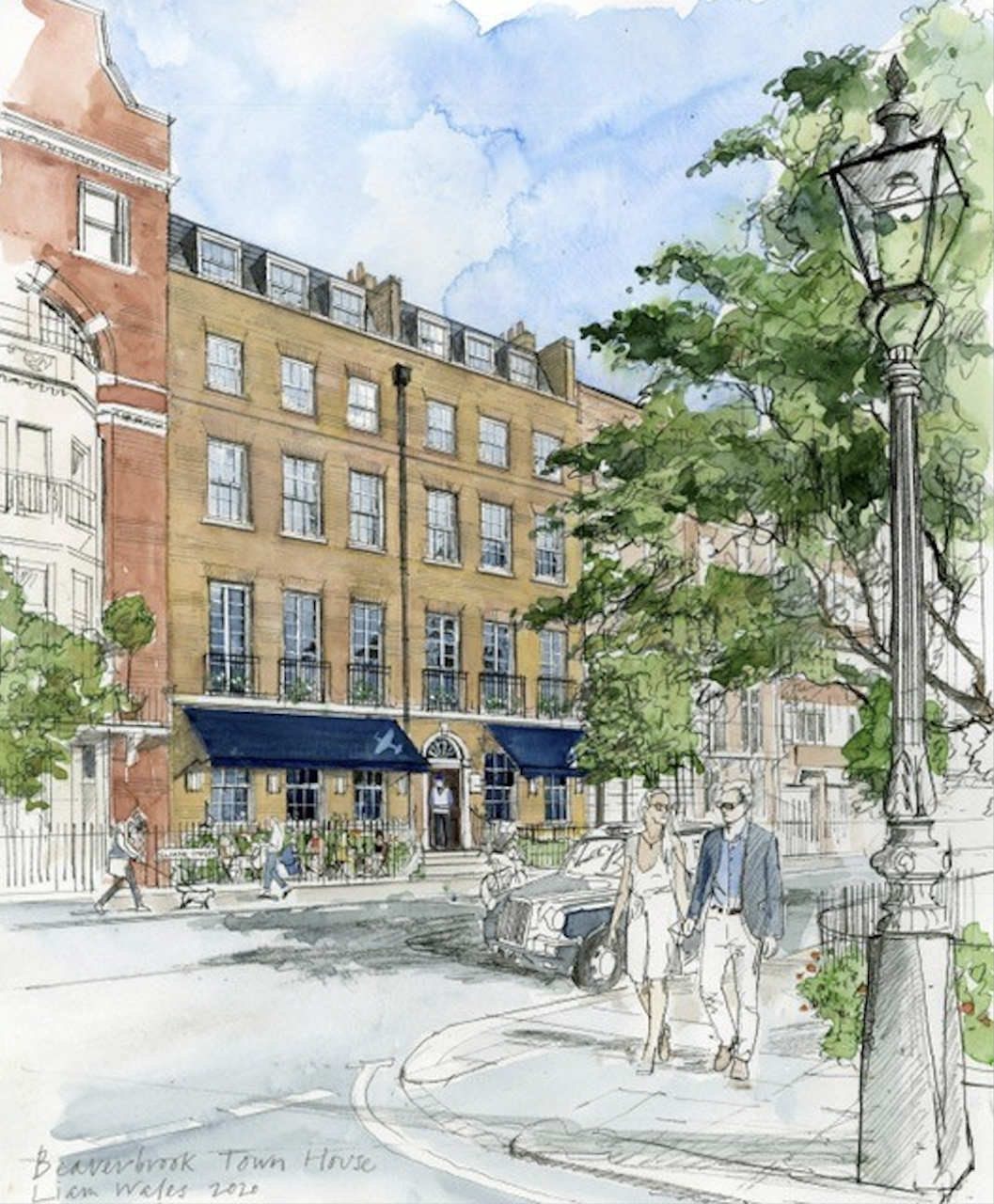 In addition to the Beaverbrook Country House Hotel in Surrey, Beaverbrook's second property the Beaverbrook Town House will open on Sloane Street in the very heart of Chelsea in summer.  In partnership with Cadogan, the luxury town house opposite Cadogan Gardens follows the £25 million restoration of two stunning Georgian townhouses and will feature 14 luxury suites named after much-loved London theatres, 14 bedrooms, a meeting room and Japanese restaurant and bar – the interior of which has been inspired by 19th Century artist Hoksuai.  Nicola Harding meanwhile, will be heading up the London hotel's interior design along with Creative Director Sir Frank Lowe.  Follow on Instagram here and here.
The Gantry – Opening Summer 2021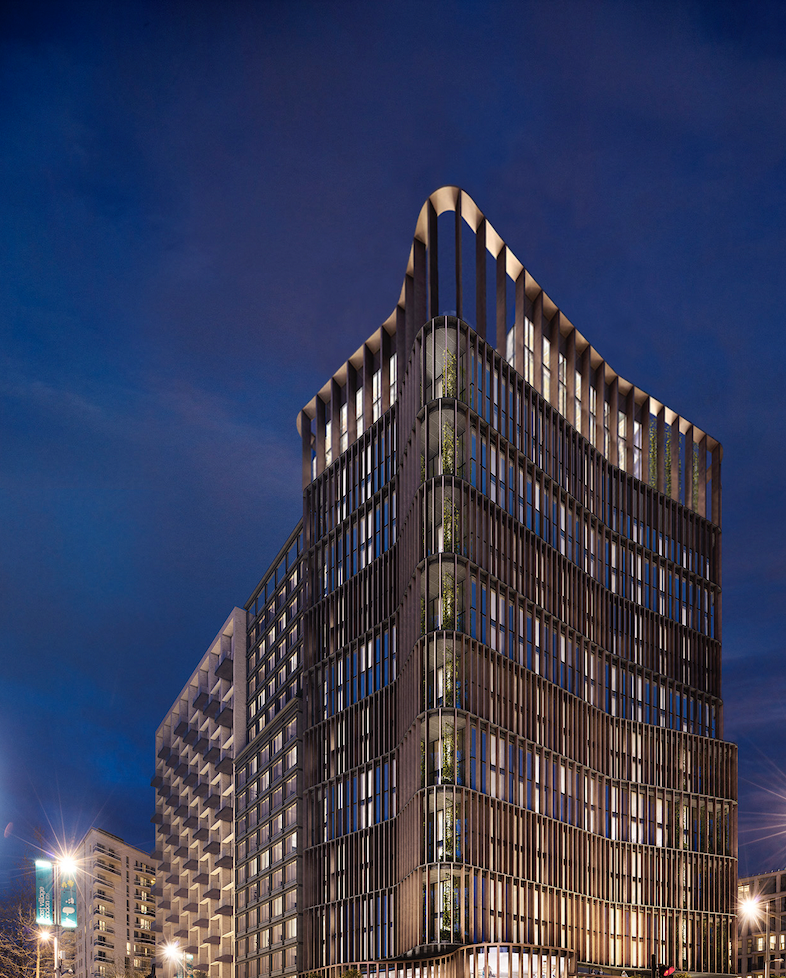 Now open in Stratford, The Gantry offers a stunning design hotel, an artisan food market, restaurants, bars and events – all under one roof!  Created with the local community in mind to build a sustainable hotel which will support its neighbourhood, The Gantry will offer an eating, drinking, travel and social destination in one, including the highest rooftop bar and terrace in East London situated on the 18th floor with DJs and live music.  With its facade inspired by New York's Flat Iron Building, the luxurious hotel will boast 291 rooms across 17 floors – the Curio Collection's fourth property in London.
Westin London City – Opening August 2021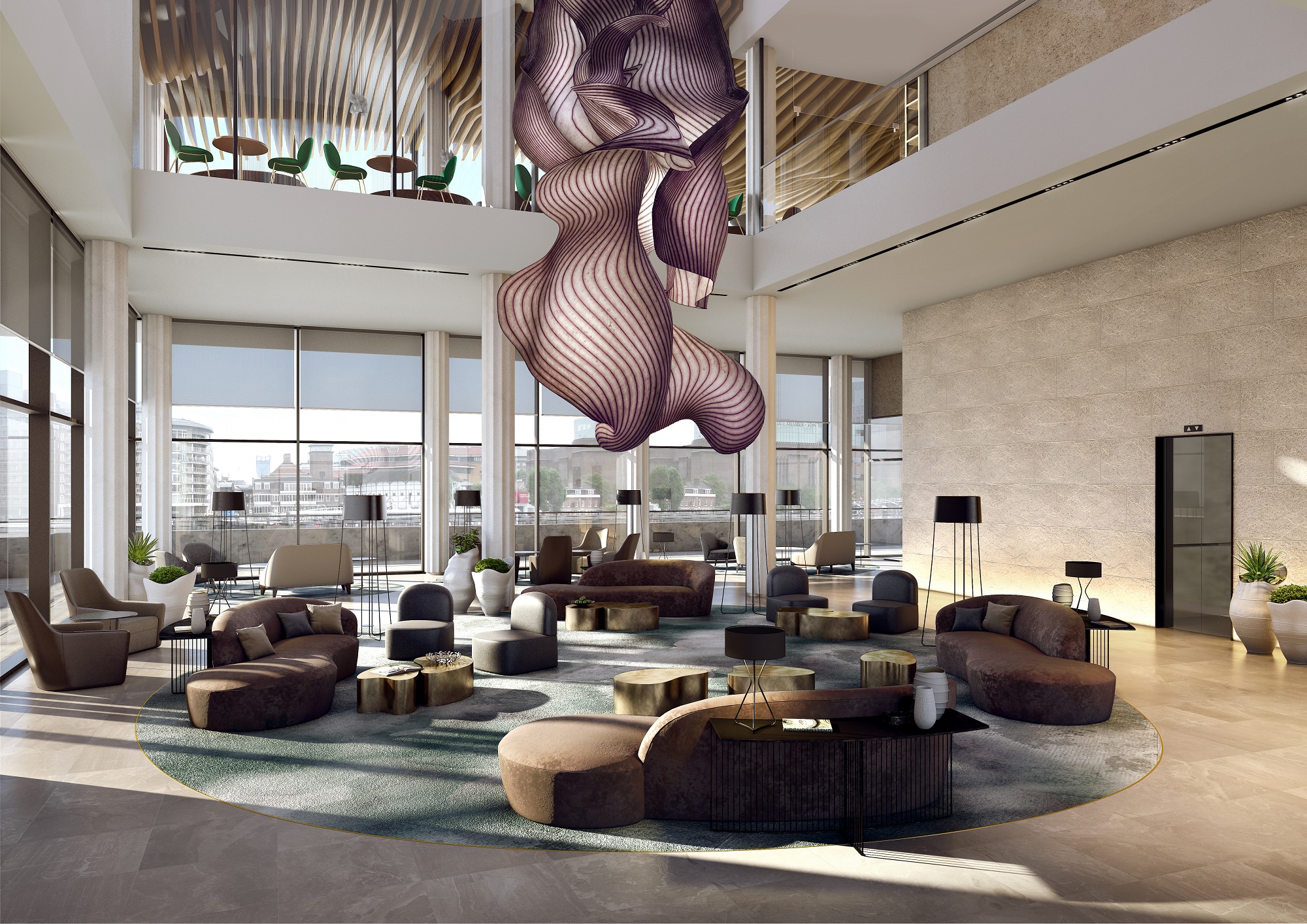 The UK's first Westin hotel will open in August 2021, situated near to St. Paul's Cathedral with incredible river views and out across London.  Featuring 222 rooms and nine luxury residential river facing apartments, The Westin London City will offer high end in room features, signature restaurant, wine bar with outstanding views, and the Heavenly spa which will include six therapy rooms and pool area.
Mondrian Shoreditch – Opening 2nd August 2021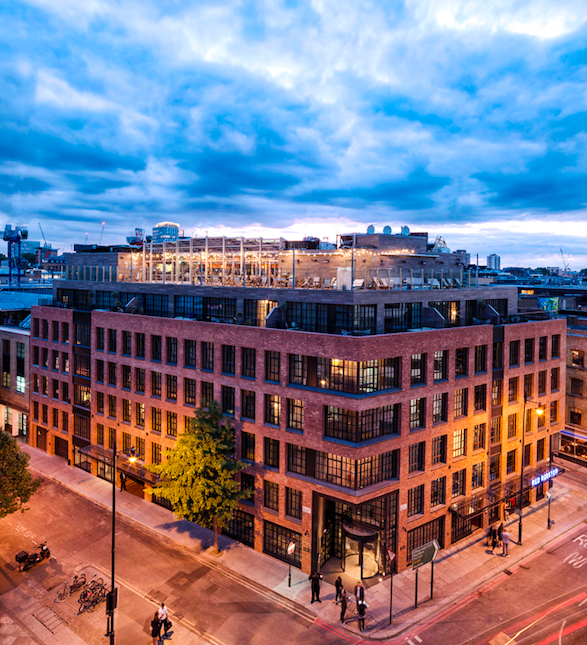 As The Curtain falls on, well, The Curtain, a phoenix rises from the ashes.  This particular phoenix is Accor and SBE's Mondrian Shoreditch, set to open on the 2nd August.
Mondrian's sixth hotel will be its European flagship (following Mondrian Southbank's switch to Sea Containers London in 2019).  While the relaunch will see an update and some basic renovation to the hotel, The Curtain Members' Club will remain and will reopen in full on 1st September.
The 120 room property will offer up a brand new dining experience with world famous Spanish chef Dani Garcia bringing some flare and innovation to Shoreditch, while The Rumpus Room (previously of Sea Containers), will take over the stunning rooftop lounge.  Nightly rates from £299 including VAT and breakfast.
Find out more here and follow on Instagram here.
The Carlton Tower Jumeirah in London's Knightsbridge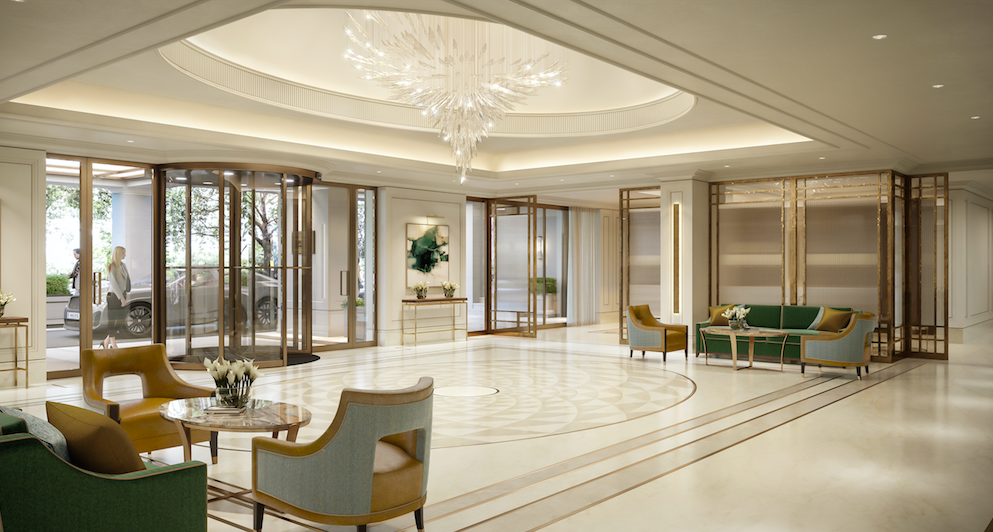 Boasting a rich history, The Carlton Tower Jumeirah is busy undergoing a £100 million renovation – the hotel's biggest ever.  This former A-list haunt will be flinging open its doors with a brand new design, 186 keys and a contemporary, luxurious feel, while still maintaining its heritage.
With many of the luxury hotel suites boasting balconies with stunning views, guests will also have access to Cadogan Gardens' private garden square, while The Peak Fitness Club & Spa set across three floors will feature a new Talise spa and London's biggest hotel pool at 20m in length.  Dining options will include a new destination restaurant and bar with theatre kitchen and extensive wine list, private dining and alfresco seating on Cadogan Place.  The Chinoiserie lounge meanwhile, will offer 'cake o'clock' in the all day lobby.
Click here for the website, rooms start from £540.  Follow on Instagram here.
Broadwick Soho in Soho – Opening Autumn 2021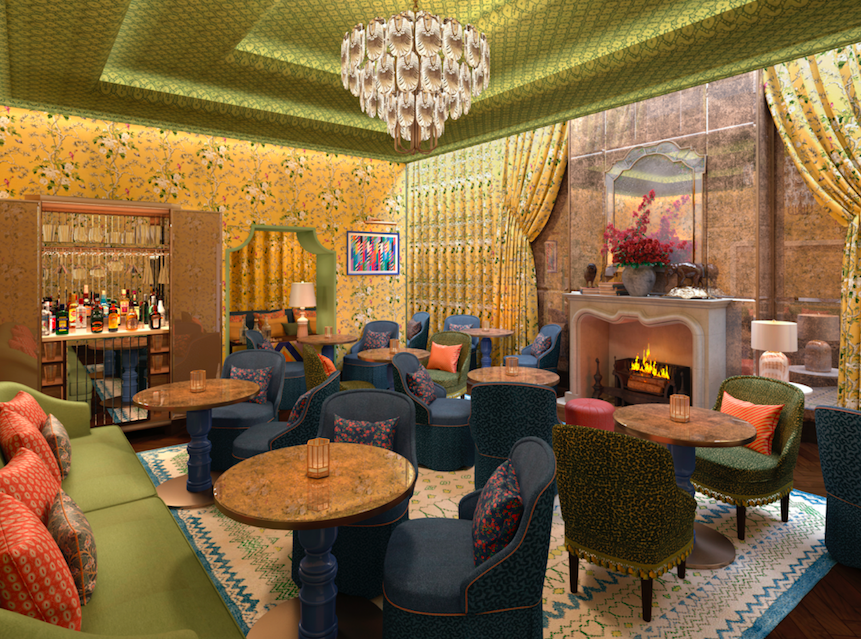 Independent luxury hotel Broadwick Soho has an incredible designer onboard.  Martin Brudnizki (of Annabel's and Sexy Fish to name drop a couple), will offer up 57 gorgeous rooms inspired by the area's creativity.  With lavish interiors and a personalised service which will be second to none, Broadwick Soho's interiors will exude 'gritty glamour' courtesy of Brudnizki who has described the hotel as "your eccentric godmother's Soho townhouse."
Including one penthouse and nine suites, the rooms will offer a residential feel, while many have private balconies overlooking the hustle and bustle of Soho.  Randall and Aubin founders Jamie Poulton and chef Ed Baines have been appointed to take over food and beverage, offering an Italian  street level restaurant and rooftop cocktail bar with incredible views.
Rates start from £350 per night, email info@broadwicksoho.com for bookings or more info.
The Dilly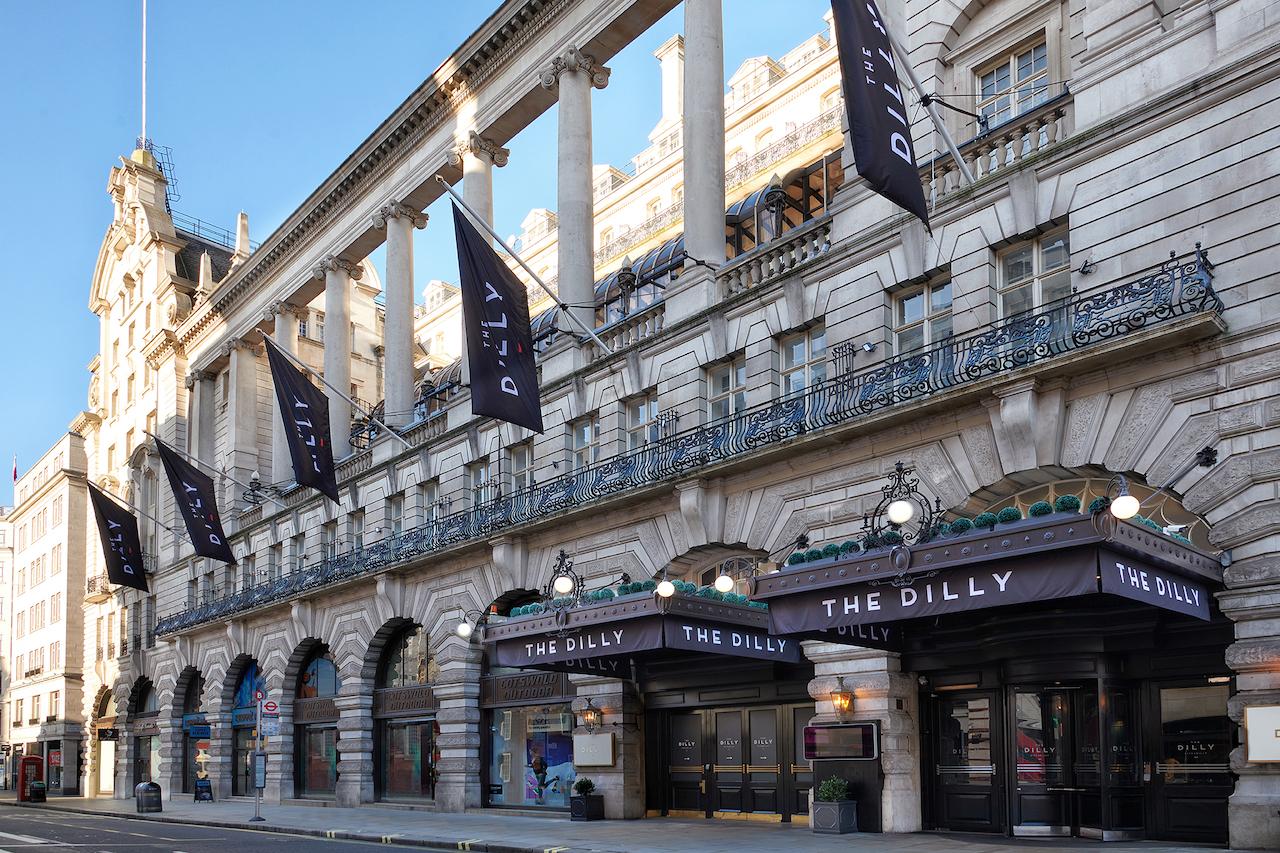 Le Méridien Picadilly has re-opened as The Dilly.  One of London's oldest hotels known for its high class guests, The Dilly's reinvention reflects the London of today with a stylish new feel, complete re-design of its 225 bedrooms and 28 suites, a new health club with pool and VIP check in area with a private lift.  Swank it up at Madhu's – The Dilly's Indian fine dining restaurant opening on 29th June.
Follow on Instagram here.
Fairmont Windsor Park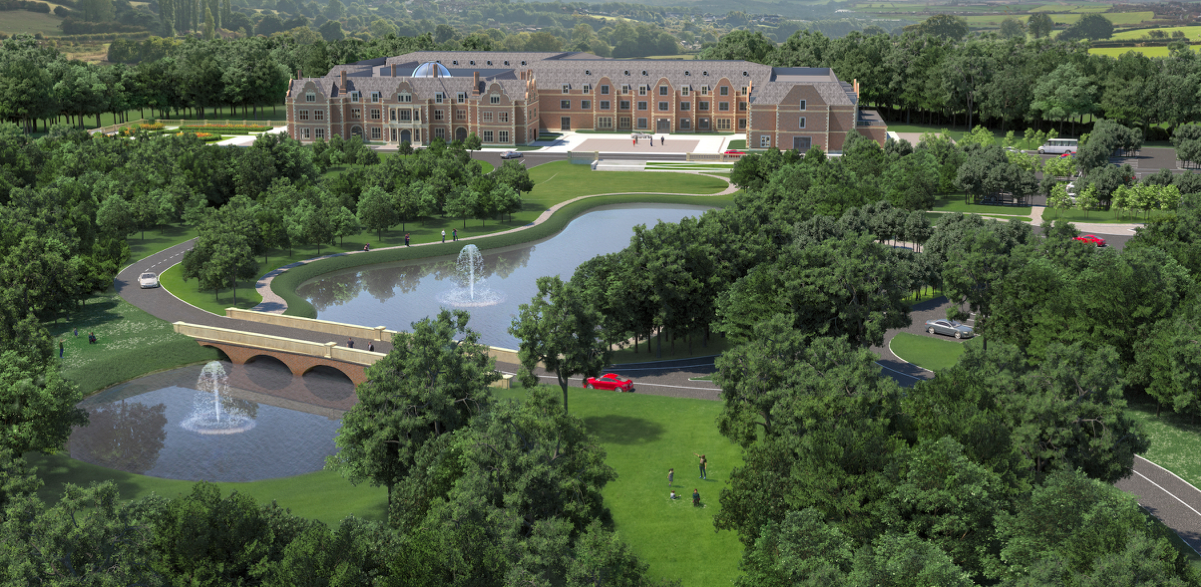 Although not strictly one of our new luxury London hotel openings for 2021, Fairmont's third UK property (formerly the Savill Court Hotel and Spa), has just re-opened following a substantial multi-million redevelopment.  The new five star Fairmont Windsor Park will open in early 2021, with a sprawling country estate set across stunning landscaped gardens.
With over 200 luxuriously styled rooms and 13 meeting rooms, the new Fairmont Windsor Park will provide a commitment to wellness throughout the hotel with a 2,500 square metre spa which will include a salt room and Japanese foot spa and indoor and outdoor pools.
There will also be various dining options available along with tea lounge and Royal Suite – surely a nod to HRH nearby…
Rates from £375 including VAT on fully flexible basis and advance purchase rates from £325 including VAT.  Click here for the website and follow on Instagram here.  To check out Luxe Bible reviews of more luxury London hotels, click here.